Spain, a sun-kissed Mediterranean paradise, is home to some of the most beautiful beaches in the world. From the Costa del Sol to the Balearic Islands and the Canary Islands, Spain's coastline offers a diverse array of stunning beaches that cater to every beach lover's desires. In this comprehensive guide, we, the beach enthusiasts at Pustly.com, present to you the ultimate list of the best beaches in Spain, curated to make your seaside escapades an unforgettable experience.
Enjoy these 10 Best Beaches in Spain for 2023-2024 :
Discover the Best Beaches in Spain – Where Sun, Sand, and Sea Unite in Harmony
1. Playa de Ses Illetes – Formentera, Balearic Islands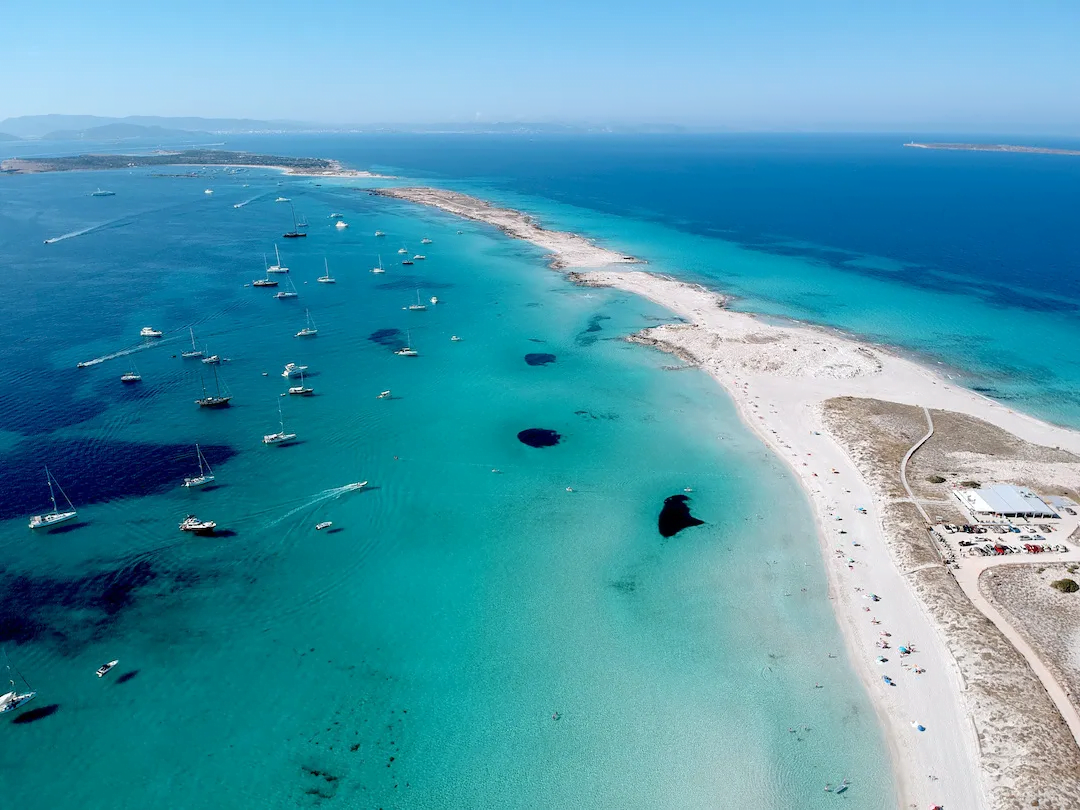 Located on the small island of Formentera, Playa de Ses Illetes is a slice of paradise that resembles a Caribbean dream. Its crystal-clear turquoise waters and powdery white sand make it one of the most beautiful beaches in Europe. Take a swim in the inviting Mediterranean Sea, indulge in fresh seafood at beachfront restaurants, and soak in the laid-back ambiance that Formentera is famous for.
2. Playa de la Concha – San Sebastián, Basque Country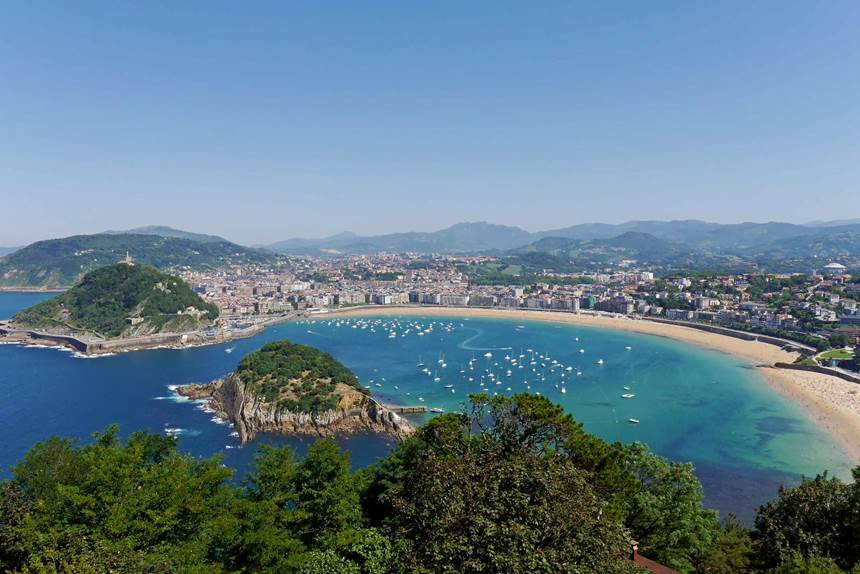 Nestled in the stunning city of San Sebastián, Playa de la Concha offers an exquisite blend of urban sophistication and natural beauty. The crescent-shaped beach is framed by picturesque hills, creating a picturesque setting. Take a leisurely stroll along the promenade, savor pintxos at local bars, and enjoy panoramic views from the top of Monte Urgull. Playa de la Concha is a beach lover's delight in the heart of the Basque Country.
3. Playa de Muro – Mallorca, Balearic Islands
On the captivating island of Mallorca, Playa de Muro boasts a long stretch of fine white sand and shallow, crystal-clear waters, making it a family-friendly paradise. Engage in water sports, build sandcastles with the kids, and bask in the Mediterranean sun. With its Blue Flag status and excellent facilities, Playa de Muro promises a perfect beach vacation on the Balearic Islands.
4. Playa de Bolonia – Tarifa, Andalusia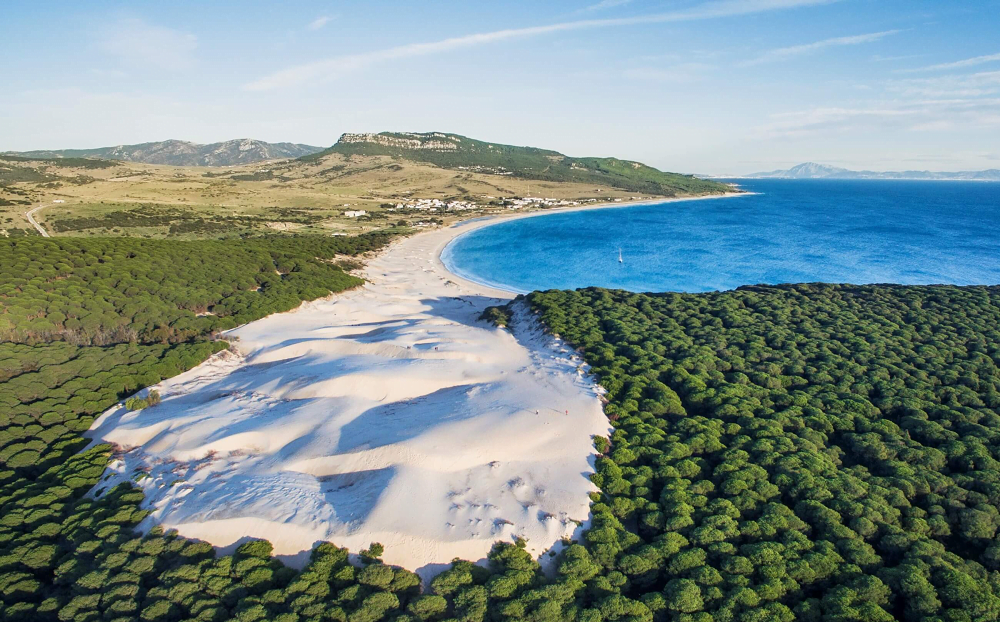 For those seeking a pristine and natural beach experience, Playa de Bolonia is an unspoiled gem in southern Spain. Located near Tarifa, this beach offers stunning dunes, clear waters, and a sense of tranquility. Visit the ancient Roman ruins of Baelo Claudia, located just a stone's throw away from the beach, to add a touch of history to your seaside adventure.
5. Playa de Las Canteras – Las Palmas, Gran Canaria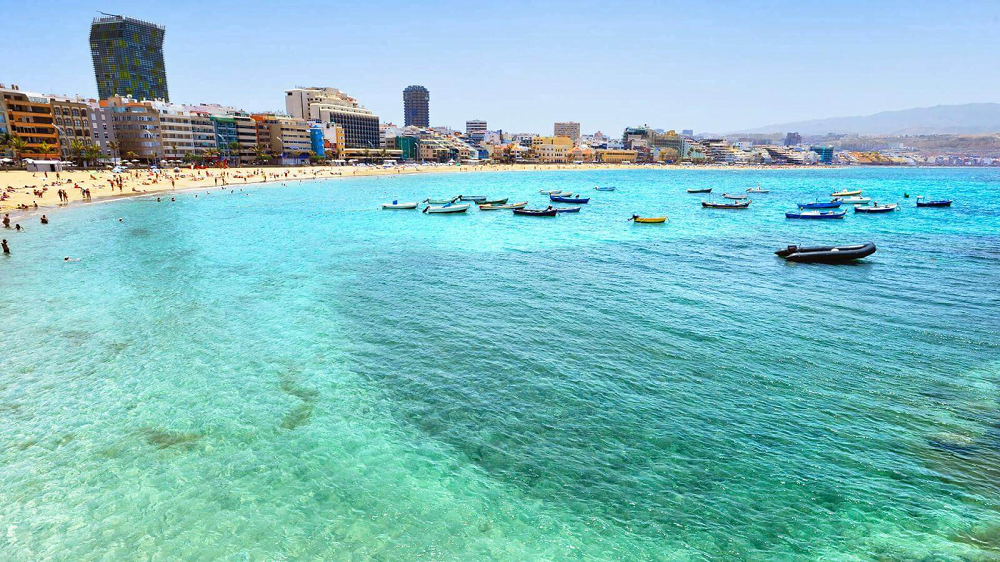 In the vibrant city of Las Palmas, Playa de Las Canteras beckons with its golden sand and a natural reef that keeps the waters calm and safe for swimming. Take a walk along the lively promenade, enjoy water sports such as surfing and snorkeling, and savor the local cuisine at the nearby restaurants. Playa de Las Canteras is an urban beach oasis that captures the essence of the Canary Islands.
6. Cala Comte – Ibiza, Balearic Islands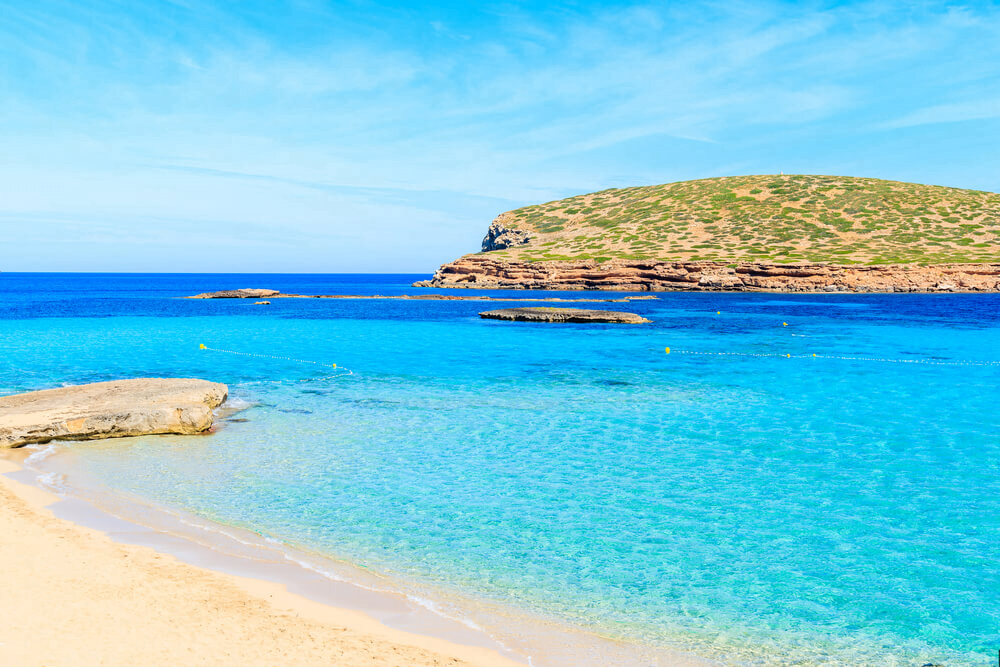 Ibiza is famous for its lively nightlife, but it also boasts some of the most beautiful beaches in Spain, including Cala Comte. This idyllic cove is renowned for its turquoise waters and stunning sunsets. Embrace the bohemian vibe, enjoy beachfront cocktails, and witness the magical colors of the sky as the sun sets over the Mediterranean Sea.
7. Playa de Rodas – Cíes Islands, Galicia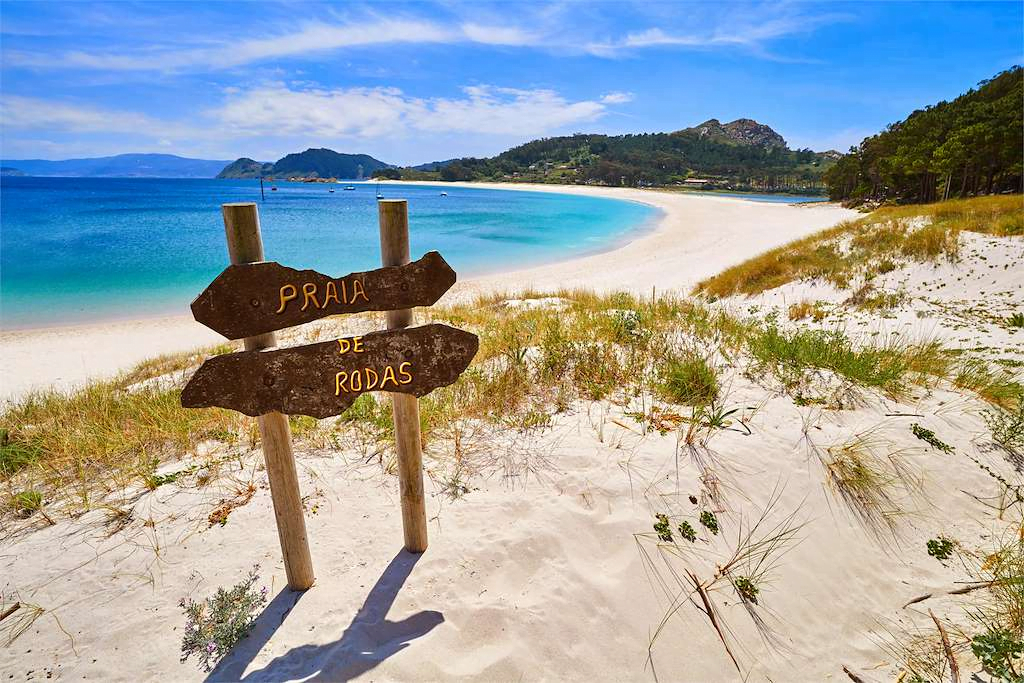 Accessible only by boat, the Cíes Islands in Galicia are a natural treasure, and Playa de Rodas is their crowning jewel. Voted as one of the best beaches in the world, Playa de Rodas offers powdery white sand and transparent waters that glisten under the Galician sun. Explore the untouched natural beauty of the islands and bask in the tranquility of this pristine paradise.
8. Playa de las Catedrales – Ribadeo, Galicia
Also known as the Beach of the Cathedrals, Playa de las Catedrales is a unique coastal wonder in Galicia. The beach features stunning rock formations that resemble soaring cathedral arches, creating a dramatic landscape. During low tide, visitors can walk through the impressive rock formations, providing a truly unforgettable experience.
9. Playa de Zahara de los Atunes – Zahara de los Atunes, Andalusia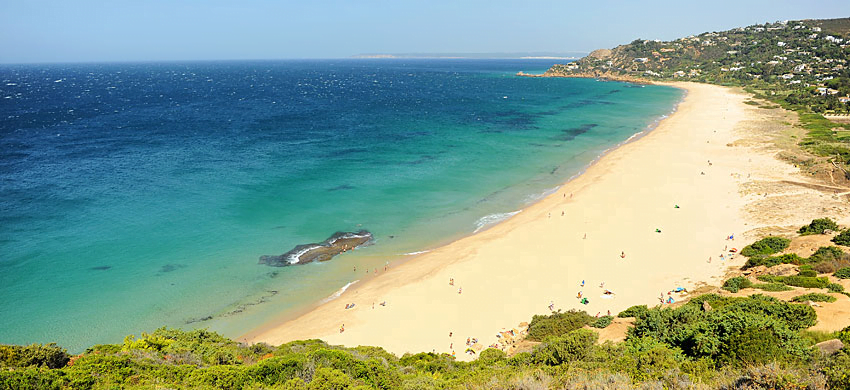 Nestled in the charming fishing village of Zahara de los Atunes, this beach offers a serene escape on the Costa de la Luz. With its golden sands and clear waters, Playa de Zahara de los Atunes is perfect for leisurely walks, beachcombing, and indulging in fresh seafood at local beachside chiringuitos.
10. Playa de Papagayo – Lanzarote, Canary Islands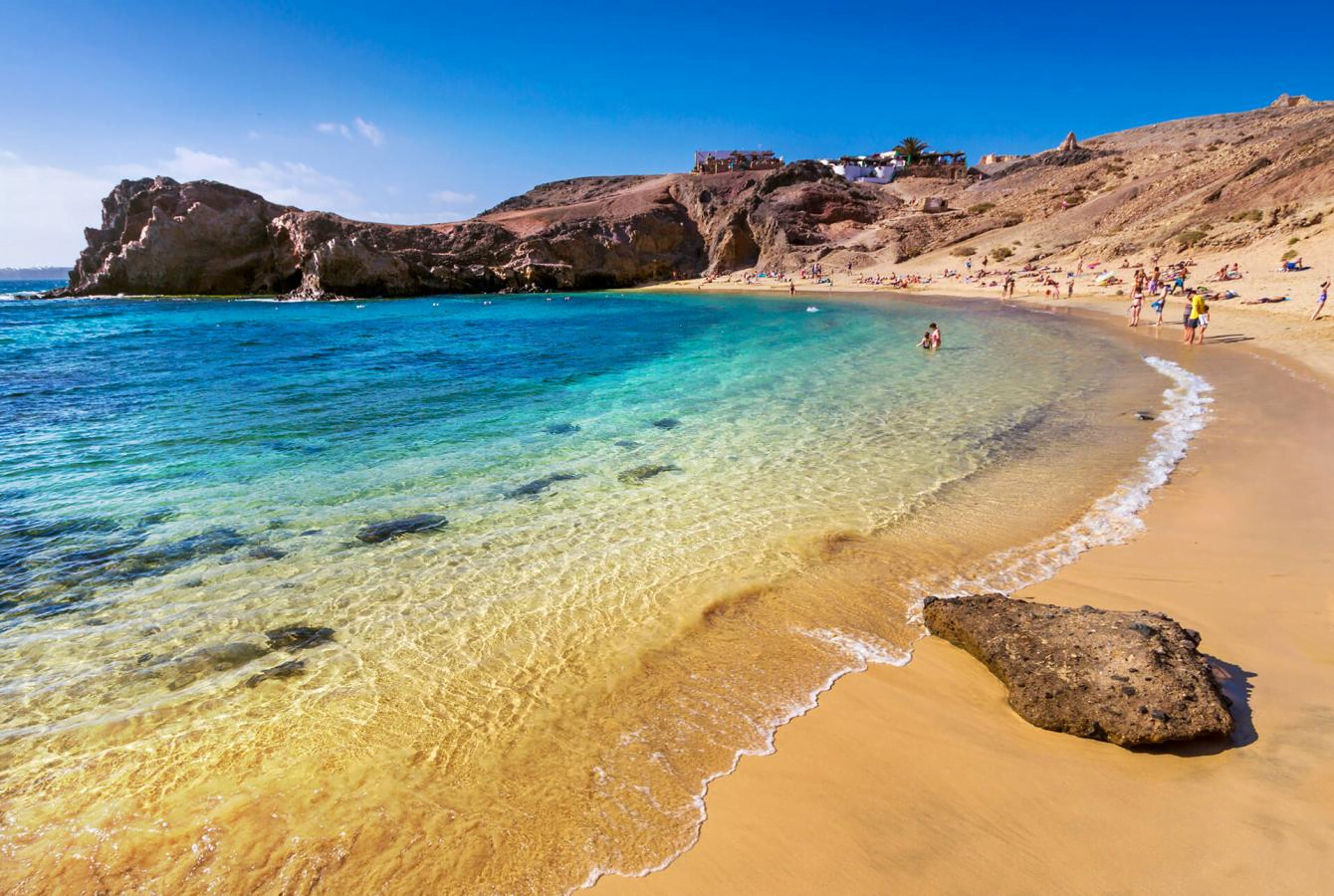 Located in the spectacular island of Lanzarote, Playa de Papagayo is a collection of breathtaking coves and beaches set against volcanic cliffs. The turquoise waters are ideal for snorkeling, while the golden sand invites you to unwind and soak in the natural beauty of the Canary Islands.
Spain's coastline is a tapestry of stunning beaches, each offering its own unique charm and allure. Whether you're seeking relaxation, adventure, or a bit of both, the best beaches in Spain promise an unforgettable vacation experience.
10 Best Beaches in Spain for 2023-2024 :
Playa de Ses Illetes – Formentera, Balearic Islands
Playa de la Concha – San Sebastián, Basque Country
Playa de Muro – Mallorca, Balearic Islands
Playa de Bolonia – Tarifa, Andalusia
Playa de Las Canteras – Las Palmas, Gran Canaria
Cala Comte – Ibiza, Balearic Islands
Playa de Rodas – Cíes Islands, Galicia
Playa de las Catedrales – Ribadeo, Galicia
Playa de Zahara de los Atunes – Zahara de los Atunes, Andalusia
Playa de Papagayo – Lanzarote, Canary Islands