The state of Hawaii consists of eight main islands: Niihau, Kauai, Oahu, Maui, Molokai, Lanai, Kahoolawe and the Big Island of Hawaii.
Hawaii is an amazingly beautiful Pacific island paradise where everyone will find something they enjoy. From beaches and Polynesian culture to rare orchids and rain forests, each island is unique with its own special places and features.
Hawaii has so many amazing beaches there are countless out there just as blue and beautiful as the next.
10- Carlsmith, Big Island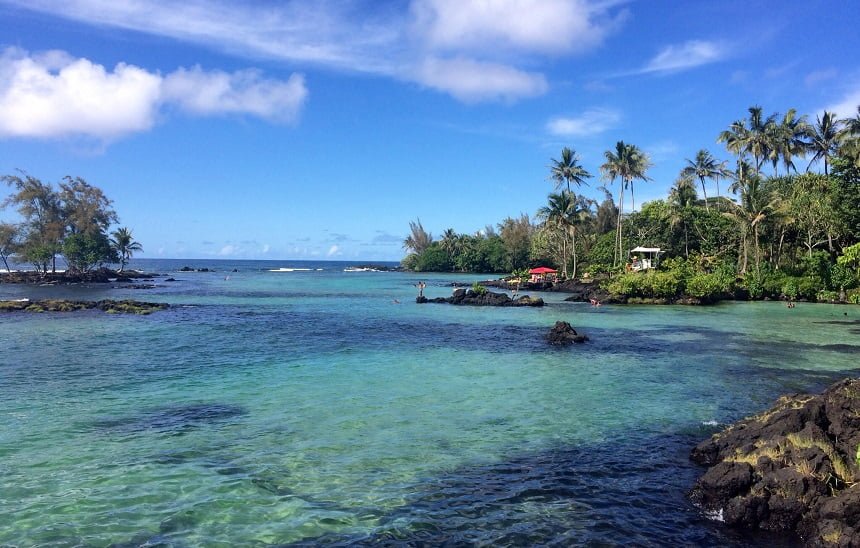 A truly unique spot, this spectacular beach is made of a series of big lagoons. The shore is rocky, but the bottom is sandy. There is no sandy beach, but it's a great place for swimming and snorkelling because the near shore waters are protected by a reef. Freshwater bubbles up from the bottom in several areas, so there are some cooler spots throughout the lagoons. Sea turtles can often be seen here. They are tame and don't seem to mind the people in the water. The beach park has a spacious grassy area with trees, so there is plenty of room for a picnic.
9- Kauna'oa Beach (Mauna Kea), Big Island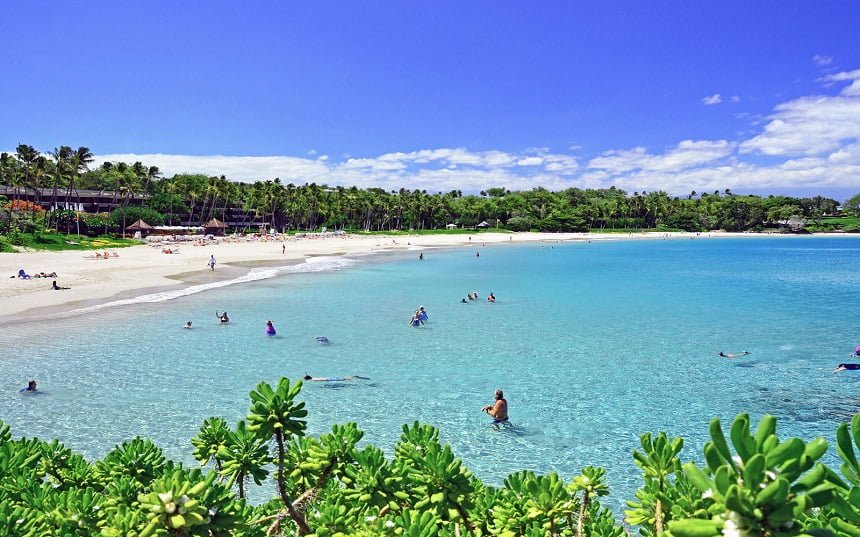 Sparkling, turquoise waters and fine white sand make this one of the Big Island's best beaches. Waves are usually gentle, and there are two reefs. This is a fantastic spot for snorkelling, swimming, and sunning.
8- Hulopoe Beach, Lanai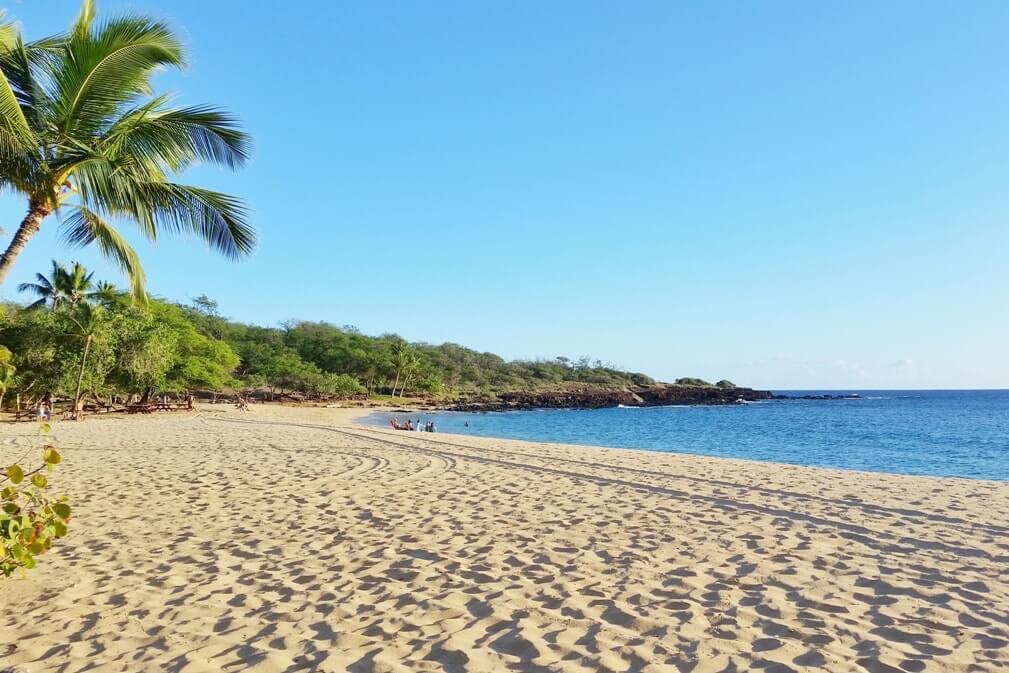 Hulopoe Beach is Lanai's most famous stretch of sand and extends pearly white along the island's southern coast. Throughout much of the year, protected Hulopoe Bay offers ideal swimming and snorkelling conditions, and at low tide, the eastern side of the bay boasts several large volcanic rock tide pools filled with colourful sea life. Hulopo'e Bay is Lanai's most popular swimming and picnicking beach that is great for families. The area is a protected marine preserve, so no ship is allowed to anchor in this bay. Turtles and spinner dolphins are frequently seen here and delight all the visitors that come to this beautiful beach!
7- Waikiki Beach, Oahu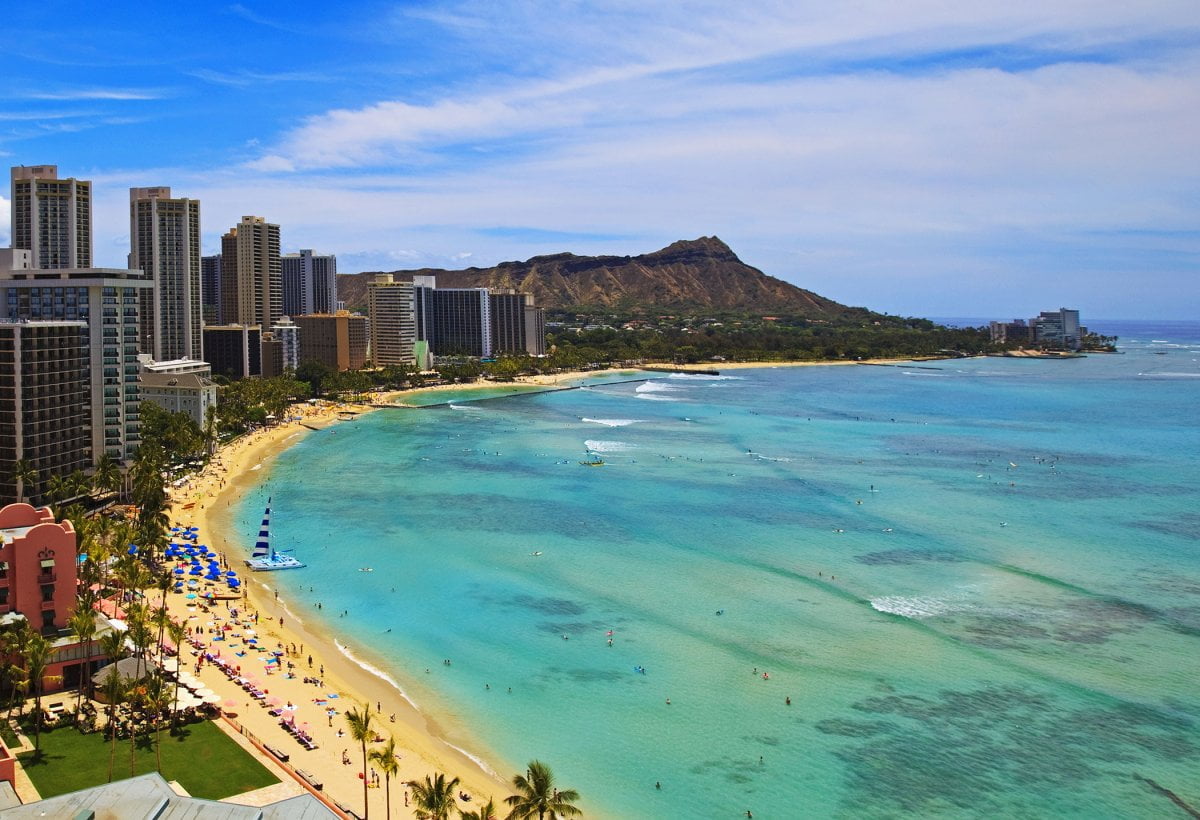 Waikiki Beach is best known as the birthplace of modern surfing. A manmade beach, it was designed to be versatile and is great for swimming, stand up paddle boarding, and kayaking. Nestled on Oahu's southern shoreline, Waikiki Beach is synonymous with an island paradise. Beachside is scenic and with gentle, inviting waves and luxurious oceanfront resorts this stretch of sand is idyllic.
6- Lydgate Beach Park, Kauai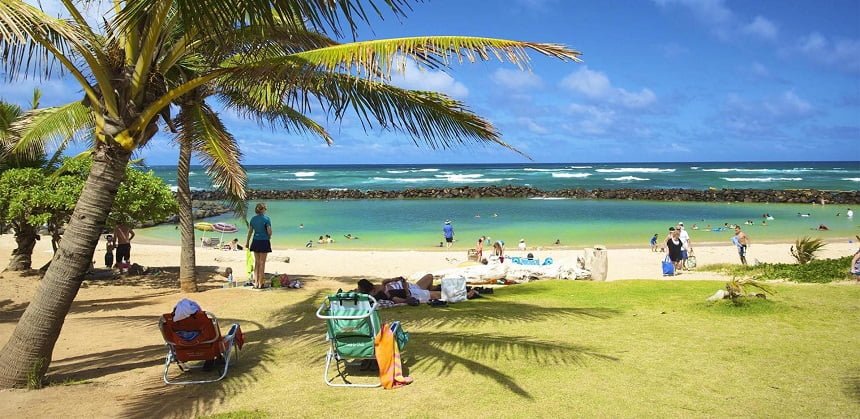 A fantastic family beach, Lydgate Beach has two protected lagoon areas filled with tropical fish and calm waters, perfect for swimming and snorkelling. The adjacent park has bike trails, a big wooden playground, and a grassy area where many people fly kites.
5- Wailea Beach, Maui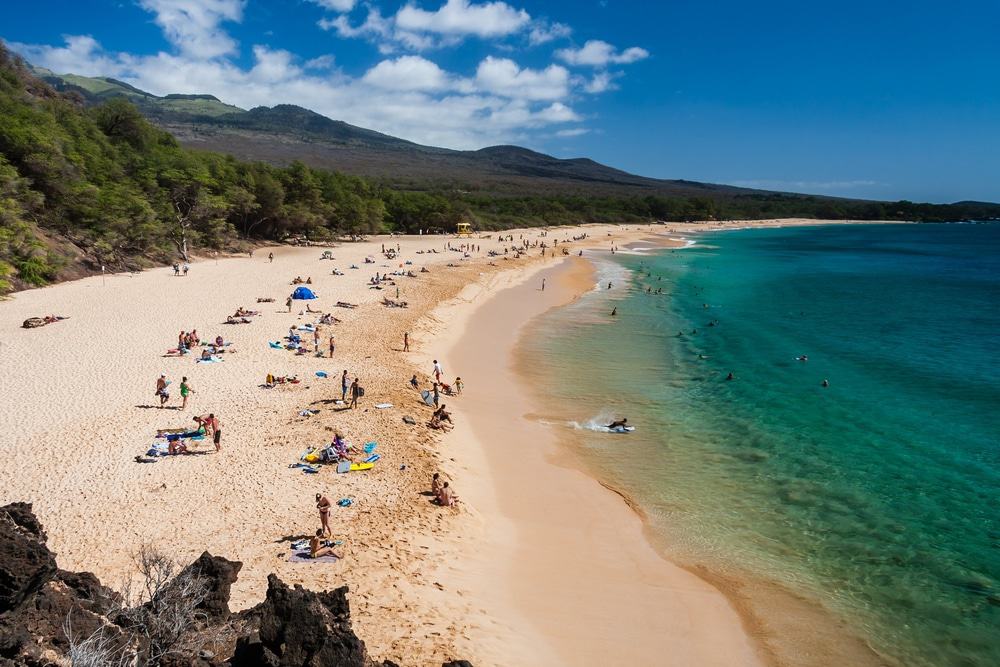 Wailea Beach has it all with soft sand, gentle waves, and clear water, perfect for nearly all water activities. This is a busy beach with many resorts in the area. Visitors will find well maintained public access and facilities, including a paved walkway that runs the length of the beach. There are also toilets, showers and plenty of free public parking provided for all to use.
4- Hamoa Beach, Maui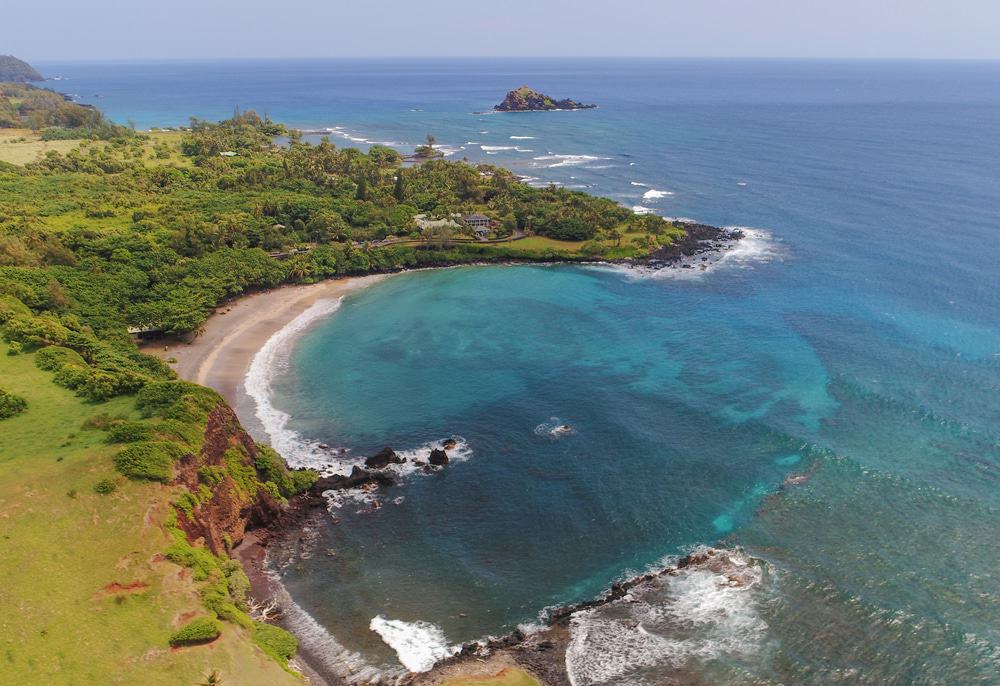 Hamoa Beach is a salt-and-pepper beach, with white sand and black lava rock sand, near Hana. This is a family friendly beach great for surfing, snorkelling, scuba diving, and swimming. Currents are strong outside the bay, and waves can get big, especially in winter. Hamoa Beach is approximately 1,000 feet in length and just over 100 feet wide with sea cliffs surrounding it. There are plenty of trees and lush vegetation that give the beach plenty of shade. Facilities are good with toilets and showers available for use. Great for families!
3- Hapuna Beach, Big Island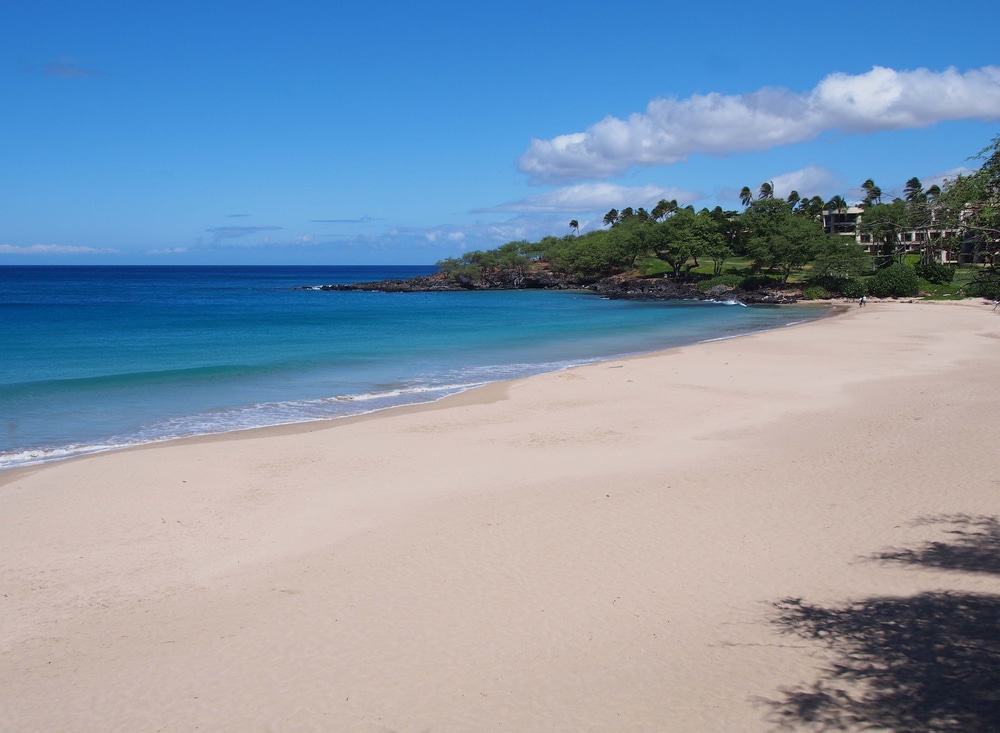 This breathtaking spot is the largest white sand beach on the Big Island. It's fairly flat, not too crowded, perfect for families, and has great snorkelling, swimming, and boogie boarding areas. There are trees that give plenty of shade and a lava tube on the south end of the beach to enjoy!
2- Hanalei Bay, Kauai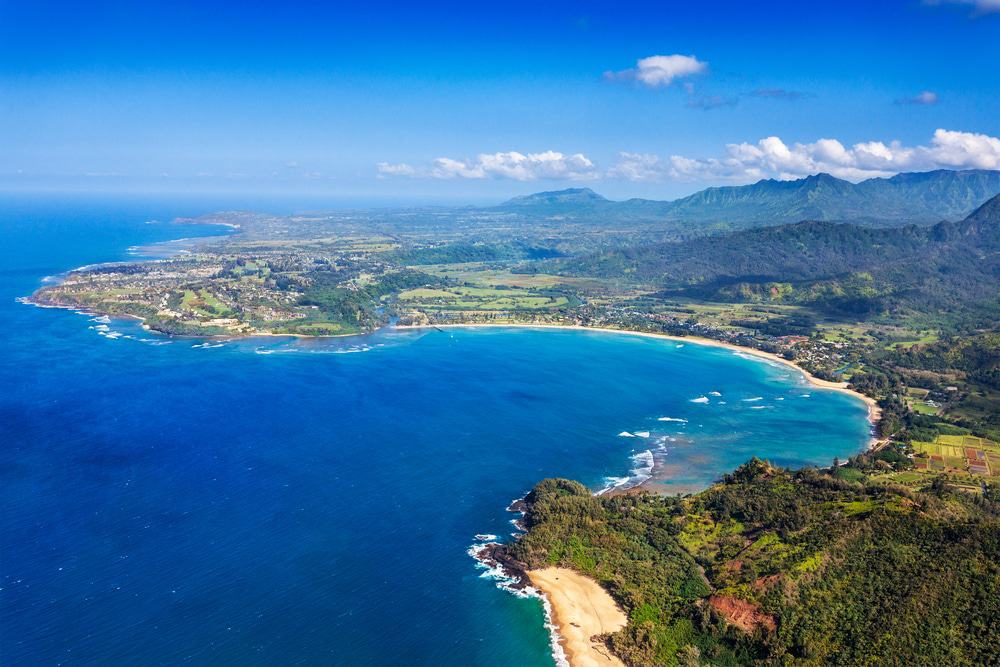 Hanalei Bay is an absolutely stunning beach that is crescent shaped and surrounded by mountains. There are actually three beaches here, and Black Pot Beach is the best of them, at the mouth of the Hanalei River with the huge pier that kids love jumping from. This beach is great for swimming, surfing, fishing, and paddle boarding.
1- Ka'anapali Beach, Maui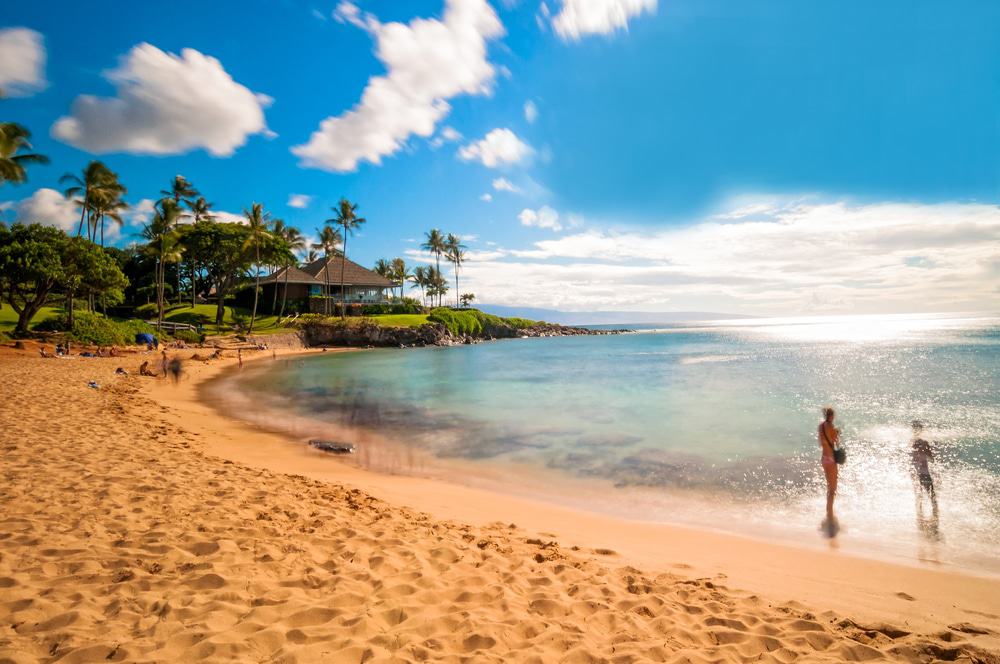 Ka'anapali Beach is a gorgeous, three-mile stretch of white sand and is fantastic for swimming. The beach itself is perfection, long, wide and sandy. Snorkelling is best on the north end near Black Rock, but currents can be strong there. This is a busy, high-energy beach which is a mix of man-made comforts and natural splendour. Ka'anapali Beach runs from Black Rock to Canoe Beach and is fronted by shops and fine restaurants. Black Rock offers cliff jumping and cliff-jumper watching which draws many people to the area.