Vancouver is the largest metropolitan area in Western Canada with a population of 2.6
million. Located at the south-western corner of the coastal province of British Columbia and surrounded by mountains and sea, it is well known for its majestic natural beauty.
With its scenic views, mild climate, and friendly people, Vancouver is known around the world
as both a popular tourist destination and one of the best places to live.
10- Sea to Sky Gondola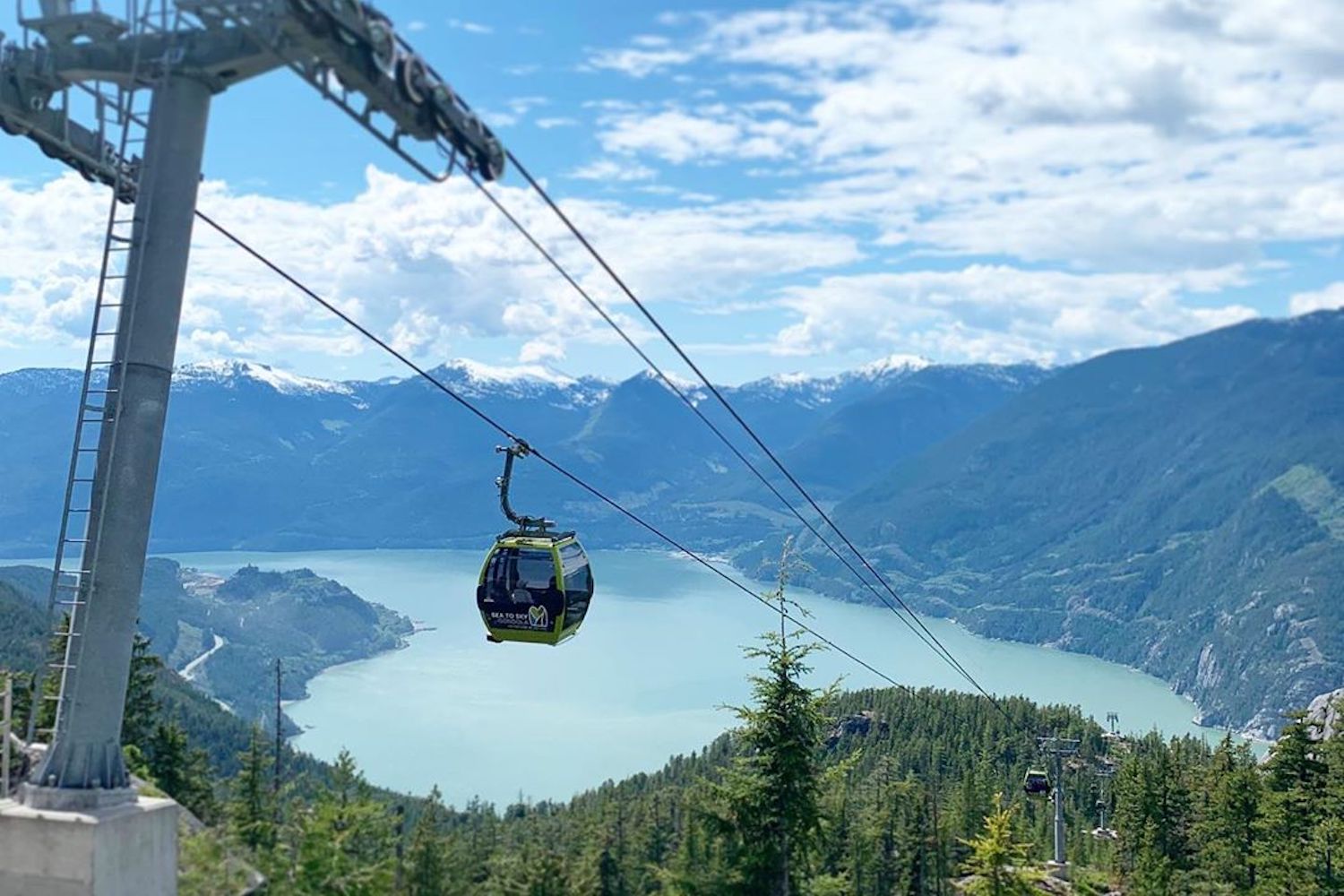 The Sea to Sky Gondola is located on Highway 99 just south of Squamish, a short drive from downtown Vancouver. Open throughout the year, this ten-minute gondola ride takes visitors up almost 2,800 feet past Shannon Falls giving spectacular views of the mountains surrounding Vancouver. At the top are a number of trails, including the 1.6 km Panorama Trail that leads to a viewing platform. There are other great trails as well, including the Wonderland Lake Loop both are fairly level and family-friendly.
9- Vancouver Lookout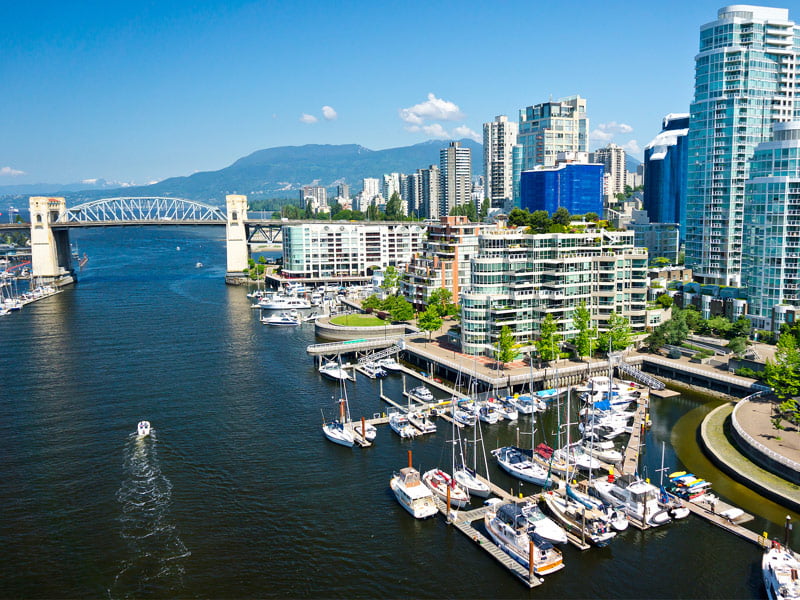 Sitting on the 55th floor of the Harbour Centre building in downtown Vancouver, the lookout is reached via a glass elevator, where the 40-second ride takes visitors up more than 550 feet to the top. From the panoramic observation deck, you can enjoy a 360-degree view of the city below, including the North Shore and Olympic Peninsula Mountains, as well as the sprawling Stanley Park and beyond.
Entrance is valid all day for multiple visits and visitors can enjoy the city in the morning, afternoon and lit up at night.
8- Gastown Vancouver Steam Clock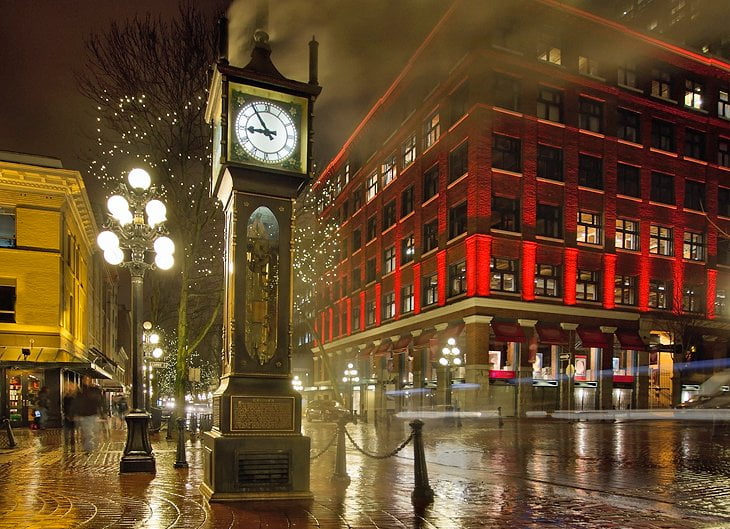 Vancouver's oldest neighbourhood, Gastown, grew from a single tavern founded by John 'Gassy Jack' Deighton back in 1867. Today, the district retains its historic charm and independent spirit.
The Gastown Steam Clock was built in 1977 and has an antique style, is powered by steam
and whistles to tell the time. Every quarter hour, the two-ton Steam Clock shows off a bit, whistling and shooting steam from its five whistles in its version of the Westminster Chime.
On the hour it marks each hour with a toot from each whistle.
7- Capilano Suspension Bridge Park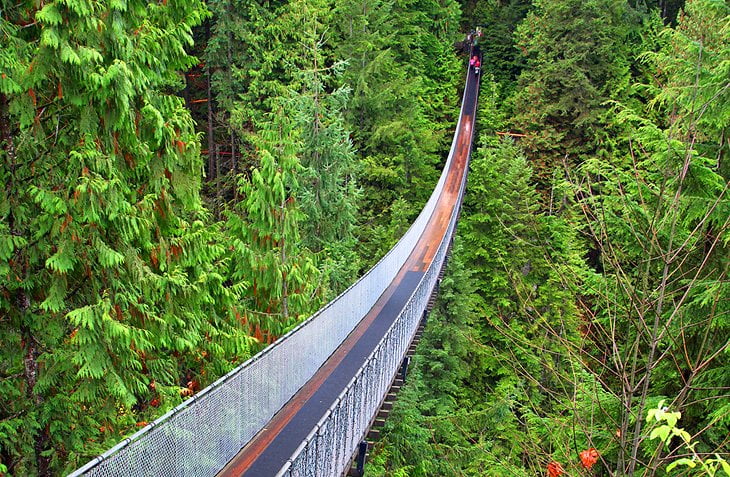 The Capilano Suspension Bridge in North Vancouver, about 7 miles north of downtown, dates back to 1889. The 450-foot-long bridge, suspended 230 feet up, offers spectacular views of the Capilano River below.
The fun doesn't end once visitors reach the other side of the canyon there are more suspension bridges that wait at the Treetops Adventure.
With this canopy walk, set among the park's Douglas fir trees, visitors have the chance to walk up above the forest floor, from viewing platform to viewing platform exploring the winding walkways around the treetop canopy.
6- Britannia Mine Museum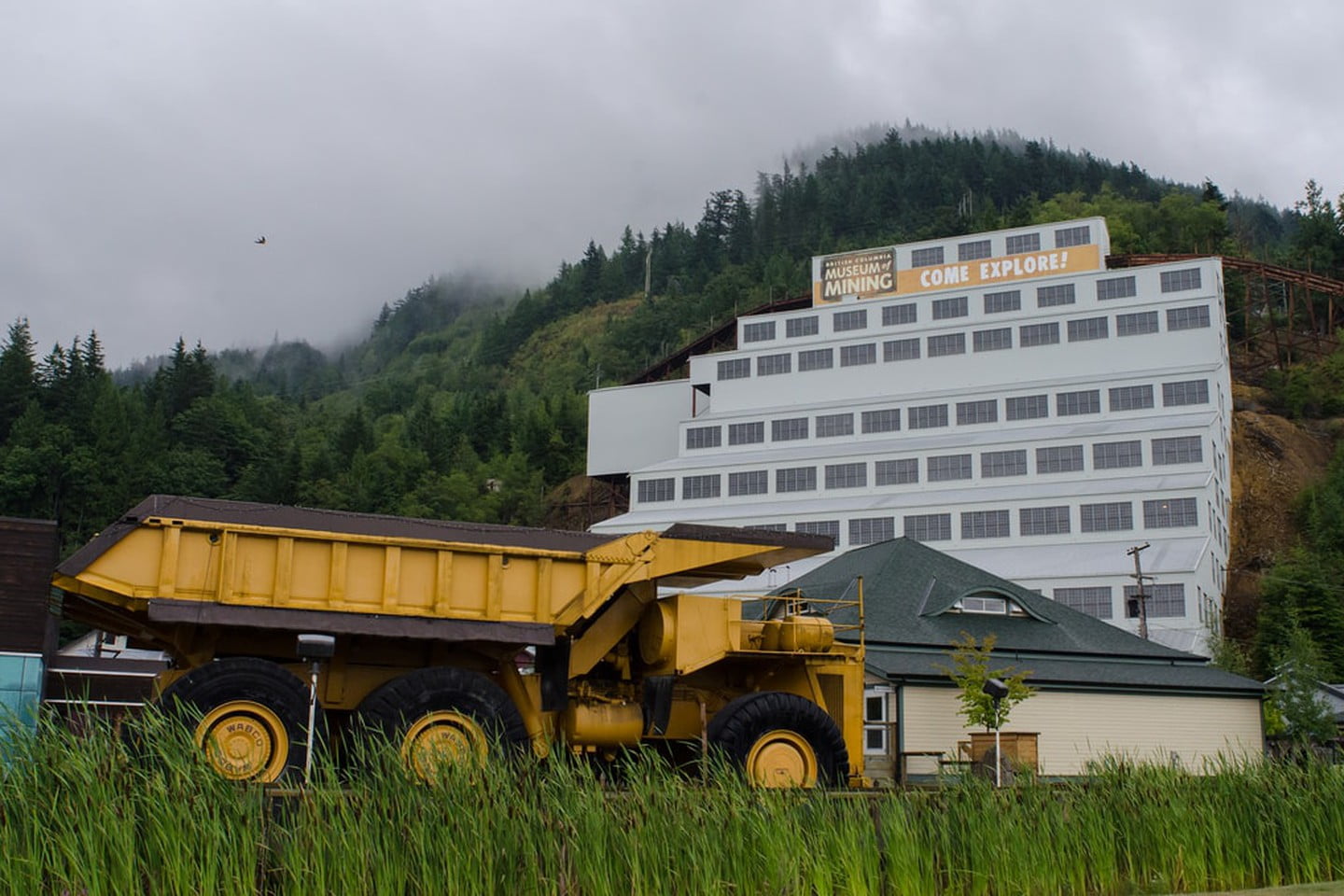 At the Britannia Mine Museum enjoy panoramic views of Howe Sound's breathtaking glacial landscapes, before descending below the surface into old gold mines. Visitors can pan for real gold and keep whatever they find.
Then take a guided tour of British Columbia's rich mining heritage and board the mine train
as it rolls into the dark. Get immersed in the history with interactive exhibits that put visitors in the boots of a miner creating memorable family experiences.
5- Granville Island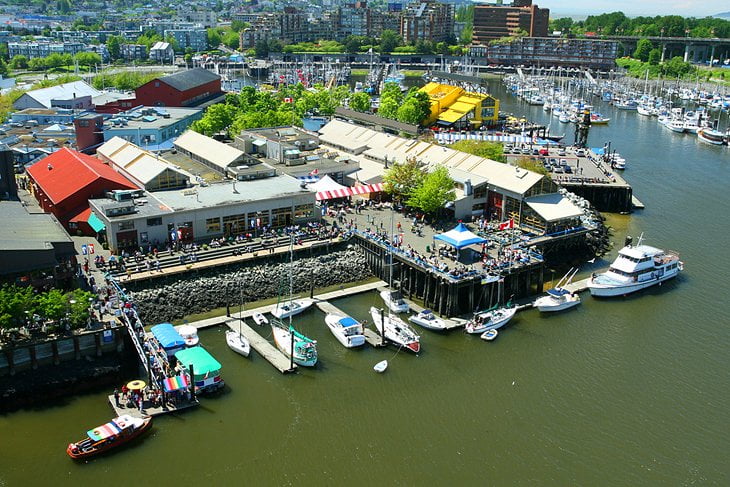 Located just 2 miles north-west of central Vancouver, Granville Island is accessible from central Vancouver by bus, car and ferry. In the early 1900s, Granville Island was home to factories, plants and sawmills.
Today, the Granville Island Public Market acts as a hub of activity, but it's also one of the city's most important cultural districts with theatres, artisan workshops and craft studios.
4- Stanley Park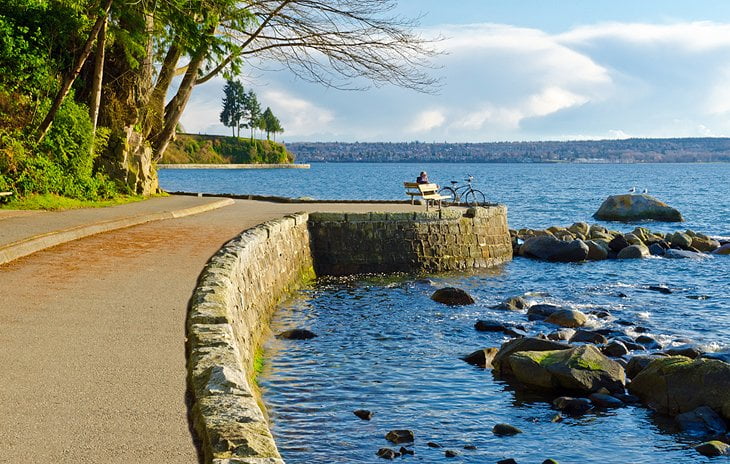 Stanley Park is Vancouver's largest urban park and is almost entirely surrounded by the waters of Vancouver Harbour and English Bay. The park has a long history and was one of the first areas to be explored in the city.
Families will find plenty of family-friendly activities here including an outdoor water park and a separate heated, outdoor pool. The park also boasts four playgrounds and a miniature train that snakes through more than a mile of forest. With beaches, totem poles, an aquarium, botanical gardens and tennis courts, there is plenty to keep everyone occupied.
3- Vancouver Art Gallery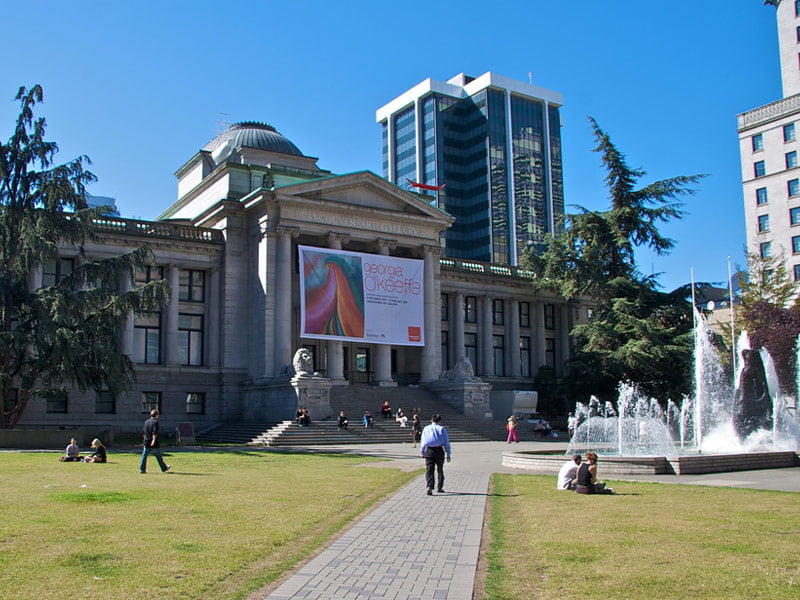 Set against the backdrop of British Columbia's natural majesty, the Vancouver Art Gallery has been bringing modern and contemporary art to the city's heart since 1931. It is recognised as one of North America's most respected and innovative visual arts institutions.
Visitors can see over a century's worth of Canadian and international art, from historical masters to contemporary visionaries and more.
2- Queen Elizabeth Park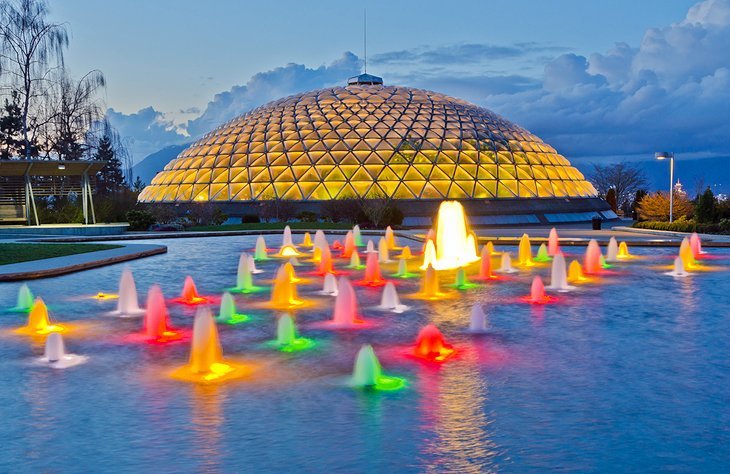 Queen Elizabeth Park is a 130-acre municipal park that features a meticulously manicured quarry garden with pathways, bridges and mini waterfalls, set amongst hundreds of plants and flowers, and an arboretum with about 1,500 native and exotic trees.
Since the park sits at the highest point in Vancouver, it offers spectacular views of the city skyline, mountains and shoreline from the fountain plaza.
1- Vancouver Aquarium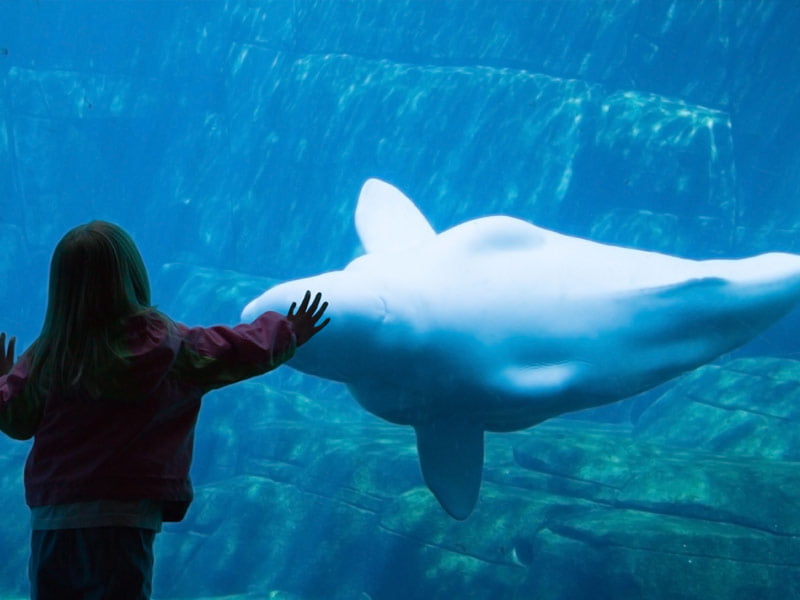 The Vancouver Aquarium is a public aquarium located on the eastern edge of Stanley Park. In addition to being a major tourist attraction for Vancouver, the aquarium is a centre for research and marine animal rehabilitation. Visitors can discover thousands of marine animals in spacious environments replicating their natural habitats.

Vancouver Aquarium is more than just an aquatic zoo it's also a conservation centre that helps protect the planet's beautiful and vulnerable sea creatures. See rare White-Sided Dolphins, toothy sharks, waddling penguins, exotic coral reef-dwelling fish, octopus, and more.
So that sums up our top 10 things to do in Vancouver, we hope you enjoyed