Summer is just around the corner and what better place to be on a hot day than a water park, but not all water parks are weather permitting whether rain or snow, these incredible water parks are built indoors though some aren't currently open, I figured it was time to give these incredibly engineered parks the exposure they deserve.
Want to plan that perfect summer vacation spent enjoying fun and relaxation in the water? There are many resorts that offer indoor or outdoor water parks, and sometimes both.
The are the 12 Best Water Parks in the U.S in 2022 :
12- Splish Splash Water Park, Calverton, New York :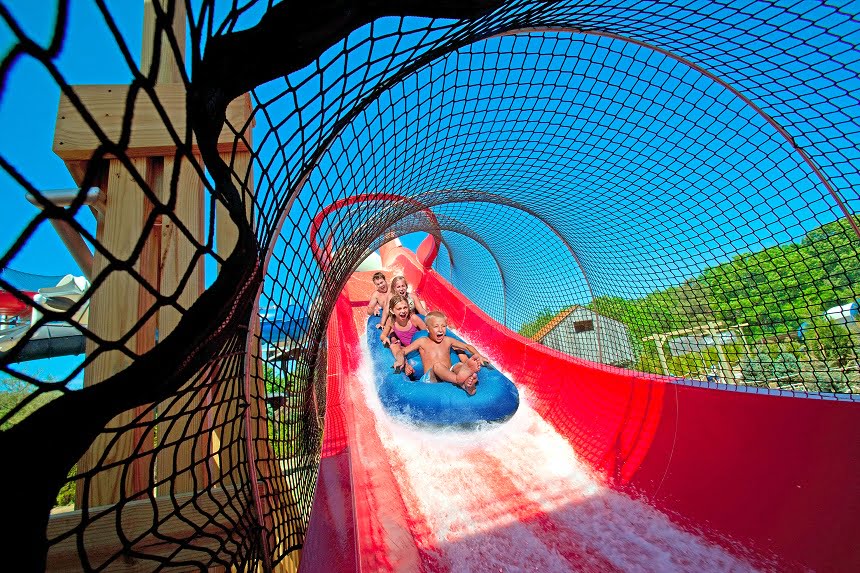 Splish Splash has a lot of fantastic hubs and activities to offer. If you want to start off your adventure in a different style, then be sure to watch the show Parrots of the Caribbean. It is an engaging show of exotic birds where trained parrots showcase their surprising skills.
Getting wet is part of this trip, so choosing where to line up is something to consider. Here you can spend your time lining up at the Bootleggers Run. It is a water coaster that can accommodate up to four riders and bring them up to 30 mph.
11- Hurricane Harbor, Agawam, Massachusetts :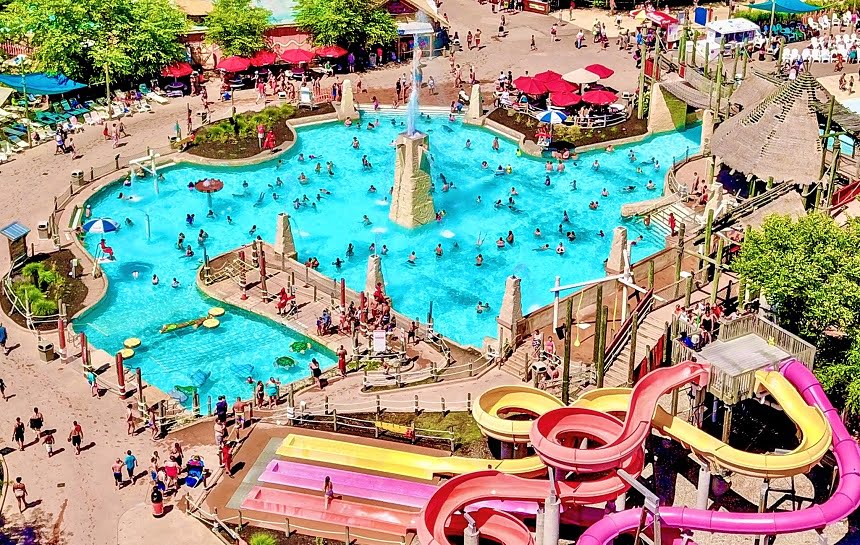 Kids are sure to have fun in this exciting water park, as every attraction in this haven seems like it was made exclusively for them. Hurricane harbor in Massachusetts has a lot of fantastic highlights, One of the best features of this water park is Hooked Lagoon, a wooden treehouse that has several sprayers, amazing water cannons and a giant tipping bucket.
There is also the Commotion Ocean Wave Pool with over 5000 gallons of water. Check out the Adventure River, Lazy River, and the Gentler Wave Pool if you want a chill moment, and go to Hurricane Harbor for something unique.
There is also the Typhoon, a hybrid roller coaster and water slide that takes its rider up and down all the way through with the help of water jets and conveyor belts.
10- Kalahari Resort, Poconos (Pocono Manor, Pennsylvania) :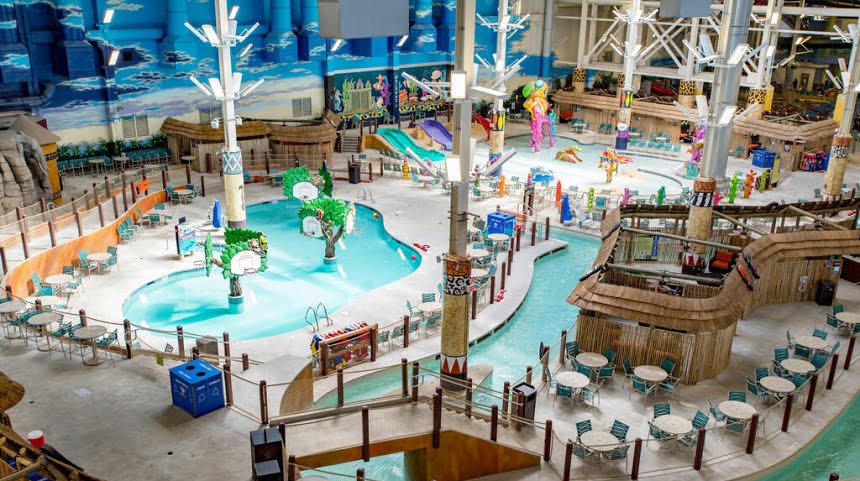 Tired of putting sunscreen and sunblock on your skin to prevent getting a sunburn? Try exploring this fabulous indoor water park in Pennsylvania. Kalahari Poconos is popularly known to be the nation's largest indoor water park.
It is home to over two dozen amazing slides and magnificent water hubs, and its capacity is beyond what typical outdoor sites have also registered guests who are checked in the resort itself get free admission to the water park at 05:00 p.m. Sharp. Passes are available for purchase that cost $90.
9- H2OBX, Powells Point, North Carolina :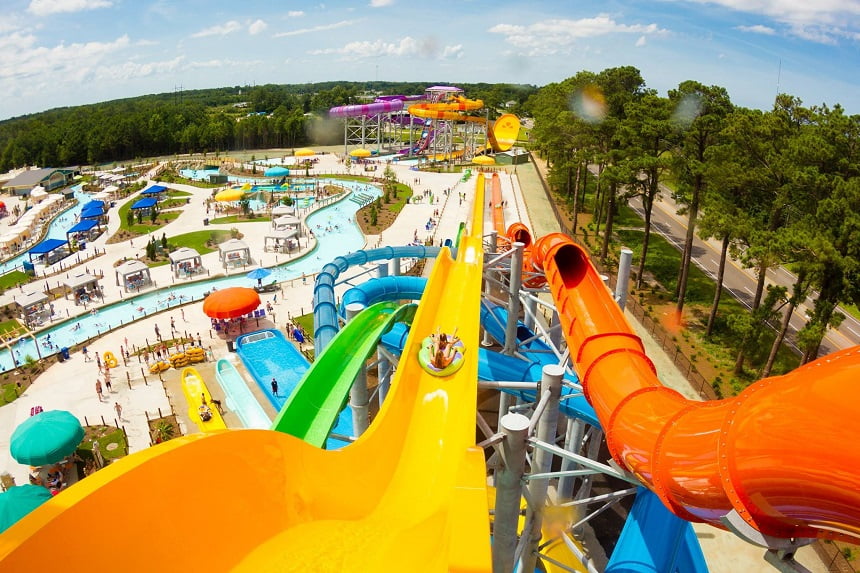 Newly opened in 2017, H2OBX is a water park that can cater to everyone, whether they are an adult, a teenager, or a kid. Among the rides and slides that are worth lining up for is a rogue wave. This particular attraction is a six-story raft ride slide that sends its riders on fun and enjoying twists.
After securing admission entry passes to this water park. You can use them on the spot if you want to swim at night, choose the Twilight tickets. Be sure to buy them after 03:00 p.m. As you can save up to $17 from their original rate.
8- Big Rivers Water Park and Adventures, Newt Caney, Texas :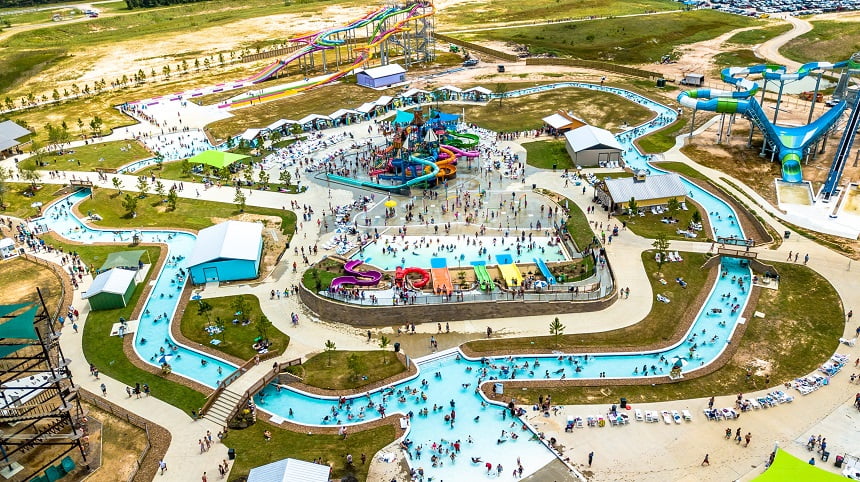 Not your typical water theme park, this new, one of a kind paradise opened in 2019, just about a 40 minute drive if you were coming from Houston. The Big Rivers Water Park and Adventures in New Cany, Texas, is definitely an eye-catcher. Usual attractions that you often see are leveled up.
Here there is a new set of exciting and thrilling attractions. There are great rafts and you can play games with stunning concepts. The park's main highlight is the Wild Isle Lake. It is a stunning inflatable race course challenge where you can create a fun game by passing through courses. Look out for the gator Splash, known as the town's largest and most engaging interactive play feature, with over 300 water play elements, endless slides and impressive sprayers.
There are also dry activities that you can try out, including zip lines rope courses and other exceptional adventures. If you are looking for a way to chill out, water parks are a great option. They can be fun for all ages and you can go with friends and family.
7- Enchanted Forest Water Safari, Old Forge, New York :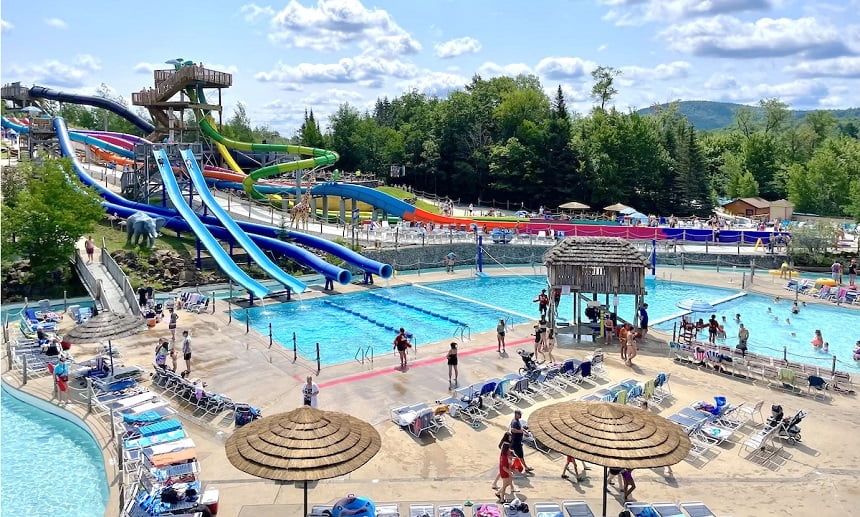 This place showcases 32 heated outdoor water rides alongside some traditional amusement rides including bumper cars and tilted Whirl. There is also a giant arcade and many more fun offers.
The Enchanted Forest Water Safari in Old Forests, New York is a great family getaway destination, especially if you were going with children. Admission tickets to this incredible water park are affordable and you can have the fullest water park experience without spending too much.
6- Aquatica Orlando, Orlando, Florida :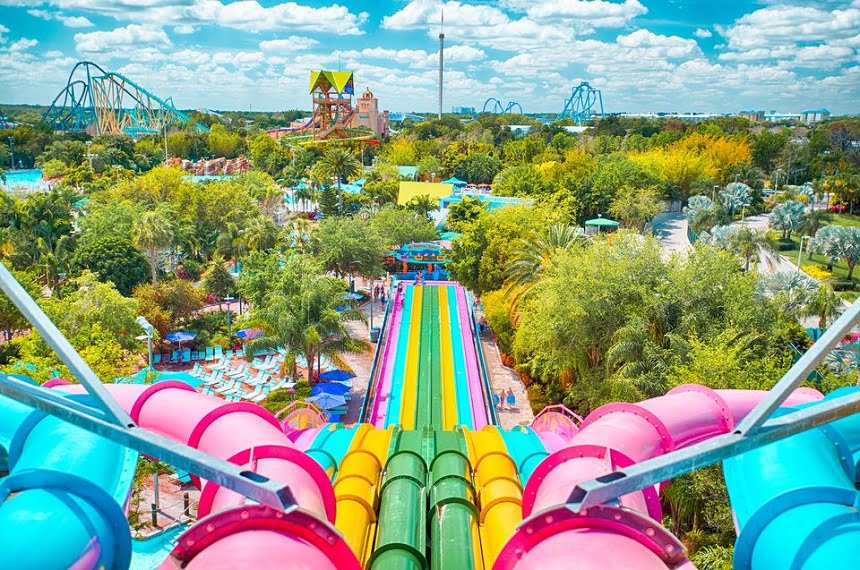 Meet the first ever SeaWorld water theme park where you can witness a vibrant collection of attractions. The majority of the rides are named after animals. An example is the Dolphin Plunge Ride, where riders can pass through a clear tube that travels a pot of dolphins.
If you want to grab your tickets in advance to avoid rush and hassles, then check online to purchase. Be sure to buy them a day in advance. If you plan to go on weekdays, you might be surprised by the big discount you can get.If you reserve or buy in advance, you can save up to $20.
5- Noah's Ark Water Park (Wisconsin Dells, Wisconsin) :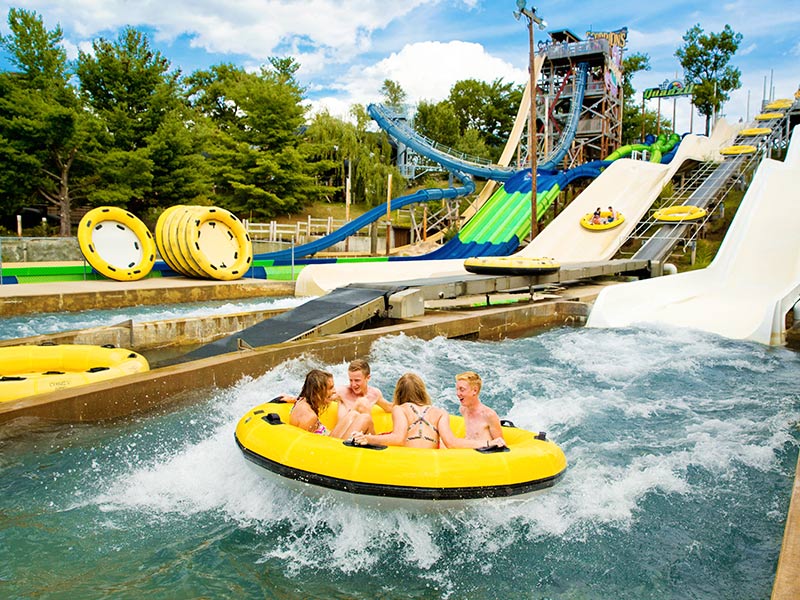 Widely known to be the world's water park capital, this awesome park is also recognized as one of the nation's largest water parks, for it has endless marvelous attractions.
Noah's Ark Water Park in Wisconsin Dells, Wisconsin features four kitty sections with cute mini slides which will instantly make children run over, water cannons, water gazers of the two giant waste pools, a surfing area and a water coaster, which will make you feel like you were in a typical amusement park.
One particular highlight of Noah's Ark that makes it so famous is the Raja Slide. Equivalent to the height of a six story building, this phenomenal slide attraction passes side by side in the fascinating shape of a cane cobra and ends in an astonishing 37 foot drop in the snake's mouth.
4- Water Federal Heights, Colorado :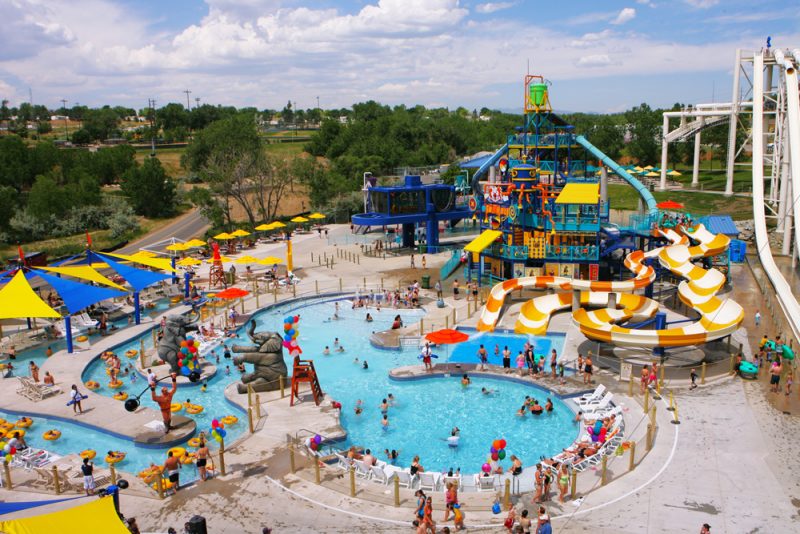 Endless offers tons of amazing choices and countless adventures are available at this water park in Federal Heights, Colorado. Water World covers an area of 65 acres and has 50 rides which rain from high speed thriller slides to family friendly tube rides. There are also engaging play sections.
What you shouldn't miss in this haven is the Lost River of the Pharaohs. This ride sends its riders on astounding raft twists and there is an exciting ancient pyramid.
3- Universal Volcano Bay (Orlando, Florida) :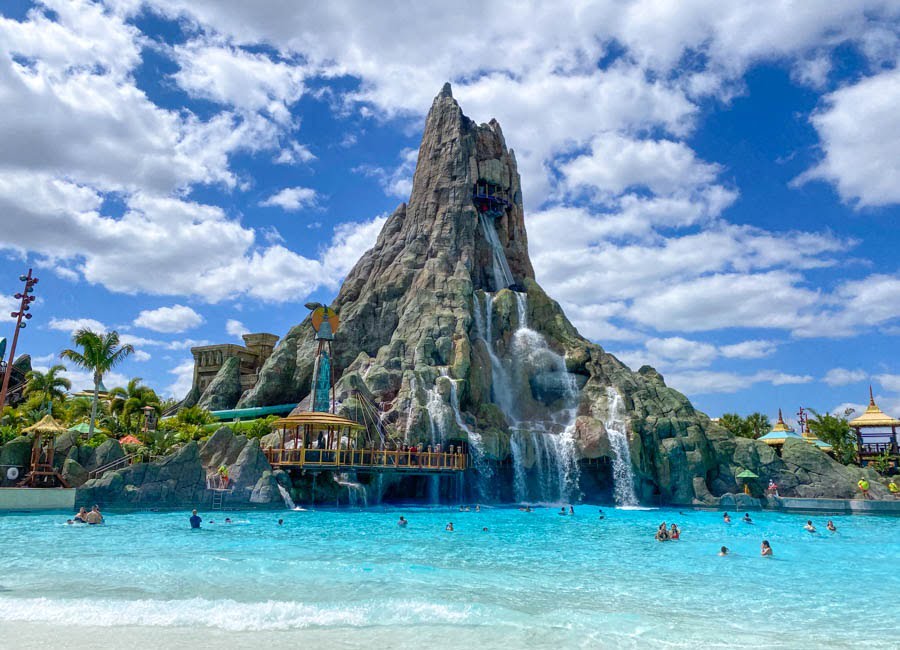 Making time to line up for a ride is not a thing anymore in this water park. With waterproof electronic Tapu Tapu wristbands, you can use them to wait for your chosen ride as your turn will be noted in their system. Once your turn is up, the wristband will vibrate to call out your attention.
At Universal's Volcano Bay in Florida, you will get the splendid opportunity to witness the Krakatau Aqua Coaster that is situated in the epic, towering volcano. Plus, this water park in Orlando can offer children the exciting thrills of adorable slides and a wave pool to enjoy.
If you want a moment to chill, check out the winding river where you can simply hop on the inflatable tube and let the flowing water guide you around.
2- Raging Waters , San Dimas, California :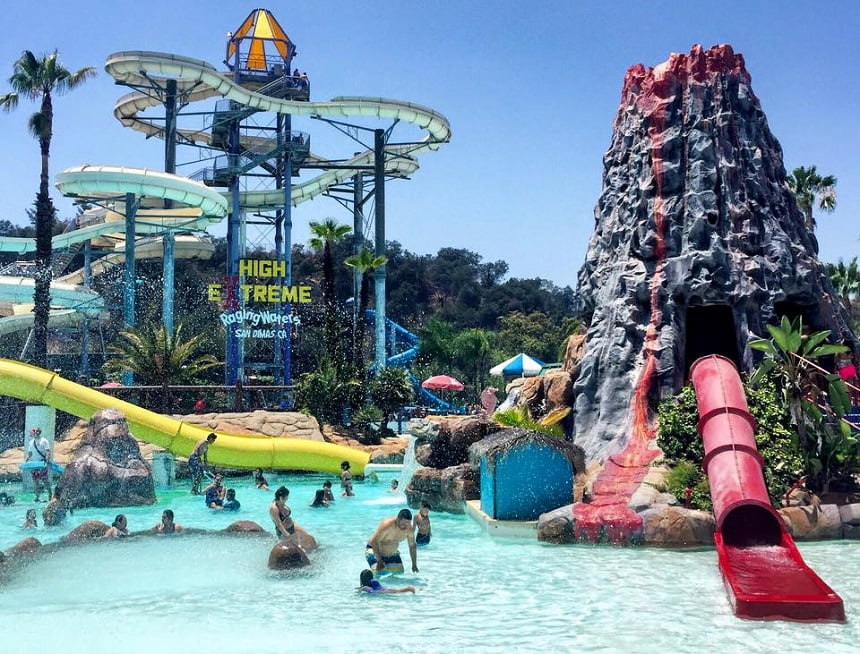 This water park in San Dimas, California is known to be the largest water park in the entire West Coast region and is 50 acres. Raging Waters exhibits an innovative H two go ride reservation system that enables guests to skip the lines by purchasing tickets to secure their slots in some of the popular rides around the park.
When exploring this paradise, you can line up in the seven story dropout that is famously known to be one of America's tallest vertical slides.
1- Wet'n'Wild Las Vegas, Nevada :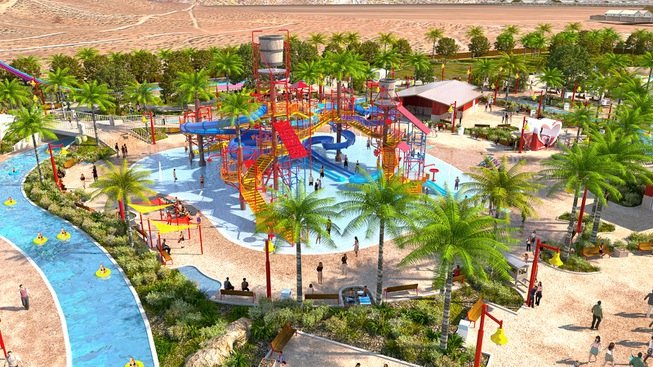 This water park is located in Las Vegas. The Wet and Wild water park covers 20 acres of land area. It's not as big as others, but that doesn't mean it can't house them fabulous and entertaining attractions.It has over 25 slides and spectacular hubs to explore which are open for all ages.
Something to look forward to in wet and wild water park is their zip zap zoom. It is a multicolored slide where riders can unleash their skill as a gamer with an interactive feature.
Which one of these all time favorite water parks would be your choice? Comment below.
We are excited to hear which one you'd most like to go to.