We're in British Columbia on our next stop on our road trip across Canada, home to high mountains, dessert, rainforest, the Pacific Ocean, and world-class cities, British Columbia is one of Canada's most diverse and beautiful provinces.
We started our trip in the north, making our way down from the Yukon to Liard Hot Springs, where we took a break in the second largest known hot springs in Canada.With steam rising off the water, it felt like we were walking through a jungle in a tropical paradise.
It's impressive how hot the water gets and it was a great way to soothe our muscles before beginning the long drive to Vancouver. Some of the things that make Vancouver one of the most beautiful cities in the world is the variety of parks, beaches, coast line, and natural attractions that can be found all over the city.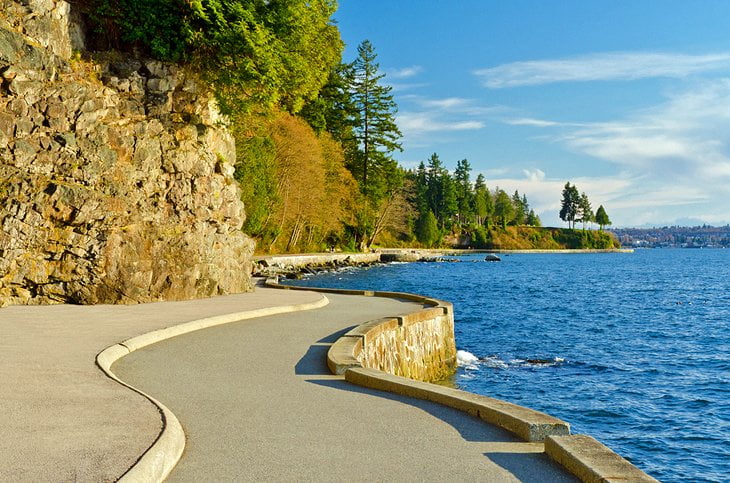 The most famous park of them all is Stanley Park, a 400-hectare natural west coast rainforest in the heart of the city, we spent some time hiking through the forest admiring Beaver Lake and riding our bikes along the beautiful sea wall, a paved path that circles the perimeter of Stanley Park right next to the ocean, this is such a beautiful trail, we got to see incredible views of the city skyline, the Lionsgate Bridge, the Pacific Ocean, and a variety of sandy beaches.
Next, we moved to north Vancouver to walk across Capilano Suspension Bridge, A 460-foot long suspension bridge that sits 230 feet over a scenic river.While the bridge itself is a major tourist attraction, there is a lot of things to do in the area as well, including a canopy walk and a cliff walk .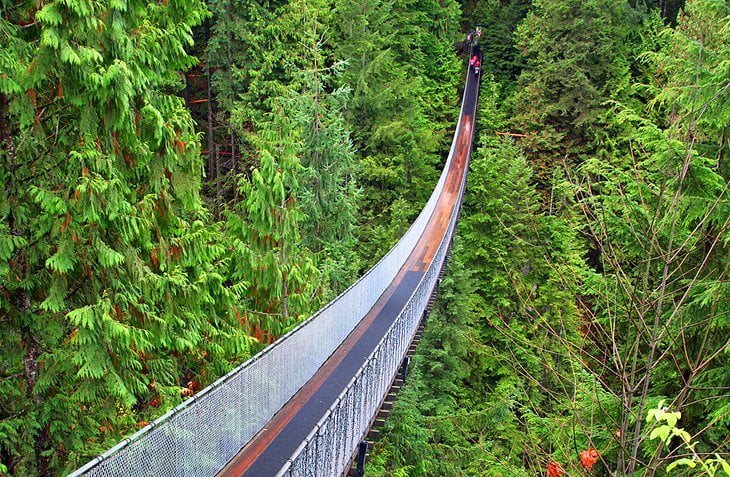 After exploring some of Vancouver's natural attractions, we moved into the city to start exploring Robson Street and then Gas Town, Vancouver's oldest district.Here, we found an array of beautiful buildings, cobblestone streets, and even an old steam clock we also took a walking tour to learn about the days of prohibition, the opium riots, and some of Vancouver's darkest days. It was a great way to learn about the beginnings of this great city.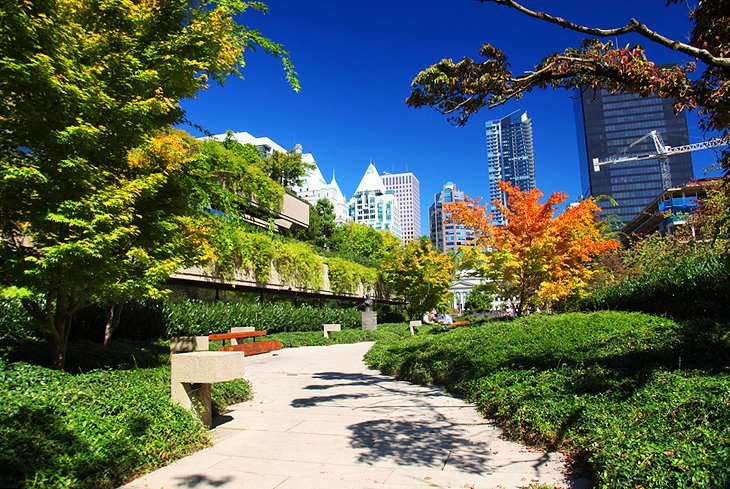 The next day we continued to learn about the area by visiting the Museum of Anthropology, which houses thousands of artifacts from the Northwest coast First Nations as well as other cultures from all over the world. It was impressive to see the collections of the artwork and to go through some of the interactive exhibits that introduced us to various art forms such as Japanese calligraphy.
After a couple of days in Vancouver, we took the ferry to Vancouver Island, an area known for its wilderness and adventure. we started in Victoria, BC's capital city. Named after Queen Victoria of the United Kingdom, Victoria is a beautiful coastal city with a variety of heritage homes, legislative buildings, and a vibrant food scene.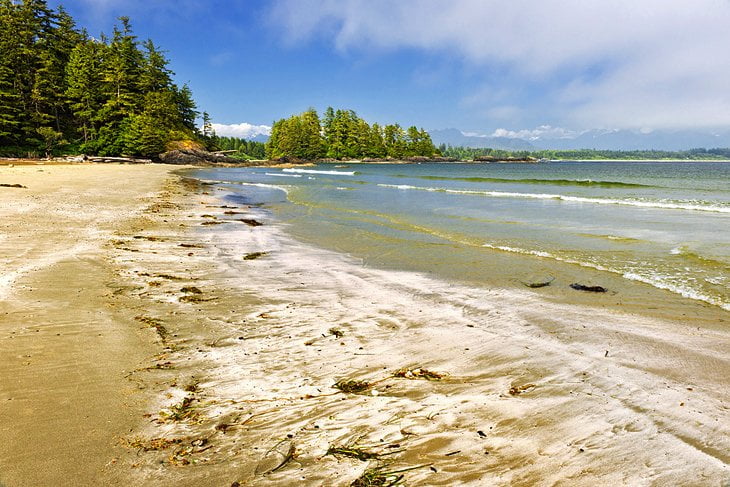 To get a better taste of city, we took a walking food tour through the heart of the city, including the second oldest Chinatown in North America, Not only did we learn so much about Victoria's history but we got to try delicious food such as premium olive oils, perogies, meat balls, italian baked goods, and the famous Victoria cream chocolates, which are sent to the Queen of England every year.
And in the evening we went to an in-house brewpub, where we got to try a beer and chocolate truffle pairing. It was delicious!
Victoria is also known as the garden city, which is quite apparent as you are walking along the streets, however the most magnificent garden of them all is The Butchart Gardens, which is now a National Historic Site of Canada.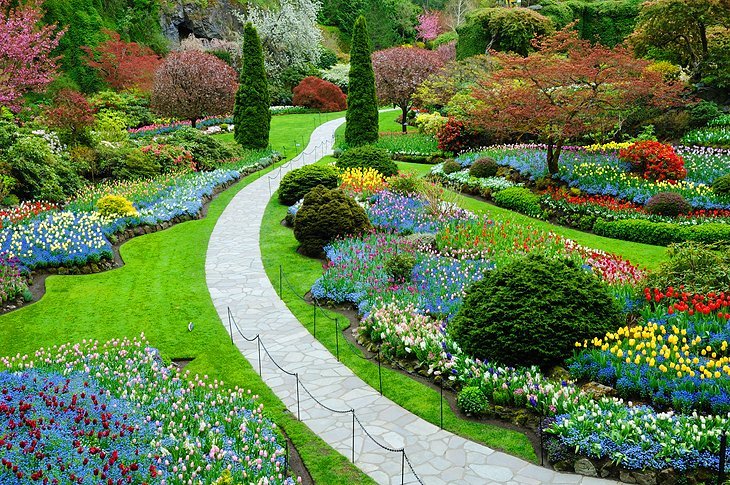 With over 900 variety of plants, we could quickly see why this has become a world famous attraction. It was so impressive to look down at the Sunken Garden, view the various water fountains, step though the peaceful Japanese Garden, walk through the Rose Garden, and admire the hard work and passion that went into this 55 acre garden.
Next, it was time to explore the island's wild side. We started the adventure off in Port Renfrew, which in nestled between the famous West Coast Trail and Juan de Fuca Trail.
Here, we hiked to Botanical Beach to see the beautiful tidal pools and to Sombrio Beach, where we found a small trail leading to a spectacular waterfall. The water may have been cold but that didn't stop us for taking the chance to go into the waterfall. I mean, it's a waterfall in the middle of the rainforest, how could you not?
Another thing Vancouver Island is known for is whale watching so we jumped on a boat, cruise out into the Pacific Ocean and had one of the best whale watching tours of our lives.
First, we saw dozens of orca whales breaching the surface with their amazing black dorsal fins pointing out of the water to the backdrop of the mystic west coast. We even saw them jump off right out of the water, something we've never seen before. Then, as if that wasn't special enough, we came across a massive meeting of humpback whales.
We must have seen between 50 to 70 of them, breaching the water, showing us their huge tails and swimming right next to the boat. What an unbelievable experience!
Next on our island journey was Campbell River, and after visiting the beautiful Elk Falls, we went on a tour to see grizzly bears in their natural habitat. This started with a boat trip through beautiful mountain scenery where we saw humpbacks and orcas before arriving to the bute inlet and the home of the Homalco First Nations. Thanks to the salmon swimming up the inlet to their spawning grounds, grizzlies arrive here by dozens, eating salmon to fatten up for the winter.
It was incredible how close we got to the bears and we even saw one catching a salmon right out of the river, an awesome experience we'll never forget!
The next day we had the opportunity to go snorkelling with the salmon. First, we hiked to a nearby canyon where tens of thousands of them swam around us and then we went down the river with them, letting the current take us up and over rocks and back into town. This is truly a unique way to get into nature!
Next, we drove to Tofino, stopping at a couple of beautiful waterfalls as well as Cathedral Grove to marvel at the massive 800 year old Douglas Furs. Standing over 250 feet tall with circumference of over 29 feet, we couldn't even come close to wrapping our arms around it.Walking through this ancient rainforest felt like we were in Jurassic Park and it's one of the things I loved most about the island.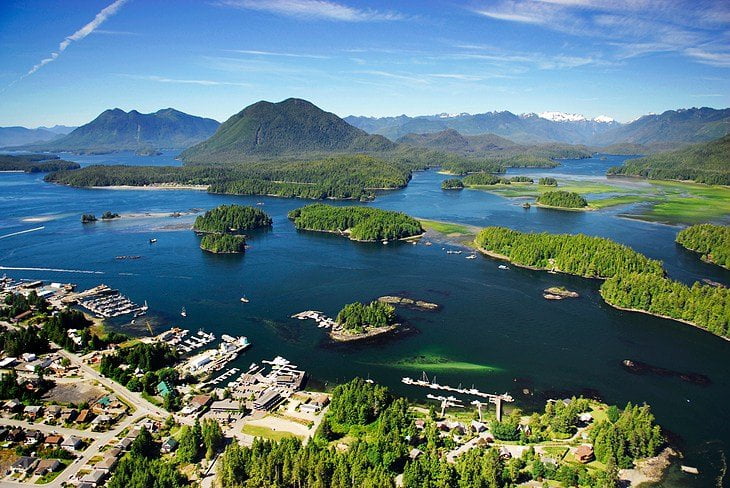 Once in Tofino, we could't leave without trying of the activities that makes it so famous…surfing! After a great lesson, we spent hours catching little waves and riding them back to shore. It was such an exhilarating experience to be able to stand up and feel the power of the waves push us forward. We surfed all the way until sunset before marvelling at the sky as it turned red, pink and orange. An amazing way to finish up our time here in this beautiful place!
After Tofino, we drove to Nanaimo, continuing our adventures on the water by fishing for salmon and crab for the first time. Not only did we catch some crab but we got to bring it home and cook it for dinner. What a fresh and delicious meal.
The next day we jumped back in the water to go snorkelling with playful seals and after having them nibble on our fins, we strapped on our scuba diving gear and dove down to 60 feet to get a whole new perspective of ocean life. We saw so much interesting sea-life including wolf eels and a swimming scallop, which swims through the water when you touch it. This was our first time diving in Canada and we loved every minute of it.
Finally, to cap off our time on Vancouver Island, we signed up for a bungy jump and a primal swing experience.
First we got strapped into the primal swing and swung 140 km/h through a canyon, Then we had the ultimate adrenaline rush, a 150 foot bungy jump! Strapped by the ankles, we courageously took the leap, falling towards the ground with nothing but a few thousand elastic bands keeping us safe.
Words cannot describe the feeling of freedom that we felt falling through the air and the sense of accomplishment when it's all said and done. We then made our way back to Vancouver and drove to Kelowna, the largest city of the Okanagan Valley. This is one of Canada's best wine regions and a winery tour is something that you shouldn't miss.
We had the opportunity to visit an organic biodynamic winery, which not only produces great tasting wines but does so in a way that's harmonious with Earth. We were so impressed with the facility and everything we learned about the various crops that can be grown in conjunction with grapes.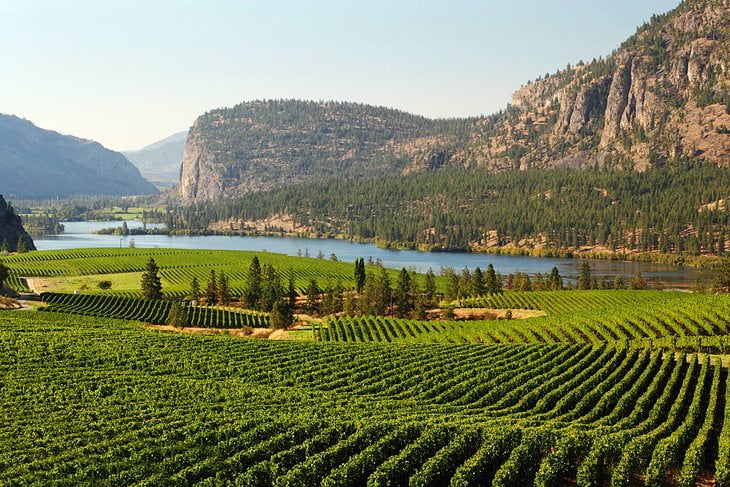 Another thing the area is known for is Okanagan Lake, a massive 135-km long lake that dominates the valley of Kelowna and other nearby towns. To really enjoy the lake, we jumped on a boat to tour the city by water before strapping on a flyboard, utilizing the water to launch ourselves into the air.
It was such a cool experience to hover over the water and even though we crashed a few times, once we got the hang of it, it was such a blast. One of our favourite activities was getting into a helicopter and getting a birds eye view of the lake, the mountains, the various wineries, and the beautiful canyons that can be found just outside the city.
We loved exploring Kelowna and experiencing some of the wine culture, as well as other cool activities such as axe throwing, something we've never considered trying before. We were so surprised by how much fun it was.With our time running out in BC, we made our way East to the mountains, stopping in Revelstoke to ride the Pipe Mountain Coaster, an exciting and scenic ride that brought us down the mountain and through the forest while having fun and allowing us to take in the breathtaking views.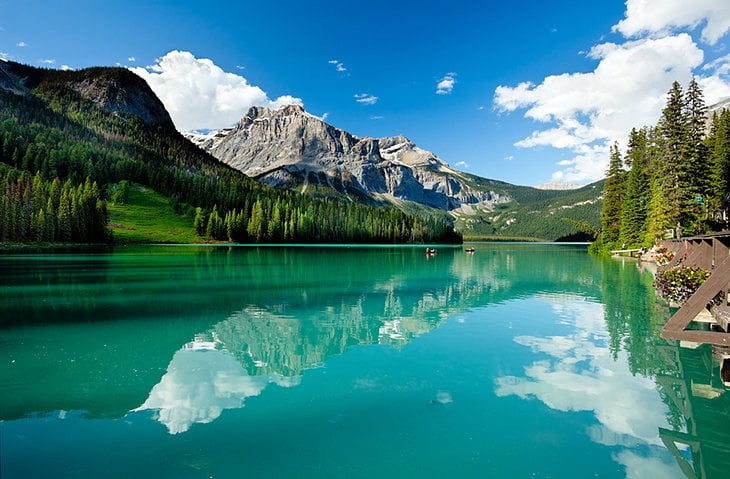 Last but not least, we entered the Canadian Rockies, stopping at Yoho National Park to see beautiful Emerald Lake. As you can see, British Columbia has no shortage of incredible and varied scenery, attractions, nature, and adventure. We did so much and barely scratched the surface.
From lush rainforests to rugged coastline, to deserts, lakes, and mountains, British Columbia is one of the most beautiful places in Canada, if not the entire world.