We're in Alberta, our 12th and final stop on our 150 day road trip across Canada.
We entered Alberta by driving through the Canadian Rockies, starting with Banff National Park, Canada's first and most visited national park.
From the moment we entered the park, it's easy to see why this area is so popular, we started with beautiful Lake Louise, a bright turquoise coloured glacier-fed Lake that attracts people from around the world. After admiring the lake from shore, we rented a canoe and paddled across the lake to get different perspectives of this beautiful place.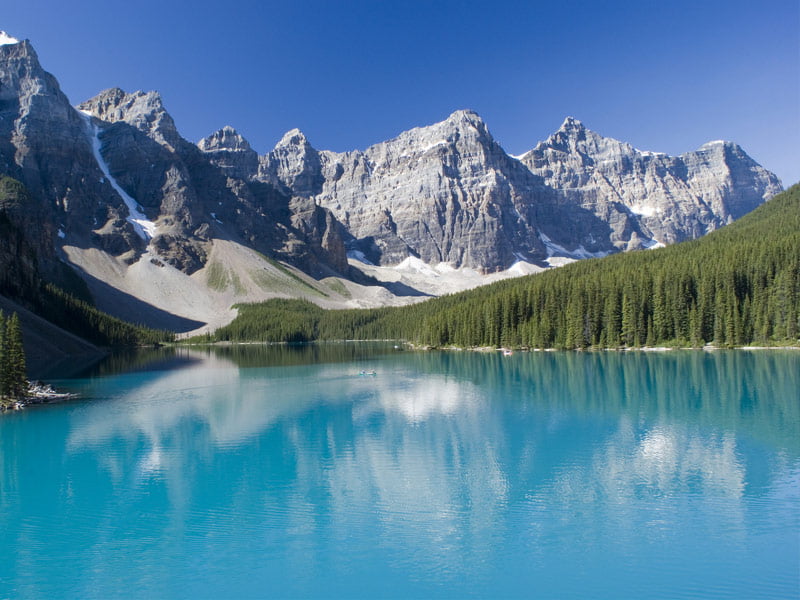 Then we hiked through Johnston Canyon, following a scenic river to multiple waterfalls, including one that was accessible through a narrow cave, Combined with fall colours, this was a spectacular place to explore. The next day we took the Banff Gondola to the top of sulphur mountain to get jaw-dropping views of the surrounding area. whether you hike to the top of a mountain or ride a gondola, you really shouldn't miss the chance to feel like you're on top of the world. Looking down at the town, valleys, and lakes all surrounded by the Rocky Mountains, Next we drove the Icefields Parkway to Jasper, Known as one of the most scenic drives in the world.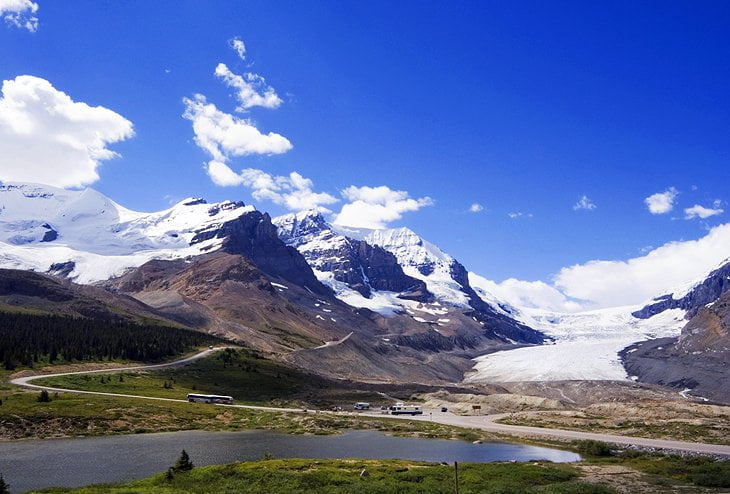 Not only did we drive by mountains, glaciers, and turquoise coloured lakes but we also got to see the beautiful fall colours, adding a whole nother dimension to this spectacular highway, We also stopped at the Columbia Icefield to jump on a massive all-terrain Ice Explorer, which drove us right onto the glacier, allowing us to walk on and admire this beautiful natural wonder.
Our next stop was the small scenic town of Jasper, the perfect place for exploring the area and trying delicious gourmet food, we loved admiring the Athabasca River and touring Lake Maligne, another beautiful lake surrounded by multiple mountain ranges and glaciers. Our favourite activity though was taking the Jasper Sky Tram to the top of Whistlers Mountain and hiking right to the summit, taking time to enjoy the various landscapes along the way. Thanks to clear blue skies and a recent snowfall, we were treated to some truly stunning views of Jasper National Park.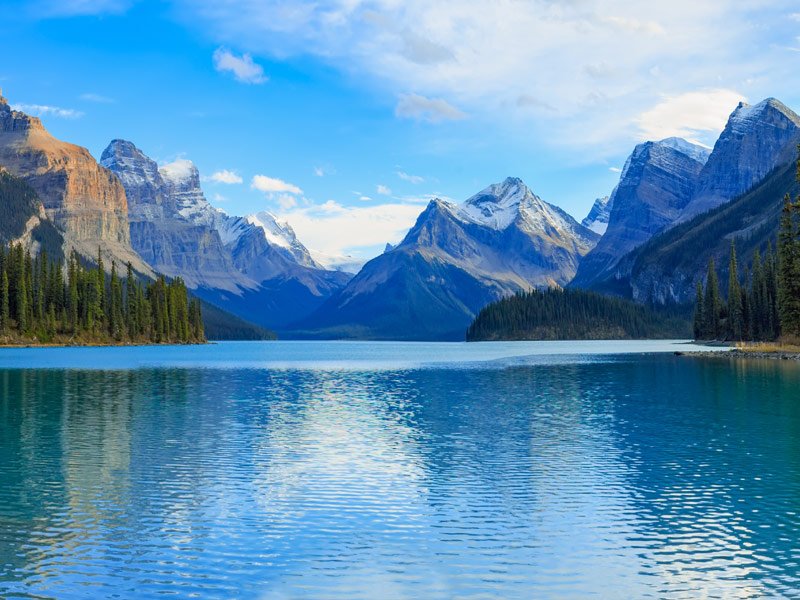 After a week in one of Canada's most scenic places, we drove to Edmonton, Alberta 's capital city, Edmonton is home to a number of incredible attractions, with the most famous one being West Edmonton Mall. As one of the biggest malls in the world, West Edmonton Mall feels like a city in itself, comprising a number of impressive attractions including one of the world's largest indoor water parks and one of the world's largest indoor amusement parks.
We had such a fun day here, starting off with the World Waterpark. We tried each and every waterslide, including one that shoots you out into a bowl before dropping you into a pool of water and another one where you wait inside a tube for the floor to drop open beneath you. Between the slides, the wave pool, and the tubing this is such a fun place to spend the day. Next we went to Galaxy Land, where we rode the exciting Mindbender roller coaster, the world's largest indoor triple loop roller coaster. Then we got launched into the air with the spaceshot, rode the swing of the century, and bumped into each other with the bumper cars. We even played a game of mini golf. It's truly incredible how many things you can do and experience, all under one roof. There are lots of other cool attractions though other than West Edmonton Mall and one of them is the Space and Science Centre. Here we got to participate in all sorts of interactive exhibits, tell a robot all about our trip across Canada, and see a temporary exhibit featuring Pixar and how they make their animated movies.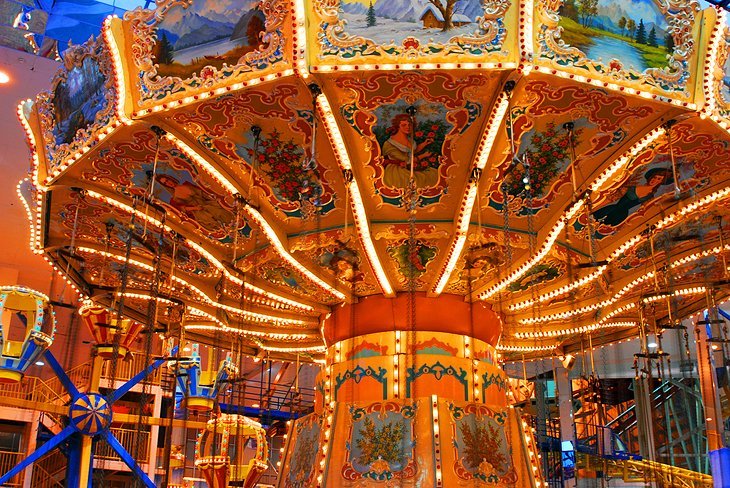 If you're looking for a fun and educational experience, this is the place to go. Then we continued with fun and educational experience, driving to Drumheller, home of the world-famous Royal Tyrrell Museum, which houses more than 130,000 fossils.This is an absolute must-do for anyone interested in dinosaurs. It was such a cool experience to walk around huge mounted dinosaur skeletons, learn about 3.9 billion years of history on Earth, and watch technicians prepare fossils for research and exhibitions. Whether we were admiring fossils or looking up at the world's largest dinosaur, it's easy to see why this area is known as the dinosaur capital of the world.
Next we drove to Horsethief Canyon to look out over the spectacular badlands.
It was so impressive to look into the canyon and see all the colourful layers of rock while imagining all of the history that this place has seen. We even hiked down, up, and over the various coolee's, and right to the bottom to admire the canyon from below. We also walked around the nearby hoodoo's, an array of sand and clay formations that have become internationally recognized icons of the Alberta Badlands.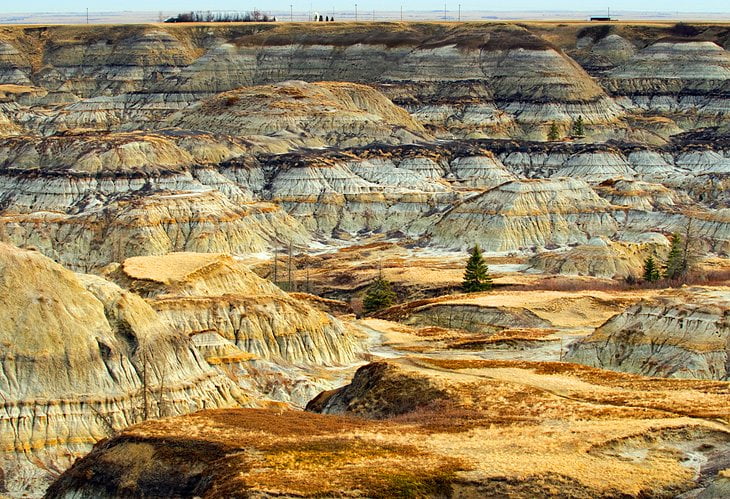 Last but not least, we drove to Calgary, Alberta's biggest city. Nestled along the Bow River, we jumped on bikes and peddled through some of Calgary's beautiful parks and iconic images, such as the stunning bright red Peace Bridge and the Wonderland sculpture, a 12-meter human head made of wire. Then we went to the National Music Center, a one-of-a-kind musical experience where we found music-related artifacts and memorabilia, a performance centre, and various interactive exhibits where we got to listen to some music, play instruments, and learn about the incredible talent that has come from Canada.
Next, we wanted to learn about Alberta's history, so we stopped by the Glenbow Museum, which houses stories and artifacts from some of Alberta's most influential people, how oil & gas shaped the province, the world-famous Calgary Stampede, and a really cool exhibit on the First Nations who have lived here on the Northwestern prairies for thousands of years. After the museum, we crossed the street and went up into Calgary's iconic tower to look out over the city and the beautiful surrounding area before continuing to Heritage Park Historical Village, Canada's largest living history museum. This is such a fun way to learn about Western Canada's iconic past. We visited an old candy shop, browsed through vintage gas pumps and vehicles, walked around historical buildings, and took a ride on a ferris wheel.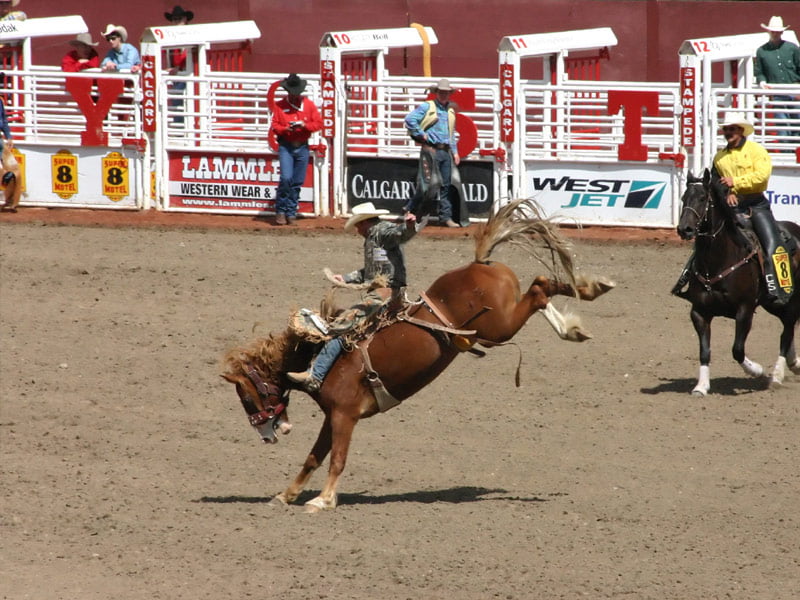 We also toured the Glenmore Reservoir on an old-fashioned paddle steamer and jumped on a steam powered train that took us on a scenic ride throughout the park. It felt like we had traveled back in time to see the conductor's blow the whistle and the hot steam propel the train down the tracks.
This was such a cool experience and a great way to learn about some of Canada's history. Whether you're standing on top of the world in the Rocky Mountains, splashing around an indoor water park in Edmonton, looking for dinosaur fossils in the Badlands, or learning about Canada from a variety of different museums and educational centres across the province, Alberta is a great place to visit and explore.