France, a country known for its rich culture and iconic landmarks, also boasts a stunning coastline adorned with beautiful beaches that rival any in the world. From the glamorous French Riviera to the picturesque beaches of Normandy and Brittany, France offers a diverse array of seaside escapes for every beach lover's delight. In this comprehensive guide, we, the beach enthusiasts at Pustly.com, present to you the ultimate list of the best beaches in France, curated to make your coastal adventures an unforgettable experience.
Enjoy these 10 Best Beaches in France for 2023-2024 :
Discover the Best Beaches in France – Where Coastal Beauty Meets French Charm
1. Plage de Palombaggia – Porto-Vecchio, Corsica
Located on the enchanting island of Corsica, Plage de Palombaggia is a postcard-perfect beach with its fine white sand and crystal-clear turquoise waters. The picturesque pine trees and rocky outcrops add to its natural allure. Relax on the sun-drenched shores, take a dip in the inviting Mediterranean Sea, and indulge in Corsican cuisine at beachfront restaurants.
2. Plage de Saint-Jean-de-Luz , Basque Country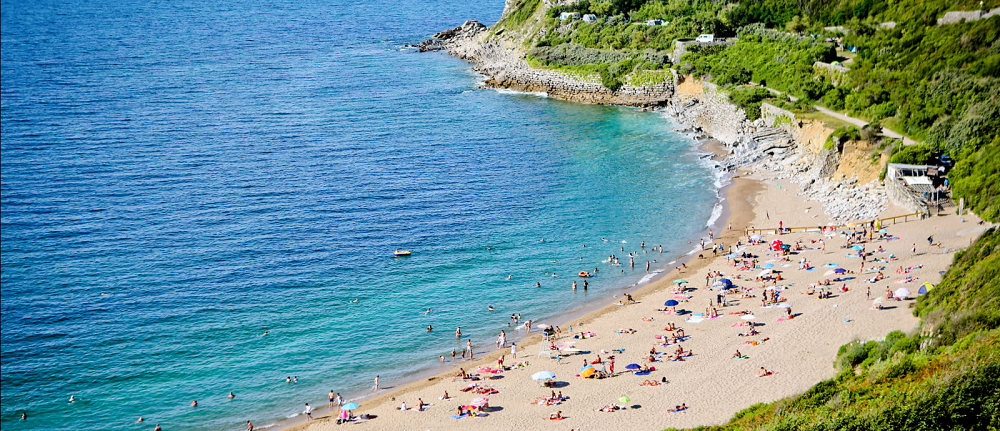 Nestled along the Bay of Biscay, Plage de Saint-Jean-de-Luz is a family-friendly beach that exudes Basque charm. The gentle waves and warm waters make it ideal for swimming and water activities. Take a leisurely stroll along the promenade, savor seafood delights at local restaurants, and immerse yourself in the laid-back ambiance of this charming seaside town.
3. Plage de Pampelonne – Saint-Tropez, French Riviera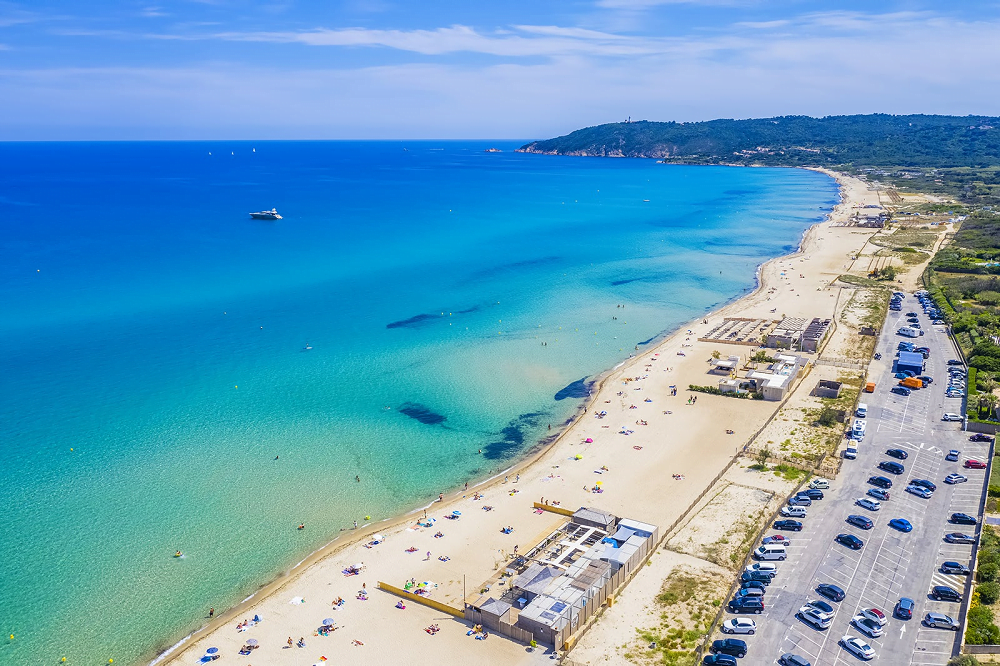 Synonymous with glamour and luxury, Plage de Pampelonne is one of the most famous beaches on the French Riviera. Stretching for five kilometers, this beach attracts jet-setters and celebrities from around the world. Enjoy beach clubs, sunbathe on plush loungers, and sip cocktails at stylish beachfront bars. Plage de Pampelonne offers a taste of the high life on the Mediterranean coast.
4. Étretat Beaches – Étretat, Normandy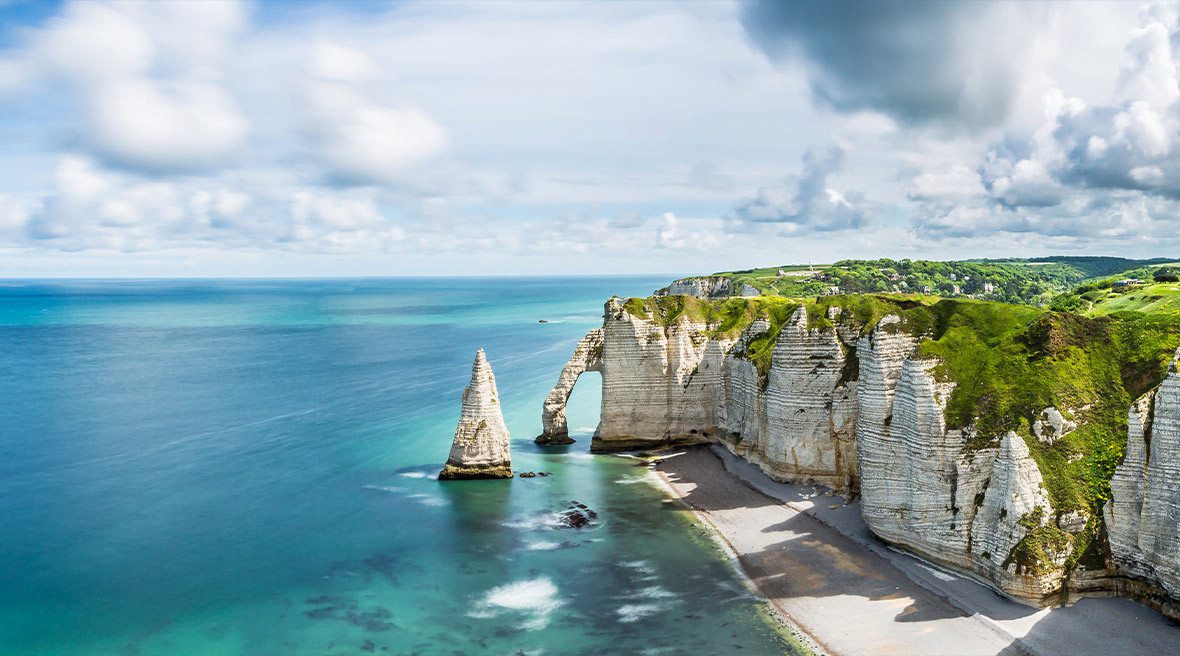 Étretat, a picturesque town in Normandy, is famous for its dramatic cliffs and stunning beaches. The Étretat Beaches, including the Plage du Tilleul and Plage de la Falaise, offer a unique blend of natural beauty and charm. Explore the impressive chalk cliffs, known as the "Aiguille d'Étretat" and the "Porte d'Aval," and take in the breathtaking coastal scenery.
5. Plage de la Côte des Basques – Biarritz, Basque Country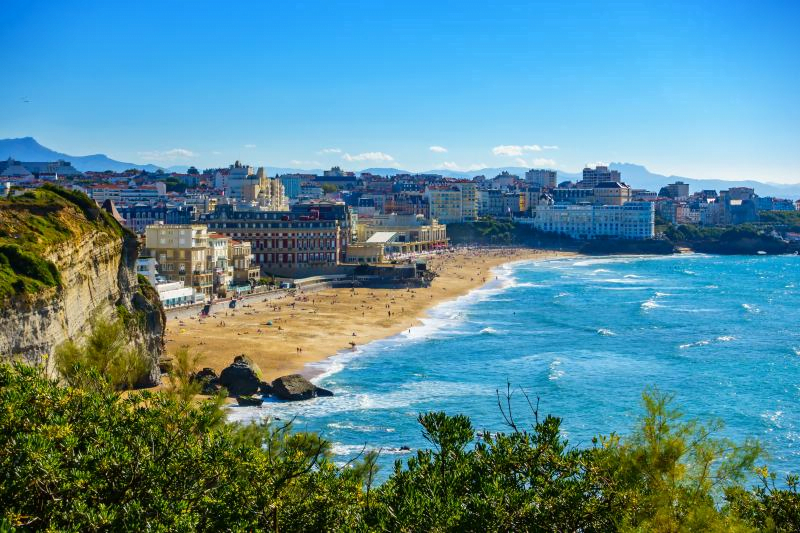 Biarritz, a surfers' paradise, is home to the Plage de la Côte des Basques, a beach renowned for its excellent waves. Surf enthusiasts flock to this beach to ride the Atlantic swells. For those seeking a more relaxed experience, take in the stunning views from the coastal path or enjoy a beachfront picnic with the iconic Hôtel du Palais as your backdrop.
6. Plage de la Grande Conque – Sète, Occitanie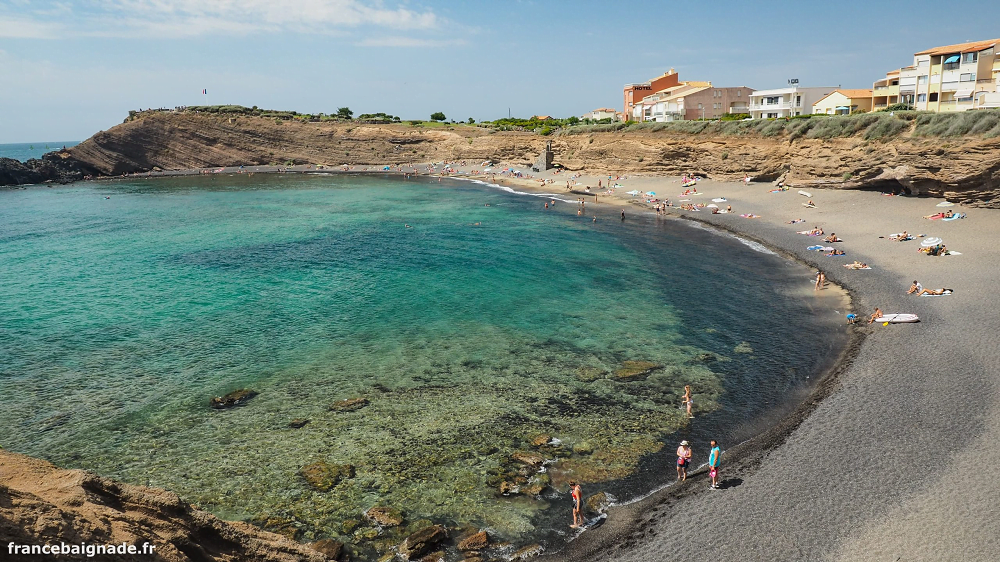 Sète, a charming port city in Occitanie, boasts the Plage de la Grande Conque, a crescent-shaped beach sheltered by hills and cliffs. The tranquil waters are ideal for swimming and snorkeling. Take a boat ride along the Canal du Midi, visit the picturesque Old Town, and savor fresh seafood at local restaurants.
7. Plage de Deauville – Deauville, Normandy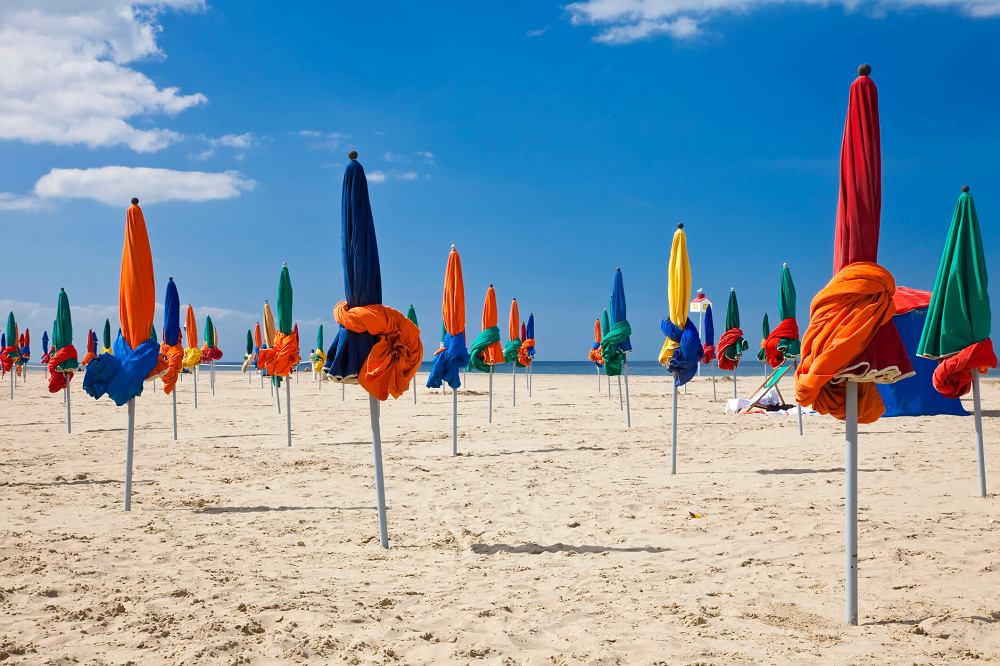 Deauville, a chic resort town on the Normandy coast, is famous for its elegant beach and iconic boardwalk. Stroll along Les Planches, the famous wooden promenade, and take in the glamorous beachside villas. Enjoy a day at the Deauville Beach Club, try your luck at the Casino Barrière, and immerse yourself in the elegant ambiance of this seaside gem.
8. Plage de Tahiti – Saint-Tropez, French Riviera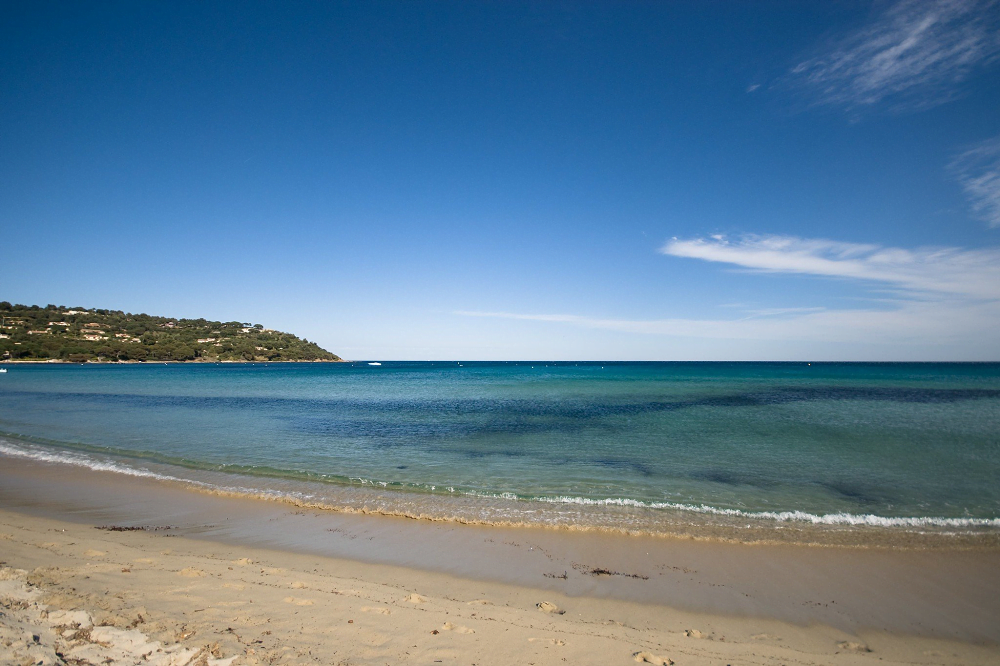 Another gem in Saint-Tropez, Plage de Tahiti is a luxurious and exclusive beach destination. Frequented by celebrities and high-profile travelers, this beach offers an upscale experience with its trendy beach clubs and designer boutiques. Relax on the pristine sand, mingle with the elite, and indulge in the lavish atmosphere that Plage de Tahiti is renowned for.
9. Plage de Malo-les-Bains – Dunkirk, Hauts-de-France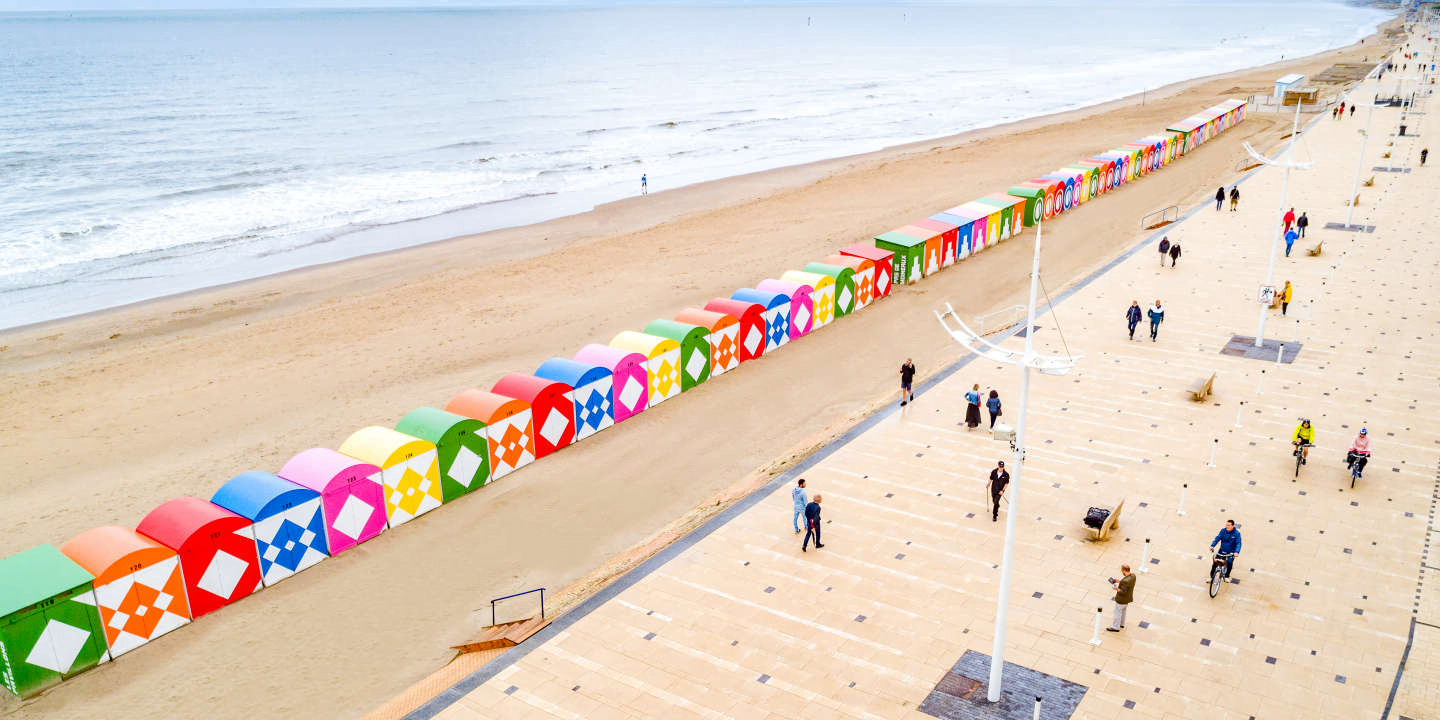 Dunkirk, known for its historic significance, also offers a charming beach experience at Plage de Malo-les-Bains. This family-friendly beach features a long promenade and a bustling seaside atmosphere. Enjoy beachside games, build sandcastles with the kids, and sample local delicacies at nearby cafes and restaurants.
10. Plage En Vau – Nature's Hidden Gem in France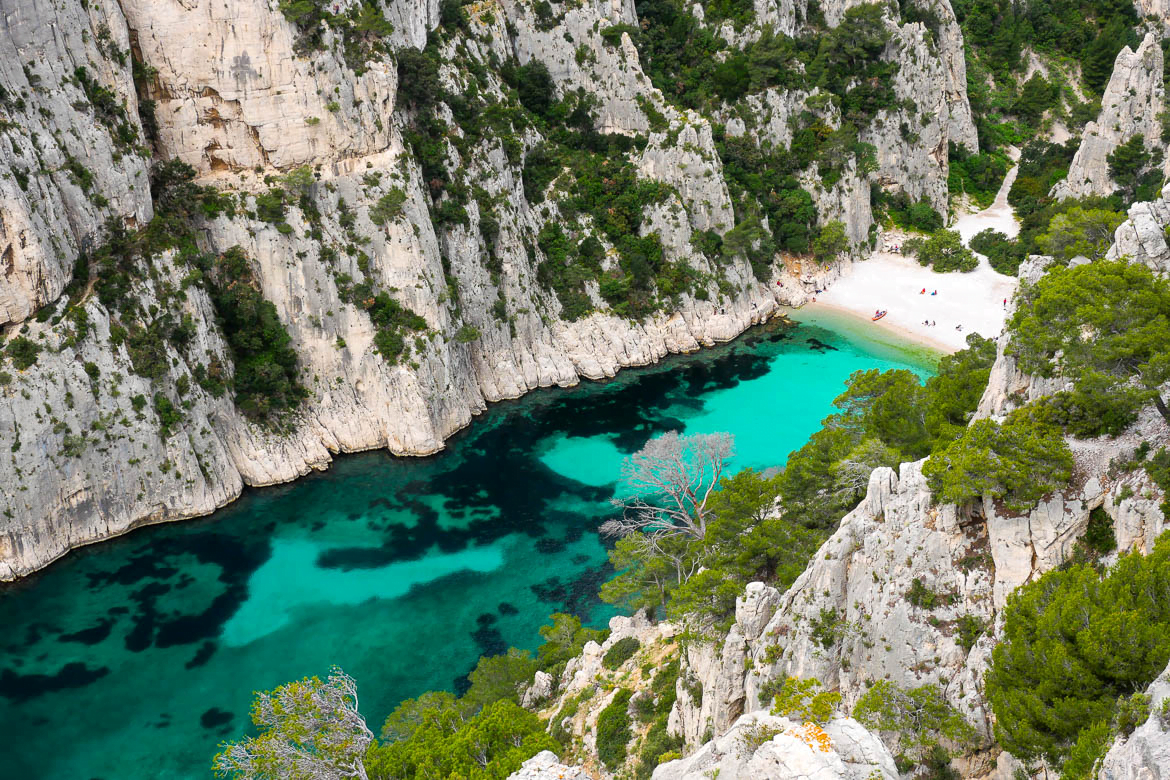 Nestled along the dazzling coast of France, Plage En Vau is a secluded paradise that beckons with its pristine shores and turquoise waters. This hidden gem is a haven for nature enthusiasts and adventurers, offering a picturesque setting for relaxation and exploration.Enclosed by towering limestone cliffs, Plage En Vau exudes an air of tranquility, making it an ideal escape for those seeking a respite from the ordinary. Plage En Vau promises an unforgettable coastal experience that captures the essence of the Mediterranean beauty.
France's coastline is a treasure trove of stunning beaches, each offering its own unique allure and French charm. Whether you seek glamour and luxury on the French Riviera or a serene escape in Corsica, the best beaches in France promise an unforgettable seaside experience.
10 Best Beaches in France for 2023-2024 :
Plage de Palombaggia – Porto-Vecchio, Corsica
Plage de Saint-Jean-de-Luz , Basque Country
Plage de Pampelonne – Saint-Tropez, French Riviera
Étretat Beaches – Étretat, Normandy
Plage de la Côte des Basques – Biarritz, Basque Country
Plage de la Grande Conque – Sète, Occitanie
Plage de Deauville – Deauville, Normandy
Plage de Tahiti – Saint-Tropez, French Riviera
Plage de Malo-les-Bains – Dunkirk, Hauts-de-France
Plage En Vau – Nature's Hidden Gem in France