Portugal's beaches offer an enchanting blend of natural beauty and coastal charm. From the stunning cliffs and sea caves of Praia da Marinha to the tranquil oasis of Praia da Falesia, each beach presents a unique and unforgettable experience. Whether you seek surfing adventures at Praia do Guincho or serene seclusion at Praia da Comporta, Portugal's coastal wonderland has something to captivate every beach lover.
Portugal, a sun-kissed coastal paradise in southwestern Europe, is home to some of the most breathtaking and diverse beaches on the continent. From the vibrant beaches of the Algarve to the serene shores of the Azores, Portugal offers a coastal wonderland that beckons travelers from all corners of the world.
In this comprehensive guide, we invite you to join us on an extraordinary journey as we explore the best beaches in Portugal that will leave you in awe and create memories to last a lifetime. Get ready to be captivated by the beauty and charm of these Portuguese coastal gems.
Enjoy these 10 Best Beaches in Portugal for 2023-2024 :
Discover the Best Beaches in Portugal – A Coastal Wonderland Beckons!
1. Praia da Marinha – Algarve's Gem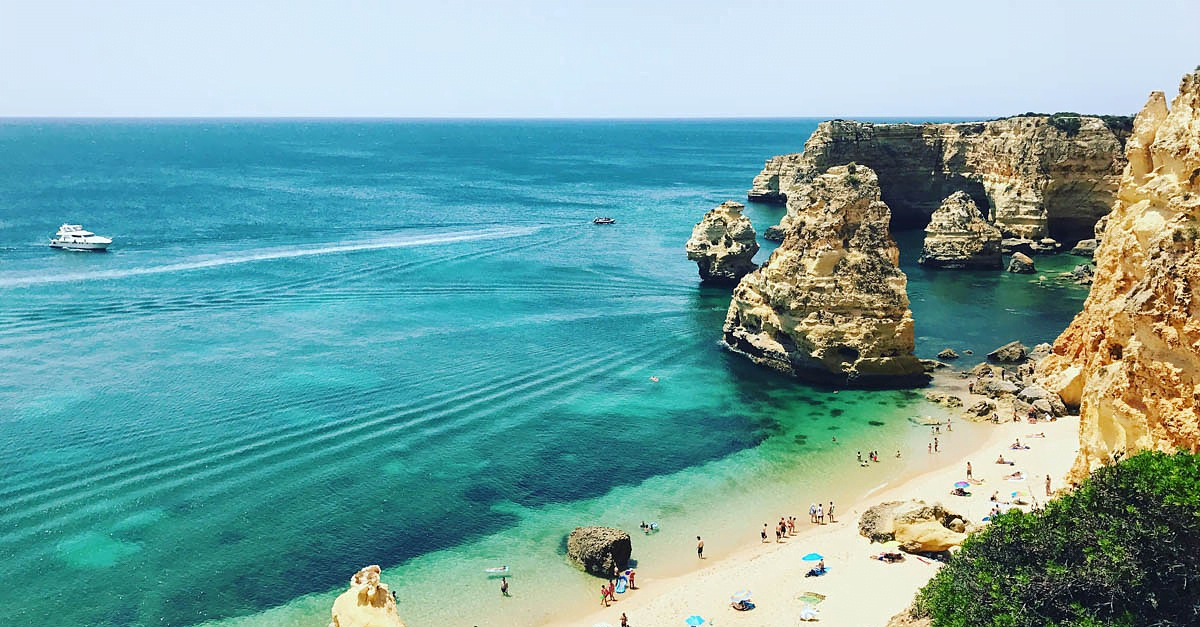 Nestled in the enchanting Algarve region, Praia da Marinha is often regarded as one of the most beautiful beaches in the world. With its stunning limestone cliffs, crystal-clear waters, and golden sands, this beach is a postcard-perfect destination. Be sure to explore the fascinating sea caves and rock formations that add to the allure of Praia da Marinha. Whether you're snorkeling in the azure waters or simply basking in the sun, this beach promises an unforgettable experience.
2. Praia da Falesia – A Tranquil Oasis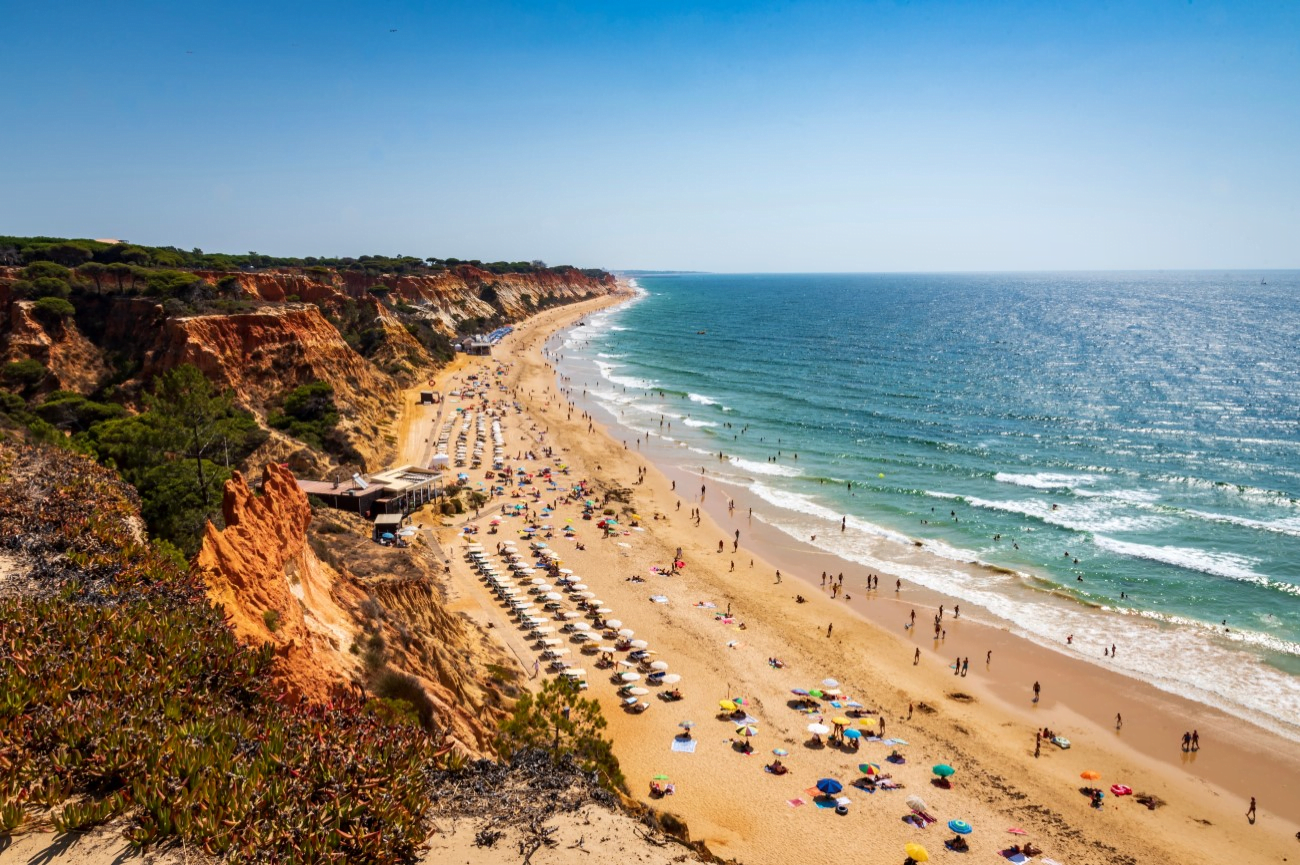 Stretching along the coast of the Albufeira region, Praia da Falesia offers a peaceful retreat for beach lovers. This expansive beach is renowned for its orange-tinged cliffs, providing a striking contrast against the emerald waters and soft sand. Whether you're taking a leisurely stroll along the shoreline or practicing yoga at sunrise, Praia da Falesia is a haven of serenity, perfect for relaxation and rejuvenation.
3. Praia de Benagil – The Enchanting Sea Cave Beach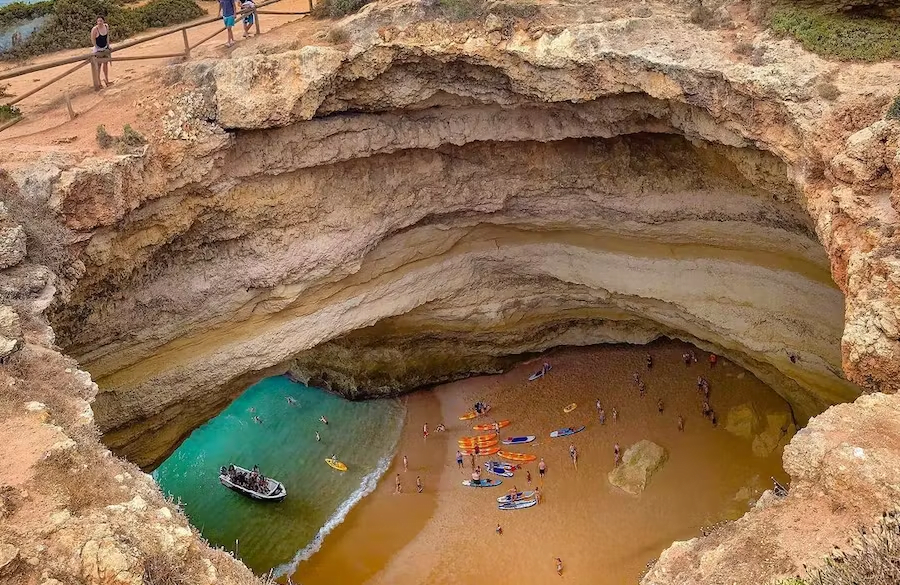 Located in the Lagoa region, Praia de Benagil is celebrated for its stunning sea caves, notably the Benagil Cave, an awe-inspiring natural wonder. Accessible only by sea, the beach can be reached by kayak or boat from nearby villages. As you enter the cave's cathedral-like interior, you'll be mesmerized by the interplay of light and shadows, creating a magical ambiance. Praia de Benagil is a must-visit for those seeking a unique and enchanting coastal adventure.
4. Praia de Dona Ana – A Hidden Treasure in Lagos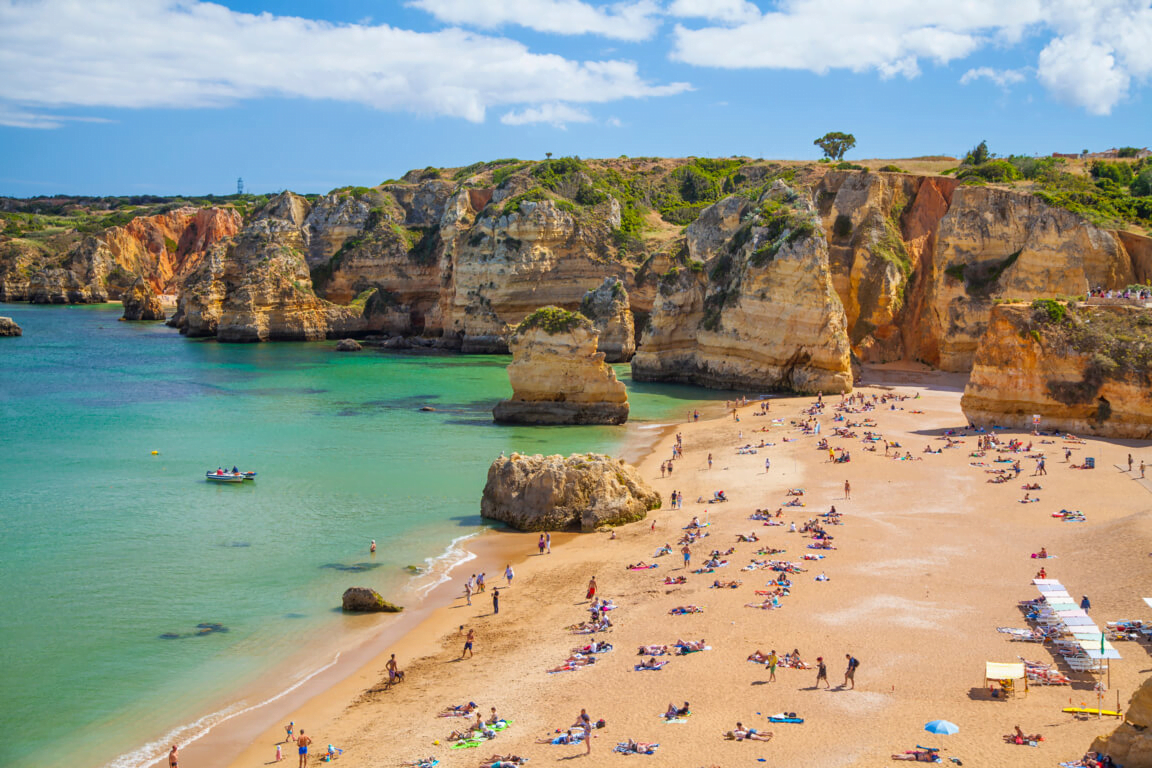 In the historic town of Lagos, you'll find the hidden treasure of Praia de Dona Ana. This small but stunning beach is nestled between colorful cliffs, offering a secluded and picturesque setting. The calm waters and gentle waves make it an excellent spot for swimming and snorkeling. Take a moment to climb the wooden stairs to the top of the cliffs, and you'll be rewarded with panoramic views of the coastline and the Atlantic Ocean.
5. Praia do Camilo – Stairway to Paradise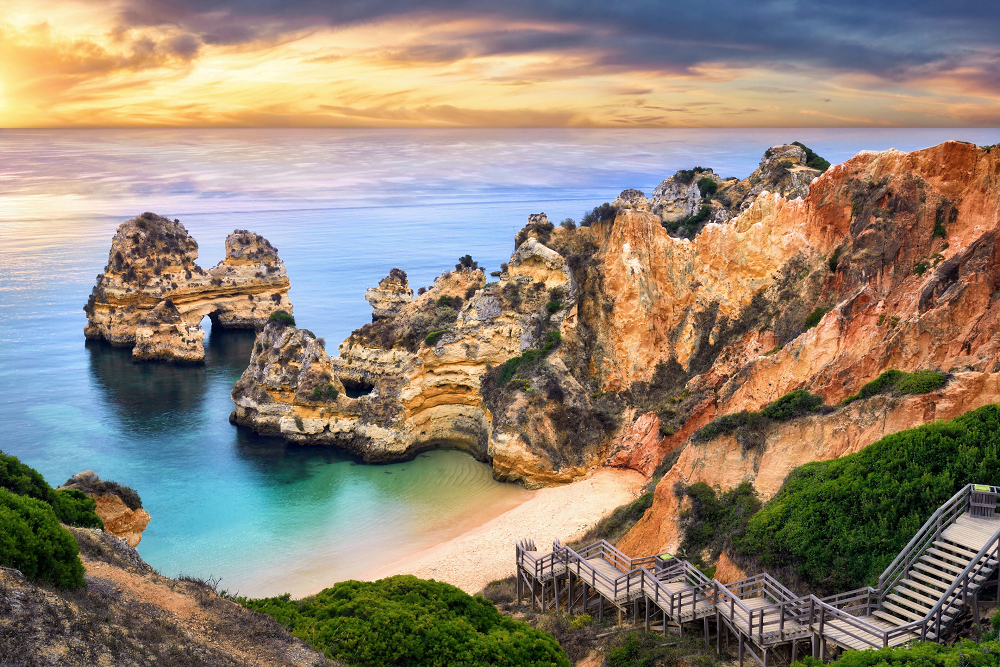 Just a short distance from Praia de Dona Ana, you'll discover another gem, Praia do Camilo. Accessible via a scenic staircase carved into the cliffs, this small beach is a paradise of azure waters and golden sands. The rock formations and sea arches add to the charm of Praia do Camilo, making it a favorite spot for photographers and nature enthusiasts alike.
6. Praia de Odeceixe – Where River Meets the Sea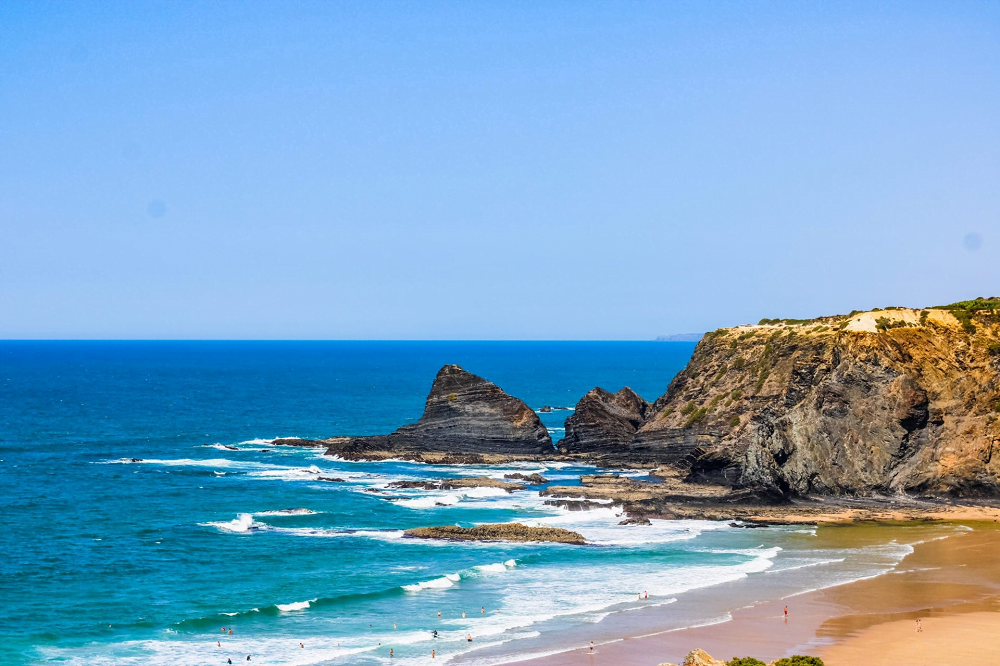 Located in the Alentejo region, Praia de Odeceixe is a unique beach where the Odeceixe River flows into the Atlantic Ocean. This scenic setting offers a delightful blend of river and sea, creating a picturesque landscape that's perfect for relaxation and exploration. The beach is backed by lush green hills, providing a refreshing contrast against the golden sands and blue waters.
7. Praia do Guincho – A Surfer's Paradise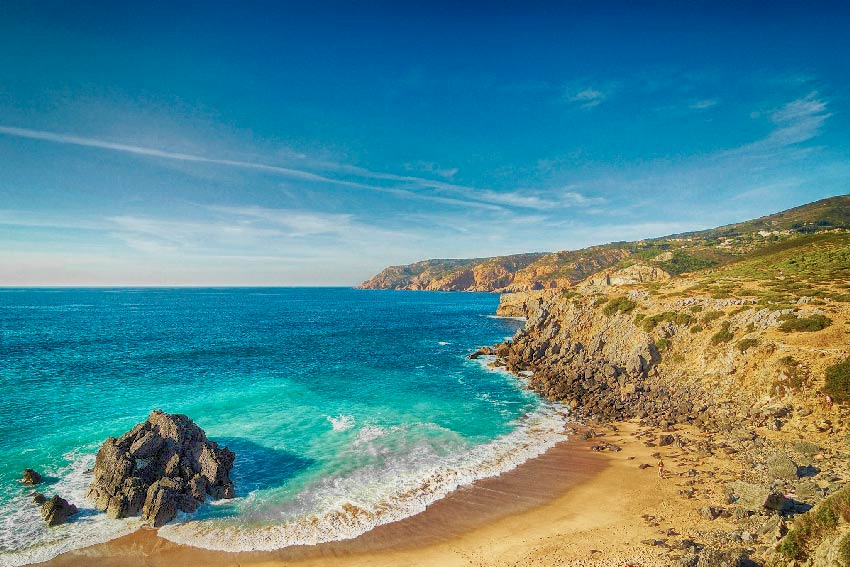 For surfers and water sports enthusiasts, Praia do Guincho near Cascais is the ultimate playground. With its powerful waves and consistent winds, this beach attracts surfers from around the world. Even if you're not a surfer, the dramatic beauty of Praia do Guincho, set against the backdrop of the Sintra-Cascais Natural Park, makes it a worthwhile destination for beachgoers seeking an untamed coastal experience.
8. Praia da Rocha – The Iconic Portimão Beach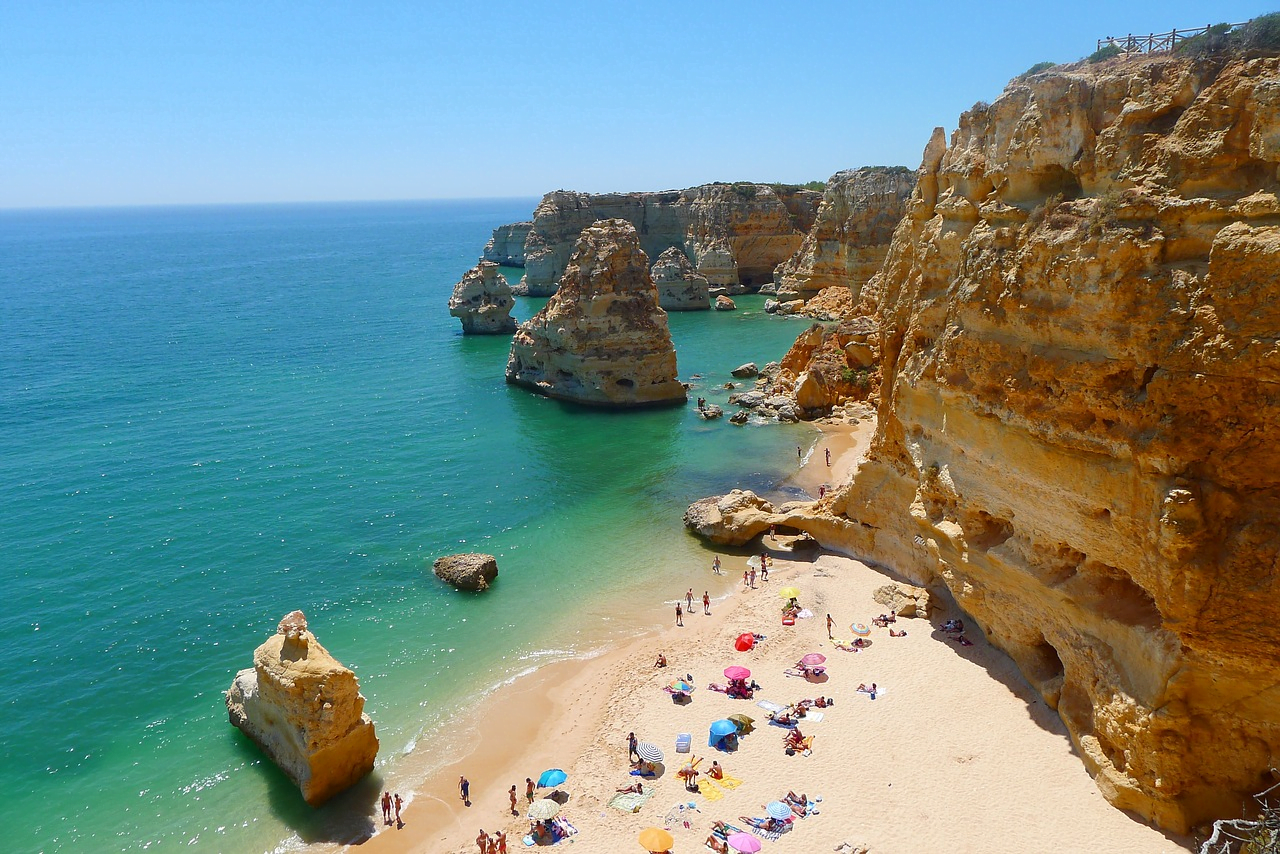 Situated in the vibrant city of Portimão, Praia da Rocha is a lively and iconic beach that offers a plethora of activities and entertainment. From beach bars and restaurants to water sports and live music events, Praia da Rocha is a beach with a lively spirit. The long promenade overlooking the beach is perfect for a leisurely stroll as you soak in the vibrant atmosphere.
9. Praia da Comporta – A Secluded Coastal Sanctuary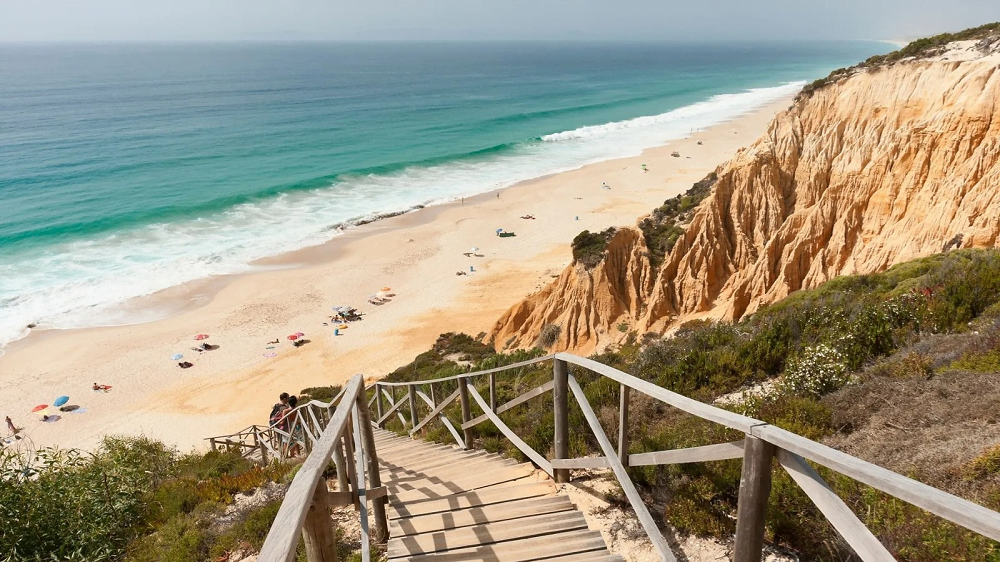 For those seeking a tranquil and unspoiled beach escape, Praia da Comporta is a hidden gem along the Alentejo coast. Backed by sand dunes and rice fields, this beach offers a sense of serenity and seclusion that's hard to find elsewhere. Take a leisurely walk along the wooden boardwalks or simply unwind on the soft sands as you appreciate the natural beauty that surrounds you.
10. Praia da Ursa – Untamed Beauty at Sintra's Edge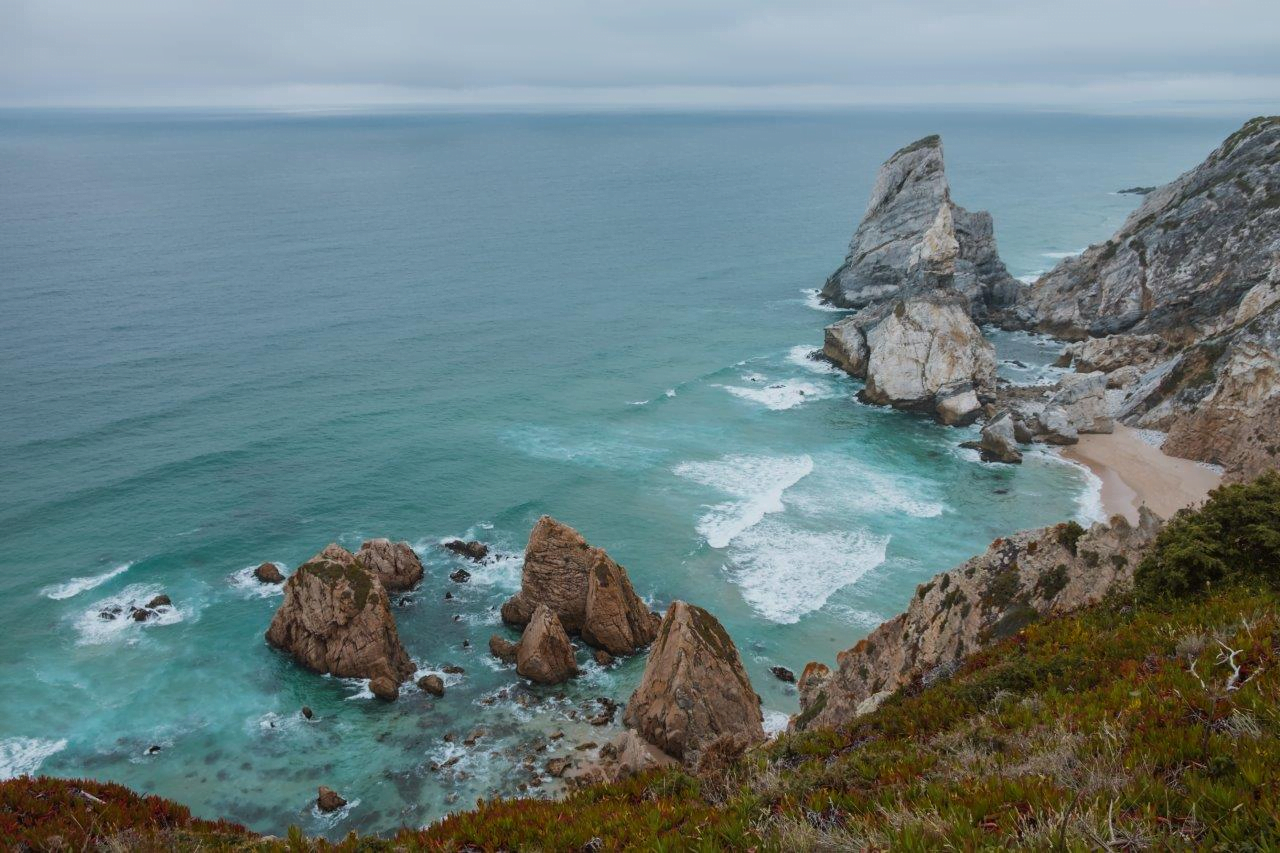 Tucked away near the picturesque town of Sintra, Praia da Ursa is a beach of untamed beauty. The rugged cliffs and rock formations make it a popular spot for adventurous travelers and photographers. The journey to Praia da Ursa involves a scenic hike, but the reward is well worth the effort. Be prepared to witness breathtaking sunsets and the raw power of the Atlantic waves crashing against the cliffs.
Conclusion
Portugal's coastline is a treasure trove of stunning beaches, each with its unique charm and allure. Whether you're seeking relaxation, adventure, or a taste of natural beauty, Portugal's beaches cater to every traveler's desires. From the hidden coves of Praia de Benagil to the iconic stretches of Praia da Marinha, Portugal's coastal wonderland promises an unforgettable experience for all.
So, pack your beach essentials and get ready to embark on a journey of sun, sea, and sand in Portugal's coastal paradise. These beaches are waiting to be explored and admired, creating memories that will last a lifetime.
10 Best Beaches in Portugal for 2023-2024
Praia da Marinha – Algarve's Gem
Praia da Falesia – A Tranquil Oasis
Praia de Benagil – The Enchanting Sea Cave Beach
Praia de Dona Ana – A Hidden Treasure in Lagos
Praia do Camilo – Stairway to Paradise
Praia de Odeceixe – Where River Meets the Sea
Praia do Guincho – A Surfer's Paradise
Praia da Rocha – The Iconic Portimão Beach
Praia da Comporta – A Secluded Coastal Sanctuary
Praia da Ursa – Untamed Beauty at Sintra's Edge