Croatia boasts an enchanting coastline adorned with picturesque beaches. From the iconic Golden Horn of Brač Island to the secluded haven of Stiniva Beach, each beach offers a unique and unforgettable experience. Whether you seek sandy shores or pebbled coves, Croatia's beaches promise a seaside paradise like no other.
If you're dreaming of a coastal getaway with crystal-clear waters, picturesque shorelines, and a vibrant culture, look no further than Croatia. Nestled along the Adriatic Sea, Croatia boasts some of the most breathtaking beaches in the world.
In this comprehensive guide, we invite you to join us on an unforgettable journey as we explore the best Croatian beaches that will leave you in awe and help you create lasting memories. From hidden gems to popular hotspots, Croatia offers a diverse range of beach destinations that cater to every traveler's preferences.
Enjoy these 10 of the Best Beaches in Croatia 2023-2024 :
Explore the Best Croatian Beaches – A Seaside Paradise Awaits You!
1. Zlatni Rat – The Golden Horn of Brač Island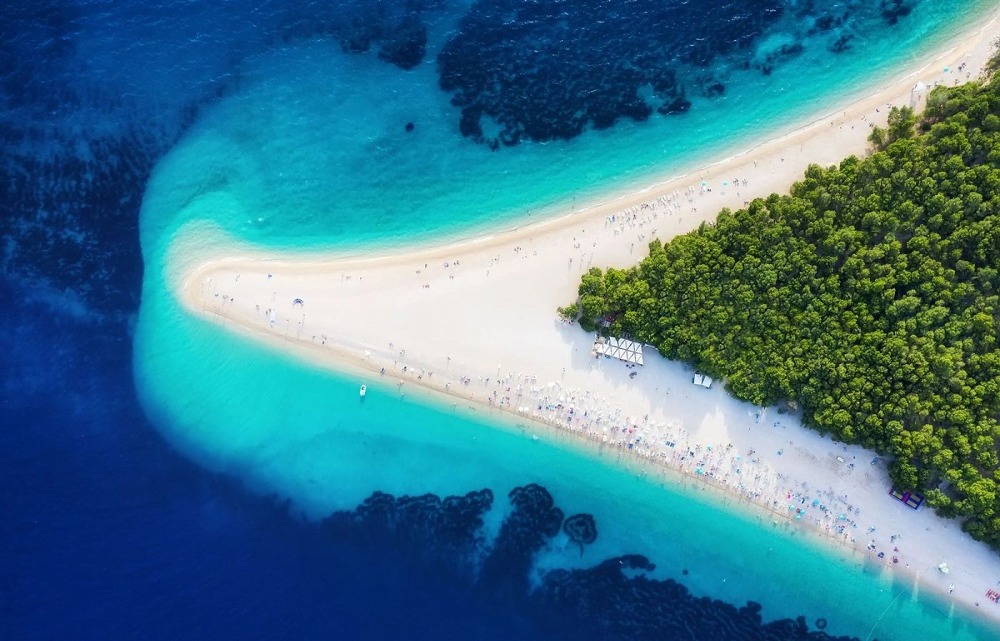 Located on the island of Brač, Zlatni Rat is an iconic beach that graces the postcards and travel brochures of Croatia. This unique sandy spit extends into the Adriatic Sea, changing shape depending on the current and wind direction. With its golden sand and turquoise waters, Zlatni Rat is a paradise for sun seekers and water sports enthusiasts alike. Whether you're basking in the sun or windsurfing along the coast, Zlatni Rat promises an extraordinary beach experience.
2. Stiniva Beach – Nature's Hidden Cove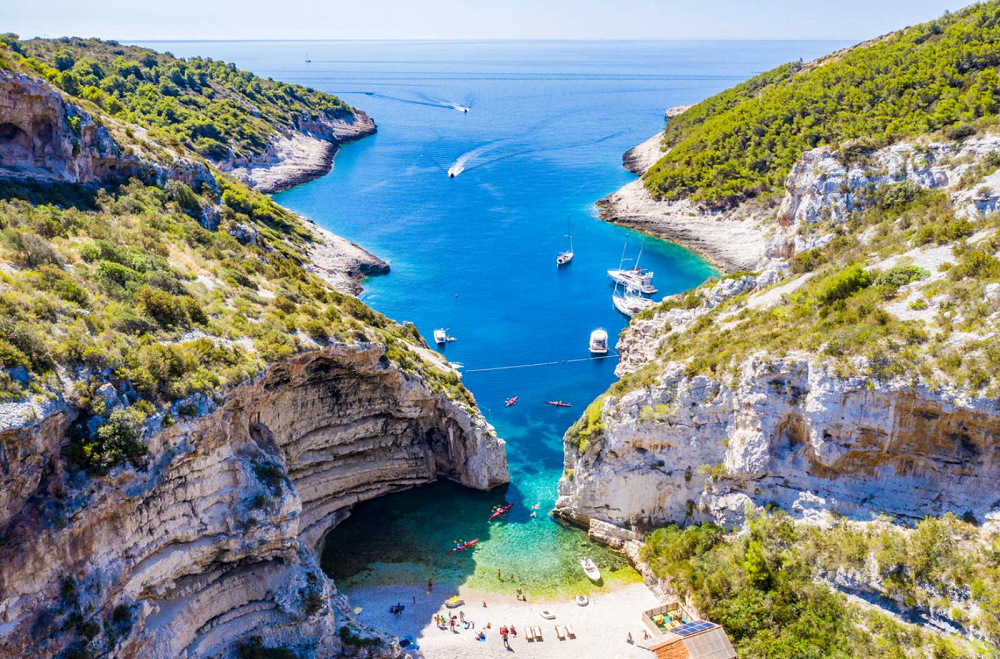 Tucked away on the island of Vis, Stiniva Beach is a pristine gem hidden between towering cliffs. Accessible only by sea or via a hiking trail, reaching Stiniva Beach feels like uncovering a well-kept secret. As you step onto the pebbly shore, you'll be enchanted by the calmness and serenity that surrounds you. This secluded haven is perfect for those seeking a quiet escape, surrounded by stunning natural beauty.
3. Dubovica Beach – A Tranquil Retreat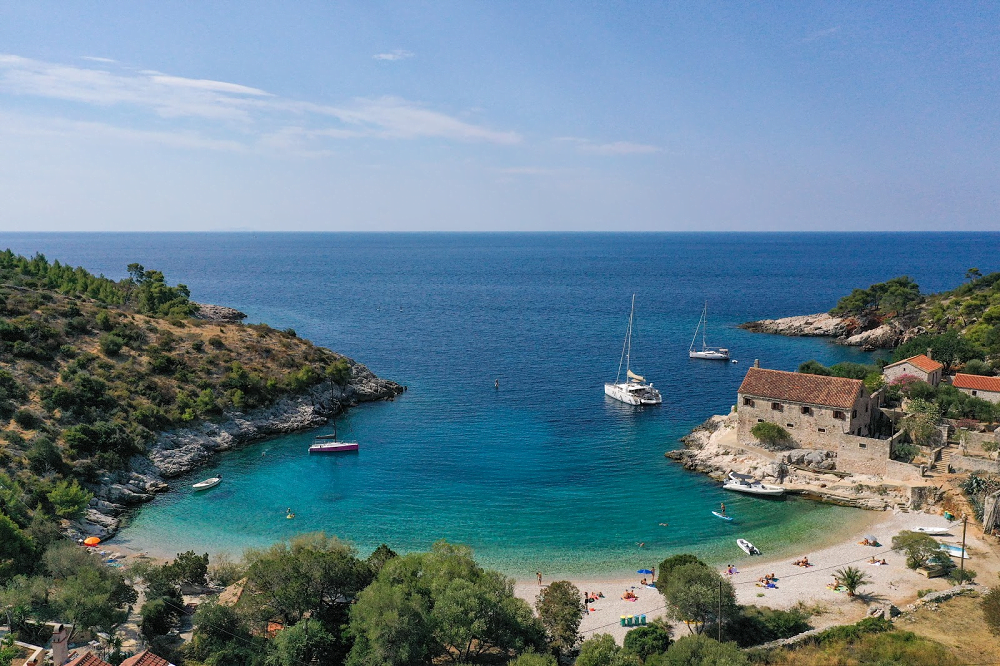 In the southern part of the island of Hvar, you'll find the idyllic Dubovica Beach. Surrounded by vineyards and olive groves, this pebbled beach offers a serene setting that's perfect for relaxation and rejuvenation. The crystal-clear waters beckon you to take a refreshing dip, while the shade provided by the ancient pine trees offers a peaceful spot to unwind with a good book.
4. Punta Rata – A Stunning Riviera Beach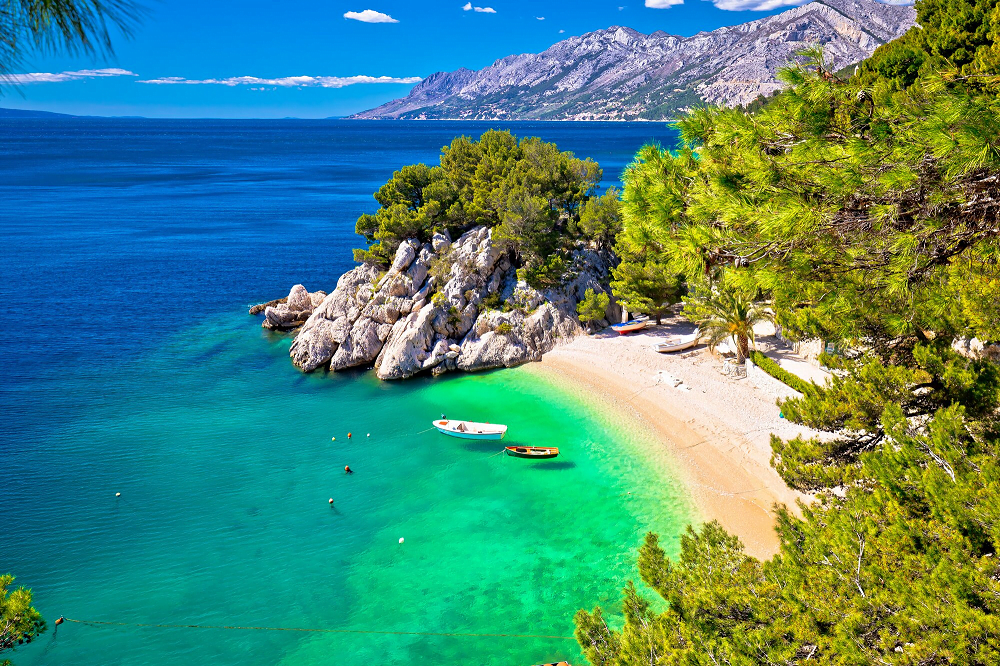 Ranked as one of the most beautiful beaches in Europe, Punta Rata, located near Brela, is a must-visit destination. This Blue Flag beach boasts a blend of pebbles and white sand, complemented by the dazzling colors of the Adriatic Sea. The iconic Brela Rock stands tall just off the shoreline, providing a perfect backdrop for memorable photographs. As the sun sets, the beach transforms into a romantic setting, making it an ideal spot for couples seeking a magical experience.
5. Sakarun Beach – A Tropical Oasis in the Adriatic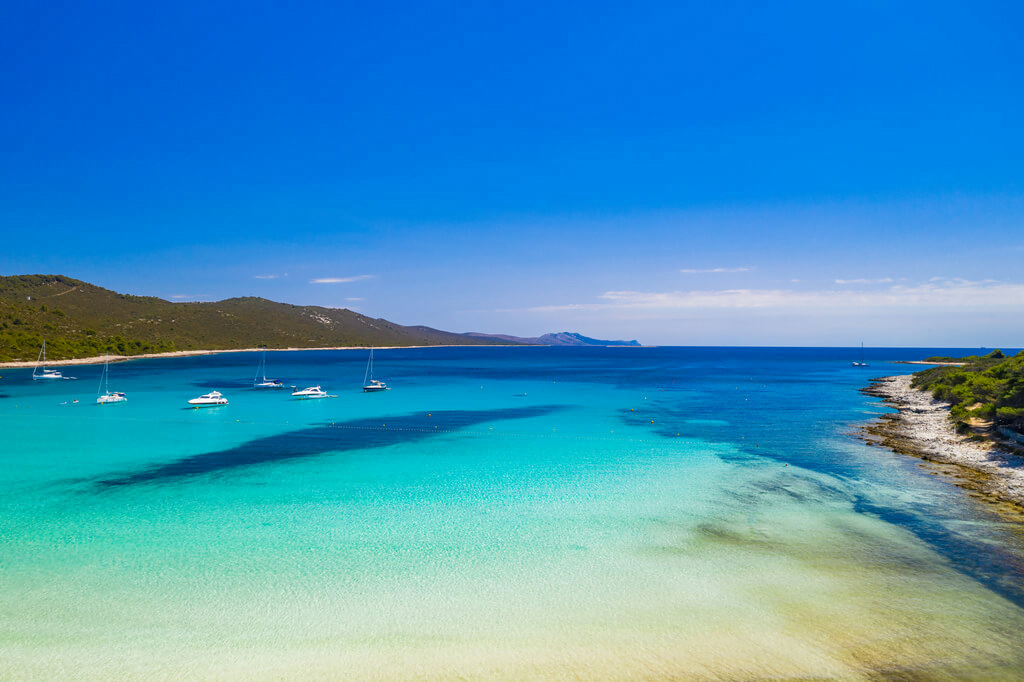 Escape to the paradise of Sakarun Beach on the island of Dugi Otok. This beach, with its powdery white sand and shallow turquoise waters, exudes a tropical ambiance that feels worlds away from mainland Croatia. Surrounded by fragrant pine forests, Sakarun Beach offers a peaceful and family-friendly atmosphere. Whether you're snorkeling in the calm waters or building sandcastles with your loved ones, Sakarun promises an unforgettable day in the sun.
6. Rajska Plaža (Paradise Beach) – Lopar's Crowning Jewel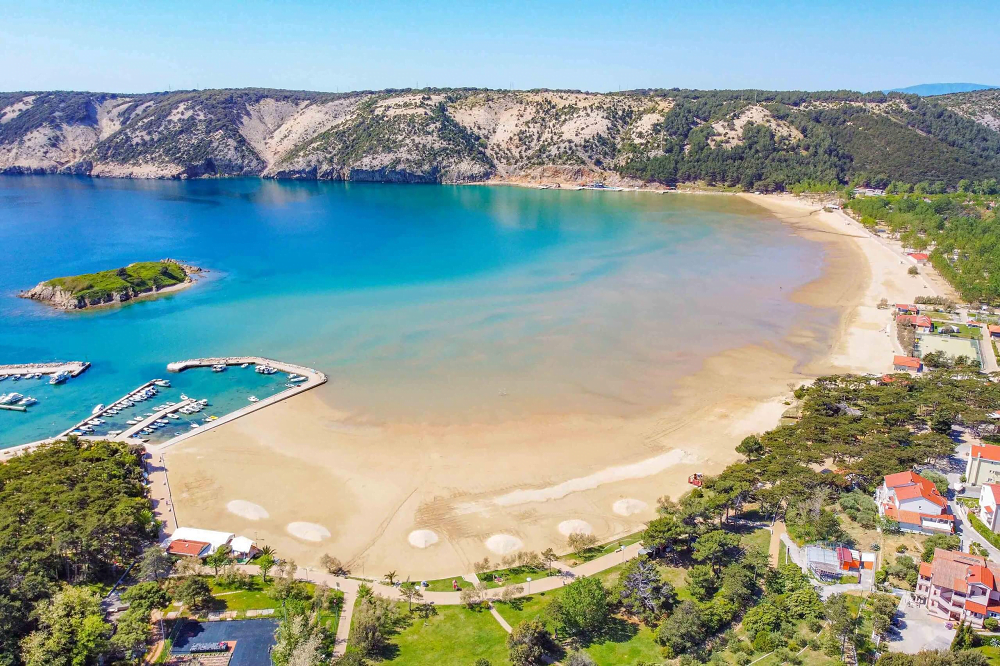 Located on the island of Rab, Rajska Plaža, also known as Paradise Beach, lives up to its name. This sandy beach stretches for over a mile, making it an excellent choice for families and beach enthusiasts seeking ample space to relax and play. The shallow waters make it safe for children to swim and splash around. Paradise Beach is surrounded by various amenities, including cafes, restaurants, and water sports facilities, ensuring a convenient and enjoyable beach experience for everyone.
7. Sveti Ivan Beach – Dubrovnik's Secluded Beauty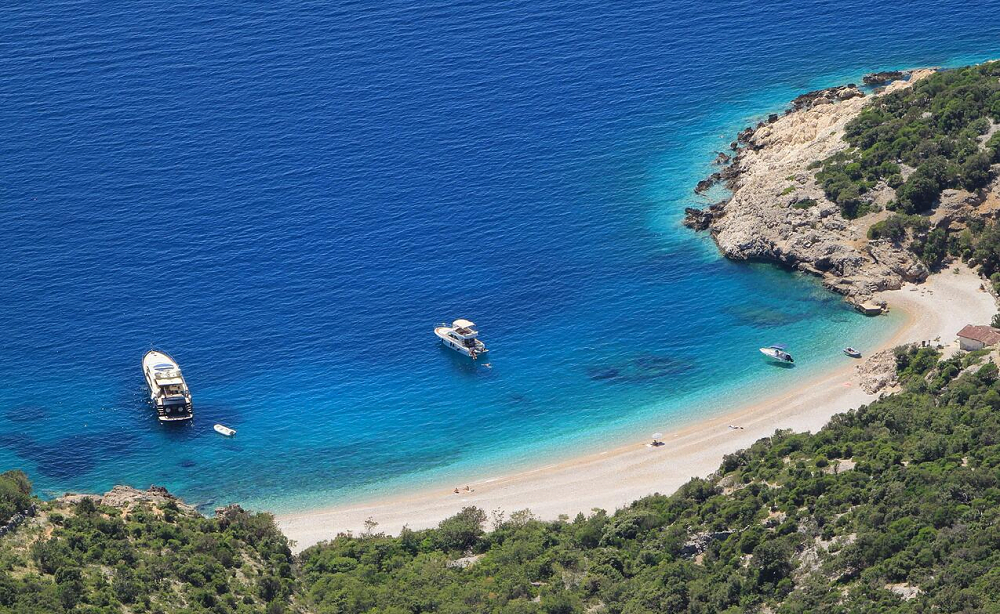 As one of the few sandy beaches in Dubrovnik, Sveti Ivan Beach offers a unique coastal experience. Nestled between rocky cliffs, this small yet charming beach provides a peaceful escape from the bustling city. Take a leisurely swim in the clear waters, enjoy a picnic under the shade of pine trees, or simply indulge in a day of sunbathing. Sveti Ivan Beach is an oasis of tranquility, allowing you to unwind and immerse yourself in the natural beauty of the Dubrovnik region.
8. Nugal Beach – A Hidden Nudist Haven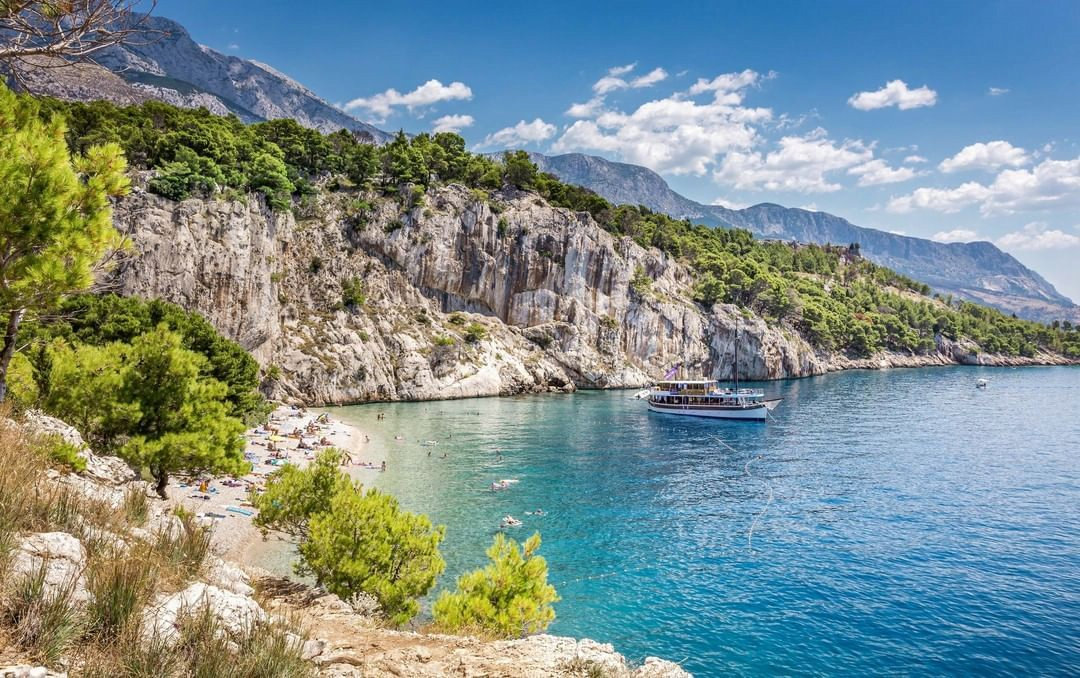 For those seeking a more adventurous and liberating experience, Nugal Beach, located near Makarska, is a hidden nudist beach worth exploring. Accessible via a scenic hiking trail, Nugal Beach is surrounded by untouched wilderness, creating an atmosphere of seclusion and freedom. If you're comfortable with baring it all, this beautiful cove offers a chance to connect with nature and embrace the spirit of the Croatian coastline.
9. Queen's Beach – A Royal Escape on Korčula Island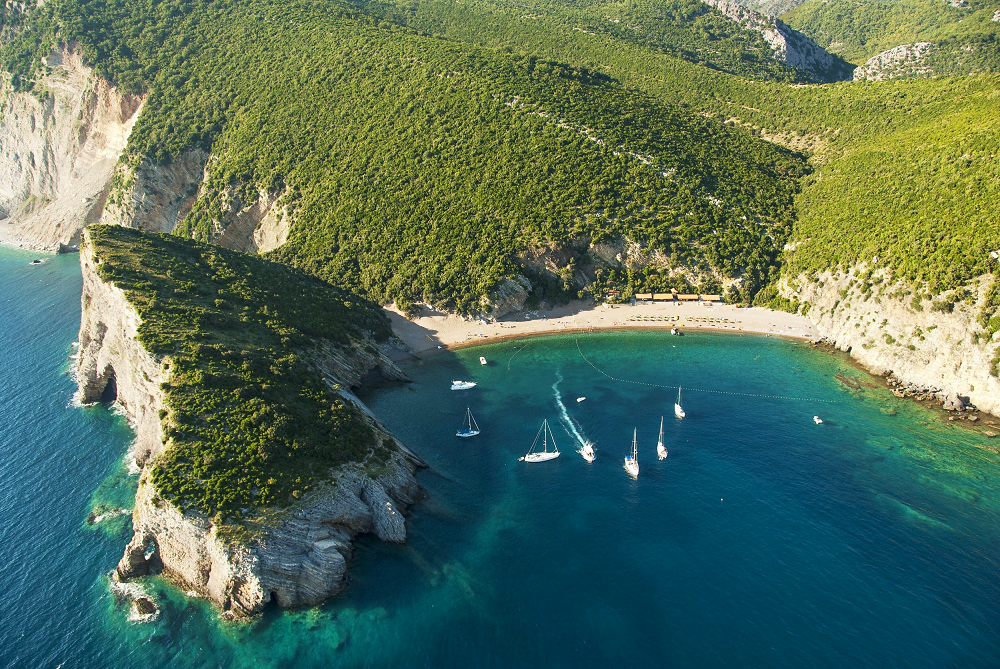 Korčula Island boasts the lovely Queen's Beach, a pebbled paradise fit for royalty. Surrounded by lush vegetation and clear blue waters, this beach is an ideal spot to enjoy a day of solitude and tranquility. Whether you're swimming in the refreshing sea or strolling along the shoreline, Queen's Beach is a regal retreat that promises an unforgettable experience.
10. Lubenice Beach – Cres Island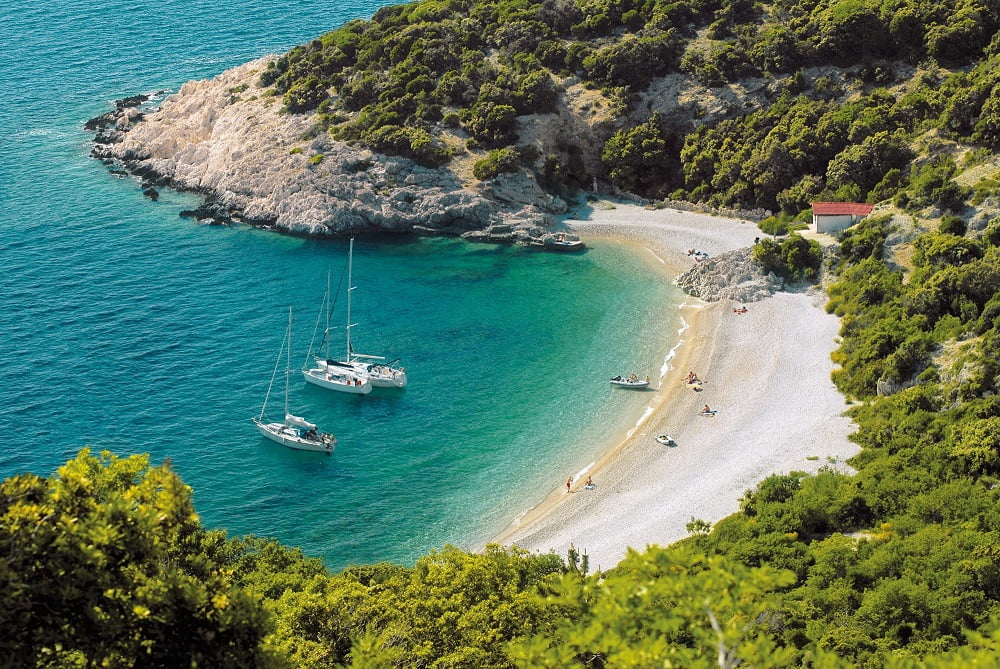 Our final destination on this coastal odyssey is Lubenice Beach on Cres Island. Perched on a cliff, the beach offers breathtaking views of the Adriatic Sea. The journey to the beach itself is an adventure, adding to the allure of this hidden gem. It is a place where history and nature intertwine, leaving you with unforgettable memories.
Croatia's stunning coastline is adorned with a diverse array of beaches, each offering its unique charm and allure. From the golden stretch of Zlatni Rat to the hidden coves of Stiniva Beach, Croatia's beaches provide an unparalleled coastal experience. Whether you're seeking adventure, relaxation, or a romantic escape, the Croatian shores have something to offer every traveler.
So, embark on a journey to discover Croatia's finest beaches and create unforgettable memories in this seaside paradise. Pack your swimsuit, sunscreen, and a spirit of adventure as you explore the beauty that awaits you along the Adriatic coast.