Switzerland, a land of enchanting landscapes, is dotted with must-visit destinations. Explore the breathtaking beauty of the Swiss Alps in places like Zermatt and Interlaken, or indulge in the cosmopolitan charm of cities like Zurich and Geneva, where culture, history, and stunning waterfronts collide.
Welcome to the picturesque wonderland of Switzerland, a country renowned for its breathtaking landscapes, charming cities, and rich cultural heritage. Nestled in the heart of Europe, Switzerland is a traveler's paradise that captivates with its majestic mountains, serene lakes, and idyllic villages. In this captivating guide, we, the travel experts at Pustly.com, present to you the crème de la crème of Swiss destinations that are bound to make your journey an unforgettable one.
Enjoy these 10 Best Places to Visit in Switzerland for 2023-2024 :
Unveiling the Charms of Switzerland – The Best Places to Visit
1. Zermatt – Home of the Mighty Matterhorn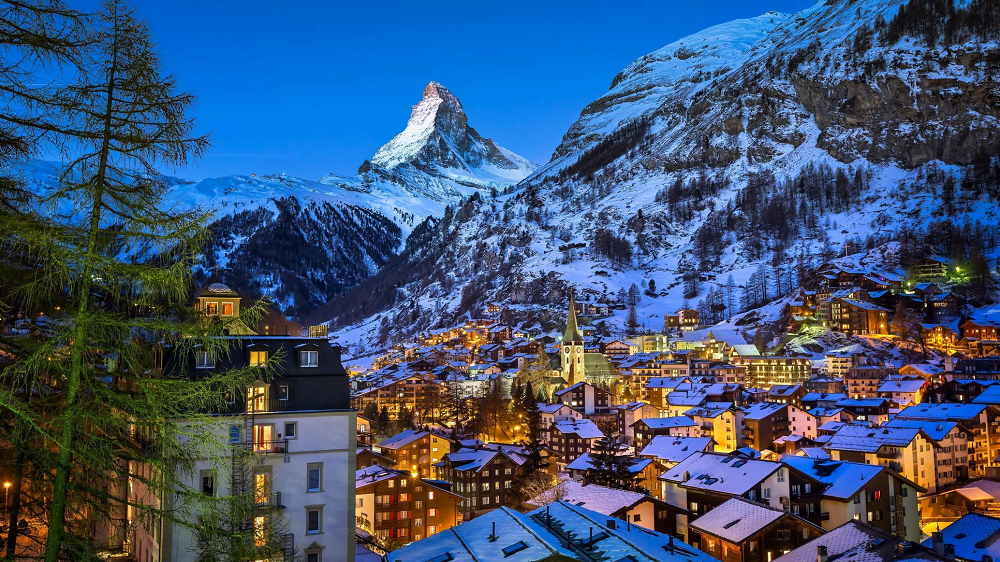 If there's one place that defines the Swiss Alps, it's Zermatt. This charming car-free village rests at the foot of the iconic Matterhorn, providing a postcard-perfect view from every corner. Winter or summer, Zermatt offers an array of activities, from skiing and snowboarding to hiking and mountain biking. Wander through its cozy streets lined with chalets, savor Swiss delicacies in local restaurants, and bask in the alpine magic that surrounds you.
2. Lucerne – Where History and Scenery Meet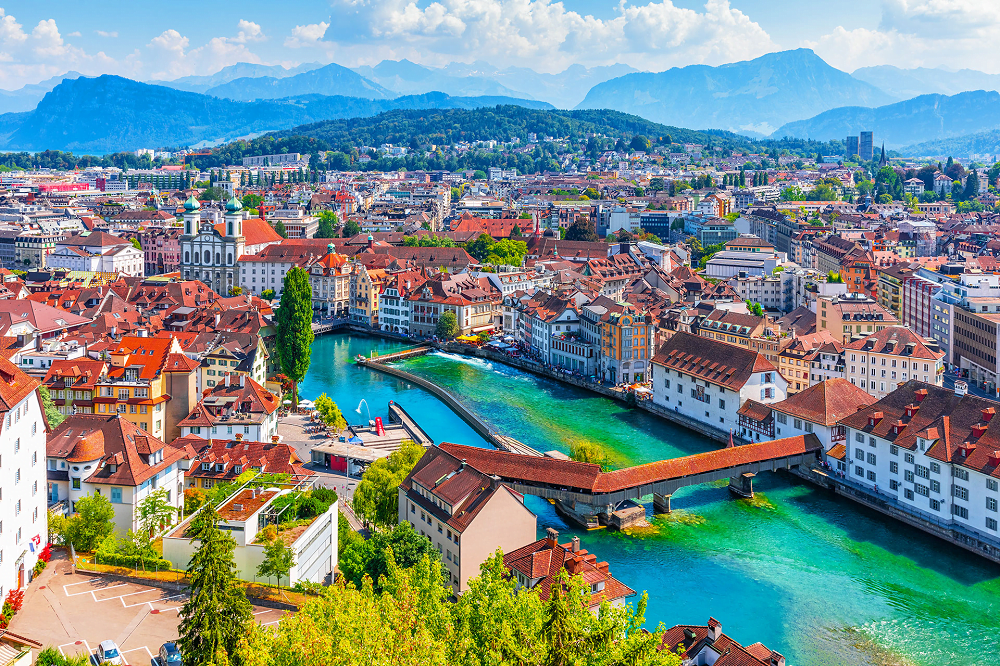 Nestled along the shores of Lake Lucerne, this picturesque city boasts a perfect blend of history and natural beauty. The Chapel Bridge, an emblematic wooden covered bridge, reflects beautifully in the calm waters. The medieval old town invites you to stroll through cobbled streets, while the stunning nearby peaks like Mount Pilatus and Mount Rigi offer panoramic vistas. Don't forget to take a boat cruise on the lake to truly appreciate the enchanting scenery.
3. Interlaken – Adventure Awaits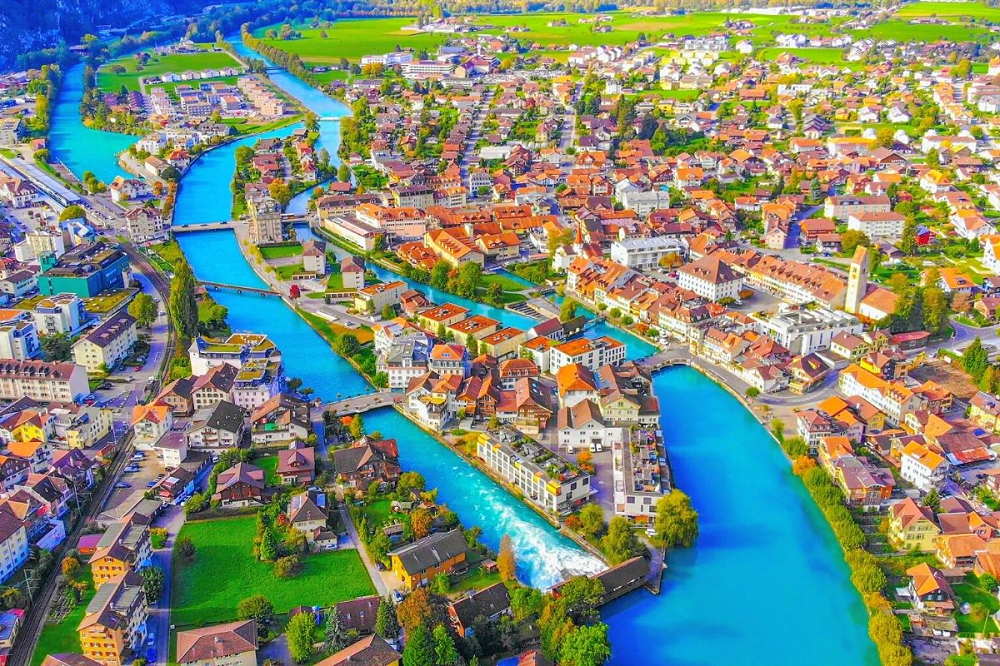 As its name suggests, Interlaken is the gateway to countless adventures in the Bernese Oberland region. Surrounded by the Eiger, Mönch, and Jungfrau mountains, adrenaline enthusiasts can indulge in activities like paragliding, skydiving, and bungee jumping. For a more serene experience, take a boat trip on Lake Thun or Lake Brienz or venture to the enchanting Trummelbach Falls. Interlaken caters to every type of traveler, making it a must-visit destination.
4. Zurich – The Epitome of Urban Sophistication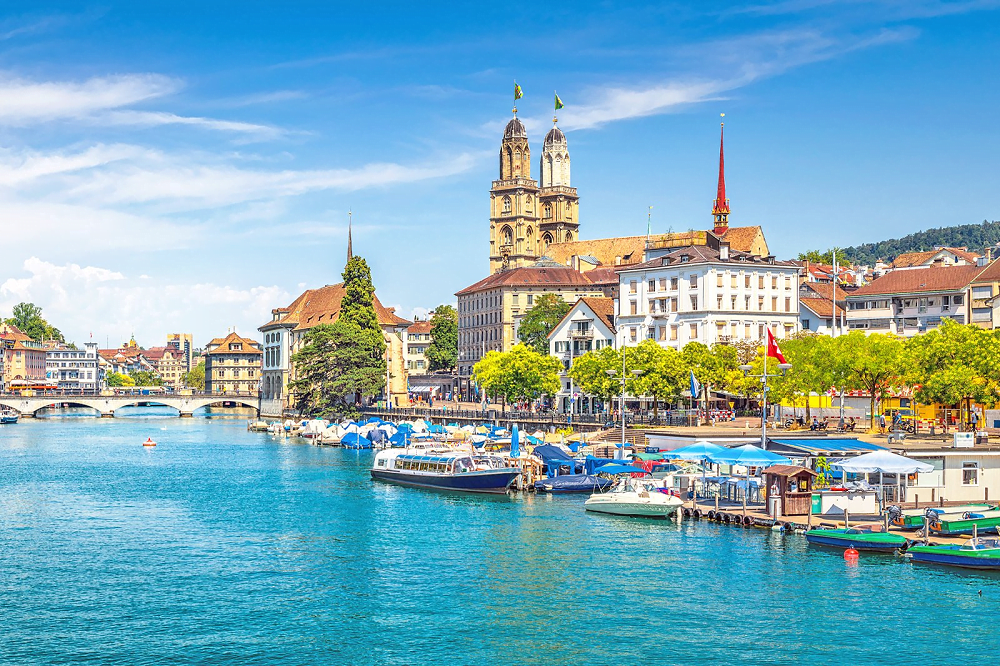 Switzerland's largest city, Zurich, is a vibrant metropolis that effortlessly combines modernity with tradition. Discover world-class art at the Kunsthaus Zurich, shop along the upscale Bahnhofstrasse, and take a relaxing stroll along Lake Zurich. The city's culinary scene is equally impressive, offering a variety of international and local delights. Zurich is a hub of innovation, culture, and elegance that will undoubtedly leave a lasting impression.
5. Geneva – A Global City with Charm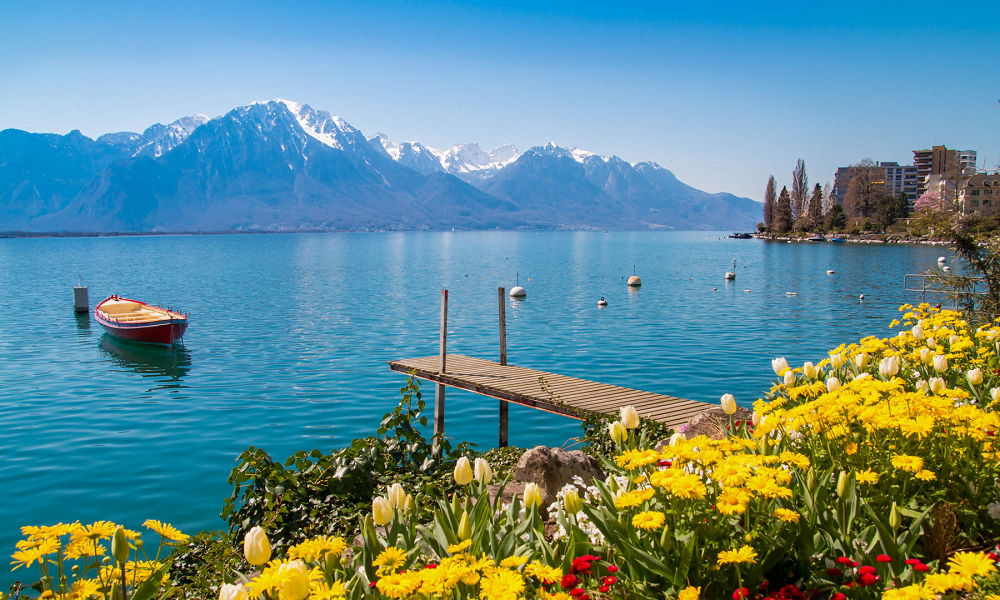 Nestled on the shores of Lake Geneva, this international city is famed for its diplomacy and cosmopolitan atmosphere. Visit the iconic Jet d'Eau, an impressive water fountain in the middle of the lake, and explore the fascinating Palais des Nations, the European headquarters of the United Nations. Geneva's old town, with its charming cobblestone streets and historic landmarks, invites you to take a step back in time.
6. Bern – A Fairytale Capital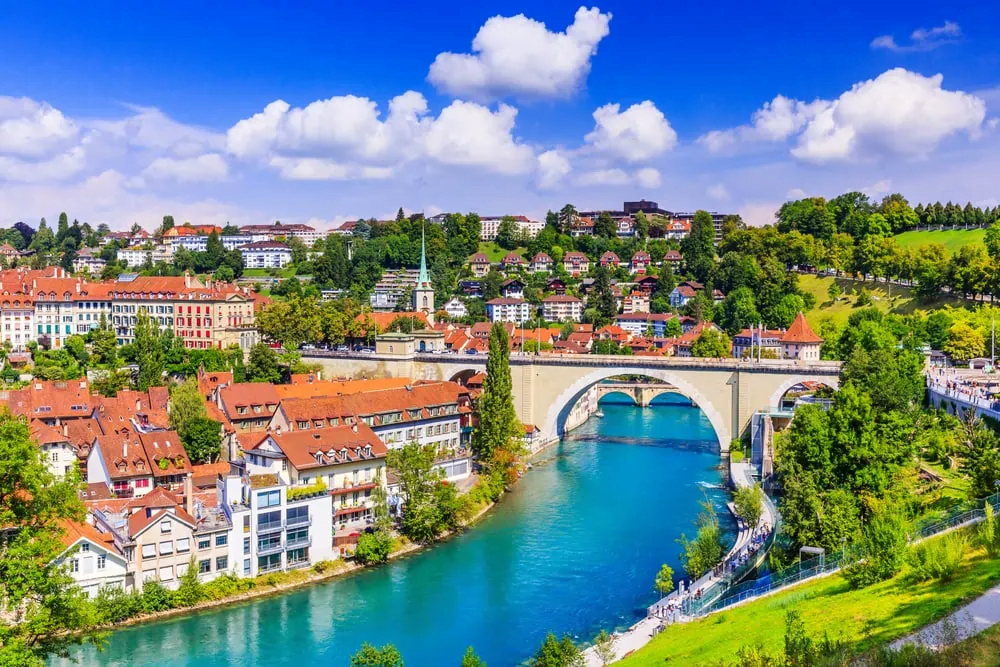 As the capital of Switzerland, Bern exudes an old-world charm that will transport you to a fairytale setting. The well-preserved medieval old town, a UNESCO World Heritage Site, is a treasure trove of cobbled streets, historic fountains, and sandstone buildings. Climb up to the Rosengarten for a stunning view of the cityscape and the meandering Aare River. Bern's warm ambiance and cultural richness make it a destination worth exploring.
7. Montreux – The Pearl of the Swiss Riviera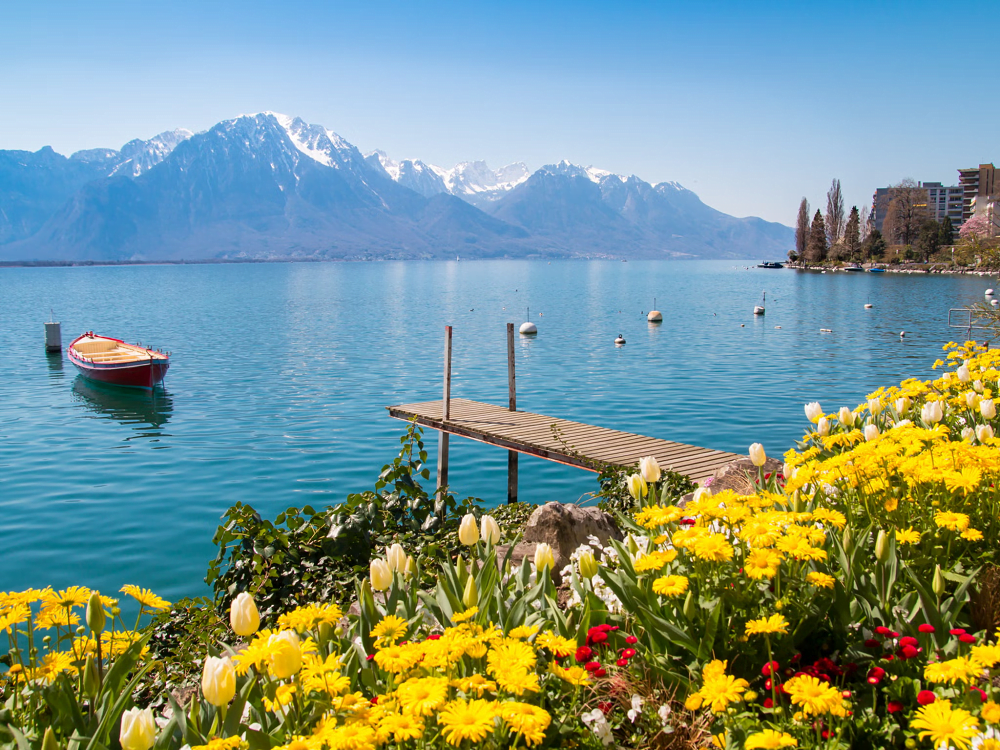 Located on the shores of Lake Geneva, Montreux enchants visitors with its Mediterranean climate and stunning lakeside setting. Explore the Château de Chillon, an ancient castle that inspired poets and artists throughout history. Don't miss the world-renowned Montreux Jazz Festival, held annually, attracting music enthusiasts from all corners of the globe. Montreux's beauty and charm have earned it the nickname "Pearl of the Swiss Riviera."
8. Lugano – A Touch of Italian Flair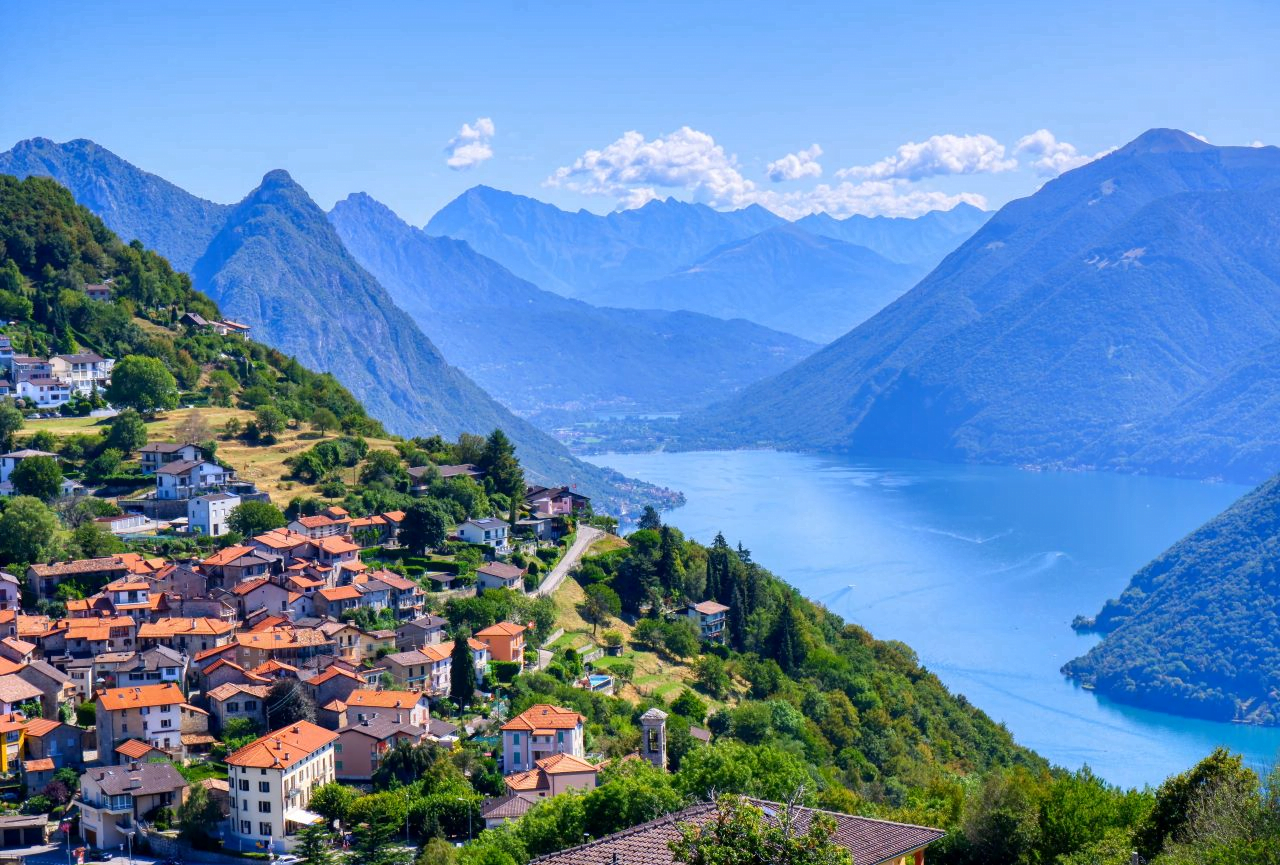 In the Italian-speaking region of Ticino, you'll find Lugano, a city that blends Swiss efficiency with Italian allure. Surrounded by lush hills and overlooking Lake Lugano, this city offers a delightful Mediterranean atmosphere. Take a stroll along the charming promenade, explore the picturesque Parco Ciani, and indulge in delicious Italian cuisine at local trattorias. Lugano's Mediterranean vibe makes it a unique and unforgettable Swiss destination.
9. Lausanne – A Vibrant University Town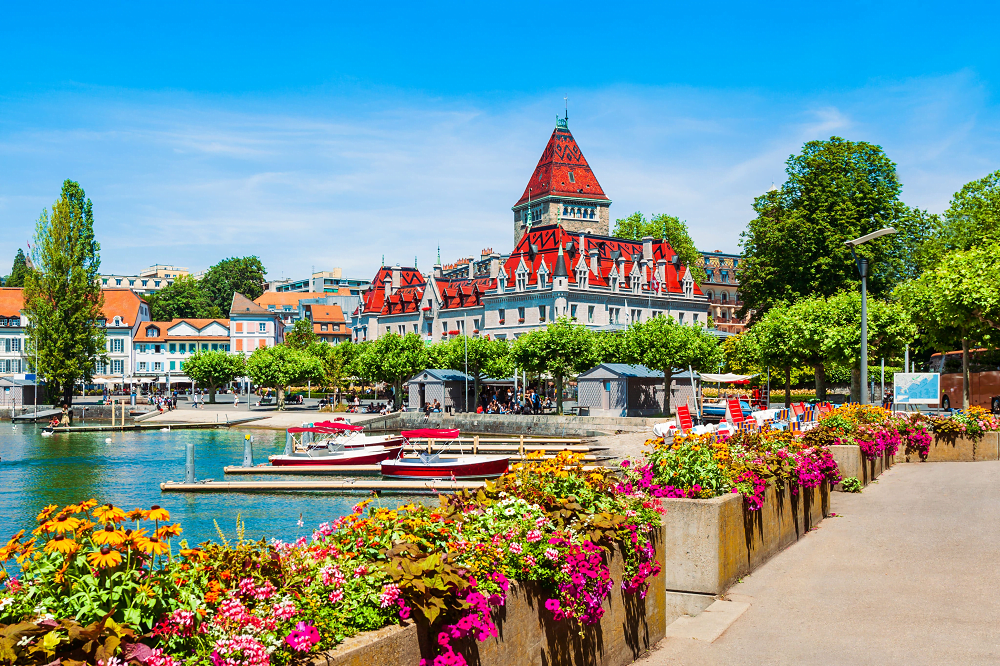 Set on the shores of Lake Geneva, Lausanne is a vibrant university city with a youthful spirit. The Olympic Museum, situated on the hills overlooking the city, celebrates the history of the Olympic Games. Wander through the charming old town, filled with lively cafes and boutiques, and don't forget to taste the region's delectable wines. Lausanne's lively culture and picturesque setting make it a hidden gem waiting to be explored.
10. Grindelwald – A Winter Wonderland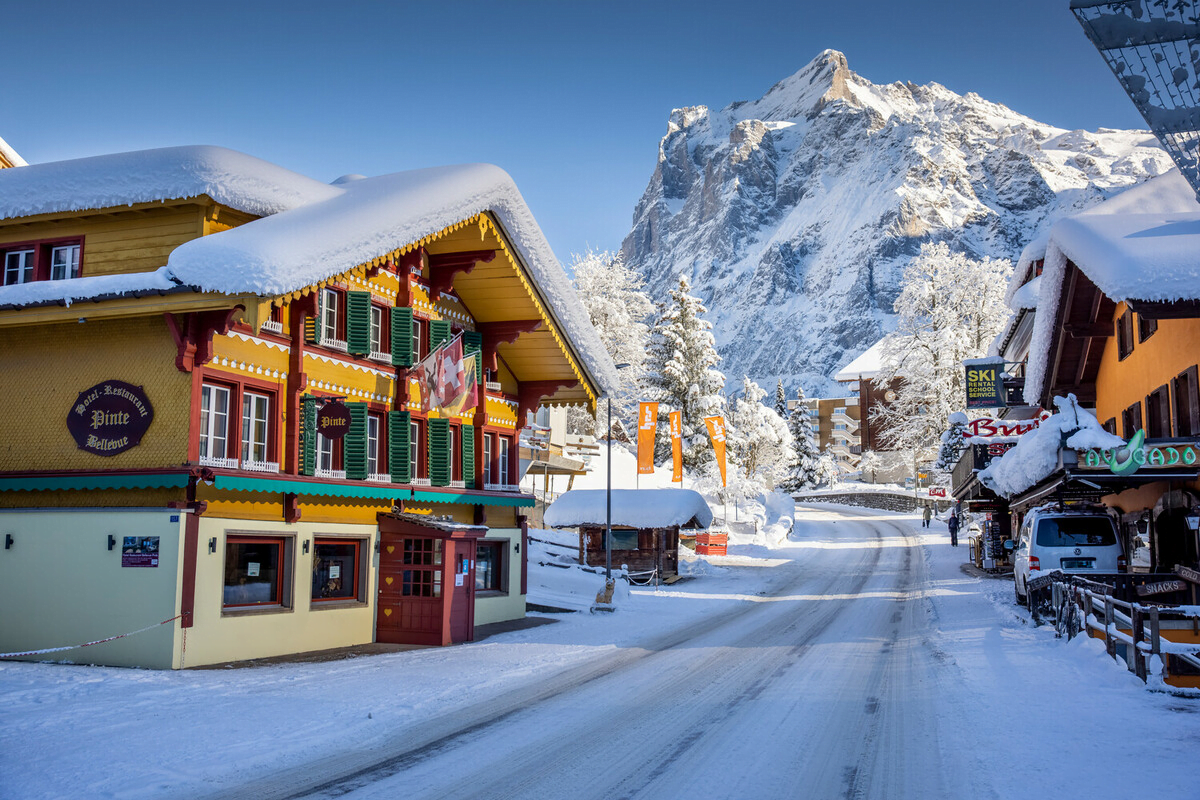 Nestled in the Jungfrau region, Grindelwald is a winter wonderland that attracts ski and snowboard enthusiasts from around the world. Surrounded by snow-capped peaks and lush valleys, this charming alpine village offers an authentic Swiss experience. Hike to the Gletscherschlucht, a glacial gorge, or take the cogwheel train to Jungfraujoch, known as the "Top of Europe." Grindelwald's alpine beauty will leave you mesmerized.
Switzerland, with its pristine natural landscapes, rich culture, and charming cities, promises an extraordinary journey that will captivate your heart and soul. Whether you seek adventure in the mountains, relaxation by the lakes, or cultural exploration in the cities, Switzerland has it all. So, pack your bags and embark on a once-in-a-lifetime adventure to this enchanting country.
10 Best Places to Visit in Switzerland for 2023-2024 :
Zermatt – Home of the Mighty Matterhorn
Lucerne – Where History and Scenery Meet
Interlaken – Adventure Awaits
Zurich – The Epitome of Urban Sophistication
Geneva – A Global City with Charm
Bern – A Fairytale Capital
Montreux – The Pearl of the Swiss Riviera
Lugano – A Touch of Italian Flair
Lausanne – A Vibrant University Town
Grindelwald – A Winter Wonderland