Jeju, a picturesque island off South Korea's southern coast, captivates with its natural wonders and serene landscapes. Home to volcanic craters, lush forests, and stunning beaches, Jeju's UNESCO-listed Geomunoreum lava tubes and iconic Seongsan Ilchulbong Peak stand as testaments to its geological marvels. Whether exploring underground caves or savoring fresh seafood by the coastline, Jeju's beauty and tranquility make it a sought-after haven for nature enthusiasts and travelers seeking respite.
Nestled in the embrace of the cerulean waters of the East China Sea, Jeju Island beckons travelers with its breathtaking landscapes, cultural wonders, and natural beauty. As we embark on a journey to explore the 10 best things to do in Jeju, prepare to be enchanted by a realm of volcanic wonders, picturesque coastlines, and captivating traditions.
Enjoy these 10 Best Things to Do in Jeju, Korea :
Unveiling Jeju Island: Your Ultimate Guide to the Top 10 Must-Experience Attractions
1. Wander through the Lush Beauty of Seongsan Ilchulbong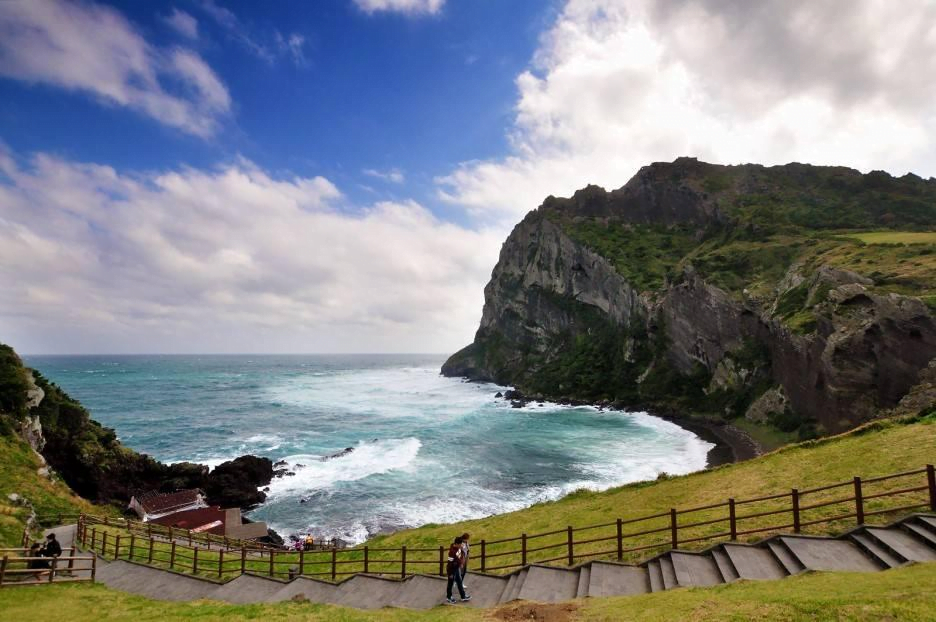 Start your Jeju adventure with a visit to Seongsan Ilchulbong, a UNESCO World Heritage Site known as the "Sunrise Peak." Embark on an invigorating hike to the summit to witness the awe-inspiring sunrise over the horizon. The panoramic views of the surrounding landscapes and the iconic crater at the peak create a breathtaking spectacle that's truly unforgettable.
2. Explore the Enigmatic Manjanggul Cave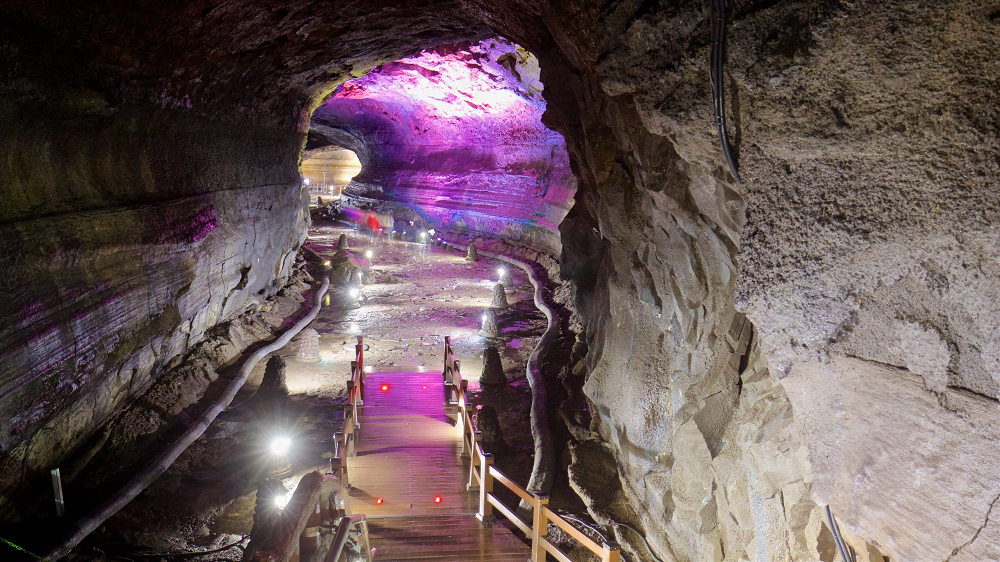 Delve into the depths of natural wonders at Manjanggul Cave, a mesmerizing underground world sculpted by nature itself. Wander through illuminated chambers adorned with stunning stalactites and stalagmites, and marvel at the intricate formations that have developed over millennia. The cave's mystique and geological significance make it a must-visit attraction on Jeju Island.
3. Relax on the Pristine Shores of Jungmun Saekdal Beach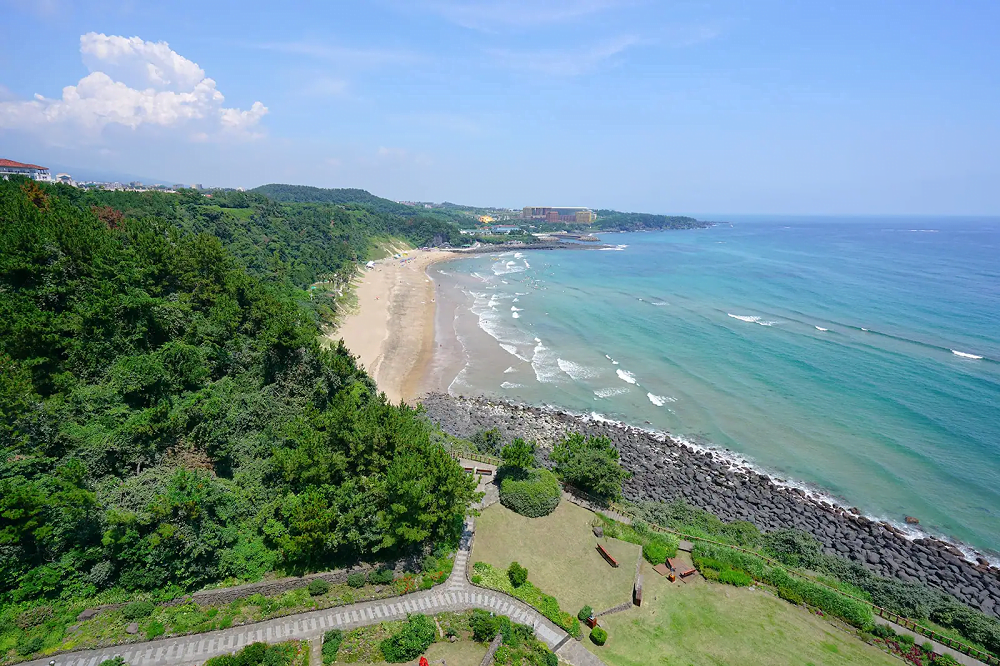 Bask in the sun's warm embrace at Jungmun Saekdal Beach, a tranquil haven that invites relaxation and rejuvenation. With its golden sands, crystal-clear waters, and majestic cliffs, this beach offers a perfect escape from the hustle and bustle of everyday life. Whether you're lounging on the shore or participating in water activities, the beach's serene beauty is simply captivating.
4. Embrace Culture at Jeju Folk Village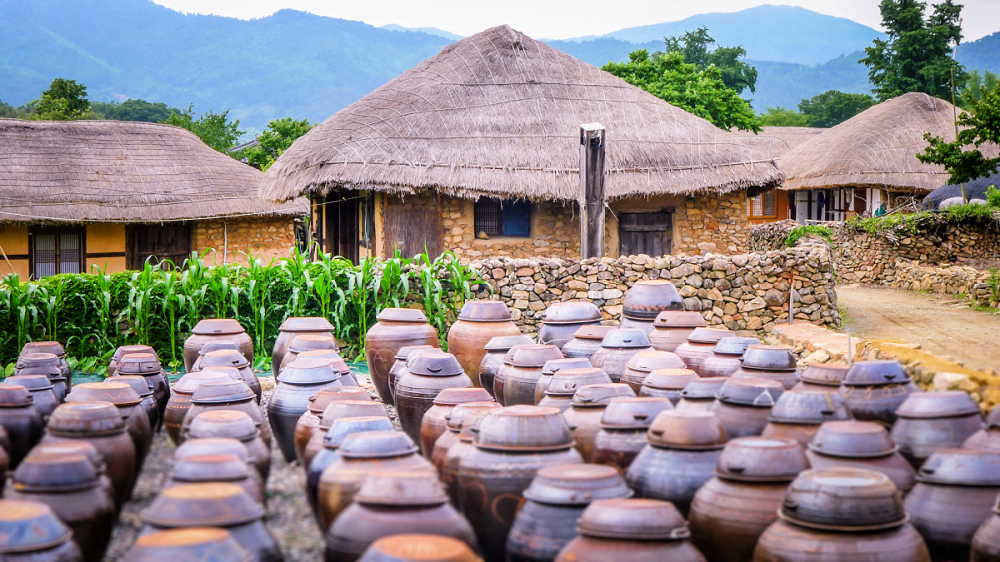 Step back in time and immerse yourself in the cultural heritage of Jeju at Jeju Folk Village. Wander through traditional thatched-roof houses, observe local artisans at work, and gain insight into the island's rich history and customs. The village's authentic charm and interactive exhibits provide a captivating window into Jeju's past.
5. Admire the Majesty of Jeju Stone Park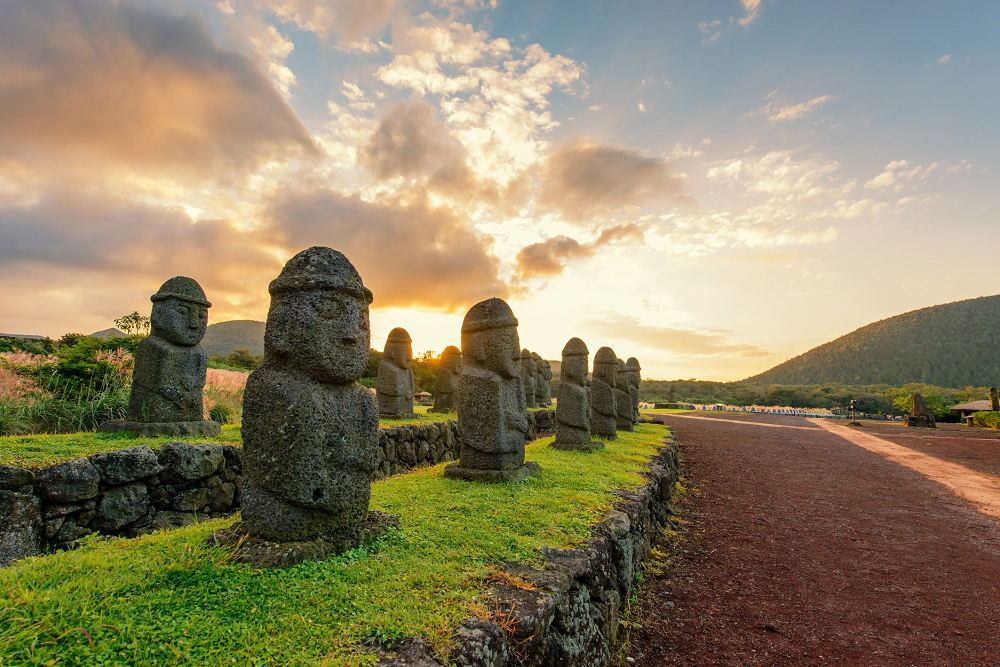 For a unique encounter with art and nature, venture to Jeju Stone Park, a captivating outdoor sculpture garden. Marvel at the intricate stone sculptures that blend seamlessly with the island's natural landscapes. The park's artistic expression and serene ambiance make it an ideal spot for reflection and appreciation of both human creativity and the beauty of Jeju.
6. Visit Jeongbang Waterfalls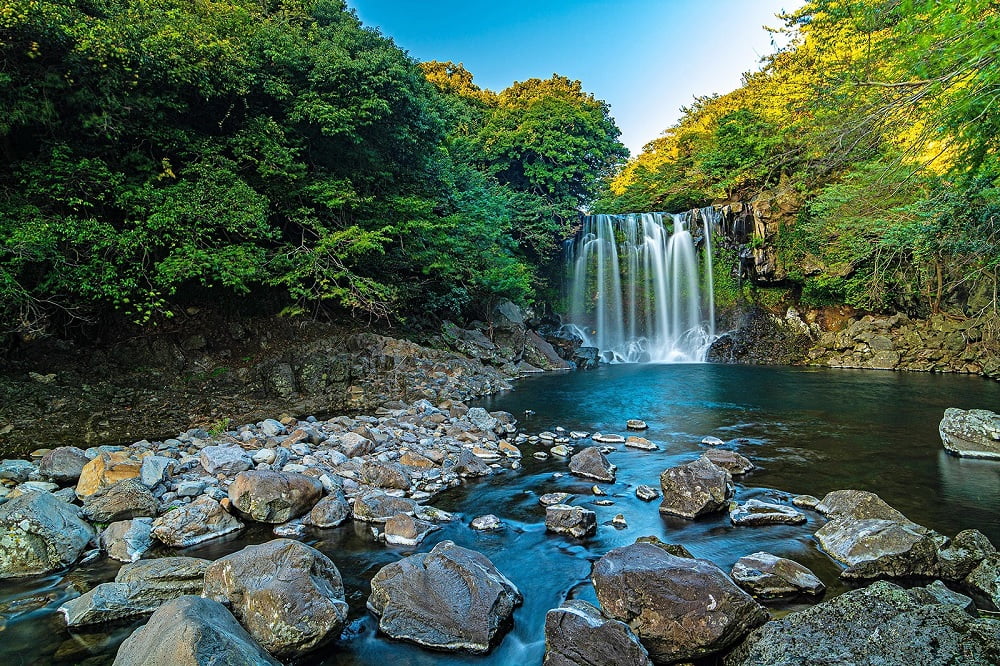 Visit Jeongbang Waterfalls in Jeju, South Korea, to immerse yourself in a captivating natural spectacle. Cascading from a rocky cliff directly into the ocean, this breathtaking waterfall offers a rare opportunity to witness the union of fresh and saltwater. Surrounded by lush greenery and dramatic coastal scenery, Jeongbang Waterfalls presents a serene oasis for visitors seeking both tranquility and awe-inspiring beauty.
7. Savor the Flavors of Jeju's Unique Cuisine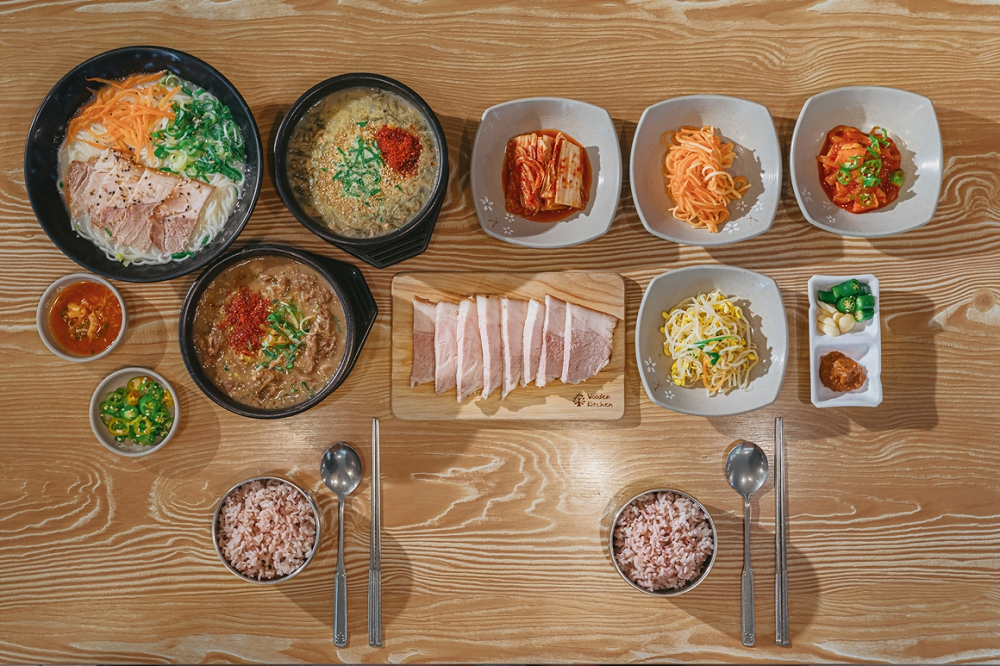 Indulge your taste buds in the culinary delights of Jeju Island. From succulent black pork barbecue to fresh seafood delicacies, the island's cuisine reflects its coastal heritage and bountiful natural resources. Be sure to sample the iconic Jeju tangerines and explore local markets for a true gastronomic adventure that tantalizes your senses.
8. Unwind in the Tranquil Beauty of Hallasan National Park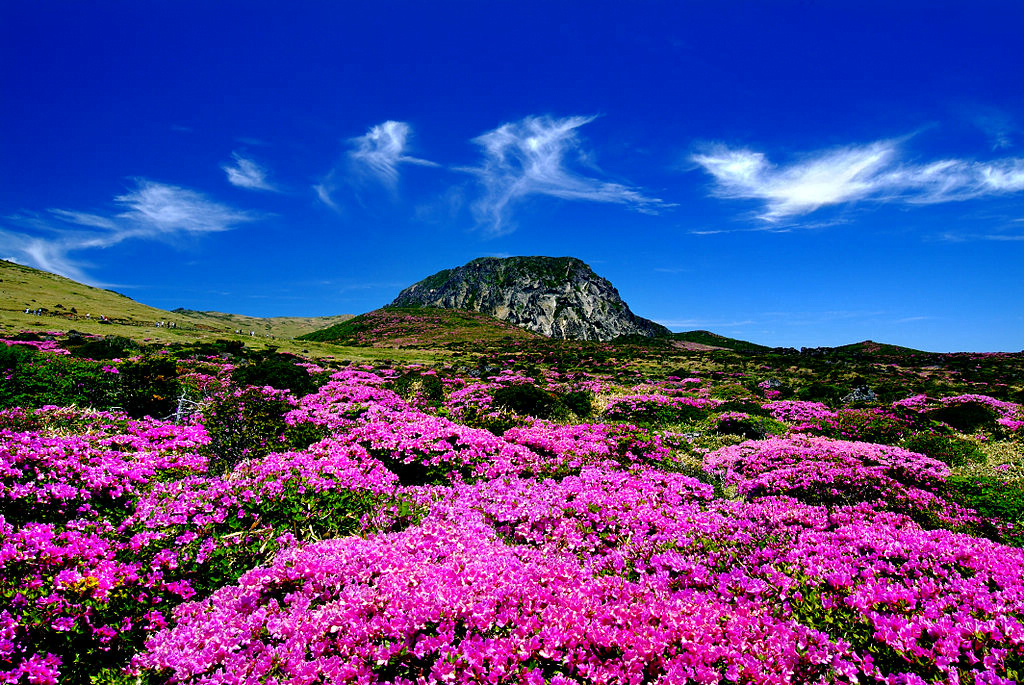 Escape to the heart of nature at Hallasan National Park, home to South Korea's highest peak, Mount Halla. Whether you're an avid hiker or a leisurely explorer, the park's well-maintained trails offer diverse landscapes, including lush forests, alpine meadows, and serene crater lakes. The park's serenity and natural splendor provide a welcome retreat for the soul.
9. Immerse Yourself in the Wonder of Jeju Teddy Bear Museum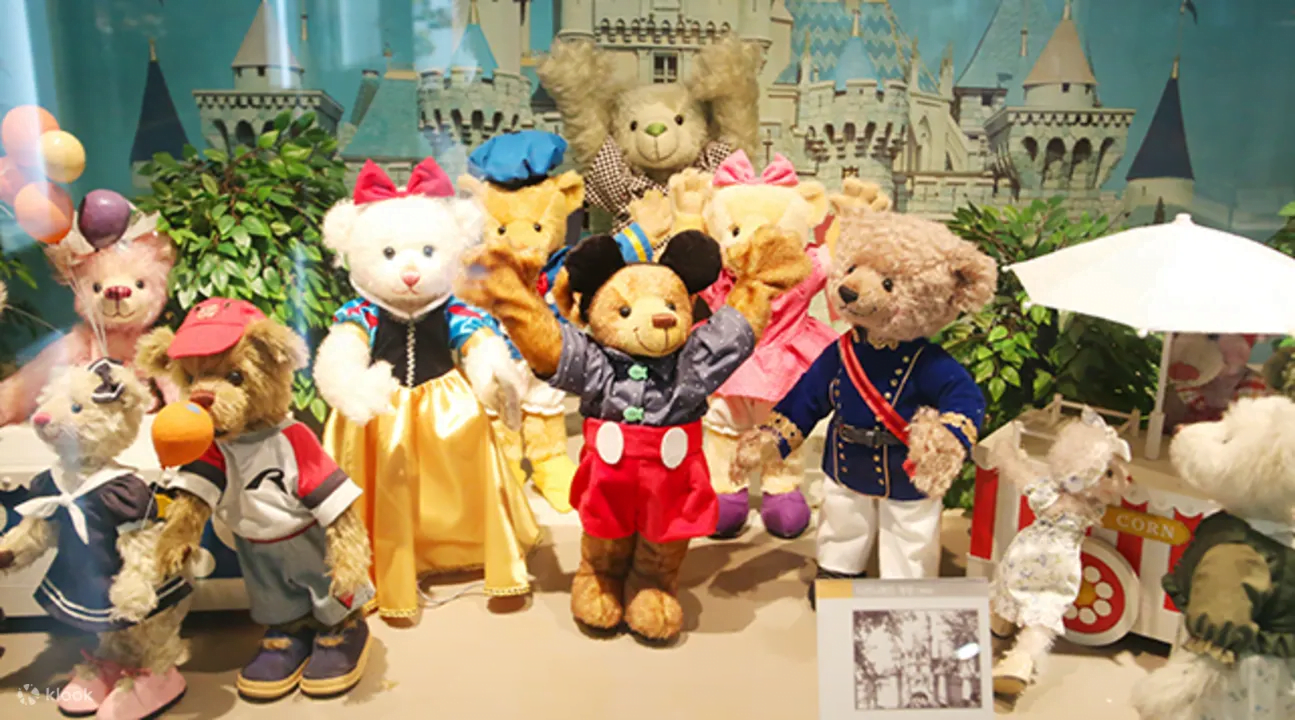 Delight in whimsy and nostalgia at the Jeju Teddy Bear Museum, a charming attraction that combines entertainment and education. Explore an enchanting world of teddy bear displays that depict historical scenes, cultural icons, and more. This museum offers a delightful experience for visitors of all ages, allowing you to relive childhood memories and create new ones.
10. Connect with Nature at the Jeju Camellia Hill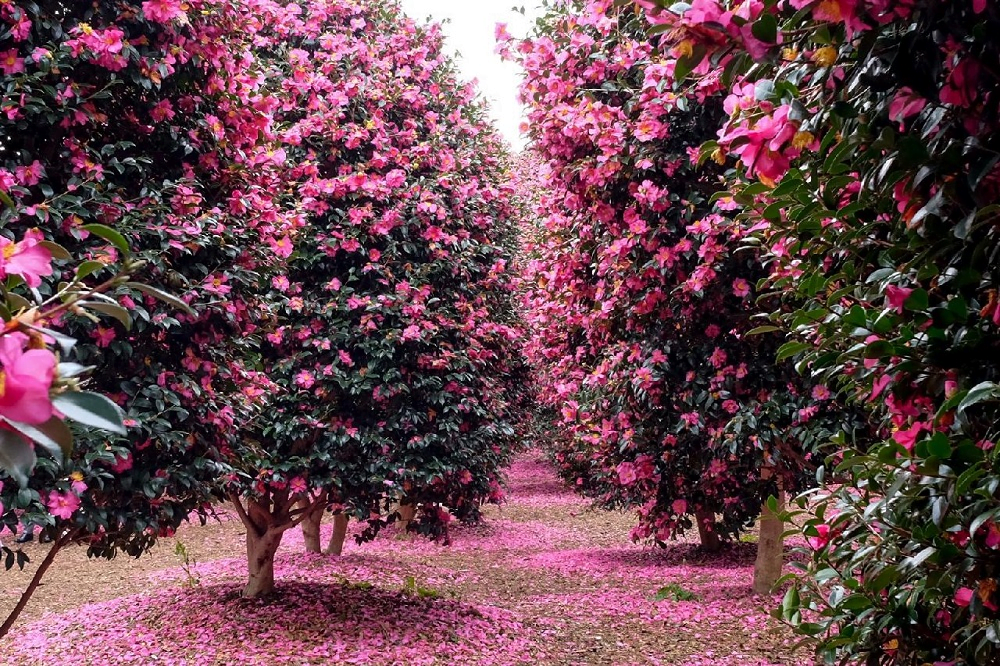 Immerse yourself in a botanical paradise at Jeju Camellia Hill, a garden sanctuary that showcases a vibrant array of camellia flowers in various colors and species. Wander through themed gardens, enjoy leisurely strolls, and appreciate the seasonal beauty that unfolds throughout the year. This peaceful oasis offers a serene escape where nature's splendor takes center stage.
As you embark on your Jeju Island adventure, these top 10 attractions offer a tantalizing glimpse into the island's diverse offerings. Each experience contributes to the tapestry of memories you'll create during your visit, leaving you with a profound appreciation for Jeju's natural wonders and cultural treasures.