Tampa is a city located along Florida's Gulf Coast. A major business centre, it's also known for its museums, botanical gardens, flea markets, restaurants and famous attractions. The weather in Tampa Bay is typically characterised by bright sunny days and calm breezes, with the average annual temperature hovering at around 72 degrees.
Before we get into the top 10 things to do in Tampa, Florida :
10- Tampa Museum of Art (Pay) :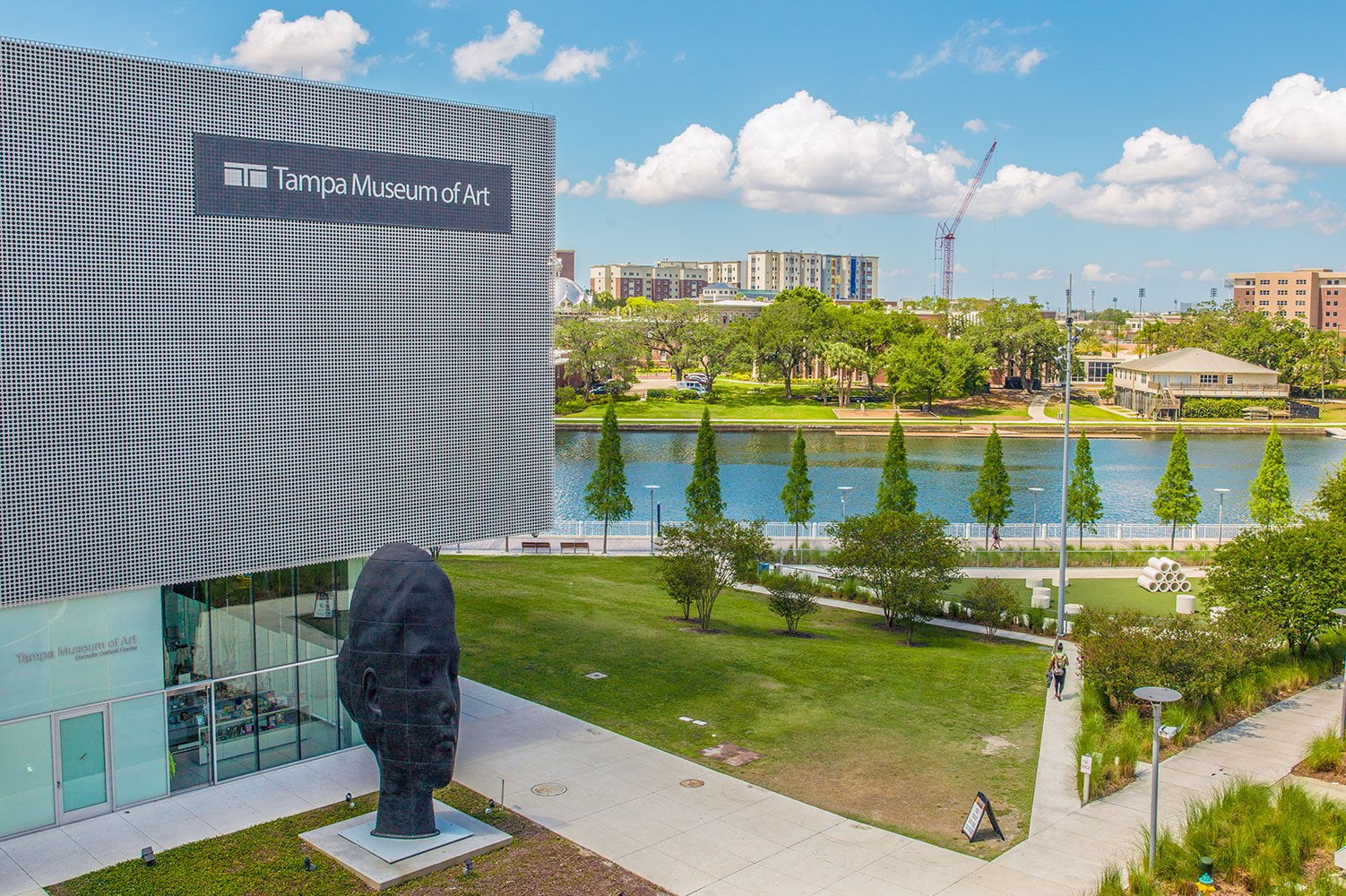 The Tampa Museum of Art is a state-of-the-art museum and one of the top Tampa attractions, with a focus on modern and contemporary art. Founded in 1979, the Museum aims to present visitors with a creative environment in which to explore and enjoy outstanding visual art through a range of permanent and temporary collections and exhibitions. The Tampa Museum of Art is located on the banks of the Hillsborough River in Downtown Tampa and is open seven days a week.
9- Tampa Riverwalk (Free) :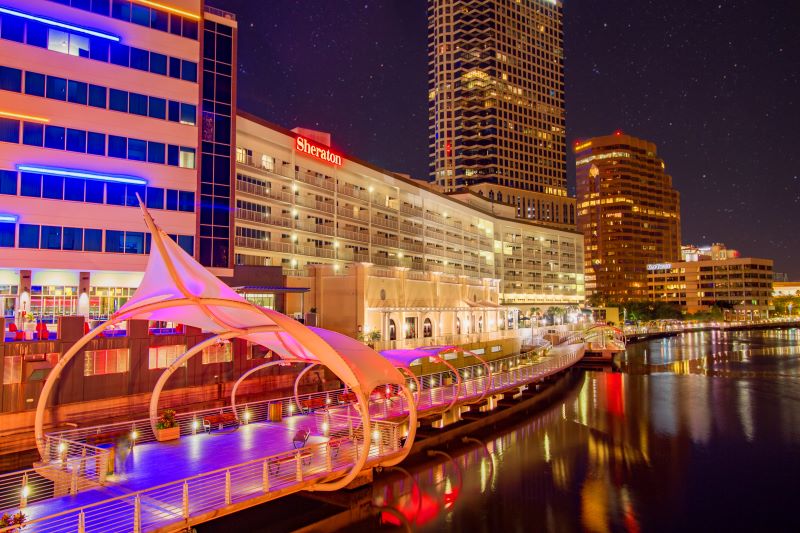 Tampa Riverwalk is a 2.6-mile long open space and pedestrian trail development along the Hillsborough River in Tampa. The riverwalk offers wonderful views of the city from the channelside and there are many activities, places to eat and a series of small parks for kids of all ages to enjoy.
8- Busch Gardens (Pay) :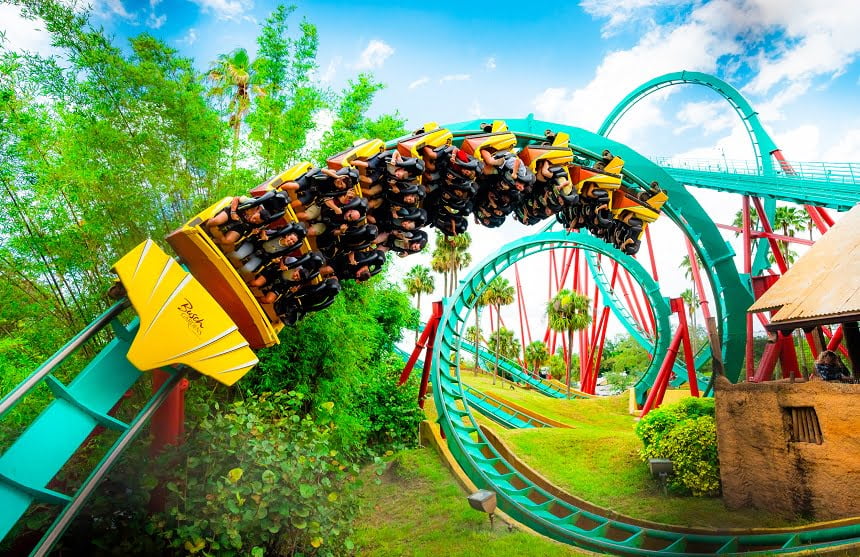 Busch Gardens Tampa is a world-renowned amusement park and one of the best things to do in Tampa. It's about 10 miles northeast of downtown Tampa and is open every day of the year. It offers a wide variety of fun activities and adventures for the whole family. Operated by SeaWorld Entertainment, Busch Gardens Tampa features an array of exclusive park experiences, such as a Serengeti Safari and Guided Adventure Tours, lots of live entertainment and shows, many themed rides and special kids' attractions.
7- Museum Of Science & Industry (Pay) :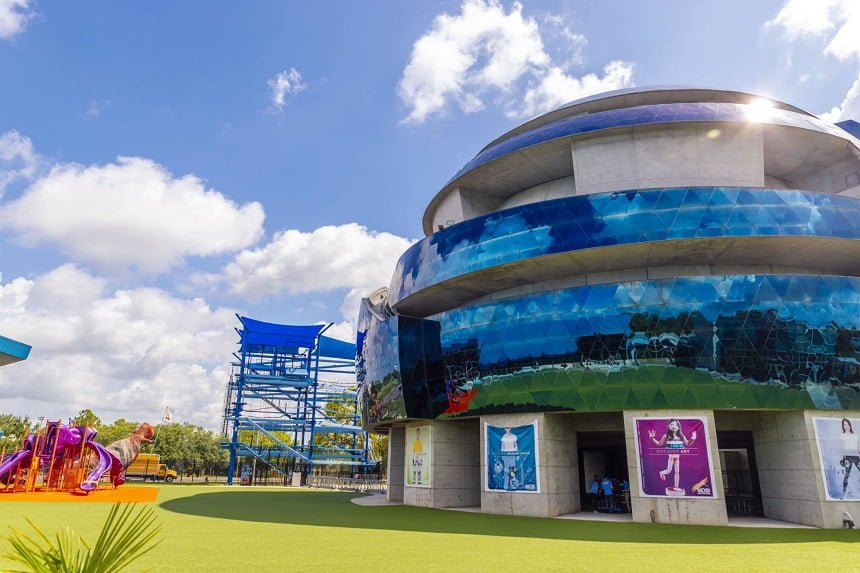 Explore a World of Possibilities at Tampa's Museum of Science and Industry with more than 450 hands on activities. There are interactive exhibits on hurricanes and the human body plus an IMAX theatre and butterfly garden. This community based institution and educational resource is dedicated to advancing public interest, knowledge and understanding of science, industry, and technology.
6- Manatee Viewing Centre (Free) :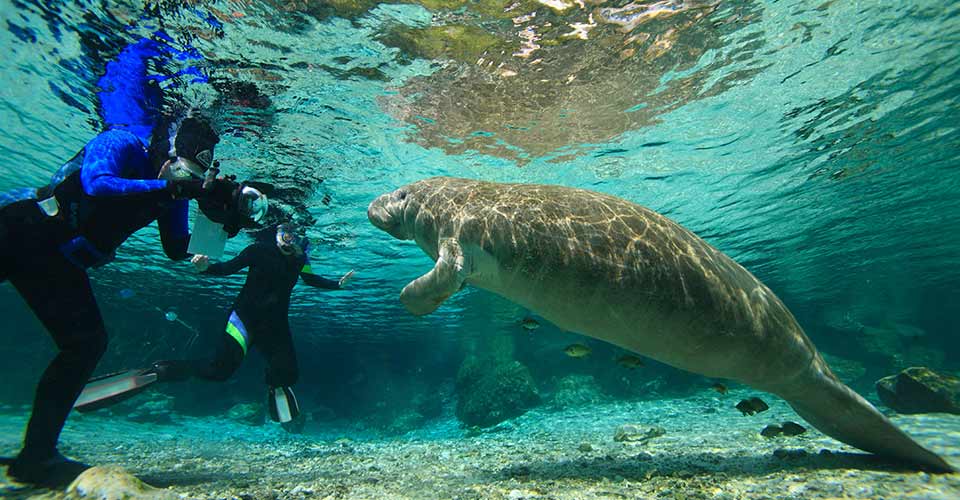 Tampa Manatee Viewing Centre is a special manatee sanctuary that provides a crucial protected environment for manatees to live and breed. The Centre features a variety of colourful displays and exhibits about the manatee and its habitat, as well as information about the Big Bend Power Station and how it generates electricity for the community in an environmentally responsible way. From the observation platform, visitors can watch the marine mammals bask in the warm water, enjoying a respite from the cool bay.
5- Lettuce Lake Regional Park (Free) :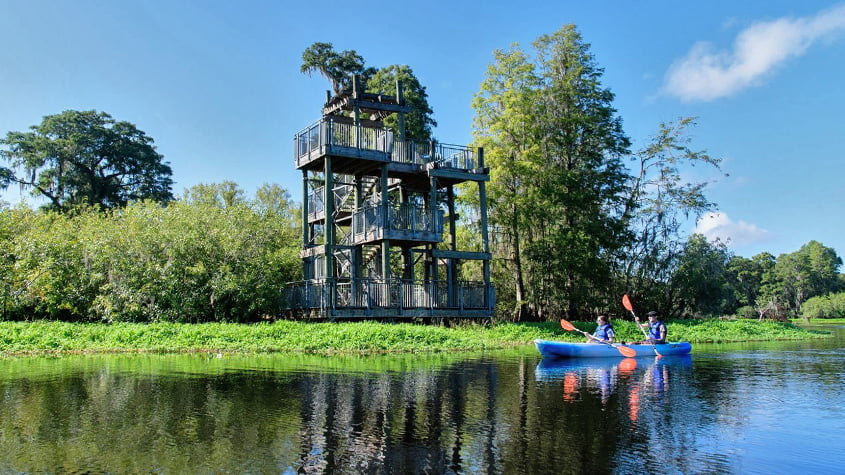 Lettuce Lake Regional Park is located along the Hillsborough River about half an hour north of downtown Tampa. The river at this point is in its natural state, untouched by houses and development, giving visitors a chance to experience natural Florida at its best. The park features 240 acres of wooded picnic areas, a playground and a paved path for bikes and joggers, complete with a fitness course. A haven for nature lovers and bird watchers, the park features an amazing 3,500-foot boardwalk and observation tower where visitors can view a variety of wildlife.
4- Big Cat Rescue, Tampa (Pay) :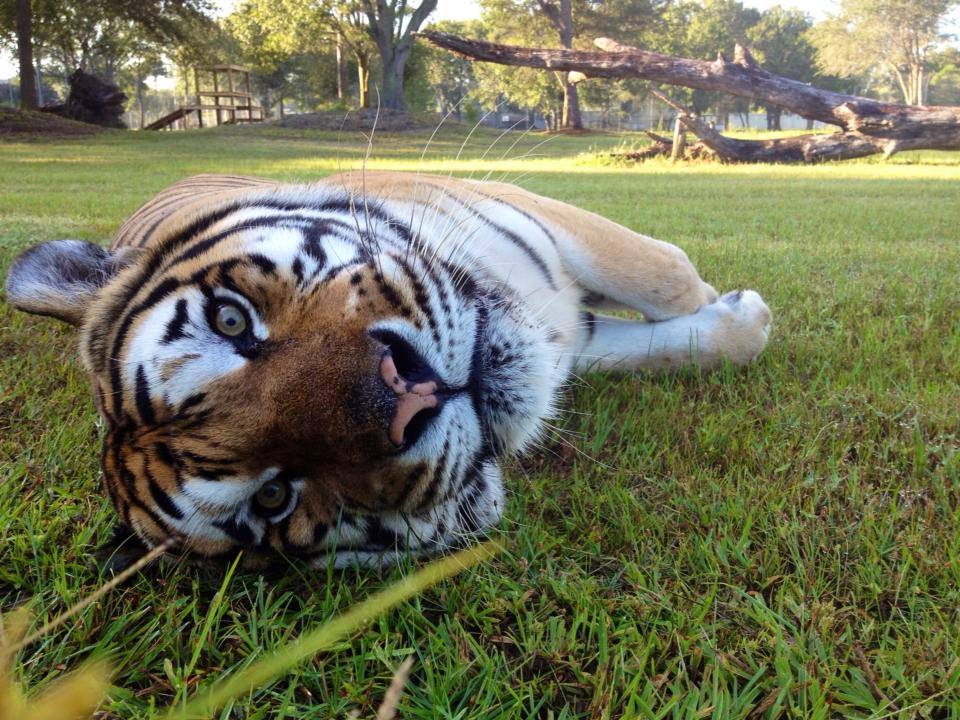 Big Cat Rescue is an animal sanctuary in Citrus Park dedicated to rescuing, rehabilitating and housing injured or orphaned native wild cats and other exotic felines. Established in 1992 to fight against and end the private trade and ownership of exotic cats, Big Cat Rescue is now home to more than 100 wild cats, representing 11 species. Visitors can enjoy a variety of guided tours through the facility, ranging from photographic and keeper tours to feeding and night tours.
3- American Victory Ship Mariners Memorial Museum (Pay, Groupon) :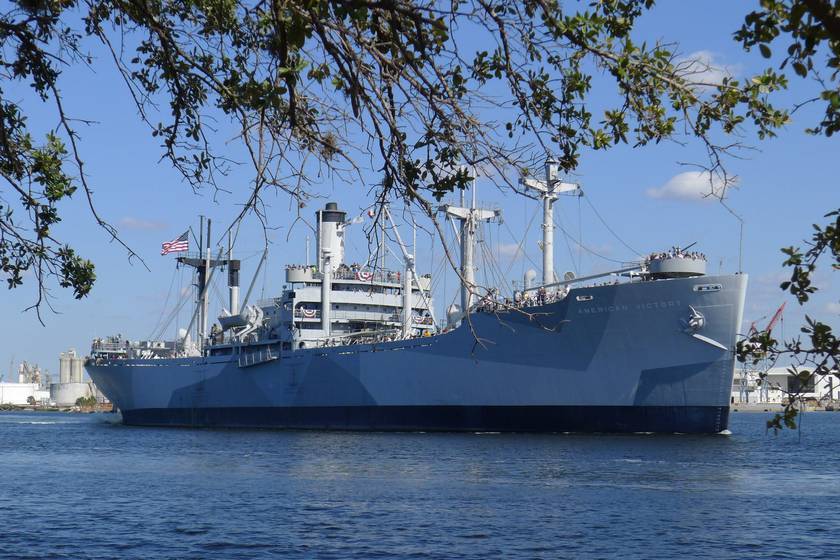 Since its construction in 1944, the 455-foot SS American Victory has weathered quite a few storms, including World War II, the Korean War, and the Vietnam War. From those storms, the steamship developed a rich history filled with stories that echo throughout its three-level cargo holds, hospital, flying bridge, mess halls, crew cabins, and lifeboats. Located in downtown Tampa, behind The Florida Aquarium, the cargo vessel now serves as a museum with exhibits showcasing rare artefacts including photographs, uniforms, medals, documents, and naval gear. Visitors to the shipboard museum may take in the history at their own pace with self-guided tours, or book a guided tour led by knowledgeable guides.
2- Ben T. Davis Beach (Free) :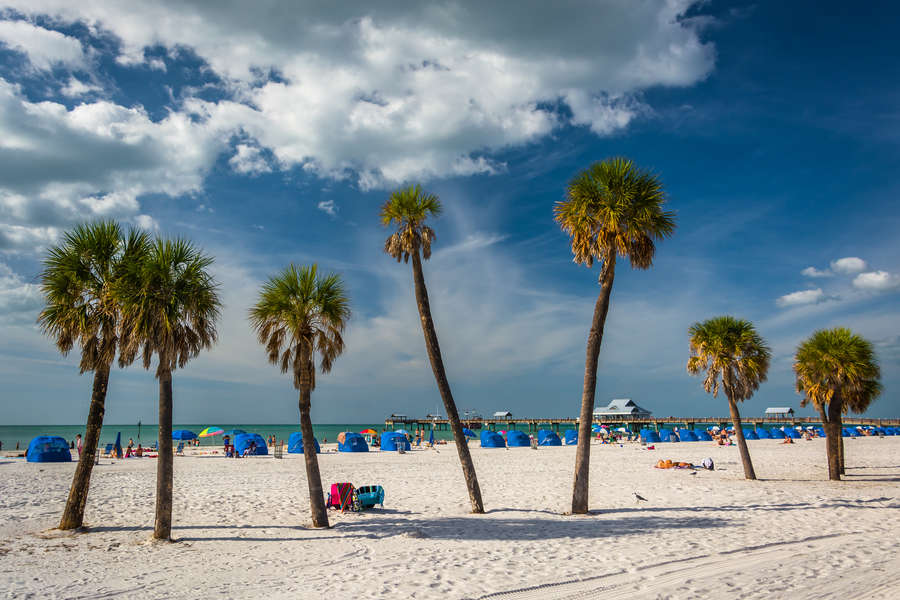 This is the closest beach to downtown Tampa and offers powdery white sand for lounging, calm water for cooling off and shelters for picnics. This is one of the best spots in town to watch the sunset and is located adjacent to the new Courtney Campbell Trail, a four-mile biking and pedestrian bridge. Lifeguards are on duty from Memorial Day through to Labour Day at this popular family friendly beach.
1- The Florida Aquarium in Tampa Bay (Pay, Groupon) :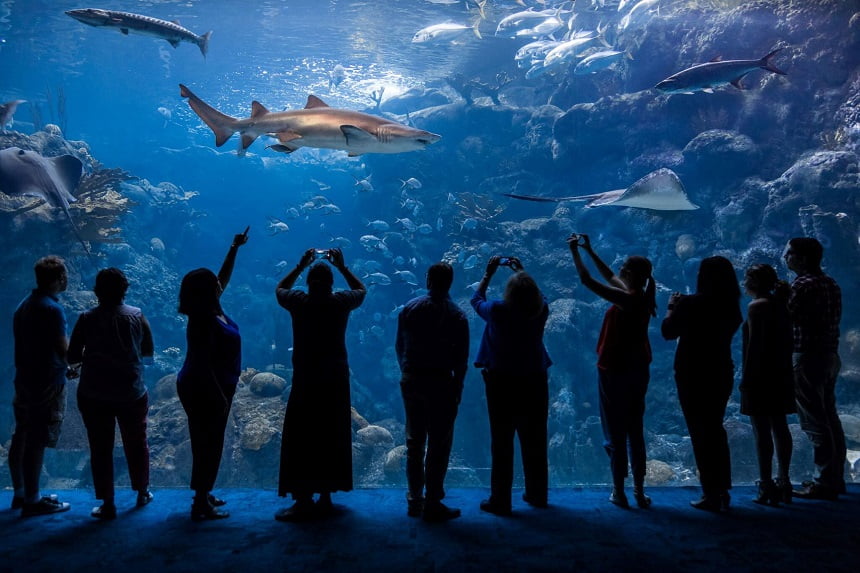 A visit to Tampa isn't complete without exploring The Florida Aquarium. This exciting attraction offers a dramatic and unique look at all that swim, float and crawl, in and around Florida waters and beyond. Home to more than 20,000 aquatic plants and marine animals, the exhibits tell the story of water's journey to the sea. Visitors can also experience the 500,000-gallon floor-to-ceiling Coral Reef tank and see river otters, alligators, stingrays, and sharks!
So that sums up our top 10 things to do in Tampa, we hope you enjoyed.