San Diego is one of the most visited tourist destinations in America, and for good reason, it's an oceanfront city with near perfect year round weather. The city sits on the Pacific coast of Californiaand is known for its beaches, parks and beautiful scenery. A deep harbour is home to a large active naval fleet, with the USS Midway, an aircraft carrier turned museum, open to the public.
The Bay is San Diego's focal point and the port teems with exciting museums, galleries and trendy restaurants. But venture a little farther afield and you'll be rewarded with a city that's both diverse and welcoming. Spend a day at Balboa Park, the city's definitive cultural hub and soak up the stunning setting while exploring the many museums, theatres and gardens that call this 1,200-acre park home. With its warm, year round climate, 50 miles of sun soaked coastline and world famous attractions, San Diego is a top tourist destination.
Here are the Top-Rated tourist attractions in San Diego :
10- San Diego Natural History Museum: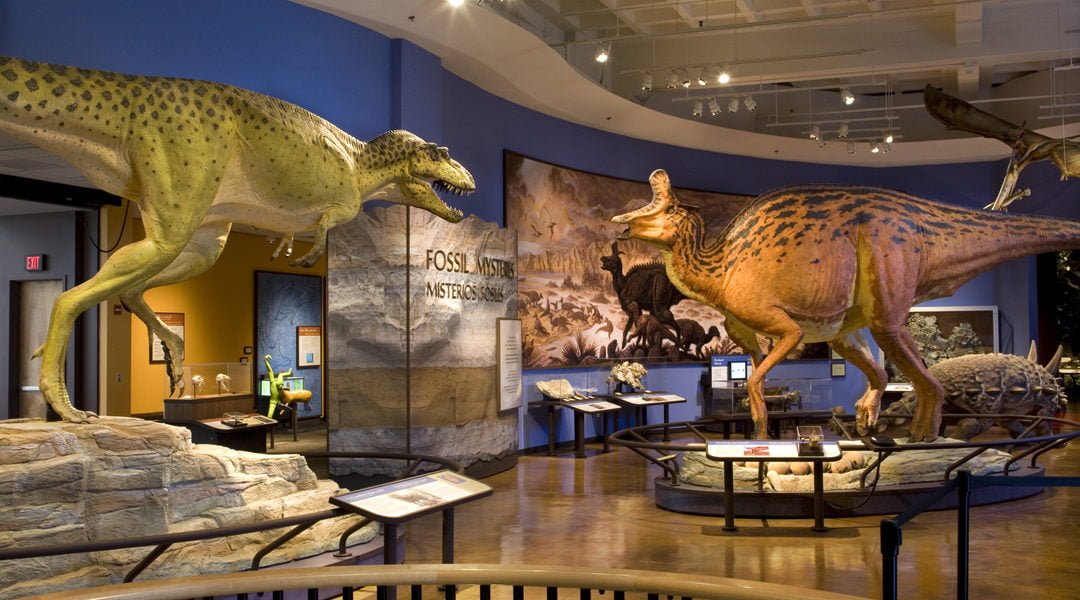 The San Diego Natural History Museum, the oldest scientific institution in Southern California, is a flagship institution in Balboa Park featuring the natural history of the region. The museum was established in 1874, and its current Spanish Revival home from 1933, was given a renovation at the start of the new millennium. There are four floors of exhibitions, a 3D theatre showing films with a focus on the natural world, and a research collection of 9 million specimens.
The Fossil Mysteries exhibition examines California's rich prehistory, and is packed with spectacular fossils, models, interactive stations and murals. Visitors can venture through Southern California's varied ecosystems at Coast to Cactus, and study the state's relationship with H2O at Water: A California Story. You can also watch eye-popping 2D and 3D presentations at the giant theatre, showing the wonders of the ocean and taking you back to the Ice Age. In addition, the Museum hosts several travelling exhibitions each year that teach visitors about our natural world as it is today and as it was in the past.
9- USS Midway Museum :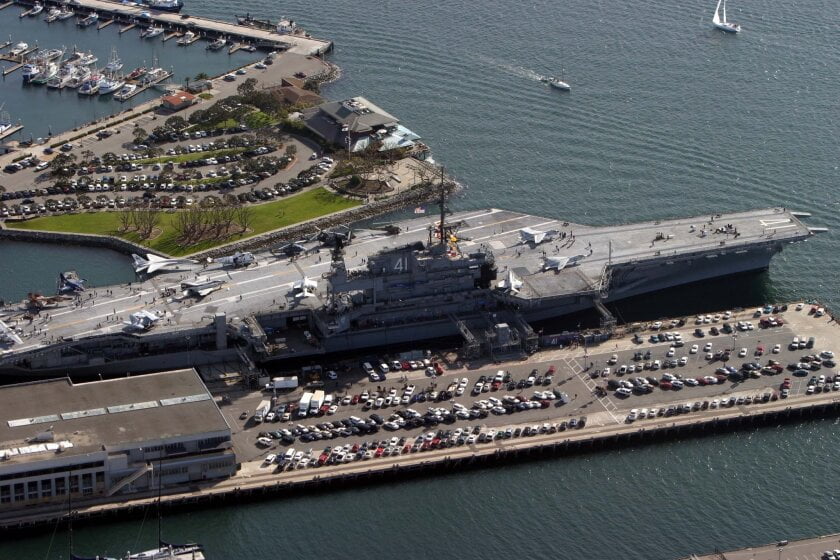 One of the longest serving aircraft carriers in the world has been permanently moored at San Diego's Embarcadero since 2004. Commissioned in 1945, the USS Midway served in the Vietnam War and Operation Desert Storm, before becoming the largest museum dedicated to aircraft carriers and naval aviation anywhere. More than 225,000 soldiers lived and served on board this historic ship and now you can follow in their footsteps and discover their stories as you explore over 60 locations.
See the sleeping quarters, engine room, galley, bridge, brig, post office, officers quarters, flight control and more. At 300 meters long, the Midway is an enormous ship that is filled with fascinating stories and hands-on exhibits. Learn what it was like to live aboard this floating city, jump in the cockpits of dozens of restored aircraft, and even test yourself in the flight simulator. The audio guide is narrated by real soldiers and naval officers who served on board, so it's a uniquely intimate experience, even when you're on one of the biggest ships in the world!
8- San Diego Safari Park :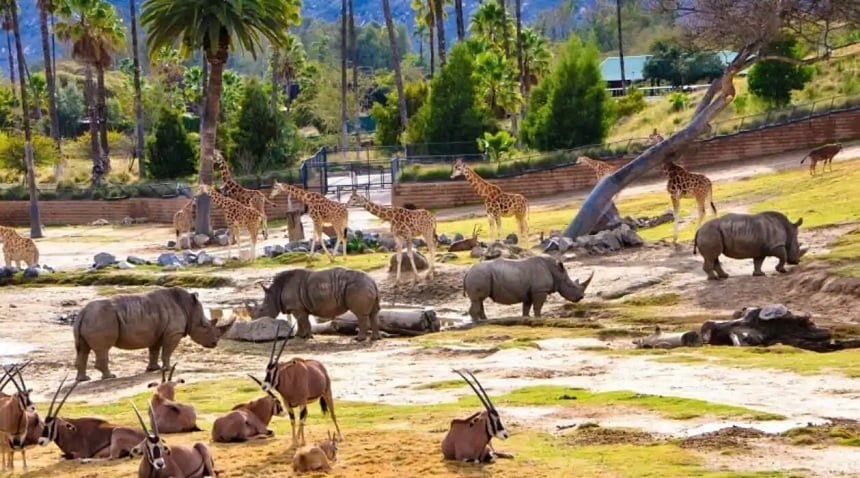 Explore one of the largest manmade safari parks in the world, with over 2,600 animals roaming 1,800 acres of authentic natural habitats. Nestled in the San Pasqual Valley this gigantic safari park is the perfect escape, where you can travel the world and see its most magnificent creatures all in a single day. The park's 'free range' enclosures allow more than 2,600 animals to explore, hunt, and play in perfectly authentic recreations of their natural environments.
Hop aboard the Africa Tram Tour and enjoy a whistle-stop jaunt through the African savannah, spotting giraffe, rhinos, and gazelles as you go. Visitors can check out the stunning live shows like the Cheetah Run or Lemur Walk, where you can get up close and personal to some awe-inspiring wild creatures. The Park also boasts one of the world's largest veterinary hospitals and is committed to animals' wellbeing, and you can learn all about their conservation efforts in the dedicated Conservation Corps and guided field trips.
7- Balboa Park :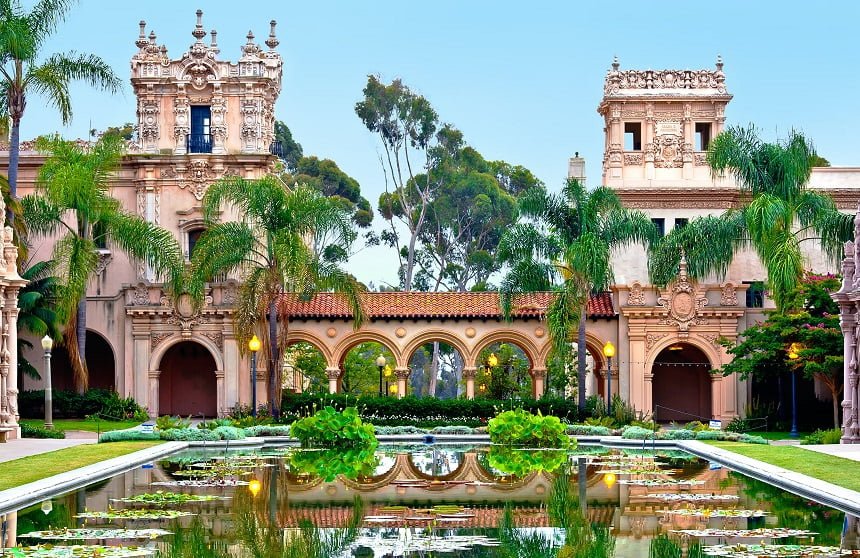 At a whopping 1,200 acres, stepping into the wondrous Balboa Park feels like escaping into paradise. Named after the 15th century explorer, Vasco Nunez de Balboa, the park is pride of the city and a National Historic Landmark. Located in downtown San Diego, about 2 miles north of the city centre, Balboa Park is a great place for a stroll, bike ride or picnic. Initially built for temporary use during the 1915-16 Panama California Exposition, Balboa Park became the city's most loved park. It boasts buildings beautiful enough to be considered attractions in themselves, especially if you're a photographer.
With over 85 cultural and recreational facilities, Balboa Park is a great place to visit. Start at the Visitor's Centre and grab a map and events calendar. Wander through multiple gardens or the botanical building that contains 2,100 individual plants and is fronted by a pond with annual displays of lilies and lotuses. Take in an outdoor organ concert, or enjoy a presentation at one of the several theatres. The park is open every day of the year and admission to the general grounds is free, but several individual attractions charge fees. Getting around the massive complex is easy thanks to the free tram making Balboa Park a must see.
6- La Jolla Cove :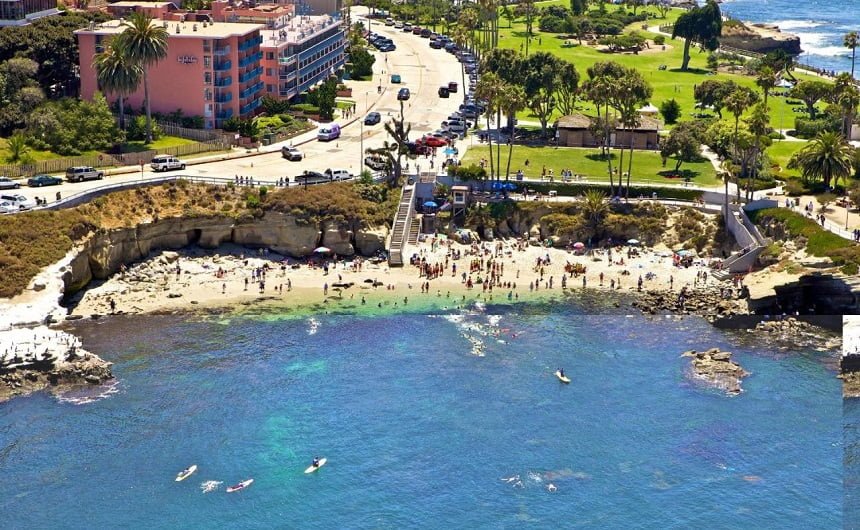 This compact north-facing cove in La Jolla is one of the most photographed pieces of the California coast and with good reason as the scenery is breathtaking with rocks containing caves that hem the beach, all within 6,000 acres. The Cove is protected as part of a marine reserve and underwater it is very rich in marine life, and is therefore popular with snorkellers, swimmers and scuba divers.
Being a natural park there's lots of wildlife from the seals and sea lions sunning themselves on the beach and rocks, to the barracuda, batfish and giant sea bass in the waters. With small surf La Jolla Cove is ideal for swimmers and the water visibility at the Cove can sometimes exceed 30 feet. La Jolla Cove is loved by both locals and visitors from around the world. From its breathtaking sunsets and majestic sea lions, to seaside restaurants and kids activities, this beautiful setting offers a slice of the laid back La Jolla lifestyle for all to enjoy.
5- Mission Bay Park :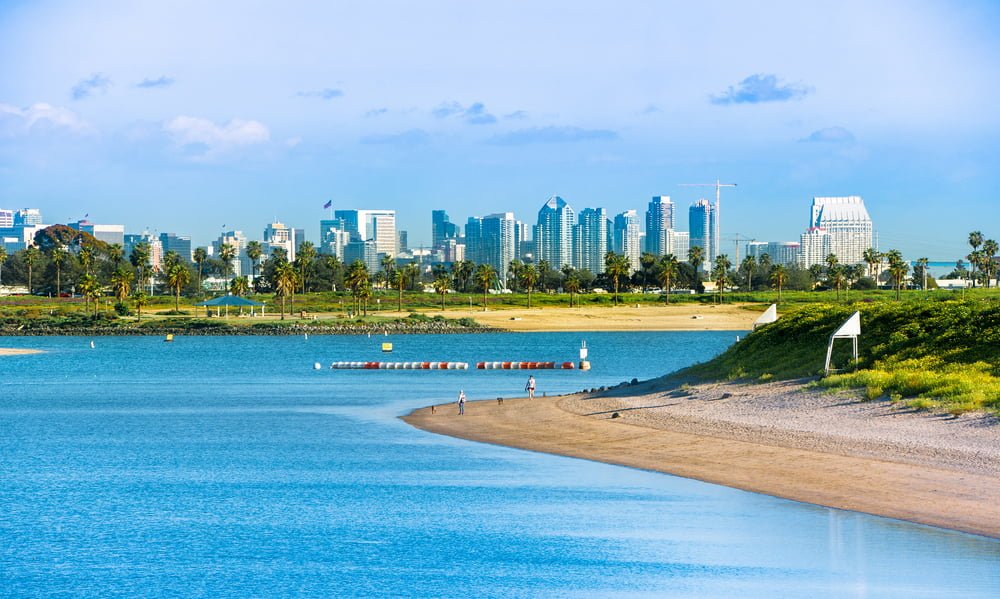 Mission Bay Park is one of the largest aquatic parks of its kind in the country and encompasses over 4,200 acres. This popular outdoor destination is a complex of waterfront parks, public beaches and grassy, palm-lined recreation paths strung along 27 miles of shoreline of which 19 are sandy beaches and 8 are designated as official swimming areas. The east side of Mission Bay is where people go to enjoy jet boats and jet skis, and the western, seaward side attracts sailboats and sailboarders.
Public restrooms and showers are available and lifeguard stations are located in designated areas. Great facilities include marinas, sand volleyball courts, picnic areas, children's play areas and paths for biking, roller-skating and jogging. The park includes several wildlife preserves, making it a favourite with birdwatchers. It's one of the best places in San Diego to fly a kite and you can even camp here. There is no fee to enter the park, and this is certainly one of San Diego's most fun filled spots to visit.
4- Gaslamp Quarter :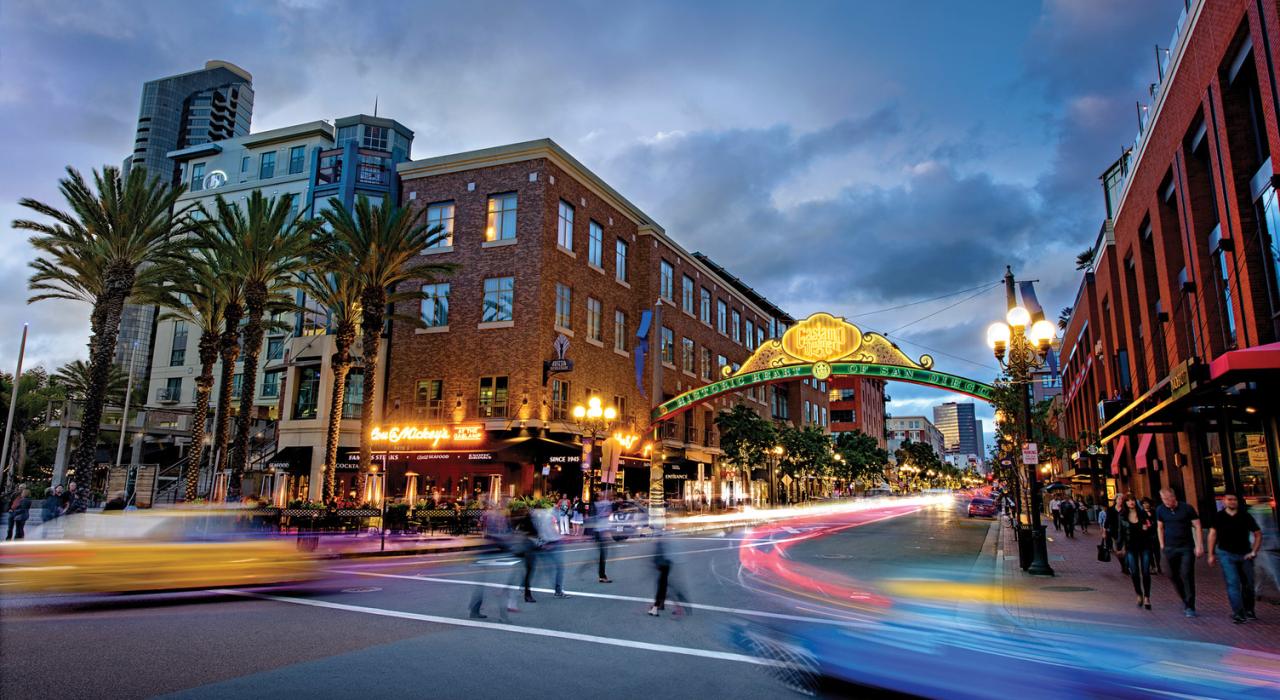 The Gaslamp Quarter, heralded by a gateway arch on Fifth Avenue, dates from 1867 when the real estate developer Alonzo Horton envisaged a new city centre nearer the San Diego Bay. The Gaslamp Quarter's blocks are peppered with Victorian style buildings that give a wonderful feeling of the past. The best place to start your tour of the Gaslamp Quarter is the Horton Plaza outdoor shopping centre, situated at First and G Street. From there, you can explore the neighbourhood's side streets that will eventually lead you to the main avenues.
There are 94 historic buildings in this 16 block heritage area in downtown San Diego, bordering Petco Park and the Convention Centre. A great place to visit for rich cultural offerings that includes beautiful architecture, theatres, art galleries, symphony halls, concert venues and museums.
3- San Diego Harbour Cruise :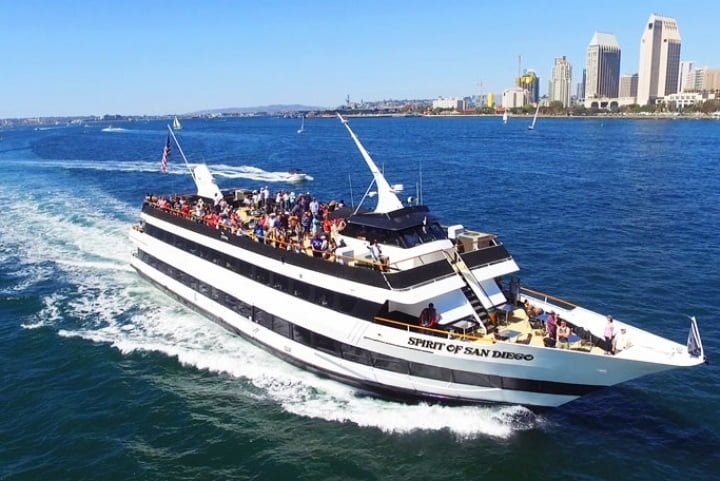 Characterised by over 50 landmarks, San Diego's interesting skyline can be admired from the water. Hop aboard a ship and take in San Diego's harbour, for an animated and inspiring journey. Join a local guide and cruise over 13 miles around the Bay and see Coronado Island, the Cabrillo National Monument and more. A great way to get to know San Diego quickly, the cruise will give you a fresh angle on the fascinating landmarks and ships immortalised by movies and popular culture.
Visitors can get some great photos of beautiful scenery, marine animals such as the sea lions and birds, and learn about local environmental efforts as you see a different side to the city. The knowledgeable guide will point out the sights along the way, like the landmark Victorian style property known as Hotel del Coronado on Coronado Island, the Point Loma Lighthouse, Seaport Village, Shelter Island and more. There is also a chance to see the San Diego-Coronado Bridge from the water and view all the work being done to improve the bay as a marine habitat.
2- SeaWorld San Diego: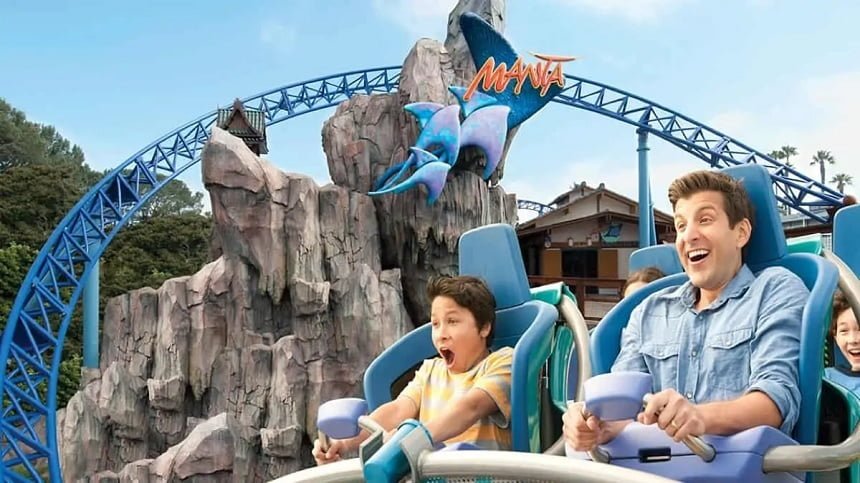 SeaWorld San Diego is spread across 190 acres in beautiful Mission Bay Park. This brilliant attraction is known for its amazing animals, interactive exhibits, aquariums, rides and beautiful landscaping. It also runs education programs for all ages where visitors can watch presentations with the animals and learn about marine conservation. Unforgettable experiences begin immediately at SeaWorld's interactive arrival experience Explorer's Reef, here guests enter under an iconic wave sculpture, and are immediately immersed into an undersea adventure.
Here visitors can touch a shark, interact with a ray and feel tiny cleaner fish gently nibble at their hands. Then meet creatures of the deep like orcas, sea lions, dolphins and more via live interactive shows with their trainers. This family friendly attraction also has thrilling rollercoasters, flumes, sky-high gondolas and more, with loads of rides for kids and adults it make a great day out for all the family.
1- San Diego Zoo :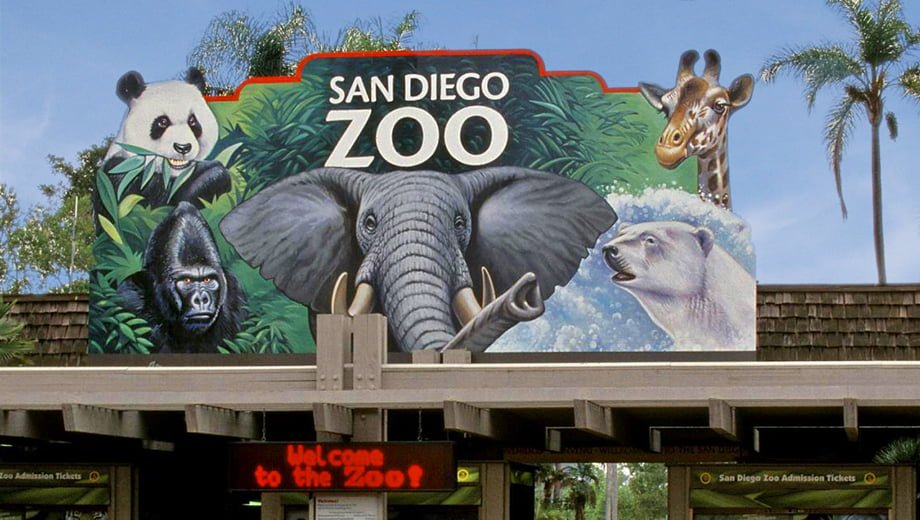 The San Diego Zoo is located in the north-west corner of Balboa Park. This 100-acre establishment is one of the most famous zoos in the country and houses one of the largest collections of rare and endangered animals in the world. Giant pandas, giraffes, elephants, polar bears, and koalas are just a few of the many animals that call the San Diego Zoo home. Visitors can see some of nature's most spectacular animals in their natural environments, with expansive themed habitats, including Elephant Odyssey, Africa Rocks, and Tiger River.
The amazing West African Forest exhibit has Rady Falls, a 65 foot manmade waterfall with dwarf crocodiles that live in the pool below. With dozens of themed zones, you'll be able to see animals in their spacious natural habitats, from lemurs frolicking in the Madagascar Forest, to monkeys swinging through the Acacia Woodland, and sharks swimming around Cape Fynbos. With over 3,700 animals from more than 650 species, the zoo is just as dedicated to environmental research and conservation as it is to showing off its animals.
So that sums up our Top-Rated tourist attractions in San Diego, we hope you enjoyed.