Puerto Rico is a Caribbean island and with a landscape of mountains, waterfalls and the El Yunque tropical rainforest. This island is truly a beach lover's destination offering hundreds of beaches to choose from and each with its own unique qualities.
A popular tourist destination, Porto Rico features 270 miles of coastline and dozens of beaches that range from secluded beaches on the north coast to developed city beaches of San Juan.
10) Isla Verde Beach – Carolina :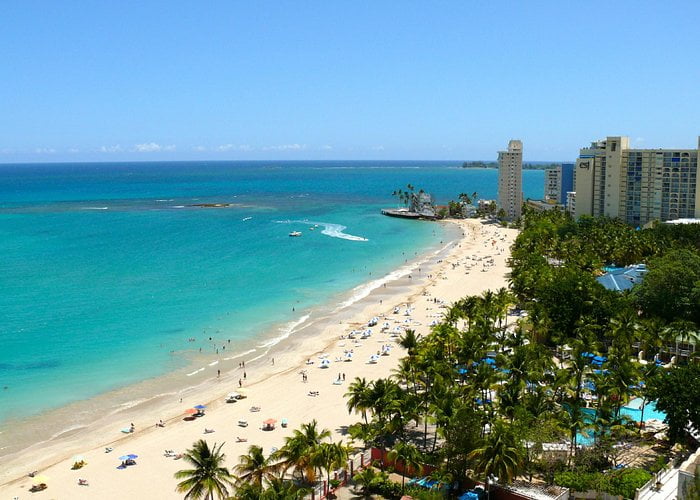 White-sands, beautifully clear water and excellent water sports make this beach one of the most popular in Puerto Rico. The shoreline is several miles long so finding an ideal spot is easy and you can surf some of the best waves in the San Juan area. Snorkelling is also a popular activity at Isla Verde with stunning coral reefs to be found just offshore. Discover tropical fish and rare corals as you dive in the clear water. The metro area is a bustling city, yet when you arrive to the beaches of Isla Verde, it feels quite laid back and relaxed, with plenty of sand for everyone to unwind on.
9) Playa Crashboat :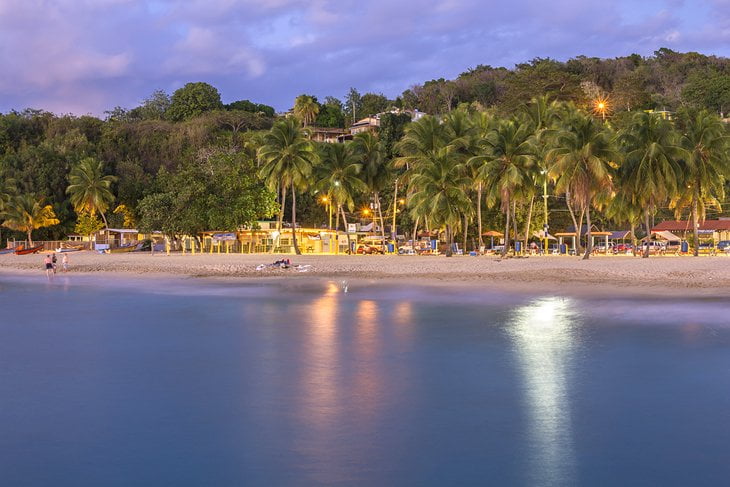 Playa Crashboat is one of the most popular beaches around Rincon. It is located on the west coast of Puerto Rico, just a short drive from Aguadilla. Swimming in the tranquil turquoise sea is a favourite activity of many and on the beach, the facilities are also good and include toilets, showers, and parking. Playa Crashboat is great for snorkelling and diving, especially north of the pier and around its iconic bridge. This lovely beach is also known for its amazing sunset views and many visitors stay until the evening to witness it.
8) Boqueron Beach :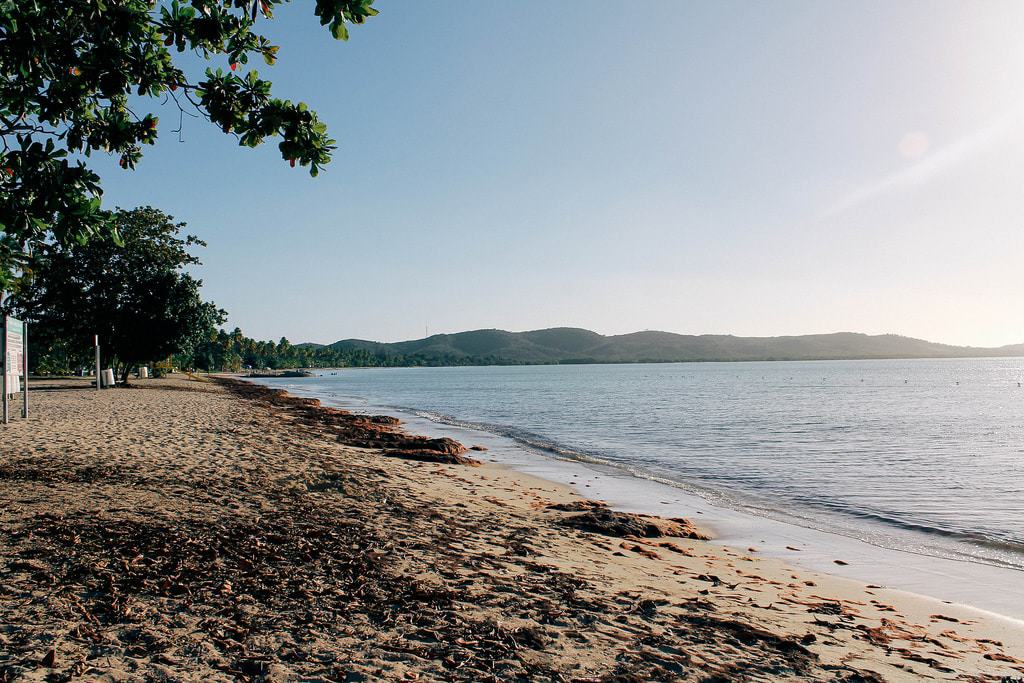 Located in Cabo Rojo on the south-western coast, Boqueron Beach is a mile-long golden sandy beach surrounded by palm trees and almond trees. There are excellent public facilities on the beach such as toilets, showers, and snack bars. Boqueron Beach has been designated a Blue Flag Beach, which is an endorsement of it's cleanliness, quality and ecological preservation.
7) La Posita – Loiza :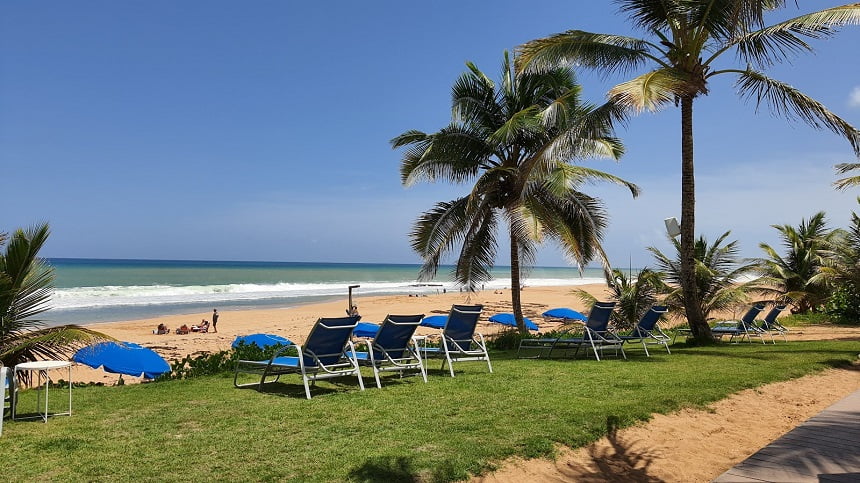 This quiet and uncrowded beach, is just 30 minutes from San Juan and minutes from Isla Verde. It has clear water, views of waves crashing against coral walls, surfing during winter months, food across the street and shallow water for small children. A coral rock wall has created a long shallow pool protected from the strong surf, a great beach for families with small children or those wishing to swim in calm water.
6) Sucia Beach :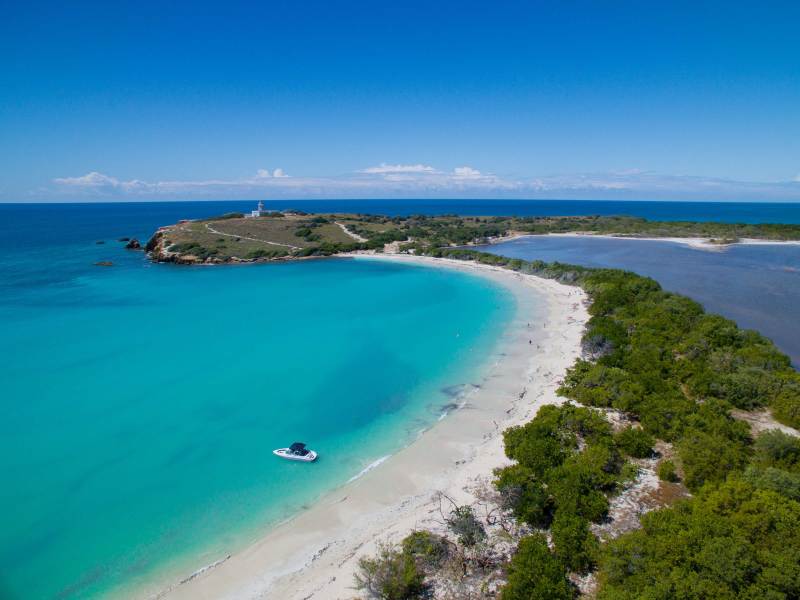 Playa Sucia, is located on Cabo Rojo on the south-west tip of Puerto Rico. It is a secluded beach with amazing photo opportunities of, what has been called, wild, breathtaking, pure nature. The beach is perfect for swimming and is ranked as one of the most beautiful beaches in the Caribbean. There is also the famous Cabo Rojo Lighthouse that is easily reachable and offers amazing views of the beach and the surrounding areas.
5) Ocean Park Beach :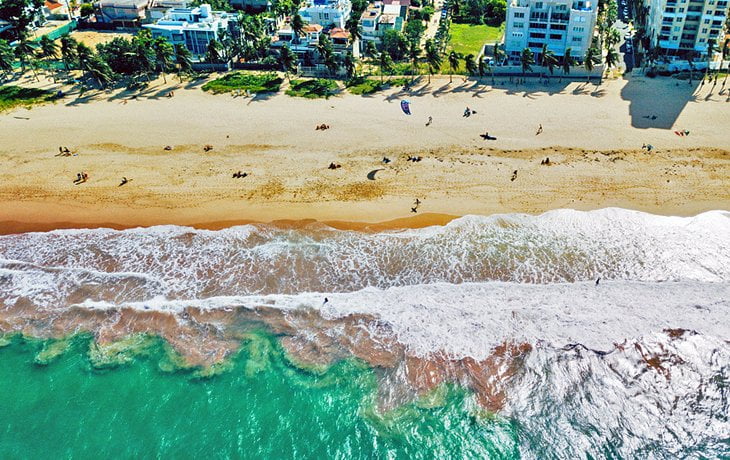 Located between the airport and Old San Juan, Ocean Park Beach is less crowded than the neighbouring Isla Verde Beach. It offers a laid-back atmosphere, wonderful sand and opportunity to relax under the palm trees. This mile long beach is also great if you are into activities such as kite-surfing, paddle tennis, or beach volleyball.
4) Luquillo Beach :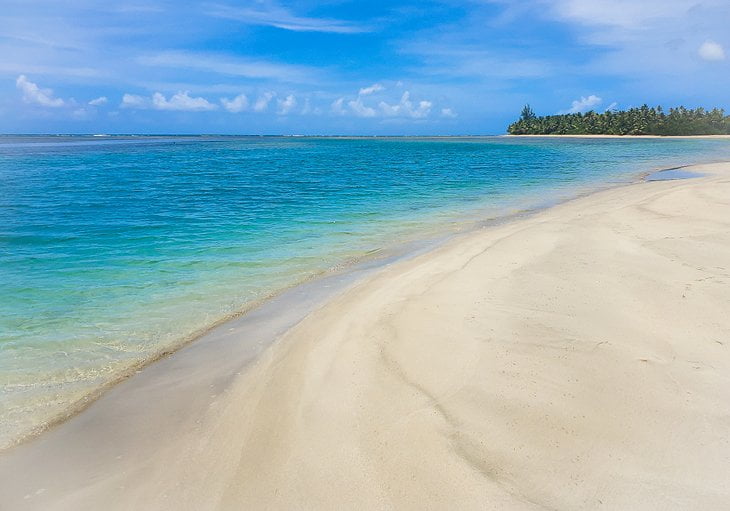 Located 30 miles east of San Juan, Luquillo Beach is well known for its warm and shallow waters. This is probably one of the reasons why this crescent-shaped beach attracts many families with children. There are good facilities and you will find toilets, lifeguards and local vendors who sell various snacks and refreshing drinks here, as well as a camping area and small kiosks. Besides swimming, visitors can also rent a kayak or go fly-boarding at Luquillo Beach, which has a Blue Flag classification.
3) Condado Beach :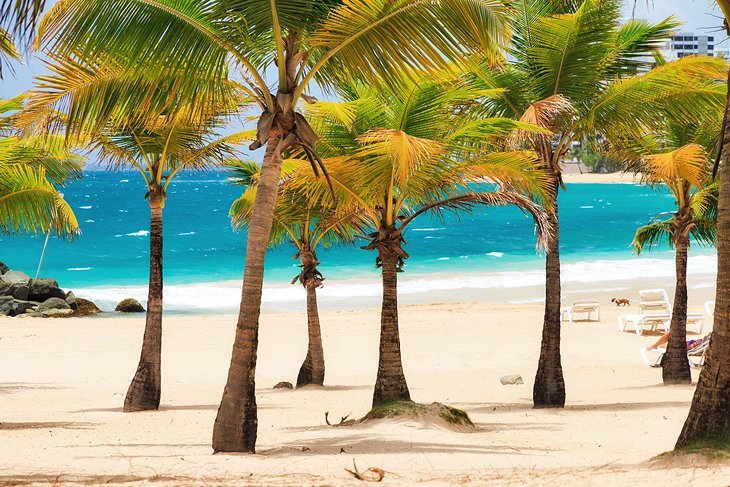 This beach within the bustling city of San Juan is the perfect place to relax for a few hours. Condado Beach and its promenade has something for everyone with golden sand, clear water and a relaxing atmosphere. The beach is a great place for swimming and surfing and surfboards can be rented in the area. You can also rent a chair and umbrella to escape the heat as you unwind on the sand.
2) Escambron Beach – San Juan :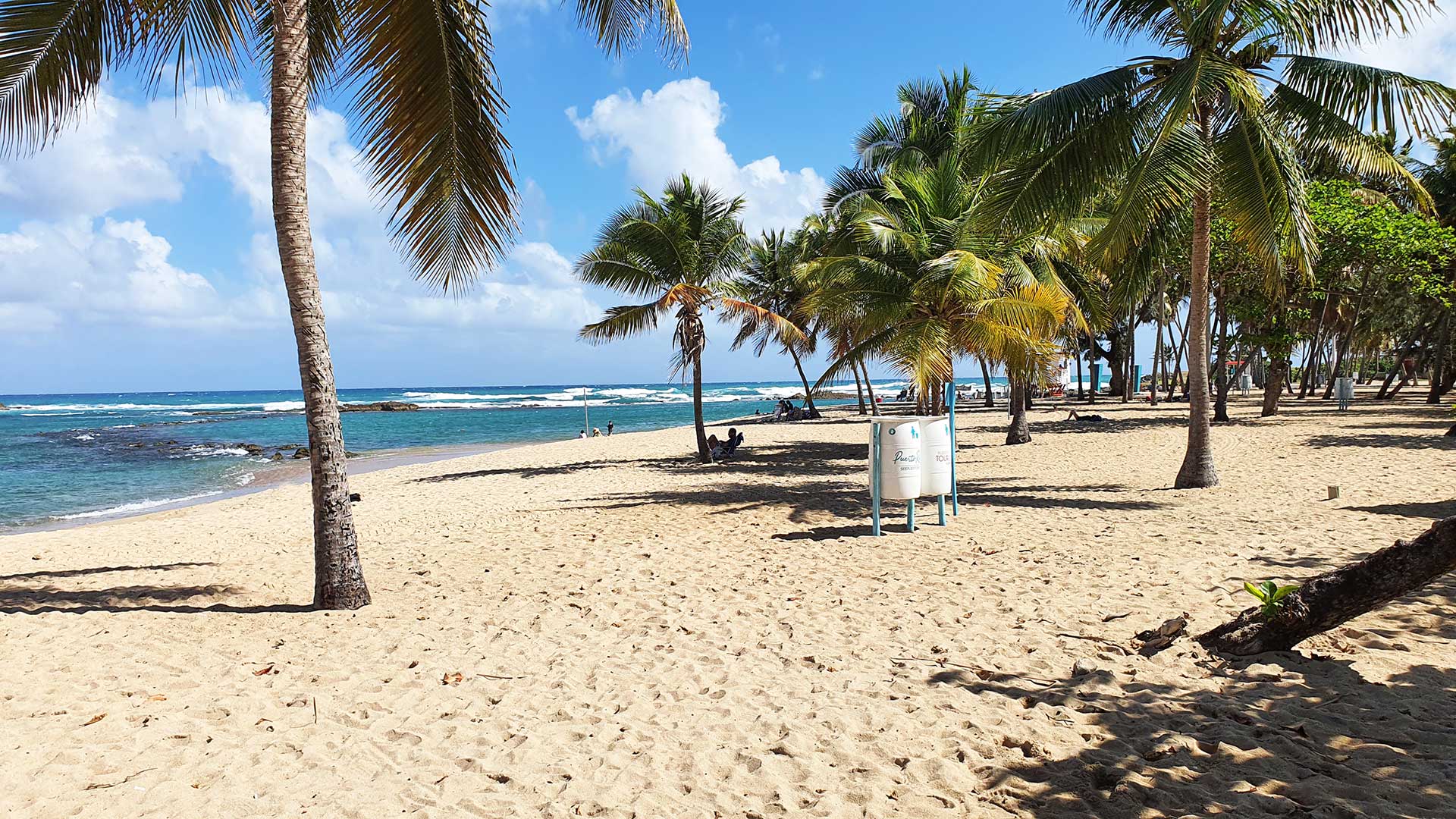 This beach is ideal for getting away from the busier beaches in the San Juan tourist area. It has clear waters, tall coconut palm trees giving shade, and plenty of sand and green spaces for children to play. Escambron Beach is much more than a great beach, for those that like watersports there is surfing, snorkelling and scuba diving to enjoy. This lovely beach has a Blue Flag classification, so crystal clear waters and great facilities are what you'll find here.
1) Flamenco Beach – Culebra :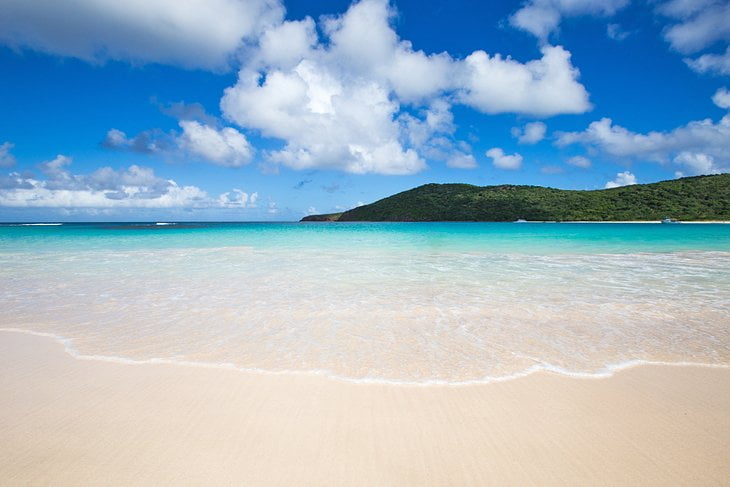 Puerto Rico Culebra is one of the islands of Puerto Rico and you need to take a flight or ferry ride from the main island to get there. But this beach is well worth the trip. Flamenco Beach has beautiful scenery, pristine water and soft golden sands.
The water here is crystal clear, and palm trees and green mountains surround the beach. Ideal for swimming and snorkelling, Flamenco Beach also features a number of facilities available for visitors including toilets, kiosks, and a camping area. There are lifeguards on-site, so you don't have to worry if you are on holiday with children.
The great thing about Flamenco Beach is that it is spacious so it's always relatively easy to find a peaceful spot and chill in the sun.