When summer arrives, there's no better way to beat the heat than by taking a thrilling ride down a natural water slide. From cascading waterfalls to smooth rock formations, the United States is blessed with an abundance of natural wonders that double as exciting water slides.
We'll explore 12 cool natural water slides in the U.S. that offer a refreshing and adventurous experience for water enthusiasts of all ages.
Sliding Rock – North Carolina :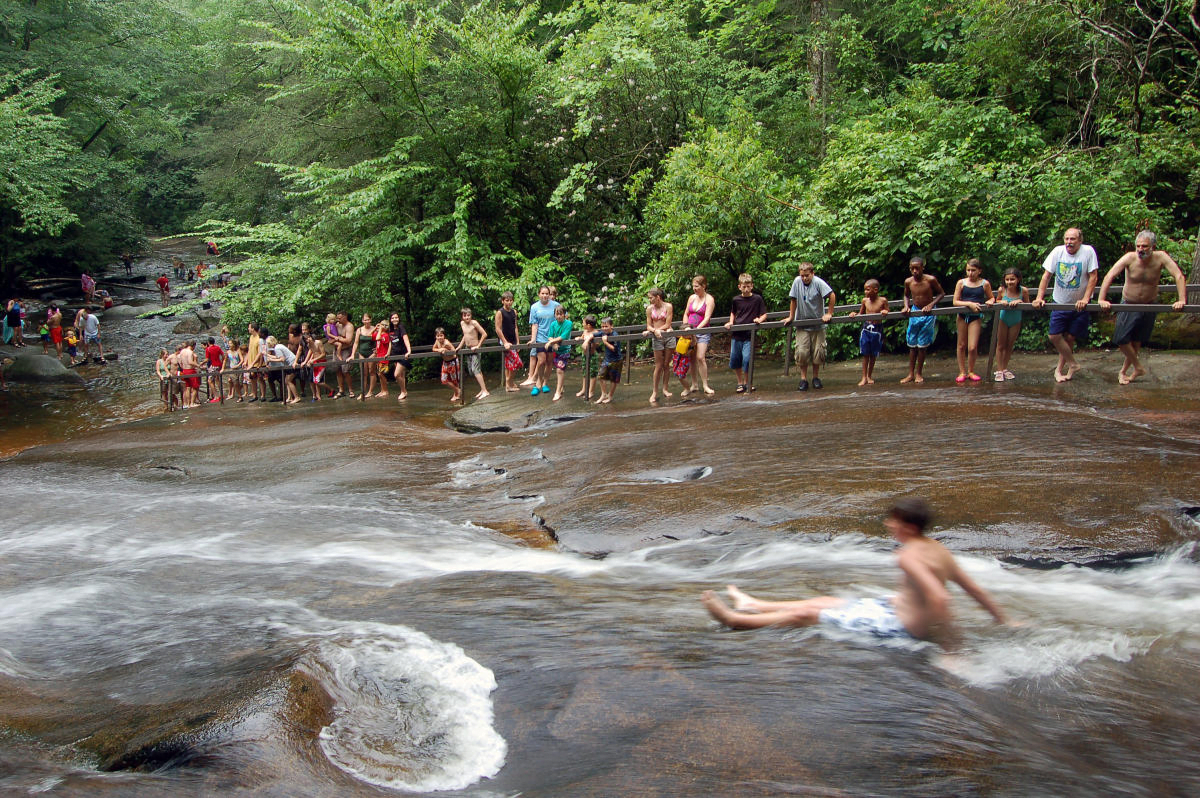 Sliding Rock, located in Pisgah National Forest, North Carolina, is a natural water slide that provides a thrilling and refreshing experience for visitors. This unique attraction features a smooth, sloping rock formation that spans approximately 60 feet long, allowing adventurous individuals to slide down into a deep pool of cool mountain water. Surrounded by the scenic beauty of the forest, Sliding Rock offers an exhilarating adventure for people of all ages. During the summer months, families and friends gather to slide down the rock, laughing and enjoying the refreshing splash at the end. Lifeguards ensure safety, and the area is well-maintained for optimal enjoyment. Sliding Rock is not only a thrilling natural water park, but it also offers a connection with nature, as visitors can marvel at the surrounding forest and immerse themselves in the pristine beauty of the Pisgah National Forest. It is truly a must-visit destination for those seeking an unforgettable outdoor experience in North Carolina.
Johnson's Shut-Ins State Park – Missouri :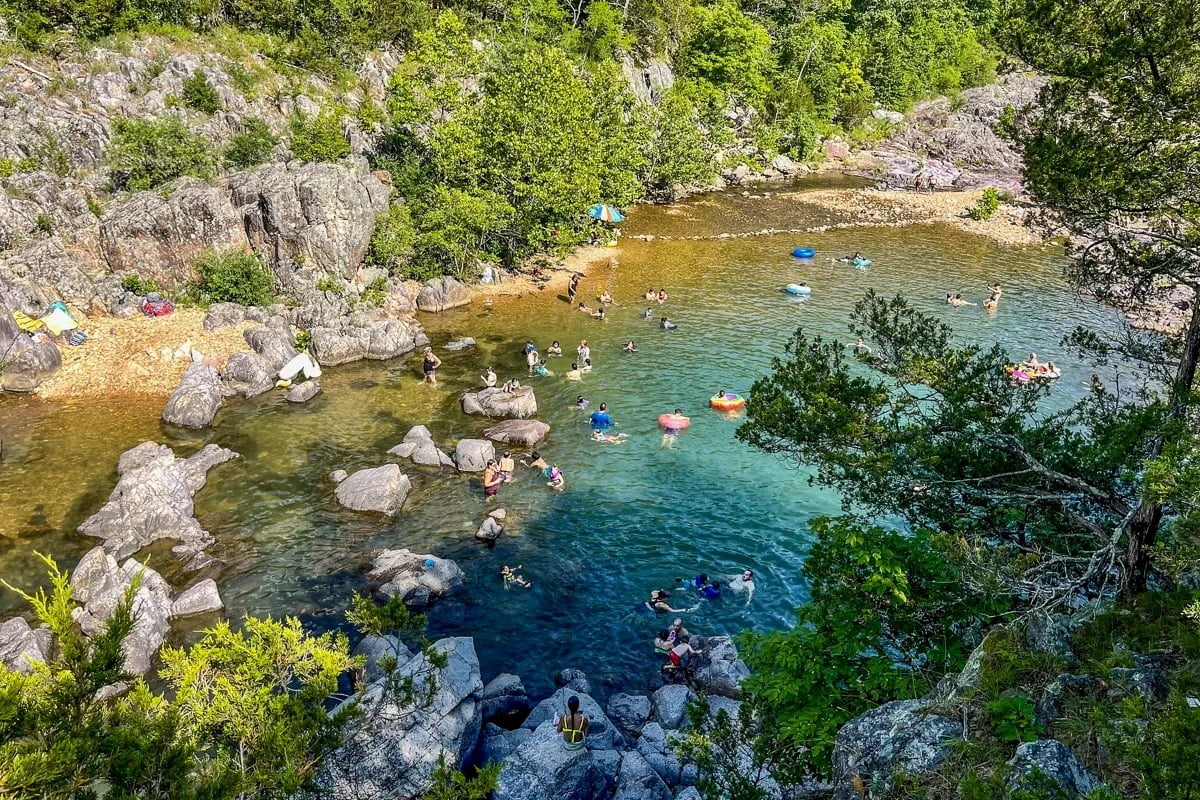 Johnson's Shut-Ins State Park, located in Reynolds County, Missouri, is a captivating and unique natural wonder. The park is named after its main attraction, the "shut-ins," which are natural rock formations that have created a series of beautiful and swirling pools in the East Fork of the Black River. These pools, surrounded by smooth granite rock formations, provide a perfect spot for swimming, sunbathing, and exploring. Visitors can enjoy sliding down natural water chutes, leaping from rocks into deep pools, or simply relaxing and taking in the scenic beauty. The park also offers various hiking trails that meander through the rugged Ozark landscape, providing breathtaking views of the shut-ins and the surrounding forest. With its stunning geological features and recreational opportunities, Johnson's Shut-Ins State Park is a beloved destination for nature lovers and adventure seekers, offering a one-of-a-kind experience in the heart of Missouri.
Little River Canyon – Alabama :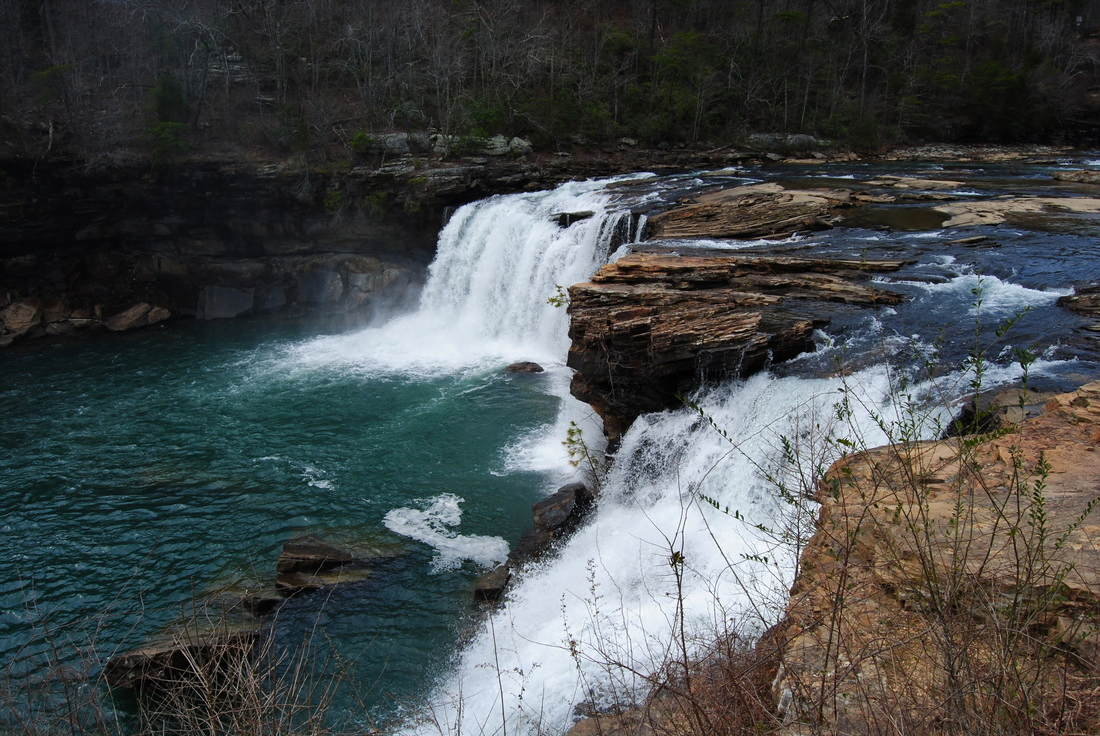 Little River Canyon, located in northeastern Alabama, is a hidden gem that showcases the raw beauty of nature. Carved over millennia, the canyon boasts impressive cliffs, lush forests, and the sparkling waters of the Little River. As one of the deepest canyons in the southeastern United States, it offers breathtaking vistas and opportunities for exploration. Visitors can enjoy a range of outdoor activities, including hiking along scenic trails that wind through the canyon, kayaking or canoeing in the river's gentle rapids, and picnicking near cascading waterfalls. The diverse ecosystem of the canyon supports a variety of plant and animal species, making it a haven for nature enthusiasts and wildlife watchers. With its awe-inspiring landscapes and recreational possibilities, Little River Canyon invites visitors to connect with the natural wonders of Alabama and create unforgettable memories in this hidden paradise.
Robert Treman State Park :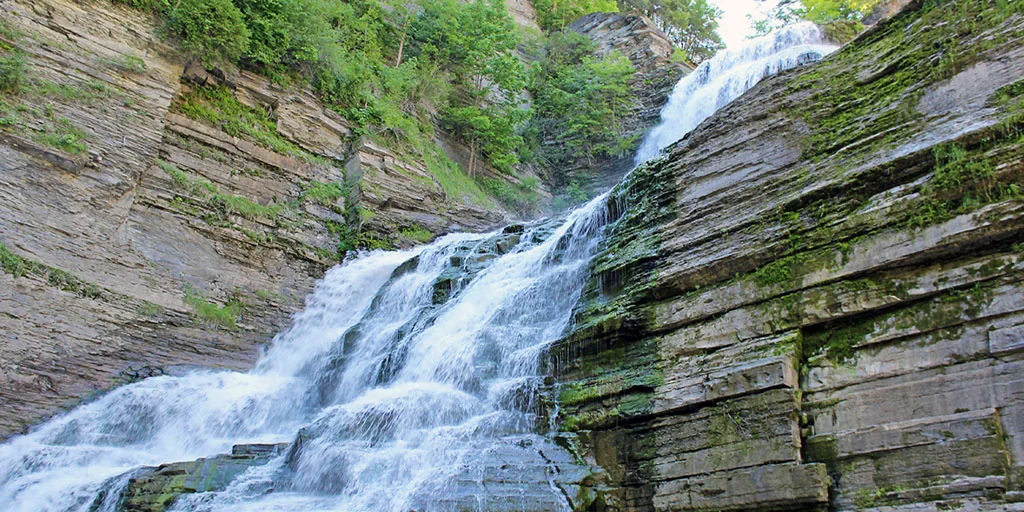 Robert H. Treman State Park, located in the Finger Lakes region of New York, is a picturesque and captivating natural paradise. Spanning over 1,100 acres, this park is renowned for its rugged beauty, lush greenery, and stunning waterfalls. Visitors are greeted by the magnificent Lucifer Falls, a 115-foot cascade that plunges into a gorge, creating a mesmerizing spectacle. The park offers an extensive network of trails that wind through pristine forests, along the rim of the gorge, and past tranquil streams. Nature enthusiasts can immerse themselves in the park's diverse ecosystems, which are home to an abundance of plant and animal species. Additionally, visitors can enjoy recreational activities such as hiking, camping, fishing, and swimming in the park's freshwater pools. With its awe-inspiring natural wonders and recreational opportunities, Robert H. Treman State Park is a true gem for outdoor enthusiasts and a must-visit destination for anyone seeking solace in nature's embrace.
Meadow Run – Pennsylvania :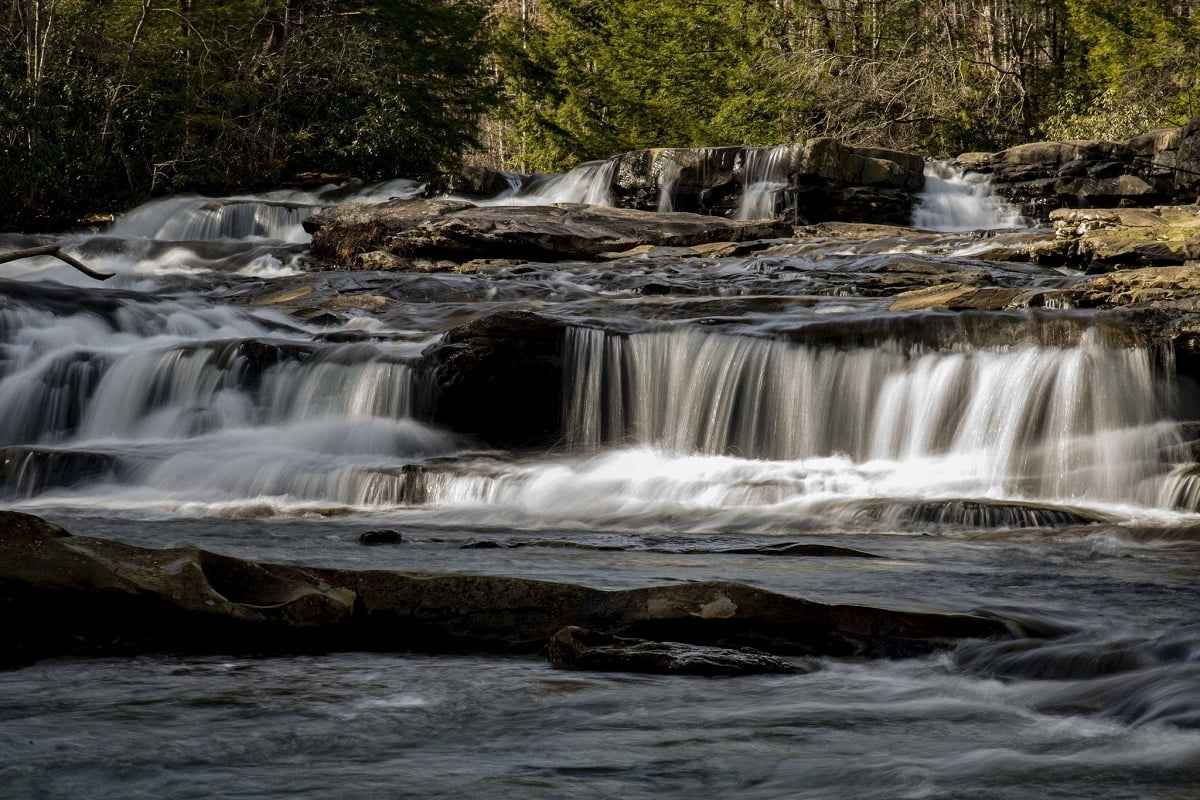 Meadow Run, located in Ohiopyle State Park, Pennsylvania, is a picturesque and captivating stream that offers a refreshing escape for nature lovers. Flowing through a scenic gorge, Meadow Run delights visitors with its tranquil waters and striking rock formations. The stream cascades over smooth rocks, creating small waterfalls, shallow pools, and gentle rapids along its course. Adventurous souls can explore the stream by tubing or wading, immersing themselves in the cool waters on warm summer days. The surrounding landscape is adorned with lush meadows, towering trees, and vibrant wildflowers, adding to the beauty and serenity of the area. Whether you seek relaxation, outdoor recreation, or simply a scenic stroll along its banks, Meadow Run provides a serene oasis amidst the natural beauty of Pennsylvania.
White Mountain National Forest :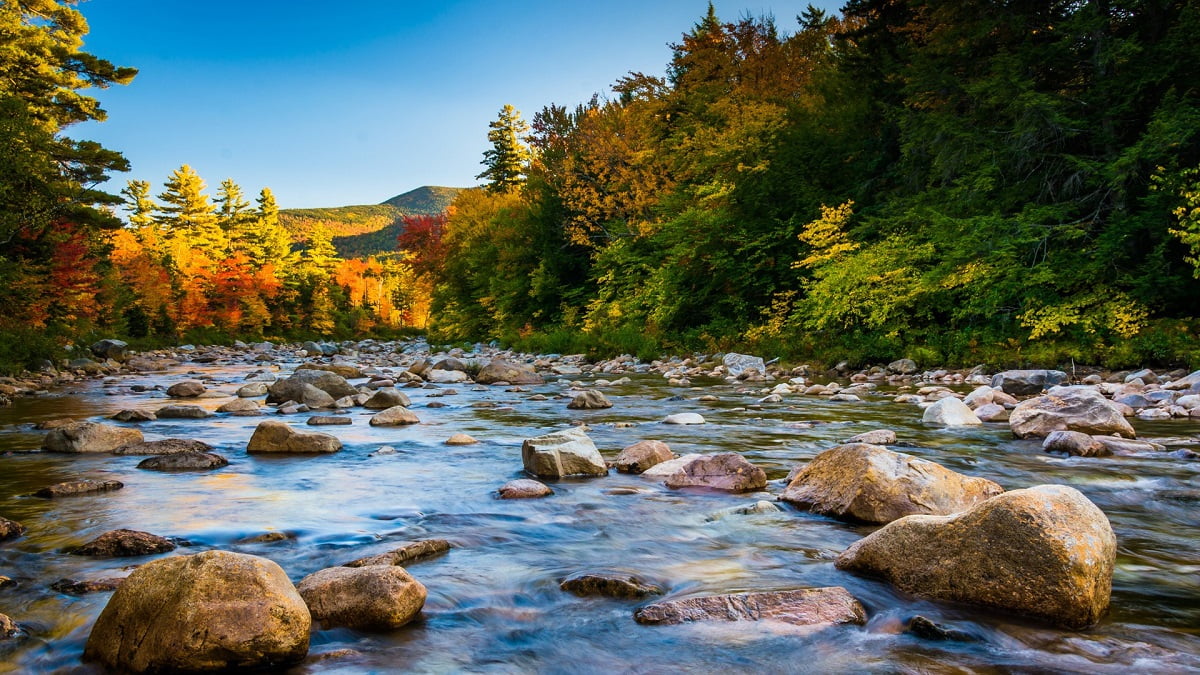 White Mountain National Forest, nestled in the heart of the White Mountains of New Hampshire and Maine, is a breathtaking expanse of natural beauty and outdoor adventure. Encompassing over 750,000 acres, the forest is a haven for nature lovers, hikers, and outdoor enthusiasts. Towering peaks, including the iconic Mount Washington, dominate the landscape, offering awe-inspiring panoramic views and challenging trails for avid hikers. The forest is crisscrossed by a network of scenic trails, allowing visitors to explore its pristine forests, cascading waterfalls, and crystal-clear lakes. From camping and fishing to skiing and snowshoeing in the winter months, White Mountain National Forest offers a wide array of recreational activities throughout the year. Beyond its natural wonders, the forest is also home to a rich diversity of wildlife, including moose, black bears, and various bird species. With its stunning vistas, abundant recreational opportunities, and ecological significance, White Mountain National Forest truly showcases the splendor of the New England wilderness and beckons adventurers to immerse themselves in its beauty.
Slide Rock State Park – Arizona :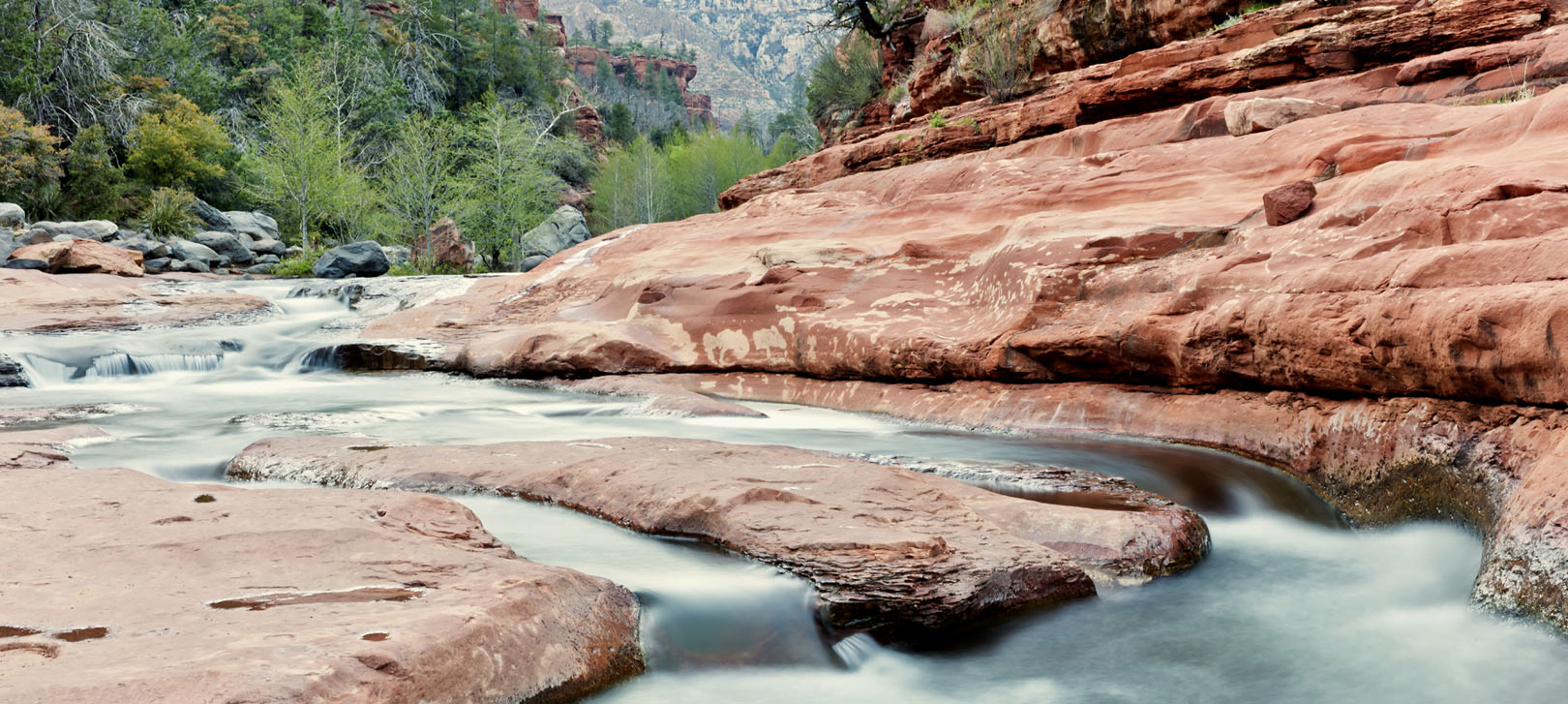 Slide Rock State Park, located in Sedona, Arizona, is a unique and exhilarating destination known for its natural waterslides and stunning red rock formations. The park's main attraction is Oak Creek, which has sculpted smooth chutes and pools in the sandstone, creating a natural playground for visitors. Thrill-seekers can slide down the rocks and plunge into the refreshing waters, experiencing the thrill of a water park amidst the breathtaking desert scenery. The park also offers ample opportunities for hiking, picnicking, and sunbathing along the creek. Surrounded by the majestic red cliffs of the Sedona region, Slide Rock State Park provides a remarkable setting for outdoor adventure and relaxation. Whether you're seeking an adrenaline rush or a serene escape in nature, this Arizona gem promises a memorable experience for all who visit.
Warren Falls – Vermont :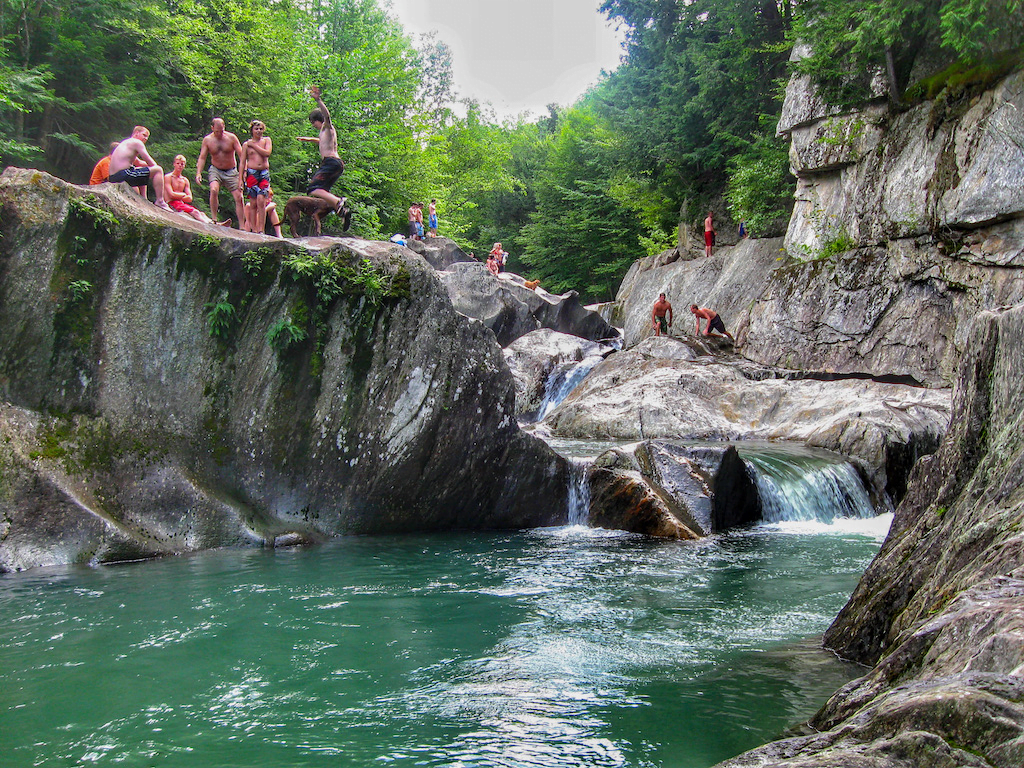 Warren Falls, located in Warren, Vermont, is a hidden gem tucked away in the lush Green Mountains. This natural wonder is a series of cascading waterfalls and inviting swimming holes that offer respite and recreation to both locals and visitors. The falls are nestled in a picturesque forested area, creating a tranquil and serene atmosphere. The crystal-clear waters cascade over smooth rocks, forming natural slides and pools that beckon adventurous souls to take a refreshing plunge. The surrounding landscape is adorned with vibrant greenery, adding to the beauty and serenity of the falls. Warren Falls is a perfect destination for nature lovers, hikers, and those seeking a peaceful oasis. It is a place where one can unwind, connect with nature, and create lasting memories amidst the pristine beauty of Vermont's countryside.
Kern River Slides, Sequoia National Park – California :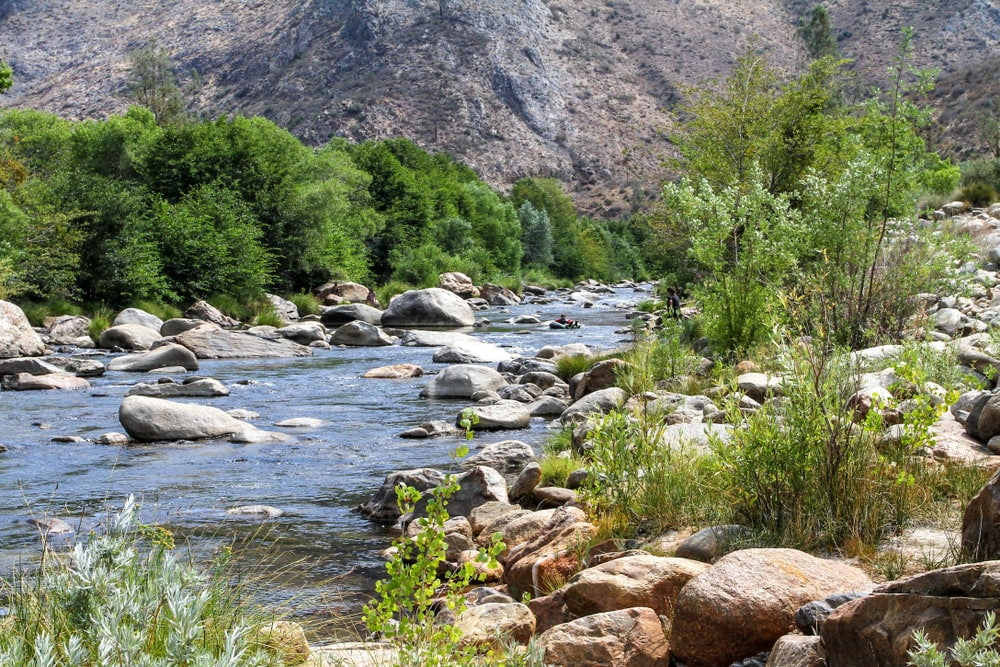 The Kern River Slides, located in Sequoia National Park, California, offer a thrilling and picturesque experience for nature enthusiasts. Situated along the Kern River, these natural water slides are formed by smooth granite rock formations, which create exhilarating chutes and pools. Visitors can slide down the polished rocks, propelled by the rushing waters, for an adrenaline-filled adventure. The setting of the Kern River Slides is equally captivating, surrounded by towering trees, rugged cliffs, and the majestic beauty of the Sierra Nevada Mountains. The pristine waters of the Kern River provide a refreshing respite during hot summer days, making it a popular spot for swimming and cooling off. As part of Sequoia National Park, the Kern River Slides offer a unique blend of natural wonders, combining the thrill of water recreation with the breathtaking scenery of one of California's most iconic national parks.
Opal Creek – Oregon :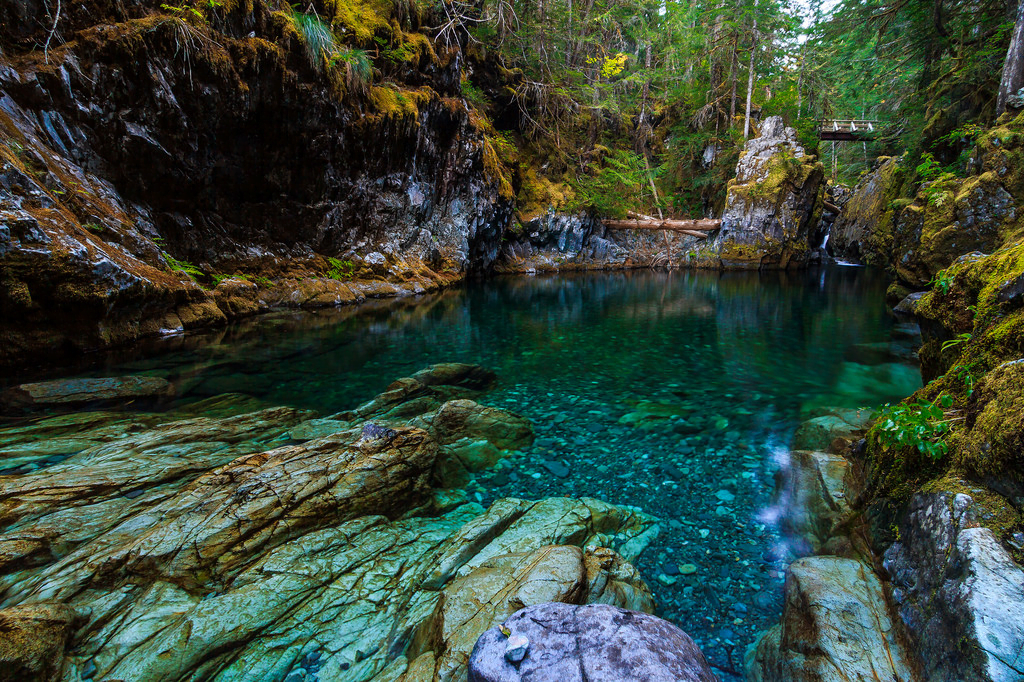 Opal Creek, located in the heart of the lush Willamette National Forest in Oregon, is a pristine and enchanting wilderness area renowned for its emerald pools, ancient trees, and stunning scenery. The centerpiece of Opal Creek is the crystal-clear creek itself, which meanders through the forest, creating a series of magical swimming holes and cascades. The water in these pools ranges from deep turquoise to vibrant blue, inviting visitors to take a refreshing dip in its cool embrace. Surrounding the creek, towering Douglas fir trees, some of which are over 500 years old, provide a majestic canopy, while moss-covered rocks and vibrant wildflowers add to the ethereal beauty of the landscape. Opal Creek is also home to an abundance of wildlife, including otters, elk, and various bird species, making it a haven for nature lovers and photographers alike. With its untouched natural splendor and serene ambiance, Opal Creek offers a sanctuary for those seeking solace in the embrace of Oregon's wilderness.
Cascade Falls – Virginia :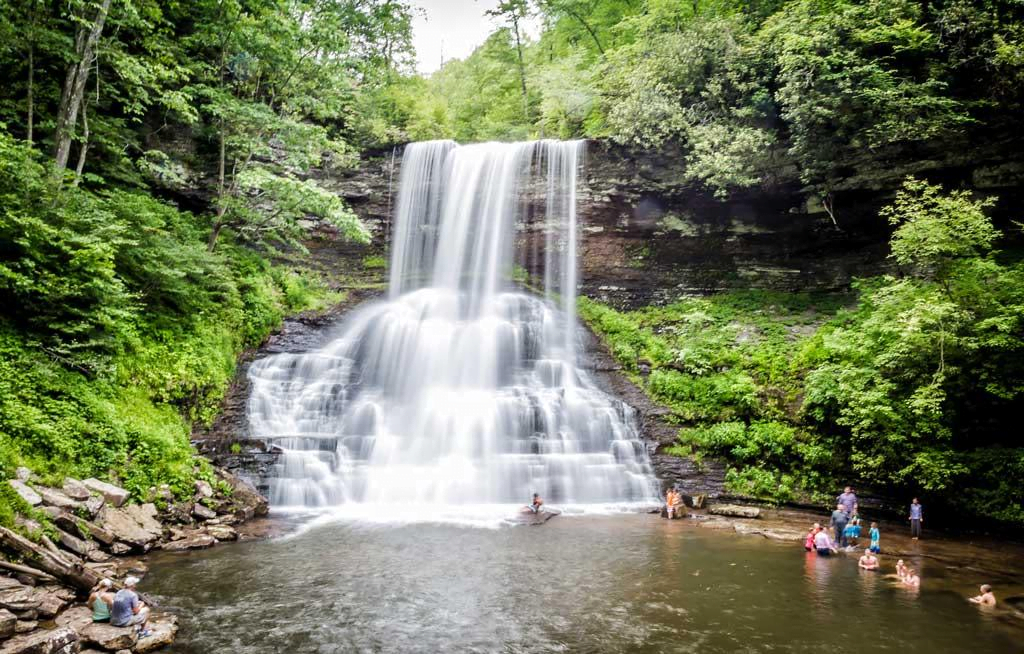 Cascade Falls, located in Giles County, Virginia, is a breathtaking natural wonder that captivates visitors with its majestic beauty. As part of the Jefferson National Forest, this stunning waterfall plunges over a series of moss-covered rocks, creating a cascading spectacle that mesmerizes all who witness it. The falls are surrounded by a lush forest, adding to the enchanting atmosphere and providing a sense of tranquility. A well-maintained trail leads hikers through the forest, offering scenic views and allowing them to get up close to the falls. The serene sounds of rushing water and the refreshing mist create a soothing ambiance, making Cascade Falls a perfect spot for relaxation and meditation. Whether you're seeking a picturesque hike or a serene escape in nature, Cascade Falls is a hidden gem in Virginia that promises an unforgettable experience.
Ledge Falls, Baxter State Park :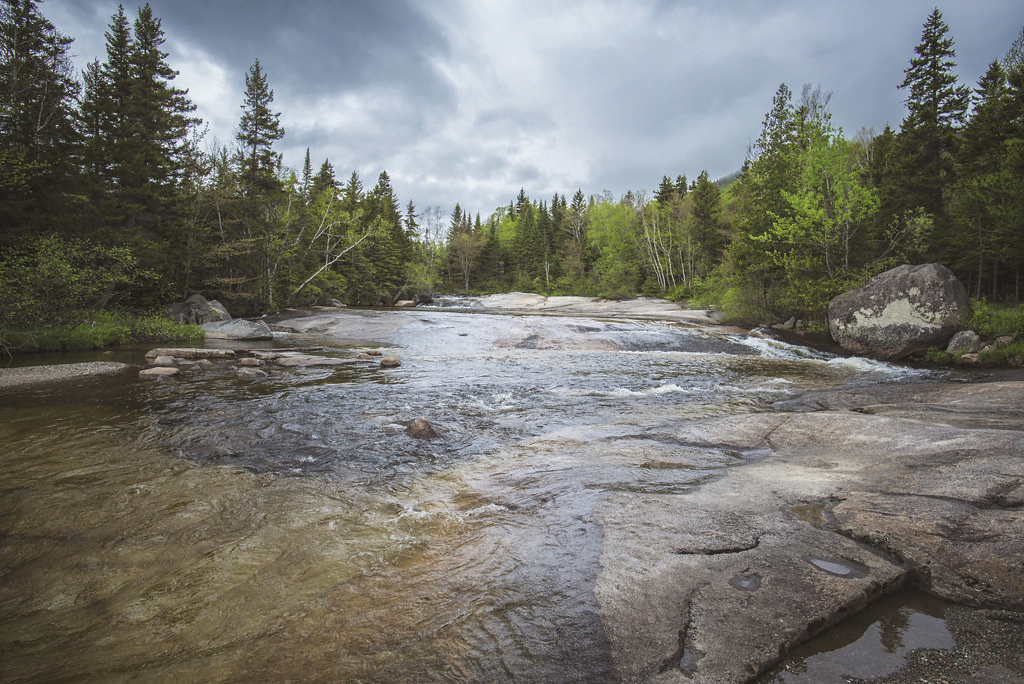 Ledge Falls, located in Baxter State Park, Maine, is a hidden gem tucked away in the wilderness, offering a serene and captivating experience for outdoor enthusiasts. Nestled among the rugged beauty of the park, these falls cascade down a series of granite ledges, creating a picturesque and soothing sight. The crystal-clear waters flow through moss-covered rocks, adding to the enchanting ambiance of the area. Ledge Falls provides an ideal setting for swimming, sunbathing, and picnicking, as well as a peaceful spot to unwind and connect with nature. Surrounded by towering trees and the tranquility of the park, Ledge Falls invites visitors to bask in the beauty of the Maine wilderness. Baxter State Park's Ledge Falls is a true treasure for those seeking a peaceful escape and an opportunity to immerse themselves in the natural splendor of the region.
The USA is home to an array of natural water slides that offer thrilling adventures in breathtaking settings. From the smooth rock slides of Sliding Rock in North Carolina to the cascading pools of Opal Creek in Oregon, these natural wonders provide an exhilarating escape from the summer heat. Whether you're seeking family-friendly fun or an adrenaline rush, these 15 cool natural water slides in the U.S. are sure to deliver unforgettable experiences and create cherished memories for water enthusiasts of all ages. So, grab your swimsuit, sunscreen, and a sense of adventure, and get ready to slide into nature's refreshing embrace.