Welcome to our ultimate guide to the 15 most breathtaking spots in Colorado! If you're an avid traveler and nature enthusiast, you've come to the right place.
In this comprehensive article, we'll unveil the hidden gems scattered across the majestic state of Colorado, inviting you to immerse yourself in the mesmerizing beauty of its landscapes, from snow-capped mountains to serene lakes and vibrant cityscapes.
Let's embark on a virtual journey through Colorado's wonders that will leave you awe-inspired and eager to explore!
Enjoy these 15 most breathtaking spots in Colorado in 2023-2024 :
Discover the Hidden Gems: Colorado's 15 Most Spectacular Destinations
1. Rocky Mountain National Park : Nature's Masterpiece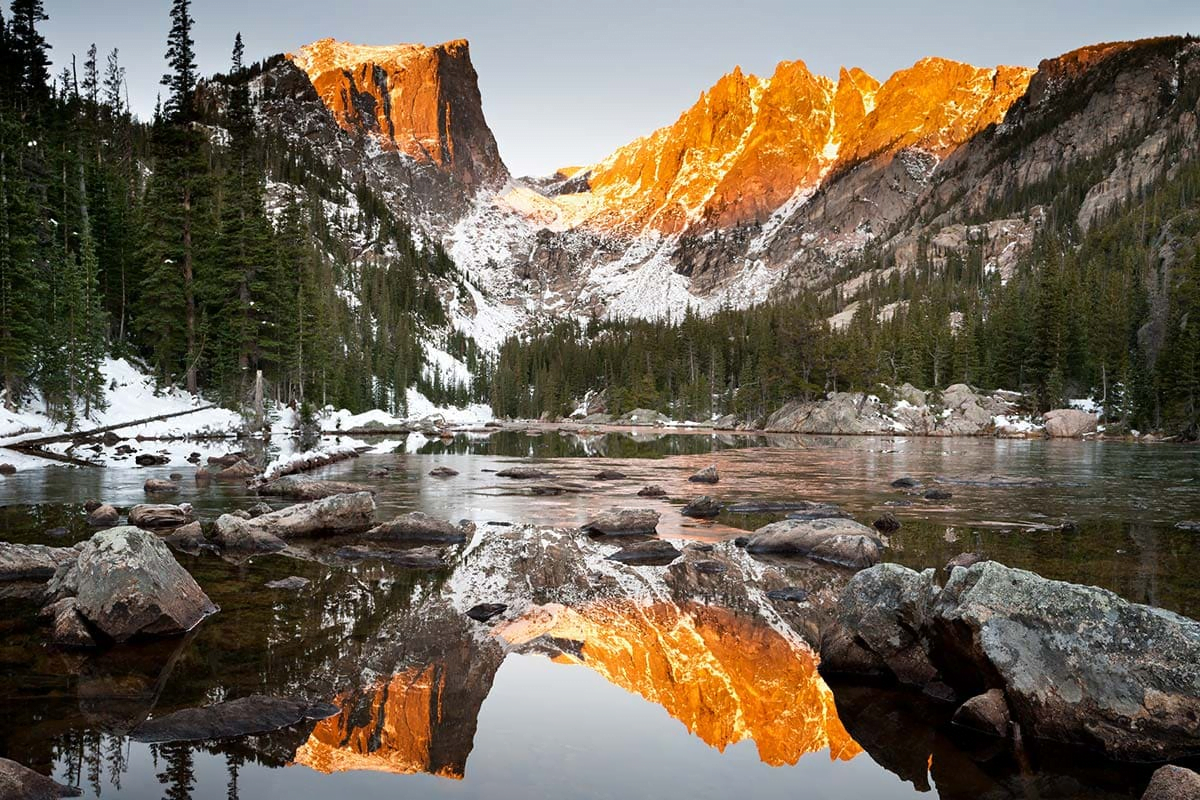 At the heart of Colorado lies the awe-inspiring Rocky Mountain National Park, a true masterpiece of nature. Home to numerous snow-capped peaks, pristine alpine lakes, and abundant wildlife, this national park offers a haven for outdoor enthusiasts and nature lovers alike. Whether you're an avid hiker seeking challenging trails or a wildlife enthusiast hoping to spot majestic elk and elusive bobcats, this park has it all.
2. Garden of the Gods: Where Beauty Meets Majesty
Prepare to be enchanted by the Garden of the Gods, a geological wonder nestled in Colorado Springs. Towering red sandstone formations that have been shaped by millions of years of erosion create a surreal landscape that will leave you mesmerized. A visit to this natural playground promises thrilling rock climbing opportunities, scenic hikes, and a chance to witness stunning sunsets casting their warm glow over the red rocks.
3. Mesa Verde National Park : Journey into Ancient Civilization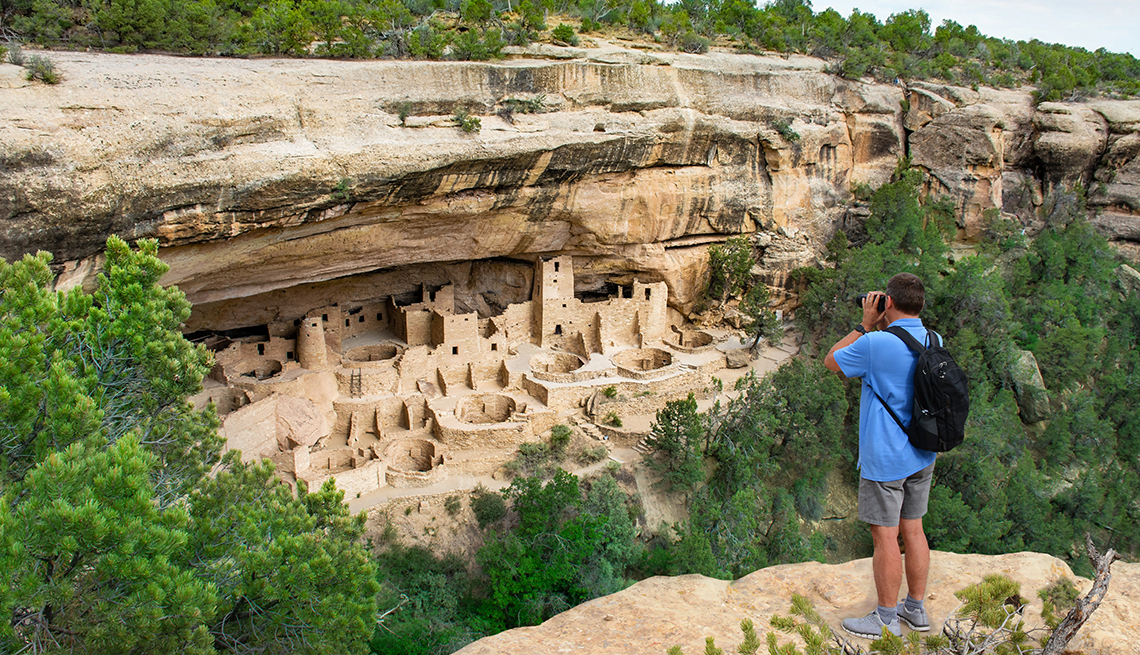 Delve into Colorado's rich history at Mesa Verde National Park, a UNESCO World Heritage Site. This park is an archaeological wonder, preserving the ancient cliff dwellings and artifacts of the Ancestral Puebloans. Wander through the well-preserved dwellings and immerse yourself in the fascinating stories of the past, gaining insights into the lives and culture of the ancient inhabitants of this region.
4. Maroon Bells : A Photographer's Paradise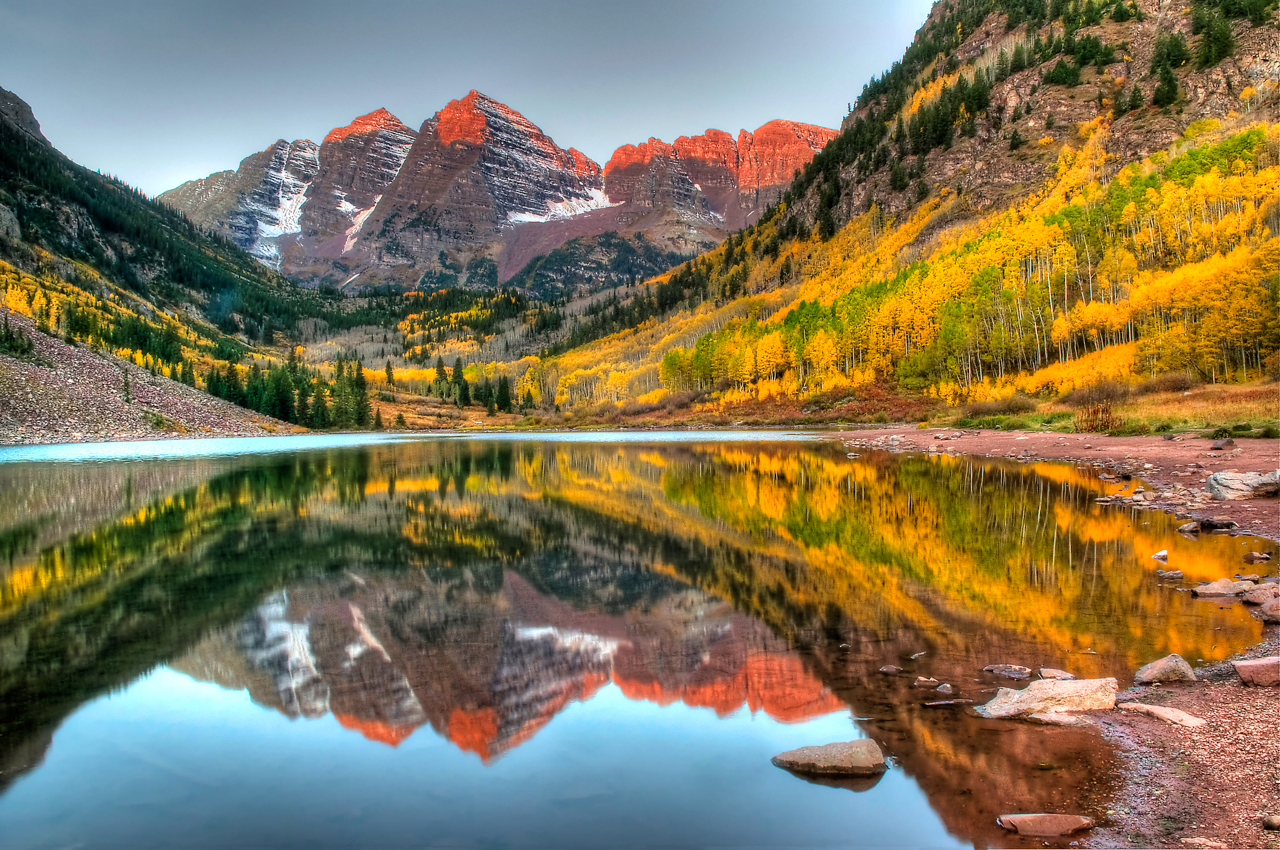 For photographers seeking a slice of heaven, Maroon Bells is an idyllic destination not to be missed. These twin peaks, reflected in the crystal-clear waters of Maroon Lake, create a postcard-perfect scene that's bound to take your breath away. Whether you visit during the vibrant fall foliage or the blooming wildflowers of spring, you'll be treated to a kaleidoscope of colors and unparalleled beauty.
5. Great Sand Dunes National Park: An Oasis of Sand
Venture into a different world at Great Sand Dunes National Park, where towering sand dunes meet snow-capped mountains. This unique juxtaposition of desert-like landscapes against the backdrop of the Sangre de Cristo Mountains is a sight to behold. Indulge in sandboarding, hike to the top of the dunes, or stargaze under the clear night sky for an unforgettable experience.
6. Telluride: A Quaint Mountain Town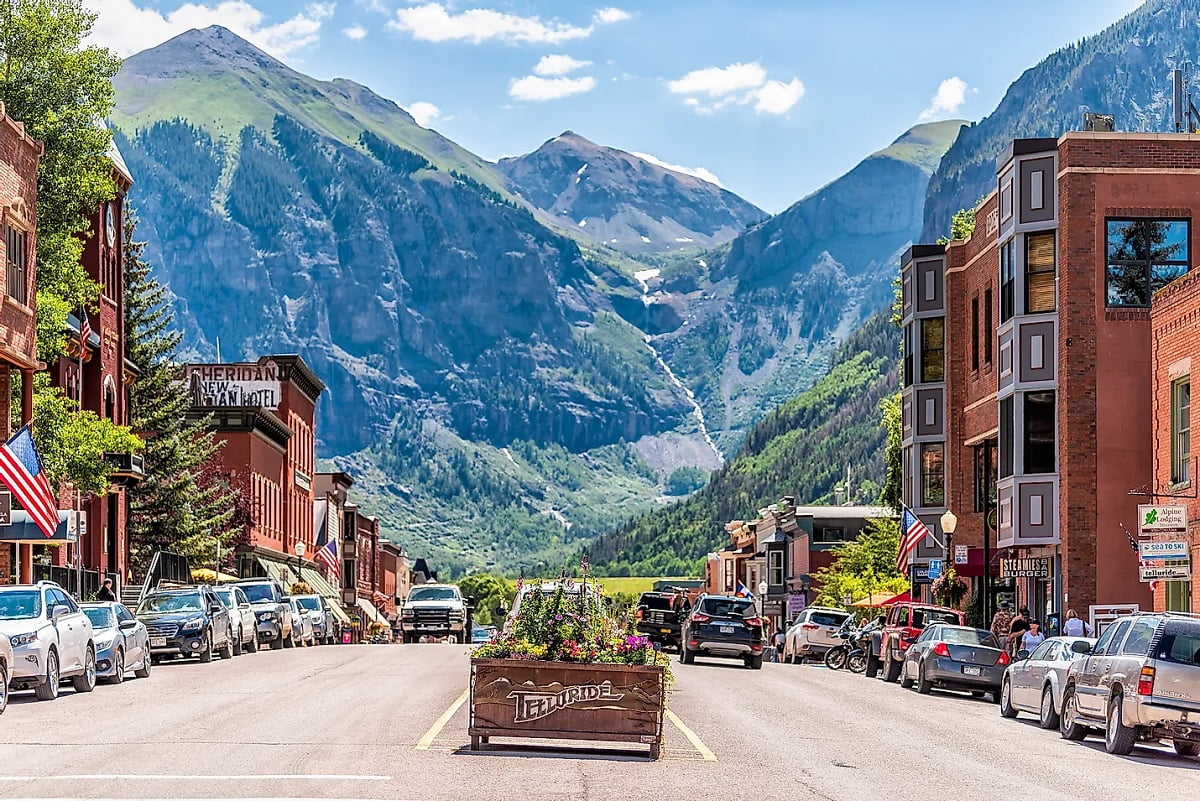 Nestled in the San Juan Mountains, Telluride exudes charm and boasts a vibrant arts and culture scene. Whether you're exploring the historic main street lined with colorful Victorian-era buildings or hitting the slopes for some world-class skiing and snowboarding, Telluride offers a delightful blend of adventure and relaxation.
7. Black Canyon of the Gunnison National Park: Nature's Grand Canyon
Prepare to be awestruck by the sheer magnitude of the Black Canyon of the Gunnison. Carved by the Gunnison River over millions of years, this dramatic canyon offers stunning vistas and challenging hiking opportunities. If you're a seasoned rock climber, you'll find plenty of challenging routes to test your skills amidst the rugged beauty of this national park.
8. Vail : The Ultimate Winter Wonderland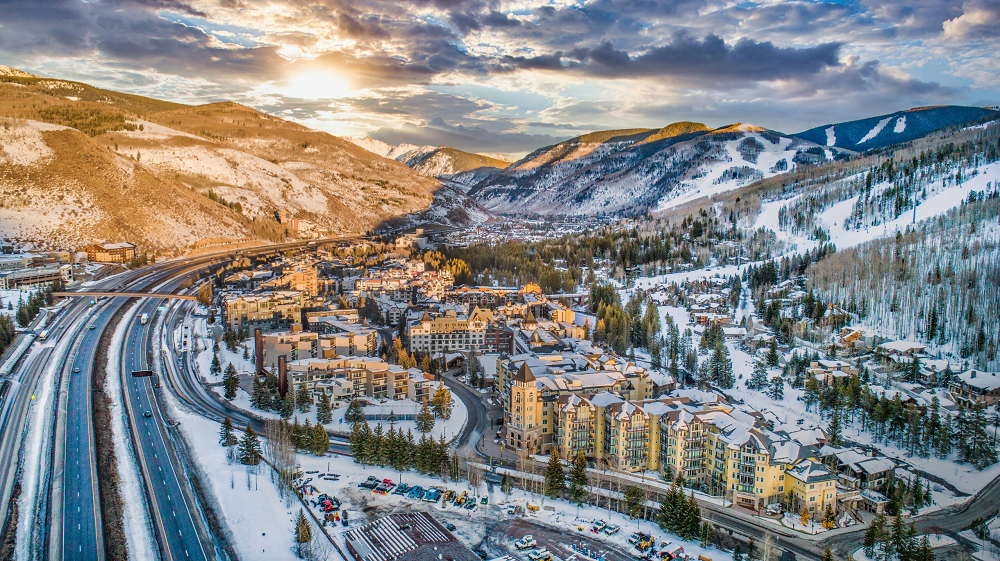 As one of the most renowned ski resorts in the world, Vail beckons winter enthusiasts with its powdery slopes and luxurious amenities. Beyond skiing and snowboarding, Vail offers a charming village atmosphere, upscale shopping, and delectable dining options. Whether you're a winter sports enthusiast or seeking a cozy winter retreat, Vail has it all.
9. Durango & Silverton Narrow Gauge Railroad: A Historic Journey
Step back in time and embark on a historic train journey through the stunning San Juan Mountains. The Durango & Silverton Narrow Gauge Railroad takes you on an unforgettable ride through rugged landscapes, offering breathtaking views of waterfalls, deep canyons, and lush forests. This heritage railroad experience is a must for history buffs and nature lovers alike.
10. Royal Gorge Bridge : Walk Above the Abyss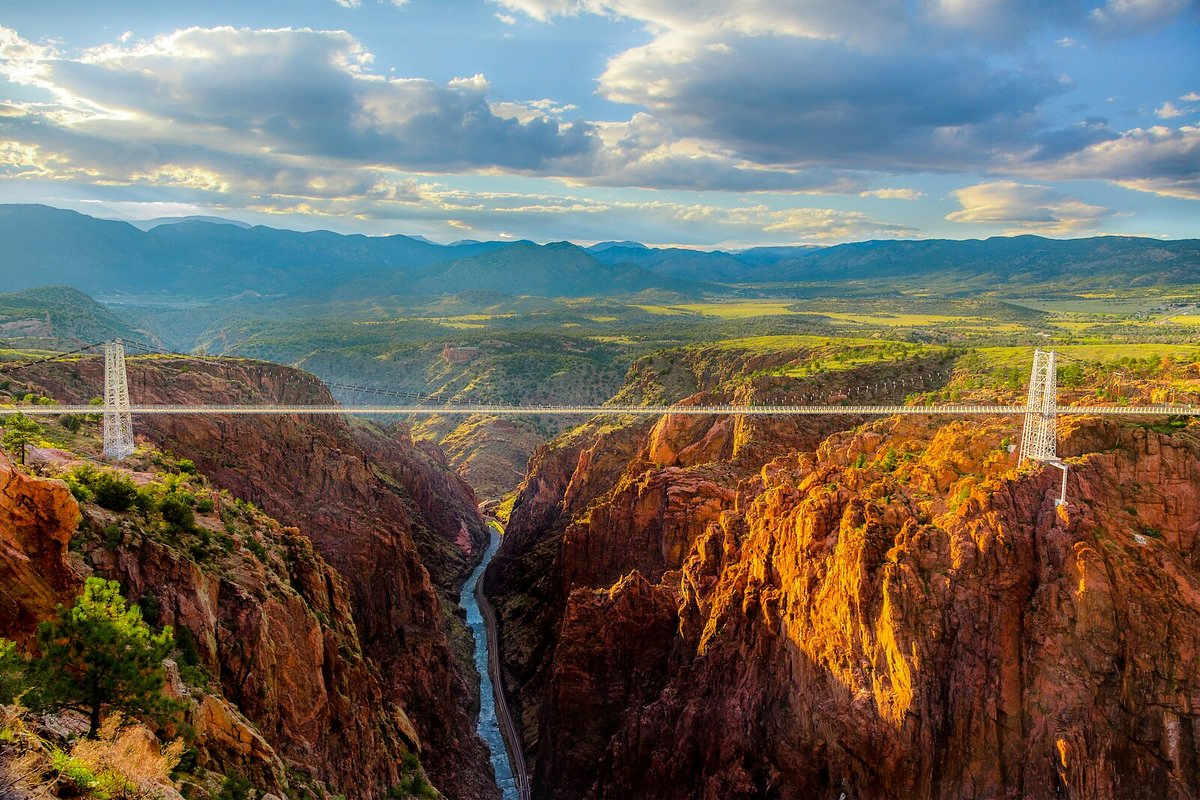 For an adrenaline-pumping experience, head to the Royal Gorge Bridge, one of the highest suspension bridges in the world. Perched above the Arkansas River and surrounded by breathtaking canyon views, walking across this engineering marvel is both thrilling and awe-inspiring. If you're feeling even more adventurous, take a heart-pounding zip line ride across the gorge.
11. Boulder : Where Outdoor Adventure Meets Culture
Boulder, a vibrant city nestled at the base of the Rocky Mountains, offers a perfect blend of outdoor adventure and cultural experiences. Explore the picturesque Flatirons on a hike, wander through the bustling Pearl Street Mall, or immerse yourself in the city's thriving arts and music scene. Boulder is a haven for those seeking an active and culturally enriching getaway.
12. Aspen : Luxury in the Mountains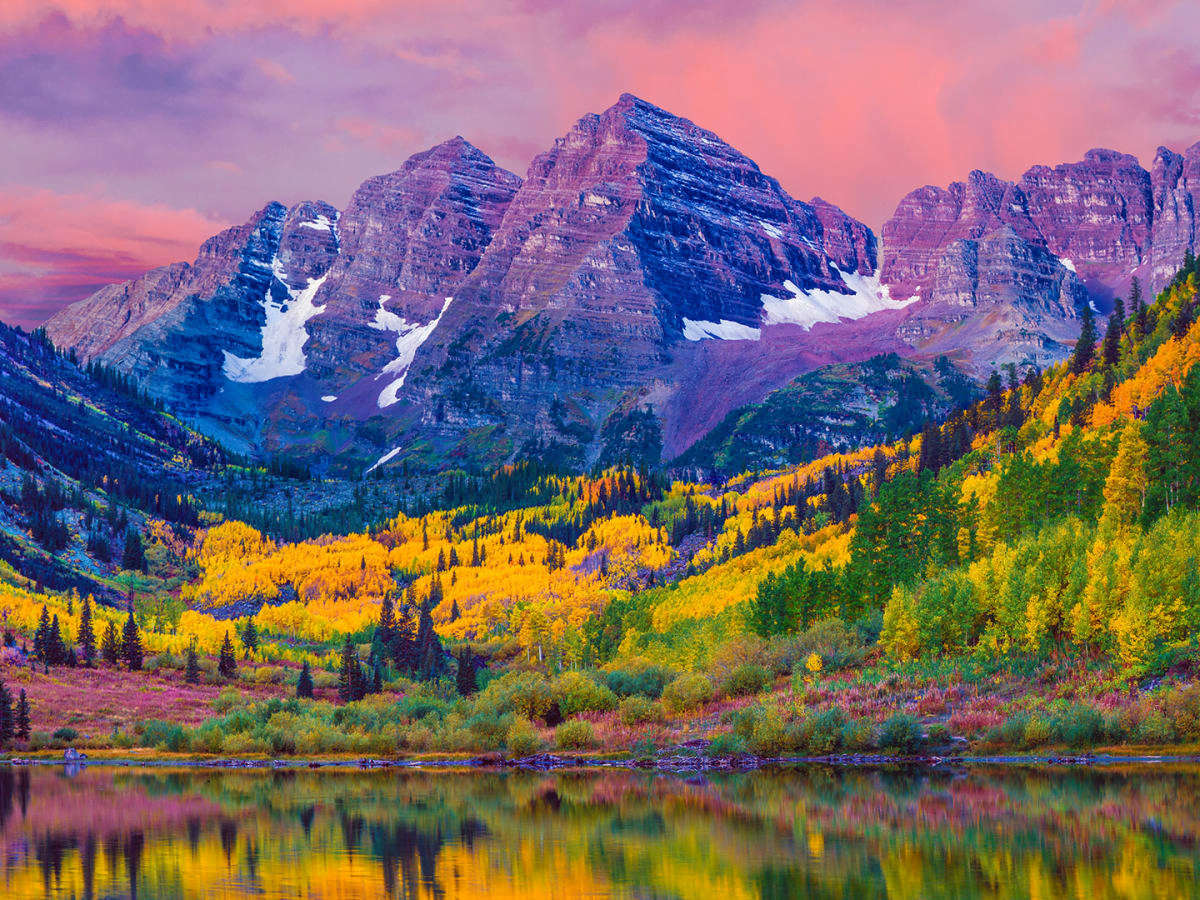 Renowned for its luxury and opulence, Aspen is a premier destination for the rich and famous. Beyond its upscale reputation, Aspen offers world-class skiing, upscale boutiques, and a lively après-ski scene. Whether you're hitting the slopes or indulging in the town's lavish offerings, Aspen promises a memorable and lavish escape.
13. Mount Evans: A Drive to the Sky
Prepare for an extraordinary drive up Mount Evans, one of Colorado's fourteeners. The Mount Evans Scenic Byway takes you on a winding journey to the summit, where you'll be rewarded with breathtaking panoramic views of the surrounding landscape. Keep an eye out for the resident mountain goats and bighorn sheep that call this alpine environment home.
14. Colorado National Monument : Red Rocks and Canyons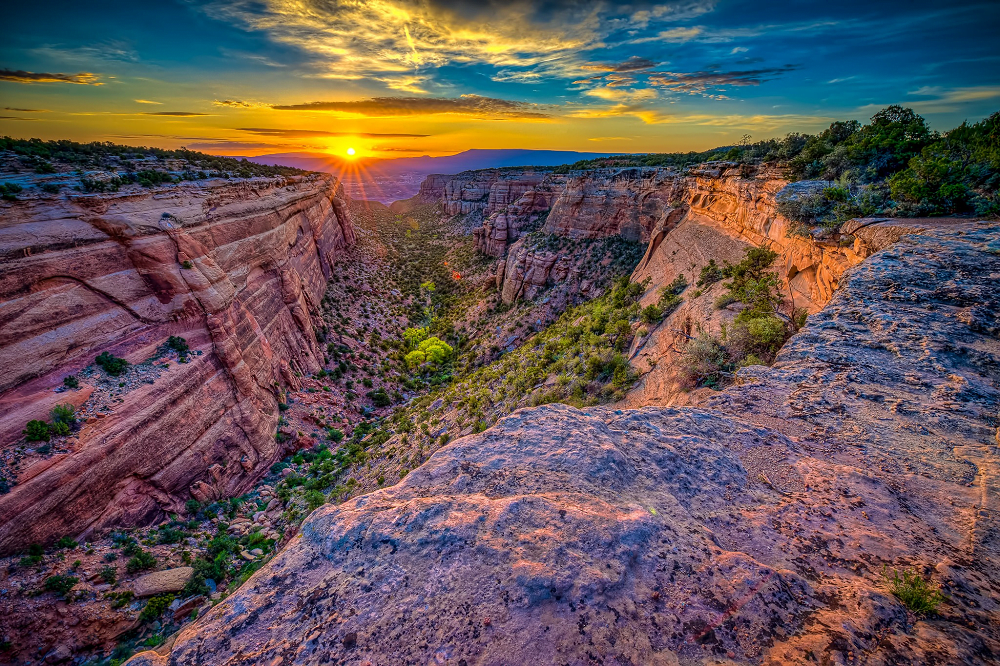 Step into a world of red rock formations and dramatic canyons at Colorado National Monument. This lesser-known gem offers a serene escape, with opportunities for hiking, rock climbing, and wildlife spotting. The vibrant hues of the rocks against the blue sky create a photographer's dream.
15. Crested Butte: The Wildflower Capital
Experience nature's colorful palette in Crested Butte, often referred to as the Wildflower Capital of Colorado. During the summer months, the meadows burst into a kaleidoscope of wildflowers, creating a stunning natural spectacle. Beyond the floral beauty, Crested Butte is an adventurer's paradise, offering mountain biking, hiking, and excellent fishing opportunities.
In Conclusion
Colorado is a treasure trove of natural wonders, offering something magical for every traveler. From the majestic peaks of the Rocky Mountains to the serene valleys and vibrant towns, this state has it all. Whether you're seeking adventure, history, or simply a moment of tranquility in nature, Colorado will captivate your heart and leave you with memories to cherish for a lifetime.
15 Most Beautiful Places to Visit in Colorado 2023-2024 :
Rocky Mountain National Park: Nature's Masterpiece
Garden of the Gods: Where Beauty Meets Majesty
Mesa Verde National Park: Journey into Ancient Civilization
Maroon Bells: A Photographer's Paradise
Great Sand Dunes National Park: An Oasis of Sand
Telluride: A Quaint Mountain Town
Black Canyon of the Gunnison National Park: Nature's Grand Canyon
Vail: The Ultimate Winter Wonderland
Durango & Silverton Narrow Gauge Railroad: A Historic Journey
Royal Gorge Bridge: Walk Above the Abyss
Boulder: Where Outdoor Adventure Meets Culture
Aspen: Luxury in the Mountains
Mount Evans: A Drive to the Sky
Colorado National Monument: Red Rocks and Canyons
Crested Butte: The Wildflower Capital