With its stunning coastline stretching over 800 miles, California is home to some of the most beautiful beaches in the world. Whether you're looking for pristine sandy shores, rugged cliffs, or vibrant beach towns, California has it all.
We'll explore the 15 best beaches in California, each offering a unique coastal experience that will leave you yearning for more.
Santa Monica Beach, Santa Monica :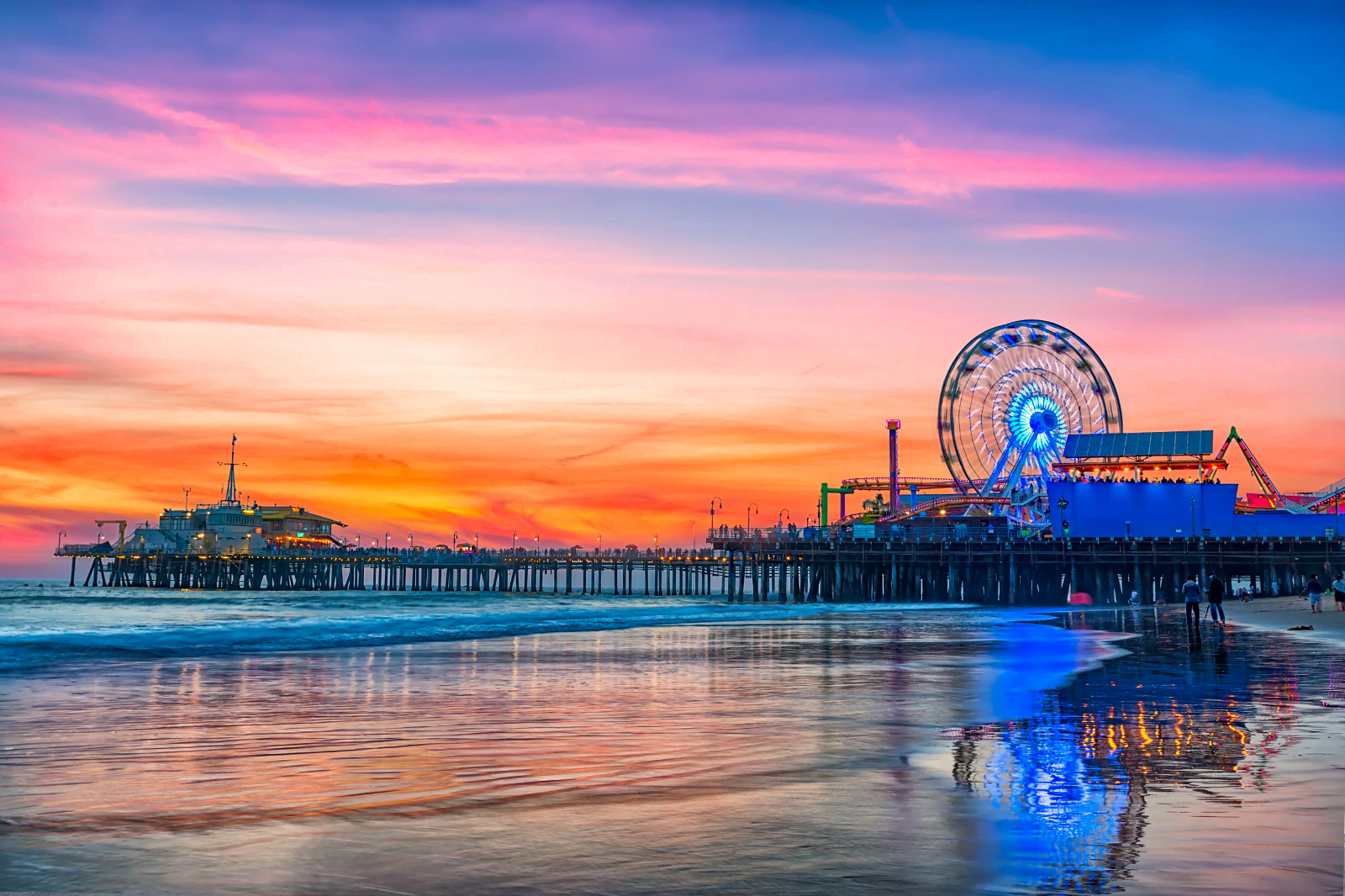 Located near Los Angeles, Santa Monica Beach is a vibrant and iconic destination. With its wide sandy shores, lively pier, and stunning views of the Pacific Ocean, it's the perfect place to relax, soak up the sun, and enjoy beachside activities.
Coronado Beach, San Diego :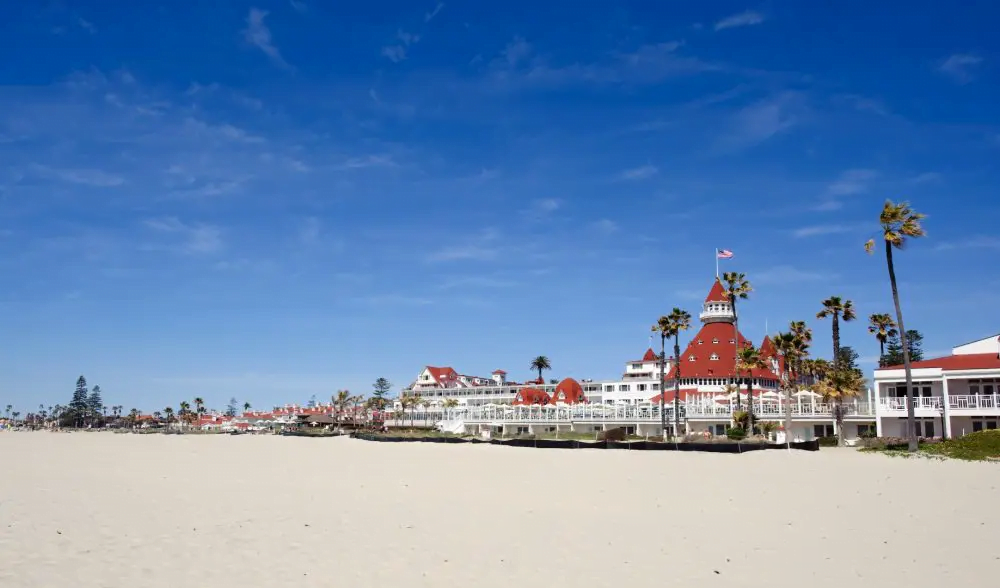 Famous for its sparkling white sand, Coronado Beach is a true gem in San Diego. This family-friendly beach offers gentle waves, ideal for swimming and sunbathing. Don't miss the historic Hotel del Coronado, a Victorian-era landmark located nearby.
Pfeiffer Beach, Big Sur :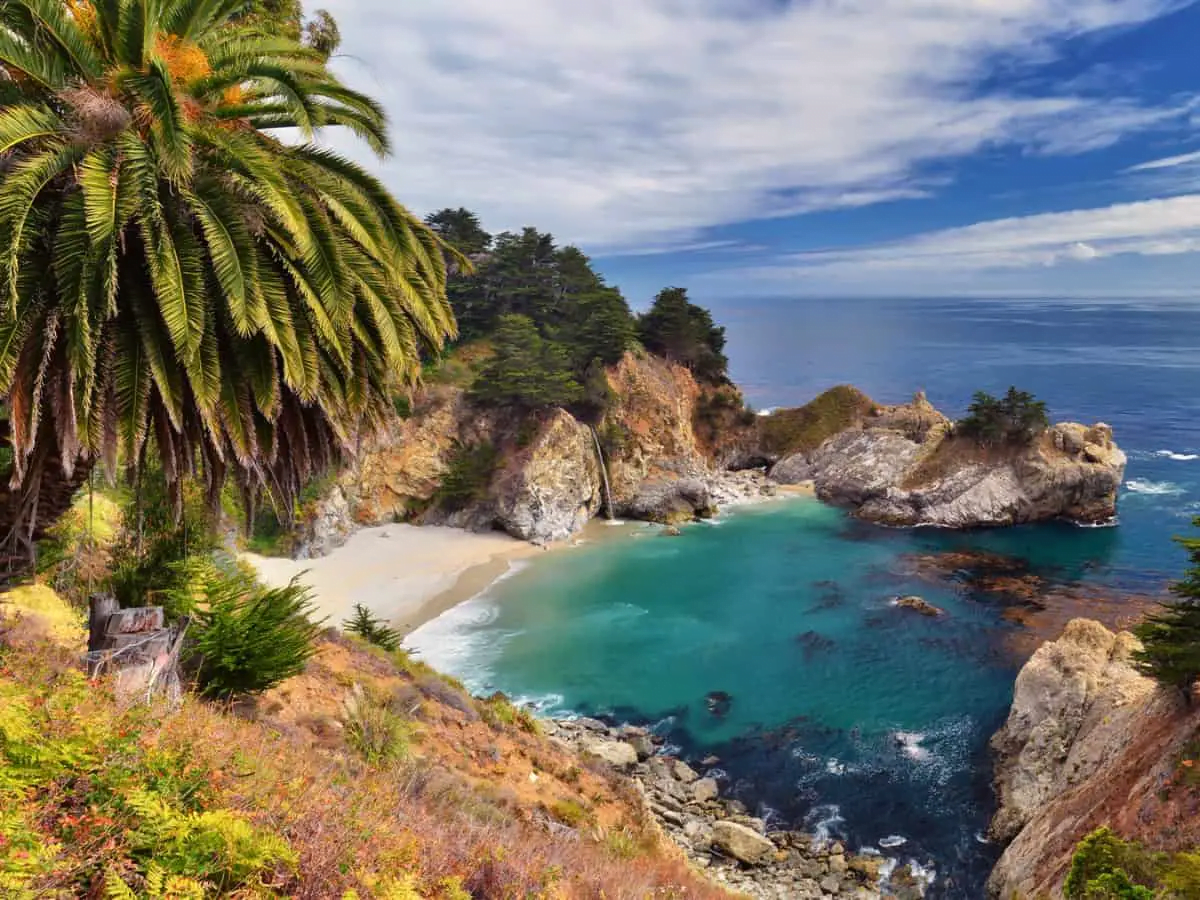 Tucked away along the rugged coastline of Big Sur, Pfeiffer Beach is a hidden gem with its purple-hued sand and breathtaking natural arches. It's a photographer's paradise and an ideal spot to catch a mesmerizing sunset.
Zuma Beach, Malibu :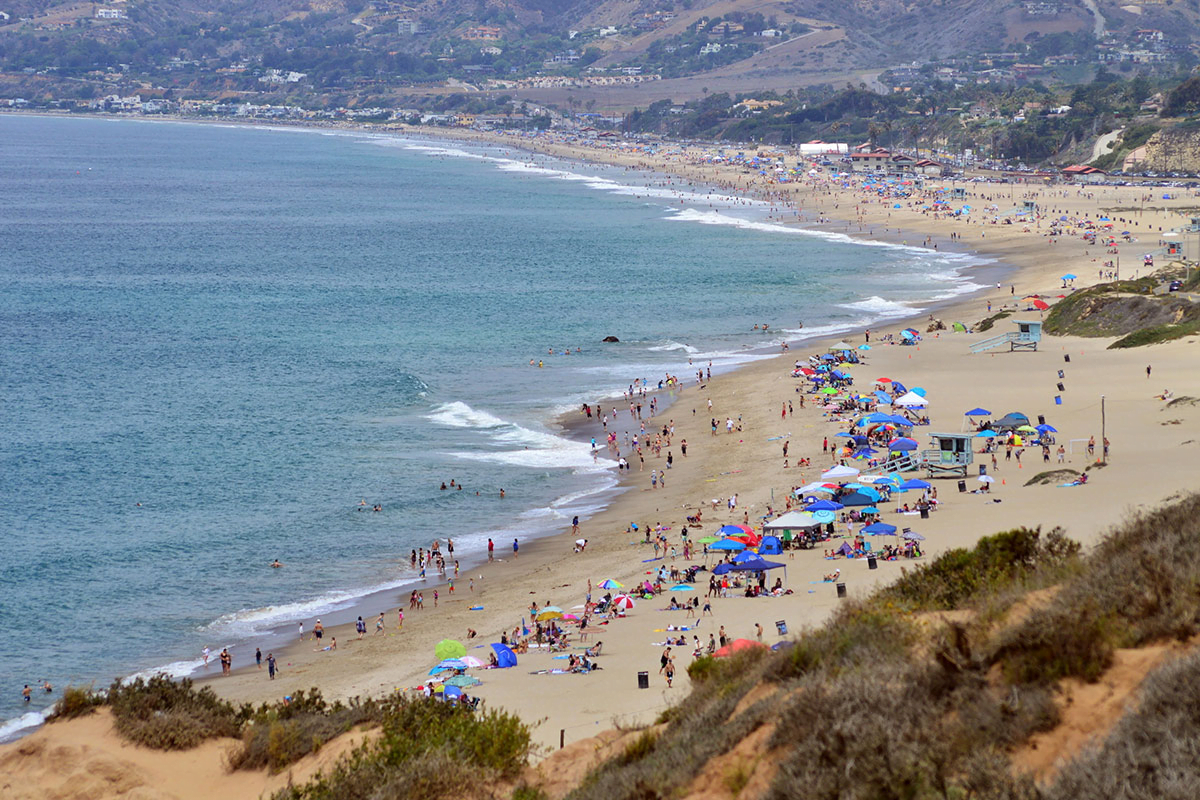 As one of Malibu's most beautiful beaches, Zuma Beach offers miles of sandy shores and crystal-clear waters. With ample parking, picnic areas, and lifeguard towers, it's a great choice for families and beach enthusiasts.
Pismo Beach, San Luis Obispo :
Located on the Central Coast, Pismo Beach is known for its wide sandy beaches and coastal charm. Explore the iconic Pismo Pier, take a dune buggy ride on the Oceano Dunes, or simply relax and enjoy the tranquil coastal vibes.
Laguna Beach, Orange County: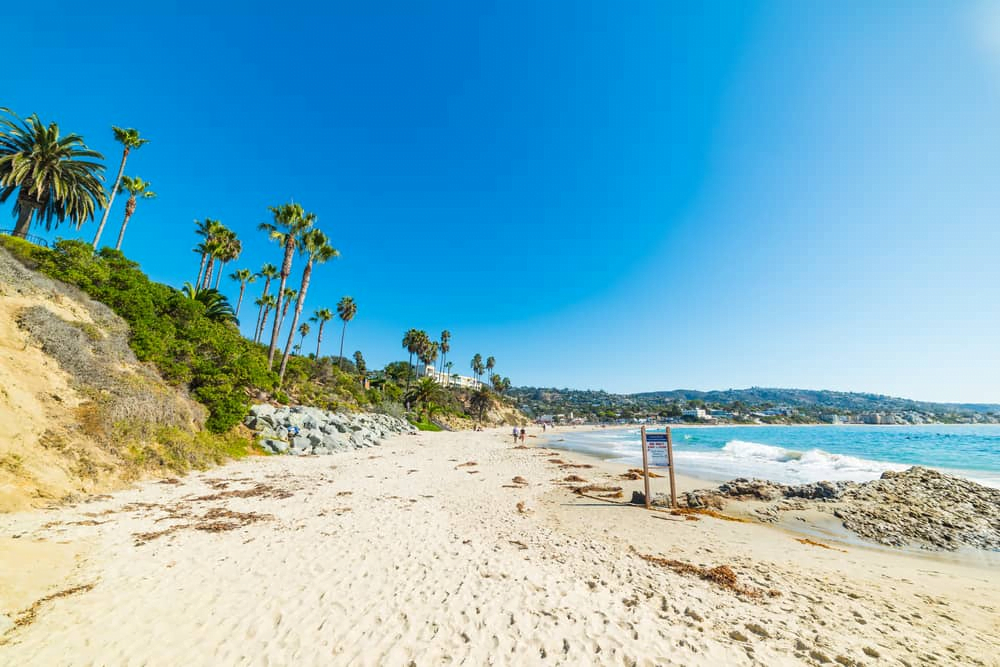 Laguna Beach is renowned for its natural beauty and artistic community. Discover hidden coves, explore tide pools, and admire the stunning rock formations that make this beach a favorite among locals and visitors alike.
Carmel Beach, Carmel-by-the-Sea :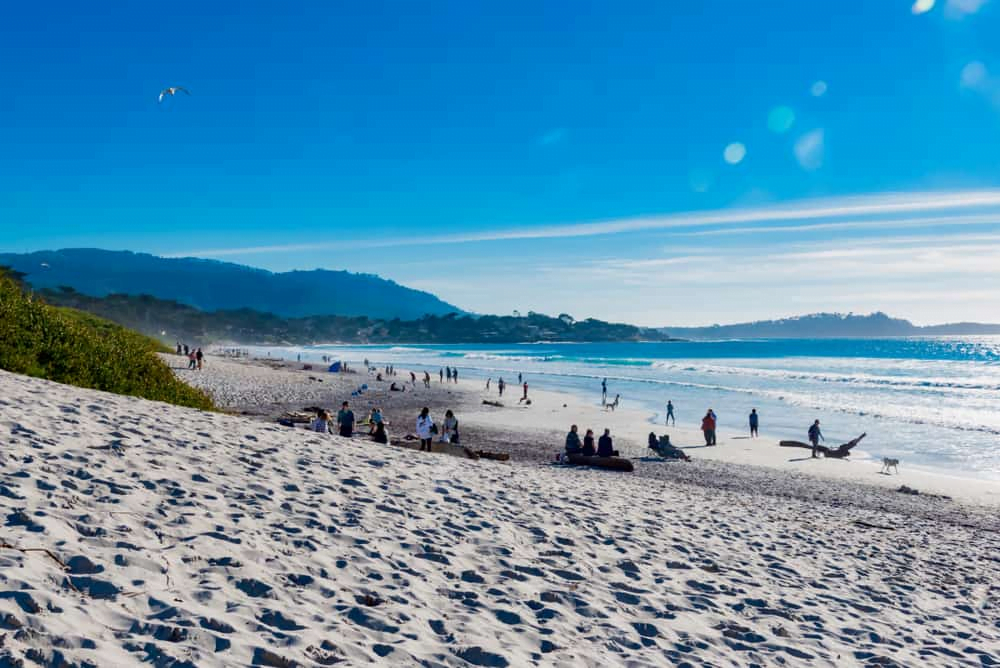 Nestled in the picturesque town of Carmel-by-the-Sea, Carmel Beach is a serene and dog-friendly beach. With its pristine white sands and mesmerizing views, it's the perfect place for a leisurely stroll or a picnic with loved ones.
Moonstone Beach, Cambria :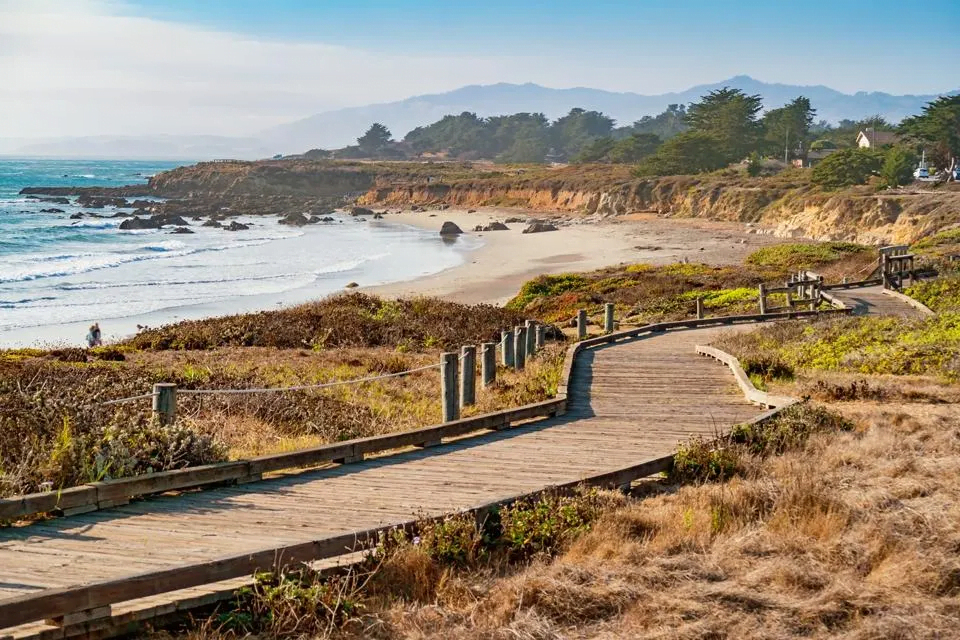 Escape to the idyllic Moonstone Beach, where you can wander along the boardwalk and search for unique moonstones washed up on the shore. Enjoy breathtaking ocean views, explore tide pools, and relish the tranquility of this coastal paradise.
La Jolla Cove, San Diego: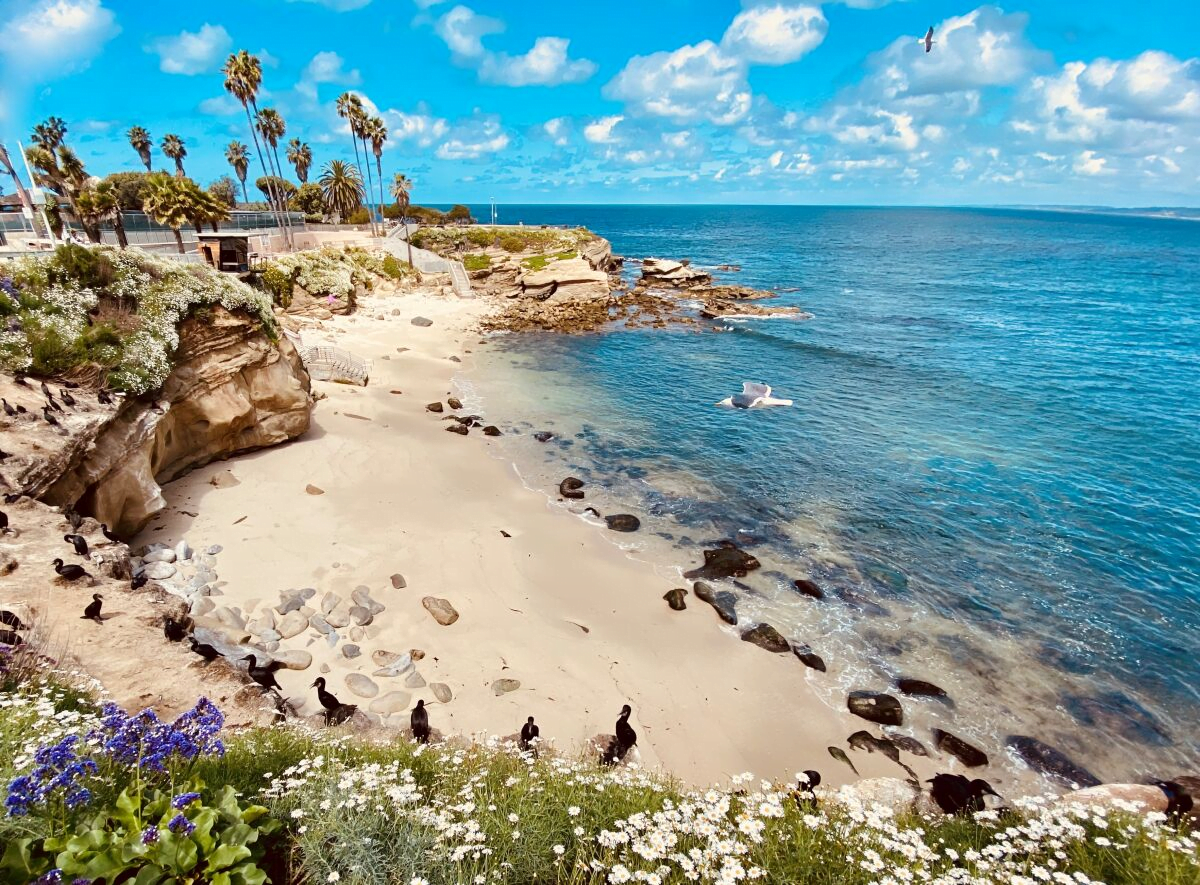 La Jolla Cove is a must-visit beach for nature lovers and snorkeling enthusiasts. Dive into the clear waters and swim alongside colorful marine life, including seals and sea lions. Don't forget to explore the nearby La Jolla Sea Caves for a memorable adventure.
Venice Beach :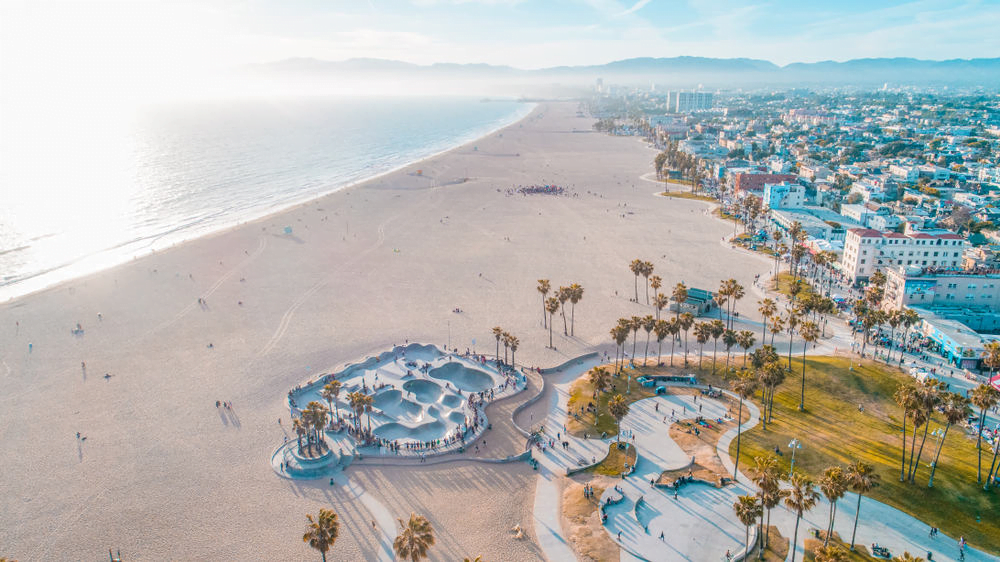 Venice Beach in Los Angeles is a vibrant and iconic coastal destination that embodies the unique and eclectic spirit of Southern California. Known for its lively boardwalk and diverse street performers, Venice Beach offers a colorful and energetic atmosphere that draws locals and visitors alike.
The beach itself stretches for miles, providing ample space for sunbathing, beach volleyball, and surfing. The famous Venice Skate Park attracts skateboarders and spectators, while the Muscle Beach outdoor gym showcases impressive feats of strength. Stroll along the bustling Ocean Front Walk, lined with funky shops, street vendors, and artists showcasing their creations.
From people-watching to enjoying street performances, Venice Beach is a melting pot of creativity and cultural diversity, making it an essential stop for anyone looking to experience the vibrant spirit of Los Angeles.
El Matador State Beach, Malibu :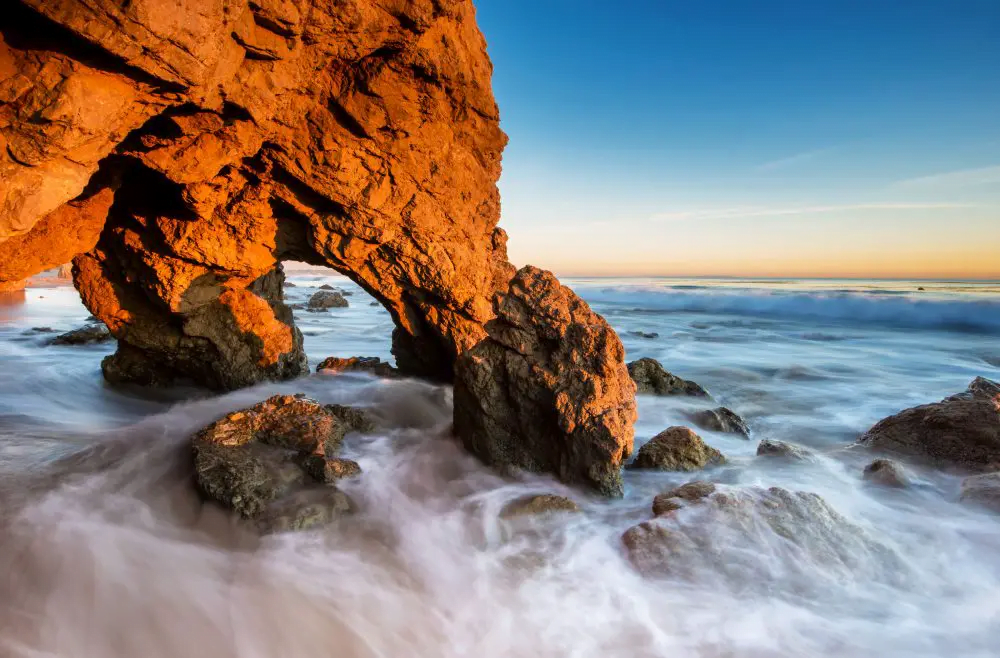 El Matador State Beach is a hidden gem along the Malibu coastline. Accessible via a scenic pathway, this secluded beach features towering cliffs, sea caves, and tide pools. It's an ideal spot for romantic sunset walks and photography enthusiasts.
Crystal Cove State Park, Newport Beach :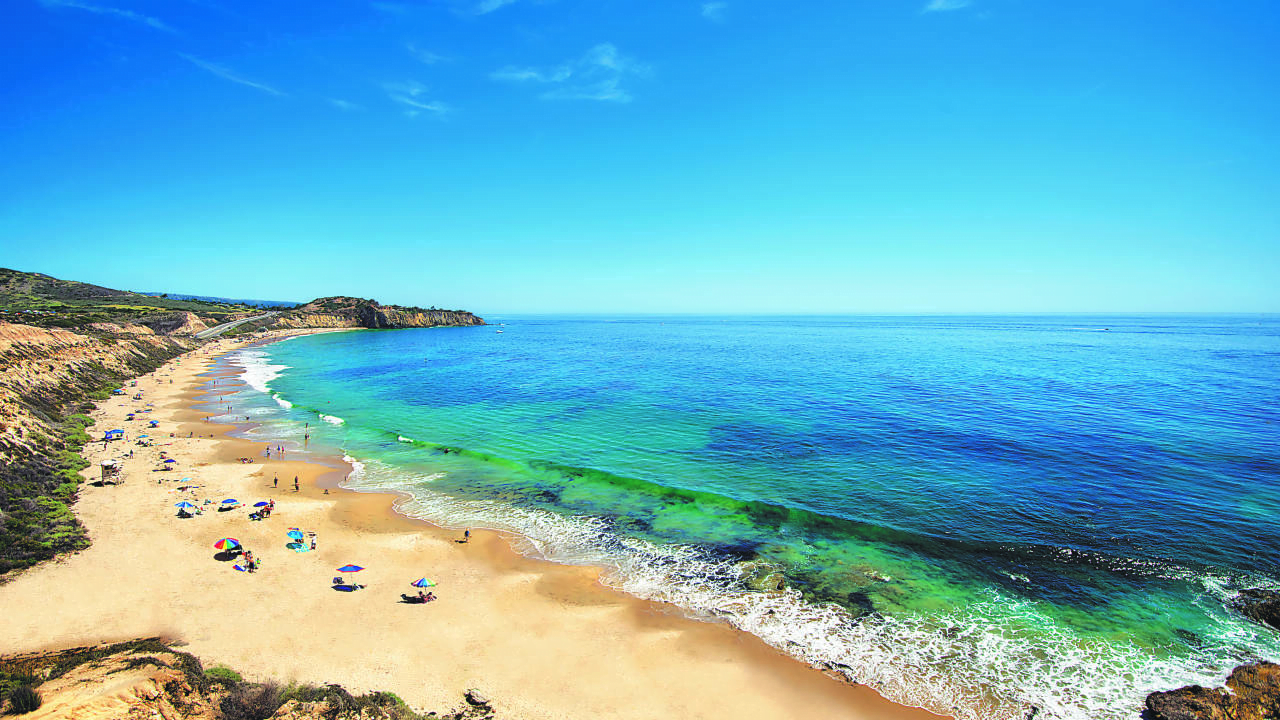 Crystal Cove State Park combines natural beauty with a touch of nostalgia. Explore the sandy coves, hike along the coastal trails, and admire the historic beach cottages that dot the landscape. It's a perfect retreat for beach lovers and outdoor enthusiasts.
Natural Bridges State Beach, Santa Cruz: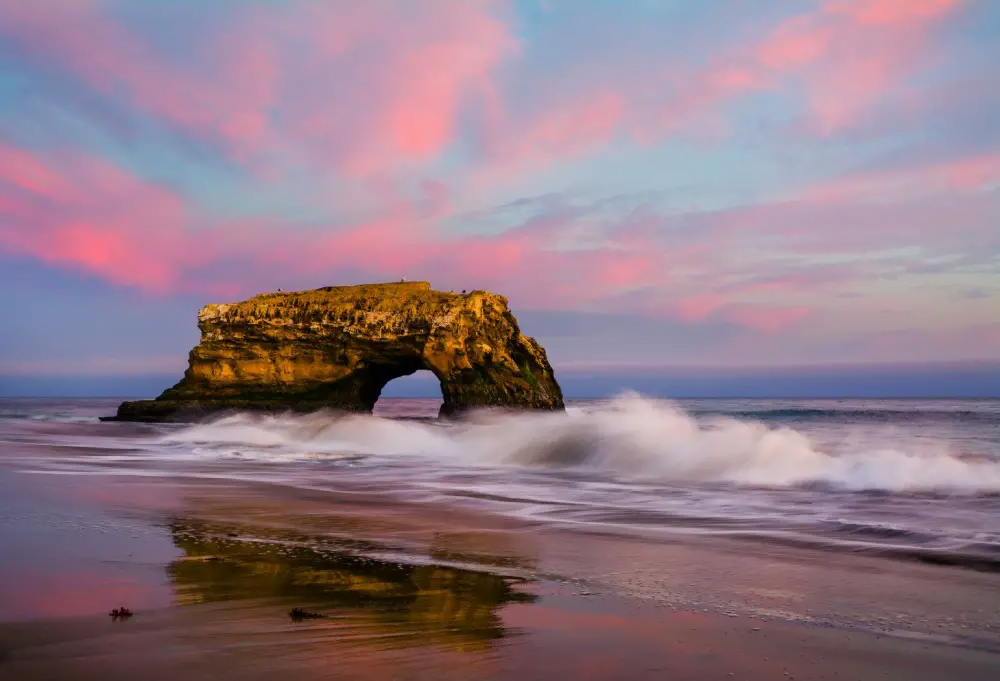 Known for its stunning rock formations and natural bridge, Natural Bridges State Beach offers a picturesque setting for beachgoers. Enjoy tide pooling, birdwatching, and the chance to spot migrating monarch butterflies during the winter months.
Silver Strand State Beach, Coronado :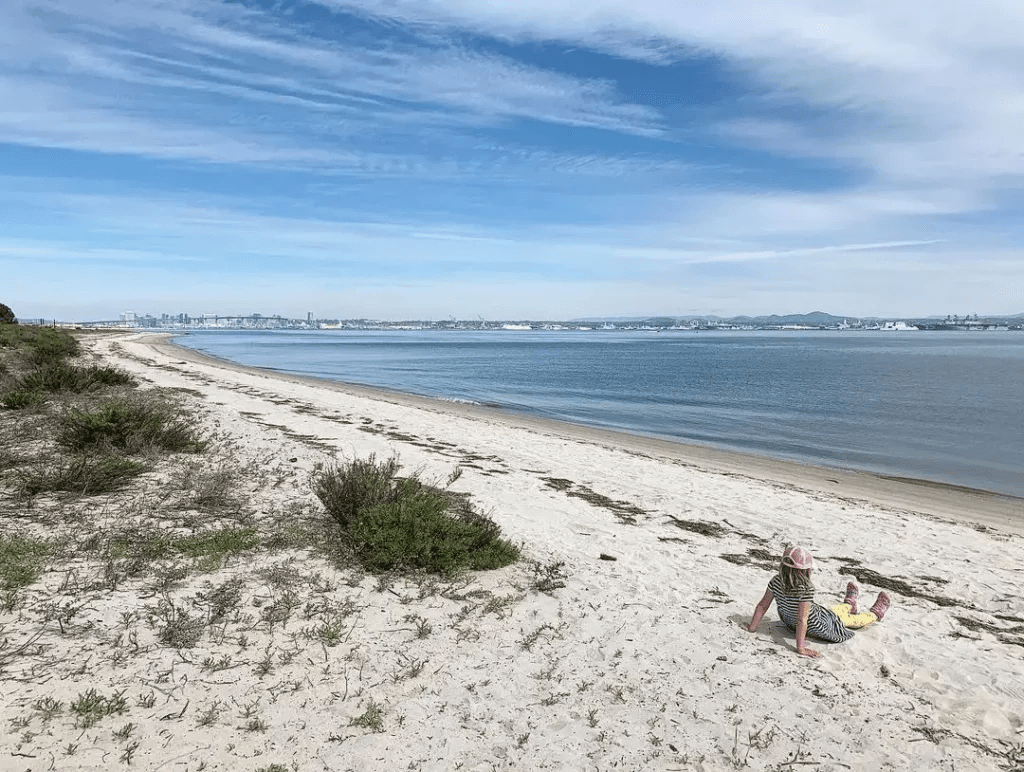 Located near the iconic Coronado Bridge, Silver Strand State Beach offers a unique coastal experience. Enjoy the calm waters, go for a bike ride along the scenic path, or indulge in beachside camping for an unforgettable getaway.
Huntington Beach, Orange County :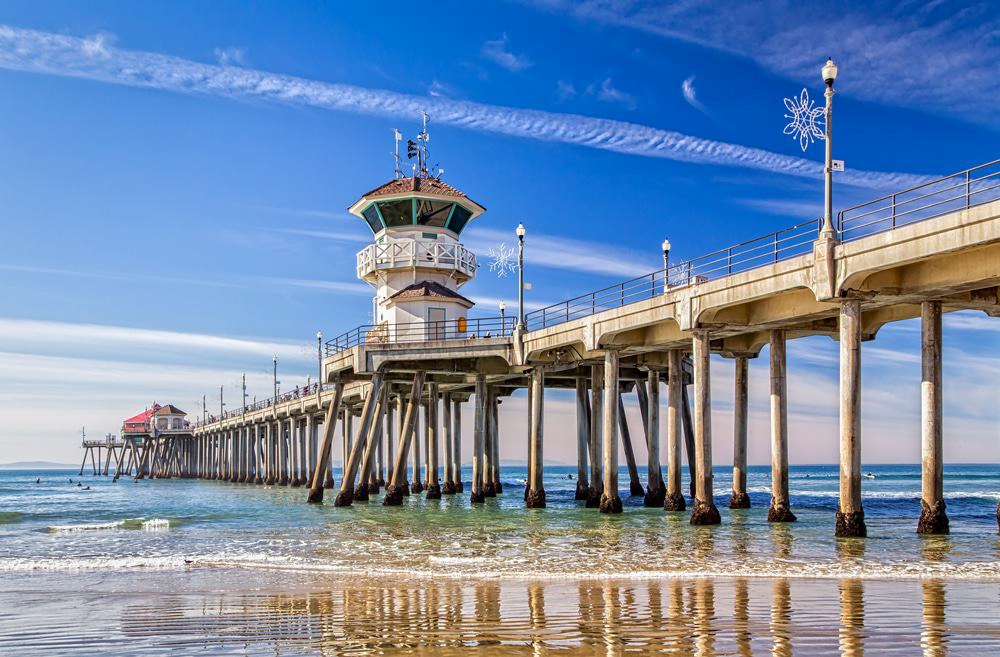 Dubbed "Surf City USA," Huntington Beach is a mecca for surfers and beach lovers. With its consistent waves and vibrant beach culture, it's the ideal destination for catching waves, strolling along the pier, and enjoying the energetic beach atmosphere.
California's coastline is blessed with an abundance of stunning beaches, each with its own distinct charm. Whether you seek relaxation, adventure, or natural beauty, the 15 beaches mentioned above offer unforgettable experiences.
From the iconic shores of Santa Monica to the hidden gems of Big Sur and the tranquil coves of Laguna Beach, California's beaches have something for everyone.
So, grab your sunscreen, towel, and sense of adventure, and embark on a beach-hopping journey to discover the best of what California has to offer.