Welcome to our captivating guide to the most beautiful places to visit in Oregon! If you're a travel enthusiast with an appreciation for stunning landscapes, outdoor adventures, and diverse ecosystems, you're in for a treat.
In this enchanting article, we'll take you on a journey through the Beaver State, unveiling its hidden gems, natural wonders, and iconic landmarks that will leave you awestruck and inspired to plan your own Oregonian adventure.
Enjoy these 15 most beautiful places to visit in Oregon in 2023-2024 :
Oregon's Most Breathtaking Destinations: A Journey of Natural and Scenic Marvels
1. Crater Lake National Park : Azure Majesty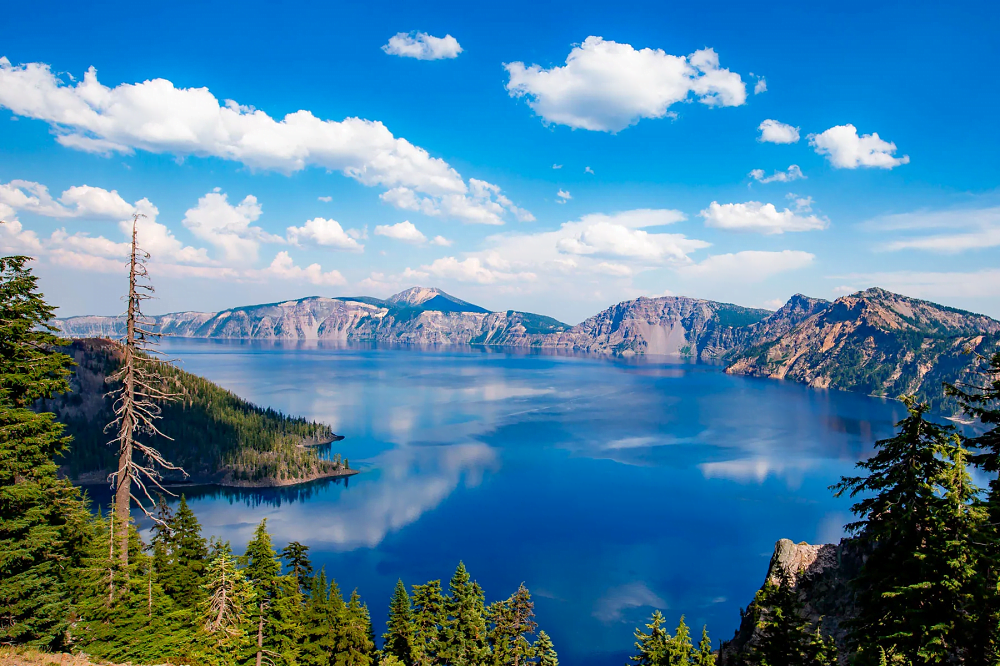 Crater Lake National Park is a captivating gem nestled in the southern part of the Cascade Range in Oregon, USA. Renowned for its stunning beauty and unique geological history, the park centers around the awe-inspiring Crater Lake, which is the deepest lake in the United States and one of the clearest in the world. The lake's vibrant blue color is a result of rain and snowmelt filling the caldera of Mount Mazama, a volcano that collapsed nearly 7,700 years ago. Surrounded by sheer cliffs and old-growth forests, the lake creates a surreal and picturesque landscape that captivates visitors year-round.
The park offers a wide range of activities, such as hiking, fishing, and boat tours, allowing visitors to immerse themselves in the breathtaking scenery and explore the unique geological features that shaped this natural wonder. Crater Lake National Park stands as a testament to the forces of nature and the enduring beauty it can create, making it a cherished destination for nature lovers and adventurers alike.
2. Columbia River Gorge: Scenic Splendor
The Columbia River Gorge is a breathtaking natural wonder located in the Pacific Northwest region of the United States. Carved over thousands of years by the mighty Columbia River, it stretches approximately 80 miles along the border between Oregon and Washington. This majestic canyon is renowned for its stunning beauty, featuring dramatic cliffs, lush forests, and numerous cascading waterfalls that plunge into the depths below.
The gorge offers a diverse array of outdoor recreational opportunities, including hiking, rock climbing, and windsurfing, making it a popular destination for nature enthusiasts and adventure seekers alike. Additionally, the area's unique climate and geological features have fostered an incredibly rich and diverse ecosystem, home to a variety of plants and wildlife. Beyond its natural splendor, the Columbia River Gorge also holds significant cultural and historical importance to the Indigenous people of the region, as well as early European explorers and settlers. This remarkable landscape serves as a testament to the awe-inspiring forces of nature and stands as a cherished gem in the heart of the Pacific Northwest.
3. Mount Hood : Alpine Wonderland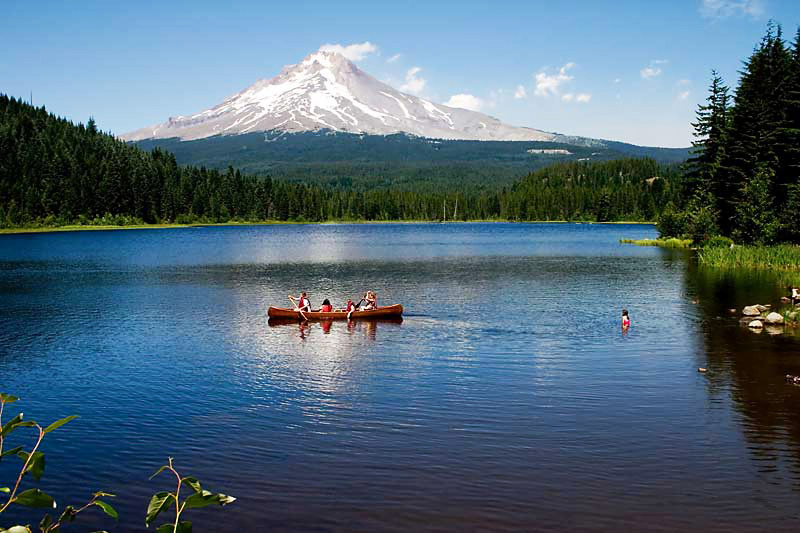 Mount Hood, an iconic stratovolcano, stands tall and majestic in the northern part of Oregon's Cascade Range, USA. As the highest peak in the state, Mount Hood's snow-capped summit, which is visible from afar, serves as a symbol of the region's natural beauty. Its volcanic history dates back thousands of years, resulting in a stunningly symmetrical and imposing profile.
During winter, the mountain becomes a haven for skiers and snowboarders, offering a range of slopes and terrains for all levels of expertise. In the warmer months, Mount Hood transforms into a paradise for hikers, climbers, and outdoor enthusiasts, boasting a network of scenic trails that lead to breathtaking vistas and alpine meadows adorned with wildflowers. Its close proximity to Portland, Oregon's largest city, makes Mount Hood easily accessible, making it a popular destination for locals and tourists seeking to experience the splendor of the Pacific Northwest's natural wonders. Whether you're a thrill-seeker or simply in search of tranquility amid nature's grandeur, Mount Hood promises an unforgettable and enriching experience for all who venture into its majestic embrace.
4. Cannon Beach : Coastal Serenity
Cannon Beach is a charming coastal town nestled along the northern Oregon coast, USA. Renowned for its stunning natural beauty, the town's most iconic feature is the picturesque Haystack Rock, a massive monolith rising from the shoreline that serves as a magnet for photographers and nature enthusiasts alike. With its long stretches of sandy beaches, Cannon Beach offers a perfect setting for leisurely strolls, beachcombing, and breathtaking sunsets. The town itself exudes a laid-back and artistic vibe, with quaint shops, art galleries, and delightful cafes lining the streets.
The rugged coastline and surrounding lush forests provide ample opportunities for outdoor activities such as hiking, tidepooling, and birdwatching. Cannon Beach's friendly atmosphere and scenic allure make it an ideal destination for a relaxing coastal getaway, inviting visitors to unwind and soak in the coastal charm and serenity that this captivating town has to offer.
5. Smith Rock State Park : Rock Climber's Paradise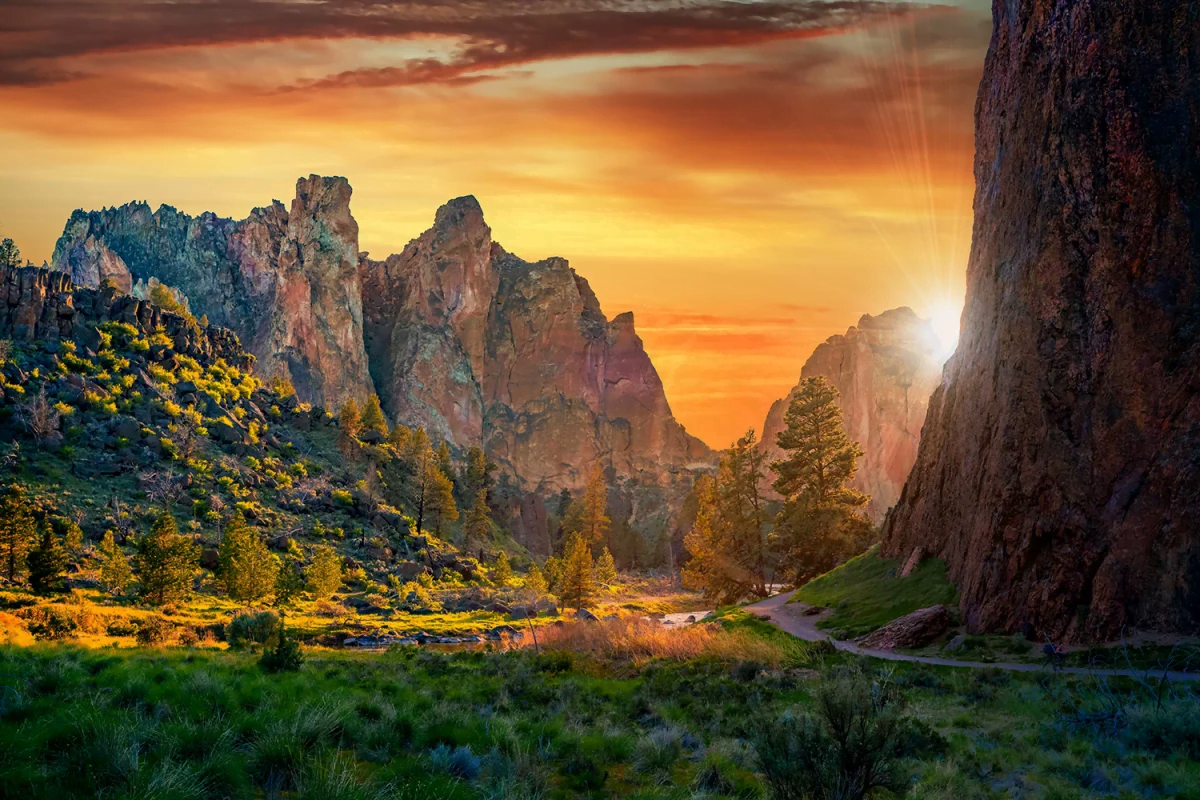 Smith Rock State Park, located in Central Oregon, USA, is a geological wonder and a mecca for rock climbers and outdoor enthusiasts. The park's defining feature is a striking formation of towering cliffs and rugged rock spires, carved by the Crooked River over millions of years. The dramatic landscape provides an exhilarating playground for climbers of all levels, drawing enthusiasts from around the world to test their skills on the challenging routes.
For hikers, the park offers an array of scenic trails that wind through the high desert terrain, offering breathtaking views of the surrounding canyons and the Cascade Mountains in the distance. Birdwatchers will also find delight in the diverse avian species that call this area home. As a protected natural area, Smith Rock State Park serves as a sanctuary for wildlife and a testament to the beauty and resilience of Oregon's landscape. Whether you're an avid climber seeking an adrenaline rush or a nature lover eager to explore the unique geological features, Smith Rock State Park promises an unforgettable and enriching outdoor experience.
6. Painted Hills : Geological Masterpiece
The Painted Hills, located in Eastern Oregon's John Day Fossil Beds National Monument, are a mesmerizing testament to the Earth's ancient history. This unique geological wonder showcases vibrant and contrasting colors, akin to a painter's palette, that reveal millions of years of geological processes. The hills get their name from the layers of clay, silt, and volcanic ash that have been deposited over time, resulting in striking bands of red, yellow, gold, and black hues. As the sunlight changes throughout the day, the colors seem to dance and shift, creating a captivating spectacle for visitors.
The Painted Hills are not only a sight to behold but also hold valuable insights into the region's prehistoric past, with numerous fossils of ancient plants and animals preserved in the sedimentary layers. The area's surreal beauty and scientific significance make it a treasured destination for nature enthusiasts, photographers, and those seeking a connection to the Earth's geological heritage.
7. Multnomah Falls : Cascading Beauty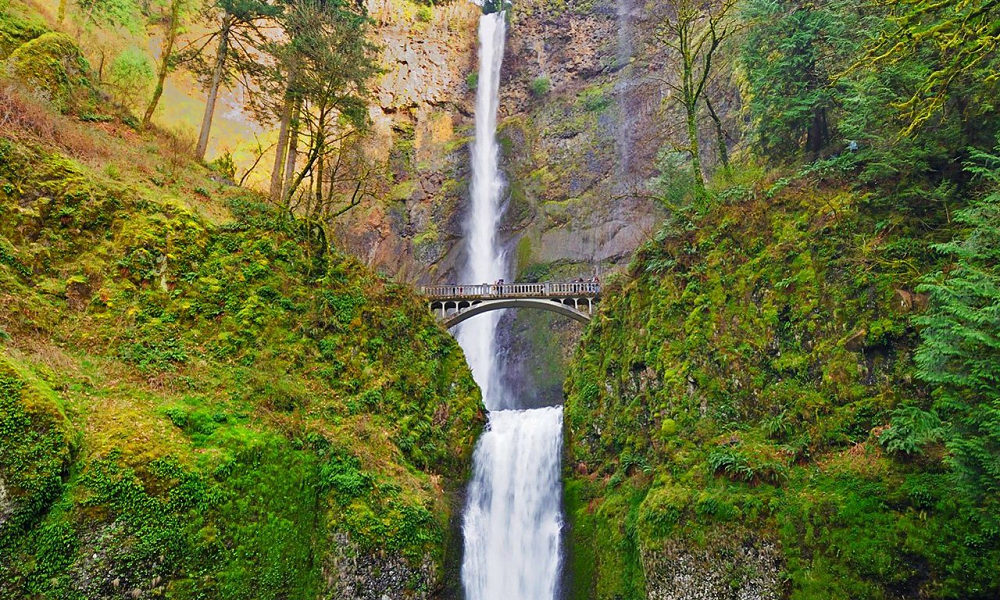 Multnomah Falls is a breathtaking and iconic waterfall located in the Columbia River Gorge, Oregon, USA. Cascading from an impressive height of 620 feet, it is one of the tallest year-round waterfalls in the United States. The falls consist of two main tiers, with the upper drop being nearly 542 feet and the lower drop around 69 feet, separated by a picturesque footbridge that offers a perfect vantage point for admiring the majestic spectacle.
Surrounded by lush greenery and moss-covered cliffs, the sight of Multnomah Falls is truly awe-inspiring, especially during the rainy season when the waterfall surges with the force of the rushing waters. The area offers well-maintained trails and viewpoints, allowing visitors to get up close and personal with this natural wonder. Multnomah Falls is not only a popular destination for tourists and photographers but also holds cultural significance to the Indigenous people of the region. Its timeless beauty and serene ambiance make it a cherished and must-visit attraction in the Pacific Northwest.
8. Mount Bachelor : Winter Wonderland
Mount Bachelor, a striking stratovolcano situated in the breathtaking Cascade Range of Oregon, USA, is a beloved destination for outdoor enthusiasts year-round. Known for its exceptional skiing and snowboarding opportunities, the mountain boasts an average of over 400 inches of snowfall annually, creating pristine powder and excellent conditions for winter sports. The expansive ski area features a variety of slopes suitable for all skill levels, making it a favorite spot for families, beginners, and seasoned riders alike. During the warmer months, Mount Bachelor transforms into a playground for hiking, mountain biking, and stunning wildflower displays. As part of the Deschutes National Forest, the mountain's scenic beauty is complemented by the surrounding alpine landscape, lush forests, and tranquil lakes. The breathtaking vistas from the summit provide a panoramic view of the Cascade Range, making the journey to the top a truly rewarding experience. Mount Bachelor's natural splendor and recreational opportunities have solidified its reputation as a premier destination for both adventure seekers and nature lovers.
9. Hells Canyon : River Adventure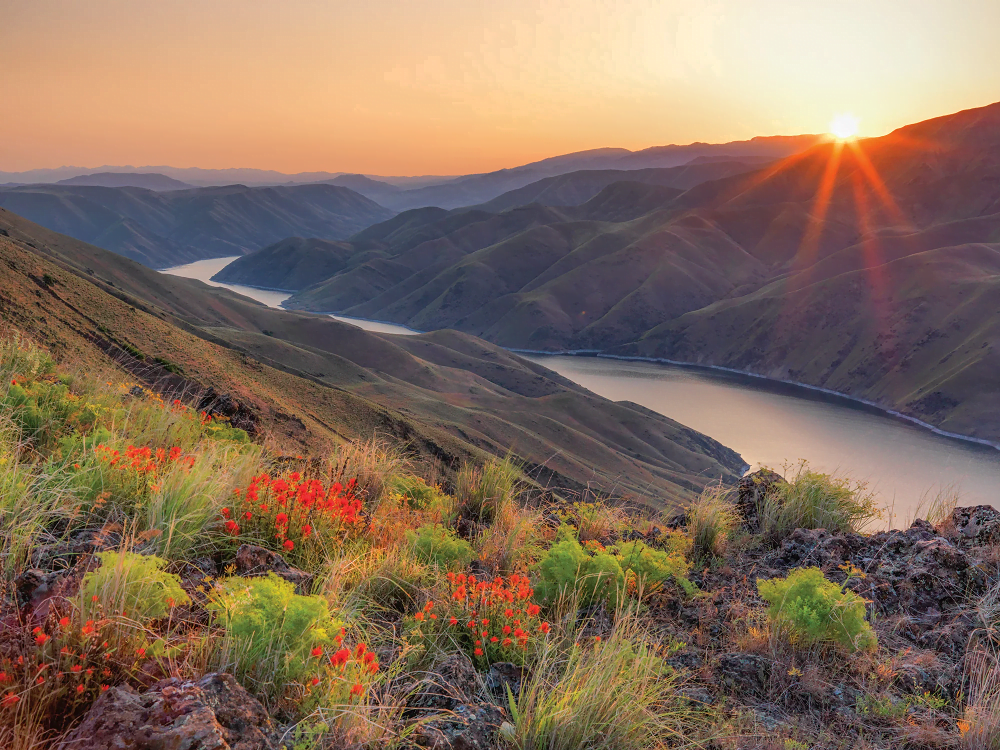 Hells Canyon, located on the border of Oregon and Idaho, USA, is a breathtaking and rugged river gorge that stands as one of North America's deepest canyons. Carved by the powerful Snake River over millions of years, the canyon plunges to depths of over 7,900 feet, showcasing dramatic cliffs, rugged terrain, and awe-inspiring vistas. Its name may evoke images of an inhospitable place, but in reality, Hells Canyon is a paradise for outdoor enthusiasts.
The area offers a wealth of recreational activities, including hiking, whitewater rafting, fishing, and wildlife watching. The diverse landscape is home to an array of flora and fauna, making it a haven for nature lovers and photographers. The deep serenity and isolation within Hells Canyon create a sense of untouched wilderness, providing a unique opportunity for visitors to connect with nature on a profound level. Whether exploring the canyon's depths or admiring its grandeur from above, Hells Canyon promises an unforgettable and humbling experience in the heart of the American West.
10. Portland Japanese Garden: Tranquil Haven
The Portland Japanese Garden is a serene and enchanting oasis nestled within the bustling city of Portland, Oregon, USA. It is a testament to the rich cultural exchange between Japan and the United States. This meticulously designed garden offers visitors a tranquil retreat, showcasing the timeless beauty of traditional Japanese landscaping and architecture. As visitors wander through its meticulously manicured pathways, they are immersed in a harmonious blend of carefully arranged plants, peaceful ponds, and intricately crafted stone elements.
Each section of the garden is thoughtfully curated to reflect the various elements of Japanese aesthetics, such as tranquility, simplicity, and natural balance. The iconic Tea Garden, with its authentic teahouse, offers a glimpse into the art of the Japanese tea ceremony. The Portland Japanese Garden provides a place for contemplation, connection with nature, and an appreciation for the artistry and precision that define Japanese garden design, making it a cherished cultural gem in the heart of Portland.
11. Silver Falls State Park : Trail of Ten Falls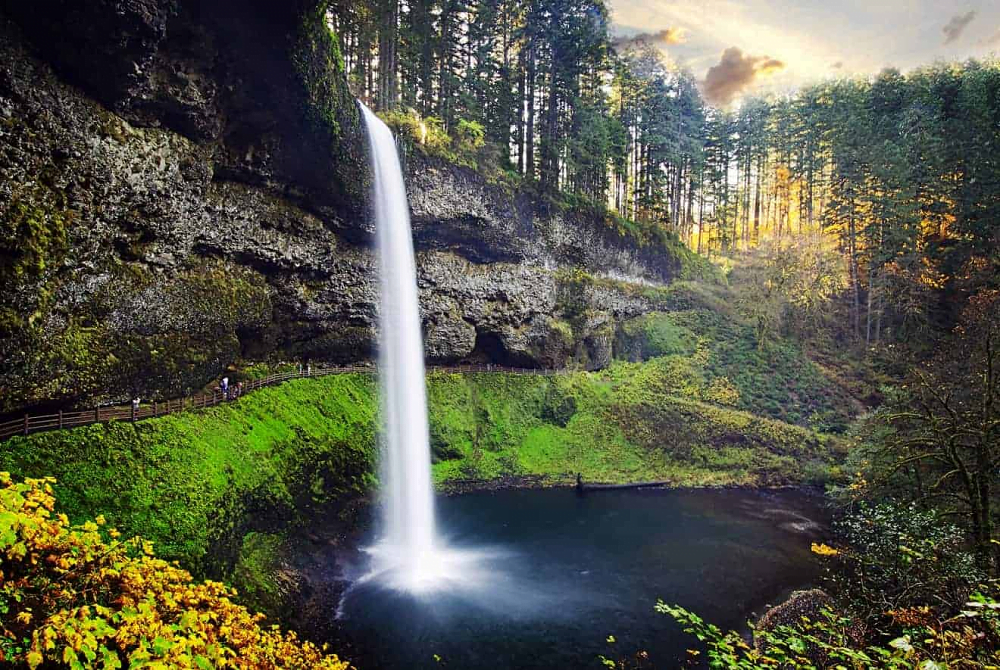 Silver Falls State Park, located in the heart of Oregon's Cascade Range, is a true natural wonder that captivates visitors with its breathtaking beauty and impressive waterfalls. The park is renowned for its network of scenic trails that wind through lush forests, offering stunning viewpoints of not just one, but a series of magnificent waterfalls, including the famous South Falls. At 177 feet, South Falls is a mesmerizing curtain of water that plunges into a glistening pool below, creating a majestic spectacle.
The park's unique feature allows visitors to walk behind the waterfall, immersing themselves in its mist and thundering sound—an experience that leaves a lasting impression. The lush surroundings teem with diverse flora and fauna, making it an ideal spot for nature enthusiasts and photographers. Whether hiking the well-maintained trails, picnicking beside the waterfalls, or simply basking in the tranquility of nature, Silver Falls State Park offers an unforgettable escape into the pristine wilderness of Oregon.
12. Oregon Dunes National Recreation Area : Sand Dune Adventure
The Oregon Dunes National Recreation Area, situated along the scenic Oregon coastline, is a captivating landscape of ever-shifting sand dunes that stretch for more than 40 miles. This unique and dynamic ecosystem is the largest expanse of coastal sand dunes in North America. The area offers an unparalleled playground for outdoor enthusiasts and adventurers, with activities such as sandboarding, dune buggy rides, hiking, and wildlife watching. The towering dunes, some reaching heights of up to 500 feet, provide awe-inspiring vistas of the Pacific Ocean and the surrounding coastal forests.
The diverse range of plant and animal species, including the rare snowy plover, add to the area's ecological significance. Whether exploring the windswept dunes or strolling along the pristine beaches, the Oregon Dunes National Recreation Area promises a one-of-a-kind experience in the heart of nature's ever-changing masterpiece.
13. The Wallowas : Alpine Escape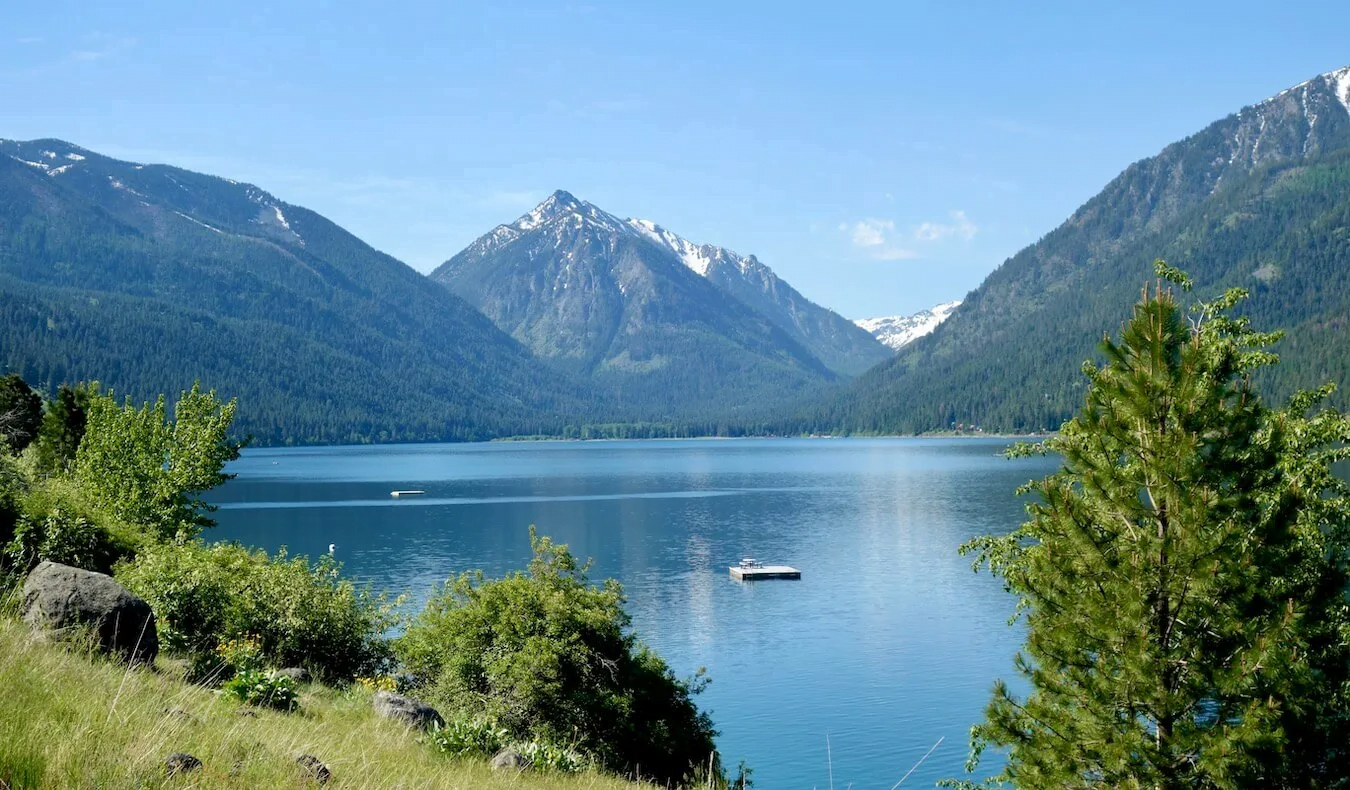 The Wallowas, often referred to as the "Alps of Oregon," is a hidden gem nestled in the northeastern part of the state, known for its awe-inspiring beauty and outdoor adventures. This remote mountain range offers a stunning mix of alpine lakes, lush valleys, and rugged peaks, making it a paradise for hikers, backpackers, and nature lovers. The centerpiece of the Wallowas is the enchanting Wallowa Lake, surrounded by majestic mountains that reflect beautifully on its tranquil waters.
The area's diverse ecosystem supports an array of wildlife, including elk, deer, and a variety of bird species. The charming town of Joseph, located nearby, adds to the area's appeal with its artistic community, galleries, and local crafts. For those seeking solace in nature's embrace, the Wallowas Oregon provides a rejuvenating and unforgettable escape from the hustle and bustle of everyday life.
14. Oneonta Gorge : Mossy Wonderland
Oneonta Gorge, located in the Columbia River Gorge in Oregon, is a hidden gem renowned for its ethereal beauty and enchanting atmosphere. This magical gorge is a nature lover's paradise, offering a unique and intimate experience with the lush Pacific Northwest wilderness. Accessible via a short but adventurous hike along the creek, visitors are welcomed by the towering walls of the narrow canyon that seem to embrace them. As they venture further into the gorge, they encounter the mesmerizing Oneonta Falls, cascading down from the cliffs above into a pristine pool below.
The gorge's moss-covered walls and fern-draped rocks add to its fairy-tale-like ambiance. However, it is essential to note that access to the gorge can be limited due to high water levels and other environmental factors. Still, for those fortunate enough to explore Oneonta Gorge, it becomes a cherished memory of the raw and untouched beauty that the Pacific Northwest has to offer.
15. Cape Perpetua : Coastal Vista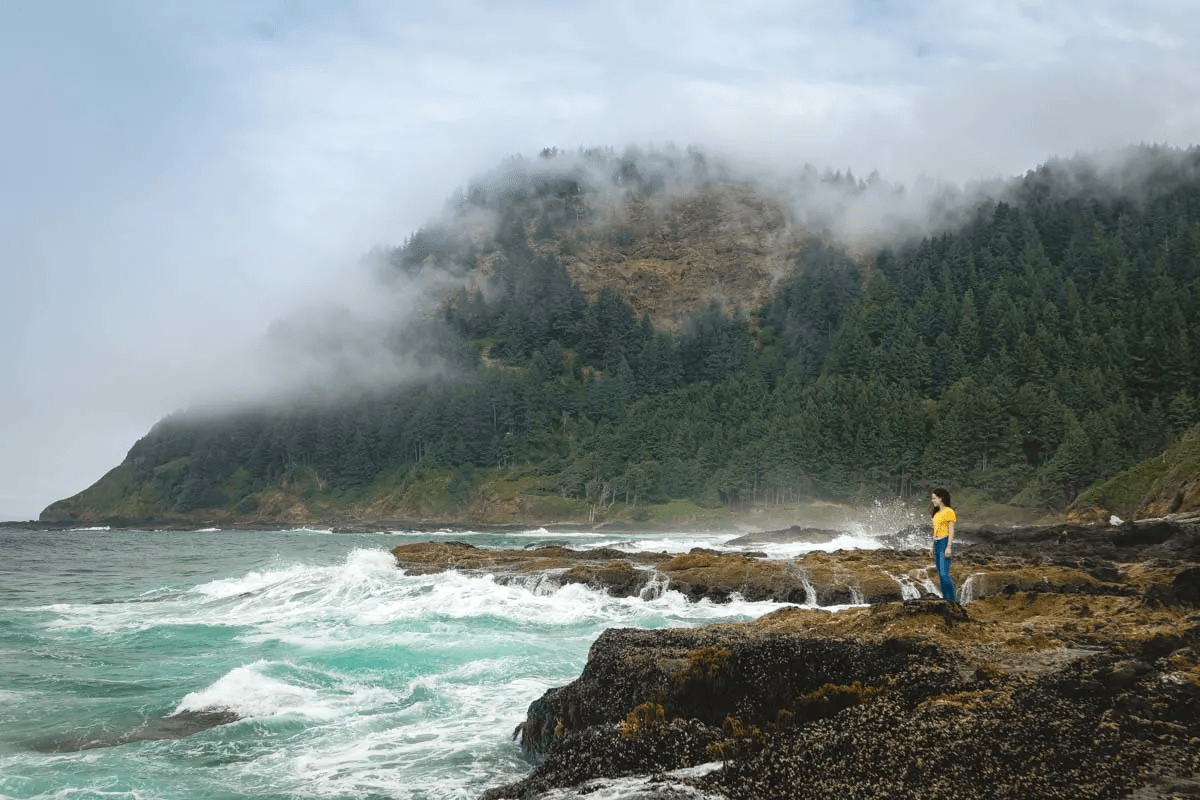 Cape Perpetua, situated along the central Oregon coast, is a captivating and rugged headland that offers a glimpse into the region's stunning natural diversity. This scenic area is a part of the Siuslaw National Forest and boasts a wide range of ecosystems, including old-growth forests, rocky shoreline, and unique marine habitats. Visitors to Cape Perpetua are treated to breathtaking views of the Pacific Ocean from the rocky cliffs that rise dramatically above the water. The Spouting Horn, a natural blowhole, provides a mesmerizing display of water shooting up from the rocky shoreline during high tide, adding to the area's allure.
Numerous hiking trails crisscross the headland, leading to hidden coves, tide pools, and viewpoints that showcase the area's untamed beauty. The nearby Cape Perpetua Visitor Center provides valuable information about the region's natural and cultural history, making it an excellent starting point for exploring this magnificent coastal wonder. Whether watching dramatic waves crash against the cliffs or embarking on an invigorating hike through the coastal forests, Cape Perpetua Oregon offers an unforgettable and soul-stirring experience for nature enthusiasts and adventurers alike.
In Conclusion
Oregon beckons with its array of breathtaking destinations, from the pristine beauty of Crater Lake to the dramatic cliffs of Smith Rock State Park. Whether you seek natural wonders, outdoor adventures, or serene retreats in nature, the Beaver State promises an enchanting journey that will leave you with cherished memories and a deeper appreciation for its diverse marvels.
15 Most Beautiful Places to Visit in Oregon 2023-2024 :
Crater Lake National Park : Azure Majesty
Columbia River Gorge: Scenic Splendor
Mount Hood : Alpine Wonderland
Cannon Beach : Coastal Serenity
Smith Rock State Park : Rock Climber's Paradise
Painted Hills: Geological Masterpiece
Multnomah Falls : Cascading Beauty
Mount Bachelor: Winter Wonderland
Hells Canyon : River Adventure
Portland Japanese Garden: Tranquil Haven
Silver Falls State Park: Trail of Ten Falls
Oregon Dunes National Recreation Area : Sand Dune Adventure
The Wallowas : Alpine Escape
Oneonta Gorge: Mossy Wonderland
Cape Perpetua : Coastal Vista